The Edmonton Oilers have a new No. 1 line, and last night it clicked—leading the Oilers to a much needed victory. Patrick Maroon had a terrific night—three goals, one fight, major contribution to a win—and the Edmonton Oilers won its 20th game of the season about two months before normal. Is this the new normal? Well, I wouldn't count on winning too many games the way Edmonton won last night. That said, a win is a win and it was interesting revisiting 2010 era victories.
LOVE THAT DIRTY WATER, YEAR OVER YEAR
Oilers in October 2015: 4-8-0, goal differential -7
Oilers in October 2016: 7-2-0, goal differential +10
Oilers in November 2015: 4-7-2, goal differential -6

Oilers in November 2016: 5-8-2 goal differential -3

Oilers in December 2015: 7-6-1, goal differential -9
Oilers in December 2016: 7-2-5, goal differential +3

Oilers in January 2016: 4-5-2, goal differential -5
Oilers in January 2017: 1-1-0, goal differential -1
Oilers after 40, 2015-16: 16-21-3, goal differential -24
Oilers after 40, 2016-17: 20-13-7, goal differential +9
Edmonton reaches win No. 20 before the midway, that is some pretty impressive news. The team is +33 in goal differential year over year, +12 in points over the same time last season, and it looks like as many as four 20-goal scorers this year. We are on to Hoboken.
DEFENSE, LAST NIGHT

Klefbom—Gryba went 5-10 in 9:34, Gryba also played with Sekera (3-0 in 46 seconds), with Russell (1-2 in 40 seconds). Gryba went 6-6 with Nuge and got an assist on one of Maroon's goals. Good night for the big man. Klefbom—Larsson went 3-5 together in 3:43. Gryba was 3-1 against Krejci, 2-4 against Bergeron. Klefbom was 3-2 against Krejci, 3-5 against Bergeron. The penalty against Gryba was an awful call, Oilers don't get that penalty when they are established as a good team.
Sekera—Benning went 8-16 in 15:48, I thought they were the best pairing on the night despite the Corsi hemorrhage. Mobile defenders really make the modern game possible, and on a night the Oilers could not get a sliver of air through the neutral zone, this pairing was my favorite.
Russell—Larsson went 10-18 together in 16:22. I thought Larsson had a good game, although he had a fantastic chance to get the puck out late when the team was bleeding badly and put a bad shove on the puck. I do not like the pairing because neither man is a good outlet passer, and that was on display most of the night. Went 8-12 against the Bergeron (Marchand-Pastrnak) line.
No Oilers defenseman should send a copy of this tape as a portion of a resume.
Cam Talbot was a big part of the win, capably stopping 33 of 36, .917.
Stats via NHL.com, HockeyStats.ca, NaturalStatTrick.
FORWARDS, LAST NIGHT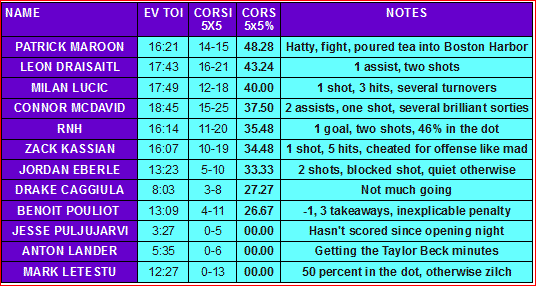 Maroon—McDavid—Draisaitl were effective (Maroon was 13-15 with McDavid) with six points on the night, three goals for Maroon and a pair of assists for 97 leading the way. McDavid was 13-13 against Z, 11-18 against Bergeron. On a fire hose night, this line was the best by far.
Lucic—Nuge—Kassian went 11-17 together, 6-7 against Krejci and 1-7 against Bergeron. Nuge got the only point for the line (a goal!) and Kassian cheated more than I did at checkers when my kids were small and didn't know the rules. I liked the line, hope McLellan keeps them together.
Pouliot—Caggiula—Eberle went 3-8 and didn't show up for any good reasons I could see. People will hammer Pouliot for the tripping penalty that put the game in some jeopardy after the Bruins were truly screwed, but I will pass on the opportunity. Dumb play? Good God ya'll, of course it was. BP probably gets fired into the sun soon, and there is little doubt in my mind the coach is at his end with this player. I think he can still play, so will leave it at that for now.
Lander—Letestu—Puljujarvi went 0-2 together in 3:43. The big news here is that Edmonton has burned a year of his free agency, and they did not Leon the Finn. It seems wasteful, but clearly this item didn't matter to the general manager, or something else matters more. We are dealing with young people here, mind, but it is curious from the outside looking in.
If the Oilers had the Bergeron line behind the McDavid line, we could really talk.
PRE-GAME TRIBUTE
The pre-game tribute to Milt Schmidt was outstanding. The Boston Bruins should be congratulated on an outstanding tribute to a big part of its franchise. There was an online photo tribute too, exceptional quality.
CALEB JONES
#WJC Gold Medal TOI

US
Jones (EDM) 36:01
McAvoy (BOS) 35:33
Cecconi (DAL) 25:58
Terry (ANA) 25:37

CAN
Chabot (OTT) 43:53
Clague (LA) 37:27

— Steve Kournianos (@TheDraftAnalyst) January 6, 2017
Caleb Jones had a terrific WJs, Edmonton clearly grabbed a winner in the fourth round of the 2015 entry draft. I always wondered why the Oilers avoided the U.S. National Development Team, it is like a cherry picked all-star team. Since Peter Chiarelli arrived in Edmonton, the team has selected Jones and Graham McPhee in the two draft seasons. Previous to Jones selection in 2015, the last member of the U.S. National Development team to be chosen by Edmonton was Geoff Paukovich in 2004.
McDavid with a 90% Carry-in rate on 61 entries. I hope that never comes back to Earth for hilarity sake.

— Corey Sznajder (@ShutdownLine) January 6, 2017
THE NEUTRAL ZONE
Edmonton is doing weird things in the neutral zone lately, they are producing more turnovers than all of the bakeries in all of the towns. It wasn't always this way, and as Corey states above, McDavid refuses to comply. His tracking of the November NYI-EDM game is here, and his note above is in reaction to CMD over several periods. WheatnOil tracked the same game from the defensive size, fascinating views both.
Do they miss Nurse that much? Why is there so much chaos in the neutral zone? Is it lack of speed? Surely they can slingshot a speedy winger with a pass from a stationary center parked facing the Edmonton end? Nifty pass that hits the winger on the fly, forcing a trip or clean entry?
It is murder watching Edmonton in the neutral zone currently. They are better than this, need to fix right now.
Looking back on 14/15, and I forgot how poor of a season it really was. The Oilers wouldn't get more than 47 points until March 13th.

— Bret Litke (@BretLitke94) January 6, 2017
It is incredible to be in a playoff spot this late in the season. Incredible for two reasons: One, because the air is so fine when you can talk about the trade deadline and a playoff push; and two, because looking back reminds us of just how much devastation took place. Those poor young players.
STANDINGS, JANUARY 6, 2017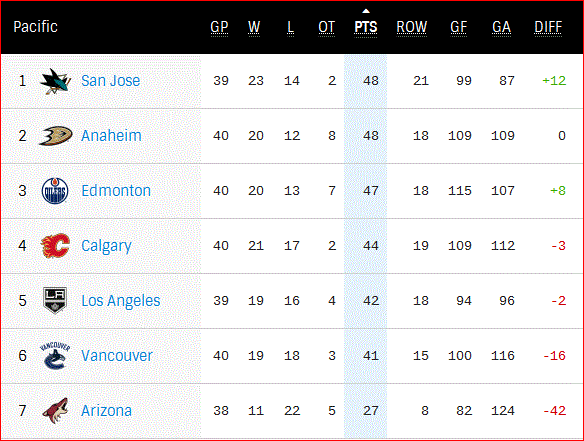 Miles to go, but some clean air this morning. Edmonton won't win many games like last night (Claude Julien was rightly pissed off at the loss after the game, the Hockey Gods were squarely against him), and they badly need to find some capable wingers for the stretch run. The list of needs remains same as it ever was, although young Matt Benning may be filling the RH puck mover role as we speak. Still need a scoring RW, still need a backup goalie, and if Leon remains at RW then a 3C is required. We're on to Morristown.
LOWDOWN WITH LOWETIDE
A fun Friday morning on the radio, TSN1260 beginning at 10. Scheduled to appear:
Steve Lansky, Big Mouth Sports. WJs, Oilers-Bruins, more.
Simon Boisvert, Prospect Insider. What is up with the Puljujarvi handling, Caleb Jones at the WJs and Laurent Brossoit recall?
Matt Iwanyk, TSN1260. PointCounterPoint will focus on the Oilers at the trade deadline, and can they afford to wait that long?
10-1260 text, @Lowetide on twitter. Also, I will be doing an AMA on Reddit today at 2pm, on their main hockey page. I have no idea what it is, but am prepared for everything but math questions.