The Edmonton Oilers ran up against a hot goalie last night, and it took a long time to solve him and win the day. As has been the case for much of this year, the emerging team found a way to overcome obstacles that would have cost them dearly just one year ago. Up next: Capital City!
MY WAY, YEAR OVER YEAR
Oilers in October 2015: 4-8-0, goal differential -7
Oilers in October 2016: 7-2-0, goal differential +10
Oilers in November 2015: 4-7-2, goal differential -6

Oilers in November 2016: 5-8-2 goal differential -3

Oilers in December 2015: 7-6-1, goal differential -9
Oilers in December 2016: 7-2-5, goal differential +3

Oilers in January 2016: 4-5-2, goal differential -5
Oilers in January 2017: 2-1-0, goal differential 0

Oilers after 41, 2015-16: 17-21-3, goal differential -23
Oilers after 41, 2016-17: 21-13-7, goal differential +10
This team is +33 in the goals, +12 in the points and times are good. G42 one year ago was a loss, 3-2 to the Tampa Bay Lightning who scored three in the final frame for the win.
DEFENSE, LAST NIGHT

On a night like last one, if the stats run like this and the team wins we can forget about the rest, the rest being Eric Gryba's wobble on the Wood goal. Holy crap he got walked.
Russell—Larsson were 17-5 in 17:52, including a cool 8-0 with the McDavid line (6:10) and 5-3 in 4:19 with the effective Nugent-Hopkins trio. Went 4-3 in 4:13 against Hall—Zajac—Parenteau, 7-2 in 6:18 facing Cammalleri—Henrique—Palmieri. It was just a good damned night, folks.
Sekera—Benning went 20-11 in 16:42, and Benning the Good scored his first NHL goal. They were 6-0 in about two minutes with the Letestu line, but also 6-4 in 5:37 with the Nuge and 8-5 in 6:13 with McDavid. This pairing went 4-3 in 4:55 facing Hall—Zajac—Parenteau, 9-5 in 6:51 against Cammalleri—Henrique—Palmieri.
Klefbom—Gryba went 17-9 in 12:13, this is the de facto third pairing. A cool 10-4 with McDavid in 6:10, also 7-4 in 2:58 with the Caggiula line. They were 4-5 in 5:22 against Hall—Zajac—Parenteau, meaning this duo faced Hall most often. Went 6-3 against Cammalleri—Henrique—Palmieri and that is a good line.
Cam Talbot was solid in the win, stopping 19 of 20, .950.
Stats via NHL.com, NaturalStatTrick and HockeyStats.ca.
FORWARDS, LAST NIGHT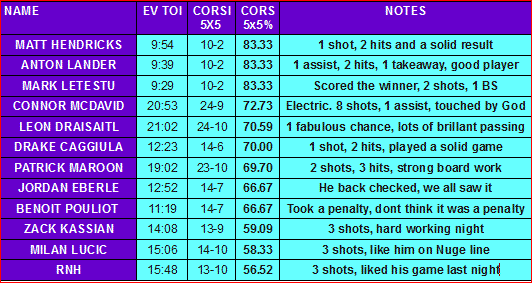 Hendricks—Letestu—Lander played a lot, important on an evening that ends with a flight and a game the following evening. Played most with the Russell—Larsson pairing, went 8-1 against the Sergey Kalinin line. McLellan used Hendricks and Letestu on the PK, but not 51. I do not understand this, perhaps you can explain.
Maroon—McDavid—Draisaitl has that Cashman-Esposito-Hodge look to it, there were shifts last night where the NJD defense looked like Arnold Schwarzenegger on Mars without the helmet. My goodness this trio can play. Went 7-4 against Zajac and 13-5 against Henrique, 5-0 against poor Kalinin.
Pouliot—Caggiula—Eberle showed signs of chem, going 14-6 together. Played equally with the three pairings, and faced the Zacha line (9-5 in 7:06) most of all.
Lucic—Nuge—Kassian line also played well, I would actually suggest this was the second best line on the night (behind 97). Faced Zajac (5-6 in 7:07) and Henrique (3-3 in 4:04) most of the night, I thought they were solid to excellent.
Hall with Cammalleri and Palmieri went 9-8 together. Hall went 3-5 against McDavid, 6-6 against the Nuge. No. 9 has no help, he has been banished to the second division. Neil Young's Helpless should have played on a loop for he and the goalie.
Mark Letestu is 8-10-18 at the halfway point of the season. Can you name the last fourth-line center who posted 40 points for the Oilers? I cannot. Now, he isn't technically a fourth liner, but Letestu's offense this season is one of the best stories of the year.
MATTHEW CAIRNS
I am unable to find much on Matthew Cairns move from the Fargo Force (17gp, 0-4-4 in the first half) of the USHL to Powell River Kings (2gp, 0-1-1) of the BCJHL, but it did happen over Christmastime and we are here. This does happen (the BC team had to make a deal with his former tier two team, the Georgetown Raiders) in hockey, and often involves usage and playing time. As far as I know, Cairns remains committed to Cornell University, and this transaction does nothing to derail that goal.
STREETS OF BAKERSFIELD
Griffin Reinhart with the OT Winner in the AHL #OutdoorClassic! pic.twitter.com/63hRQWEckI

— Zain (@ZainL96) January 8, 2017
It sounds like last night was a fantastic event, and that a darn good hockey game happened after the rains ended (!!!). I am delighted to re-post a report from the game that was kindly dropped in the comments section:
Muletrain97: Condors win!!! They tie it up with about 2min to in 3rd, and of all people Reinhert with the partial breakaway winner in OT! Khaira played strong and heavy two-way hockey, as did Scott Allen Taylor Beck, and Anton Slepy. Brossoit settled down and was solid in net. D-wise, Osterle can fly in this league and is very noticeable. Tried to get an interview with Khaira but got kicked out of area just before it ended!! All in all, a great time in Bakersfield at the Outdoor Classic! Peace!
Awesome, and appreciated Mr. Train. Griffin Reinhart is an interesting player as we approach the expansion draft. Most fans are down on his potential, but I have spoken to various hockey people who believe there is a chance that the Vegas Golden Knights grab him in the draft. Why? George McPhee is drafting a team in one weekend, and needs to grab a few players who have a lot of track left in his career. Let's say GR is a No. 5 defenseman his entire career—for Vegas, solving problems with longer term answers has appeal. It is going to be interesting.
TRADE CHATTER
Bruce Garrioch: If anyone is looking to move a defenceman give Bruins GM Don Sweeney a call in the next couple of days. The word is he wouldn't mind making a deal for a blueliner as well and the name of forward Ryan Spooner as possible trade bait is still out there. Unfortunately for Sweeney, there's several teams looking for help on the back end. Source
Bruce Garrioch: The Oilers are looking around for some depth at forward. The club is without Darnell Nurse for an extended period and Tyler Pitlick is gone for the season. Source
The Oilers have defensive depth, and if everyone was healthy one could at least discuss a Brandon Davidson for Ryan Spooner deal. Right now? I don't see it as reasonable, simply because there isn't enough depth on the club. Darnell Nurse is still weeks away, but maybe things change by the deadline.
OH THOSE BOXCARS!
After last night, we are at the midway point of the season. It is a fun time for boxcars, because we can double them and think about the impact of these seasons. Here are some of my favorites:
Connor McDavid 82gp, 28-64-92
Leon Draisaitl 82gp, 28-40-68
Milan Lucic 82gp, 20-32-52
Patrick Maroon 82gp, 28-14-42
Mark Letestu 76gp, 16-20-36
Andrej Sekera 78gp, 8-28-36
Oscar Klefbom 82gp, 12-16-28
Matt Benning 70gp, 2-17-19
Cam Talbot 74gp, 40 wins, 2.44 and .920
Means nothing of course, but fun to dream. Edmonton plays a huge game tonight, do they use Jonas Gustavsson in net? A win this evening would really set them up nicely for the rest of January.