The job of goaltender is wildly unfair. In my town, the kid who played goalie was both loved and maligned, loved because when he stopped pucks the town team won—and maligned when he didn't stop anything. The only thing worse than being the goalie? The time one of the forwards ripped a shot off the back of the goalie (Kenny Meier was the goalie) during warmup and the stopper landed in a heap, unable to play. Now who is going to play net? My goodness that shooter was unpopular, I think he went to school in Lashburn after that incident. (I kid, but barely).
Goaltenders at the NHL level generally have an established level of ability. When they don't play a lot, and are struggling, or done, it makes for some very uneasy and sleepless nights. I have all kinds of time for Jonas Gustavsson today, he was in a tough spot and it did not go well. I am honestly less patient with the general manager, today.
Maybe he got some of that advanced statery that doesn't tell the truth, or maybe he had a feeling it would work or had a plan for that position to cost a certain amount of cap space. Whatever the reason, enough. Fix it now. Make the call. You owe it to your team.
HOW DID THAT GO IN? YEAR OVER YEAR
Oilers in October 2015: 4-8-0, goal differential -7
Oilers in October 2016: 7-2-0, goal differential +10
Oilers in November 2015: 4-7-2, goal differential -6

Oilers in November 2016: 5-8-2 goal differential -3

Oilers in December 2015: 7-6-1, goal differential -9
Oilers in December 2016: 7-2-5, goal differential +3

Oilers in January 2016: 4-5-2, goal differential -5
Oilers in January 2017: 2-2-0, goal differential -2

Oilers after 42, 2015-16: 17-22-3, goal differential -24
Oilers after 42, 2016-17: 21-14-7, goal differential +8
It was a weird night, from Leon's reaction to his goal (hilarious) to the fourth goal against (not hilarious) in a night where the team had enough to grab a point despite it being their third game in four nights. It was a successful road trip, but if this team misses the playoffs by a point or two, this is one of the games I will remember as opportunity missed.
DEFENSE, LAST NIGHT

Russell—Larsson went 19-6 in 14:31, second night in a row where the numbers were strong. Russell made a big mistake on the PK, Larsson had an assist and was more effective to my eye. Got back with Klefbom for 3:13 (1-1), too. Went 9-1 against Hoffman—Pageau—Pyatt, 7-1 against Smith—Brassard—Stone, 8-5 versus Dzingel—Turris—Ryan.
Klefbom—Gryba went 20-8 in 13:49 together. I keep mentioning this, but Oscar moves up the ice exactly like Serge Savard. It is uncanny. The long and winding road sortie. I love them, and as he gets older Oscar is going to say to hell with this noise and drive to the net, too, I bet. Anyway, they were 9-1 with McDavid. Went 6-1 against Hoffman—Pageau—Pyatt, 2-5 against Smith—Brassard—Stone, 5-3 versus Dzingel—Turris—Ryan.
Sekera—Benning were 17-11 in 13:04 together, so much puck moving ability here it is amazing. They went 13-4 with McDavid, I think this pairing might be the best duo to run with the 97 line. Thoughts? Went 8-5 against Hoffman—Pageau—Pyatt, 11-8 against Smith—Brassard—Stone, 3-0 versus Dzingel—Turris—Ryan.
Jonas Gustavsson was not good, but it is unfair to expect him to play once a month and be at his best. The Oilers have to find a solution that works.
FORWARDS, LAST NIGHT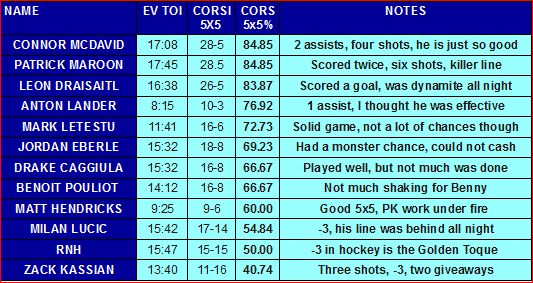 The real reason to remember this period might be the Maroon—McDavid—Draisaitl line emerging. Another fabulous evening, three goals, five points and a complete nightmare all evening for the Sens. Connor McDavid was 25-3 against Erik Karlsson at 5×5, while also going 25-3 against Erik Karlsson at 5×5! Biblical.
Hendricks—Letestu—Lander had a good night to my eye, important they could be used 5×5 two nights in a row. I am not against this line staying together until the trade deadline.
Lucic—Nuge—Kassian went 15-14 (Lucic) and 9-14 (Kassian) with Nuge. I like 93 a ton, but the trio went -3 and RNH got knocked down a bunch again. I think maybe the WHC robbed him of some energy, hope the break helps him. This is not a checking line, not really, and they played the Brassard line straight up (12-12), but minus three is not acceptable.
Pouliot—Caggiula—Eberle went 16-8, I thought Eberle had his best chance in ages (breakaway) but could not cash. This line won the Corsi battle, but posted just two shots on goal. Lots of things not happening, Edmonton needs another center if Leon stays on RW.
LAST 10 GAMES
Connor McDavid 10gp, 2-7-9
Leon Draisaitl 10gp, 2-7-9
Patrick Maroon 1gp, 8-1-9
Andrej Sekera 8gp, 0-6-6
Mark Letestu 10gp, 2-3-5
Matt Benning 7gp, 1-3-4
Milan Lucic 10gp, 2-2-4
Ryan Nugent-Hopkins 10gp, 3-1-4
Jordan Eberle 10gp, 0-3-3
Eric Gryba 10gp, 1-2-3
Matt Hendricks 9gp, 1-1-2
Zack Kassian 10gp, 0-2-2
Oscar Klefbom 10gp, 1-1-2
Anton Lander 3gp, 0-2-2
Tyler Pitlick 2gp, 1-0-1
Adam Larsson 10gp, 0-1-1
Drake Caggiula 10gp, 0-1-1
Brandon Davidson 7gp, 0-1-1
Taylor Beck 2gp, 0-0-0
Benoit Pouliot 9gp, 0-0-0
Jesse Puljujarvi 5gp, 0-0-0
Kris Russell 10gp, 0-0-0
Cam Talbot 9gp, 2.04 .932
Jonas Gustavsson 1gp, 4.01 .765
The Oilers have been a one line team during much of these 10 games, while going 6-2-2 (and that is a terrific record, despite leaving a point on the table last night).
LOOCH
Milan Lucic has been consistent offensively this year compared to last, although (as we have discussed) the offense is coming from the power play this year. Here are his splits from last year, in terms of boxcars, and what he has posted so far in 2016-17:
2015-16 Pre All Star: 48gp, 12-17-29 (.604 points-per-game)
2016-17 Pre All Star: 42gp, 10-16-26 (.619 points-per-game)
One of the things I see quite often about Lucic is that he is being gifted opportunities, with McDavid and on the power play. It took quite a long time for Todd McLellan to move off the McDavid—Lucic tandem, but as a duo they were solid (McDavid scored 5×5 2.19/60 with Lucic, and they were 54.2 Corsi for 5×5 together). McDavid way from Lucic is even better (3.44/60 at 5×5 and a Corsi for 5×5 of 55.2), but I think we can agree it is likely we see them back together at some point in the season. Ebbs and flows folks.
2015-16 Post All Star: 33gp, 8-16-24 (.727 points-per-game)
2016-17 Post All Star:
Lucic played with Anze Kopitar much of last season, and should be able to perform well with RNH if he isn't with McDavid. That said, and we have discussed this before, the big man must improve his 1.09 5×5/60 scoring total. That meager output ranks Lucic No. 277 out of 375 NHL forwards who have played 200 or more minutes.
I am not anti-Lucic, in fact this blog was happy when he signed, and from where I sit the only one that consistently points out things like his strong Corsi with or without McDavid. However, the big man needs to fix the 5×5 scoring.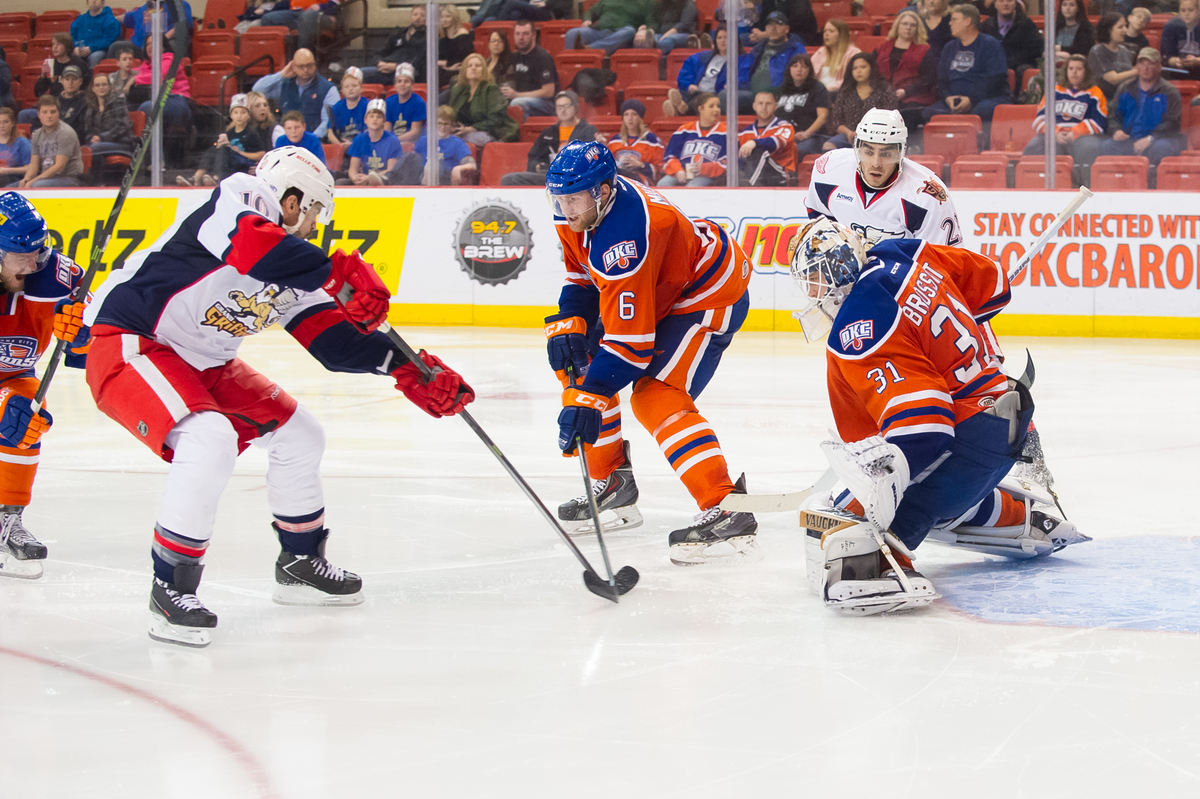 Photo by Rob Ferguson, all rights reserved
THE GOALIE SITUATION
I think we have reached a point where Peter Chiarelli has to address this issue. Surely the only reason to delay it is pure stubbornness by the general manager. The coach rarely plays him, the fans are openly worried on his gameday starts, this is not good. I think Mr. Gustavsson is suffering from not playing, and it is unfair to send him out there once a month to be fed to the lions. We can never really know if a coach and general manager disagree on specific things, but the backup goalie handling has been mighty curious this year.
Peter Chiarelli solved that situation very well in year one, grabbing Anders Nilsson in a small but important trade. I may be the only one who has confidence he can do it again, but I have confidence he can do it again.
In the meantime, bringing up Laurent Brossoit makes sense to me. He has struggled lately, but the sheer number of AHL sorties flown by this player (114 AHL games) makes him qualified to be the backup goalie. Give the AHL net to Gustavsson and Nick Ellis until the deadline, and give some starts to Brossoit as required until a replacement can be found.
I think we all can agree that a coach getting stubborn on a player is one thing, but a general manager getting stubborn on a goalie the coach rarely plays is another. Peter Chiarelli must fix this, losing a playoff spring because of the backup goalie is noxious on the face of it.
LOWDOWN WITH LOWETIDE
A full boat on the show today, as everyone gets rolling after the Christmas holidays. 10 this morning, TSN1260 and scheduled to appear:
Scott Burnside, ESPN. The playoff race in the Eastern Conference is as tight as a drum, and the Pacific Division could send five battalions to the front this spring.
Andy McNamara, TSN4Downs. The home teams won, and now we are on to the magical weekend in the NFL where New England finds out who they play in the AFC final.
Jason Gregor, TSN 1260. The backup goalie and the Jesse Puljujarvi questions surely have an answer soon.
Sunil Agnihotri, Copper & Blue plus The SuperFan. We will chat about the week gone by and the one to come, and about Lucic and the hottest Oiler line in many moons. Does it need a nickname? McML? MCD? Don't know.
10-1260 text, @Lowetide on twitter. See you on the radio!