The San Jose Sharks are one of my favorite teams, and a club the Oilers will have to catch and pass eventually—but not this season. If there is a team that appeared in the Stanley Cup Finals in your division, beating that team might be considered a proper goal, right? Fair? Edmonton gets a chance tonight, and there are some good things going for this team.
SUNSHINE TO SUNDOGS, YEAR OVER YEAR
Oilers in October 2015: 4-8-0, goal differential -7
Oilers in October 2016: 7-2-0, goal differential +10
Oilers in November 2015: 4-7-2, goal differential -6

Oilers in November 2016: 5-8-2 goal differential -3

Oilers in December 2015: 7-6-1, goal differential -9
Oilers in December 2016: 7-2-5, goal differential +3

Oilers in January 2016: 4-5-2, goal differential -5
Oilers in January 2017: 2-2-0, goal differential -2

Oilers after 42, 2015-16: 17-22-3, goal differential -24
Oilers after 42, 2016-17: 21-14-7, goal differential +8
Oilers lost G43 to the Florida Panthers 2-1, Jaromir Jagr scored early and Matt Hendricks took a bunch of penalties (and eventually a suspension) in reaction to a dangerous hit on Taylor Hall. January hasn't established itself yet, it could be very good like October or December, or perhaps it will be a struggle like November. I think February will be very difficult and March may be a breeze, but this month is a huge test. The Oilers can't secure a playoff spot this month, but they can lose one and that is for sure.
DEFENSE VIA WOODMONEY, 2016-17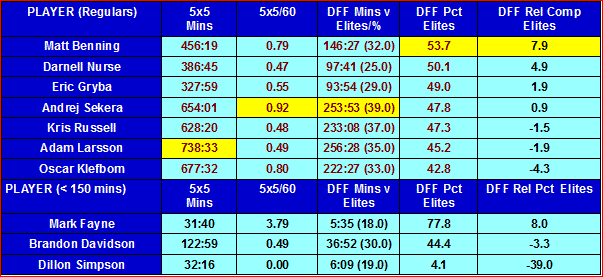 All of this save 5×5/60 is WoodMoney, the scoring totals are Stats.HockeyAnalysis.com.
I am just getting used to thesse numbers and am surprised by the amount of movement in some categories. Kris Russell has enjoyed a strong surge up the Dangerous Fenwick since we looked last at this table, and Matt Benning has increased what I think we can call dominance in the Fenwick columns.
Matt Benning is approaching Oscar Klefbom in terms of percentage of overall time spent facing Elites—and that is a trend based on my viewing of this material. The fact that Benning is so dominant in DFF makes the move logical, but it is very surprising considering our views on these two players just short months ago.
FORWARDS VIA WOODMONEY, 2016-17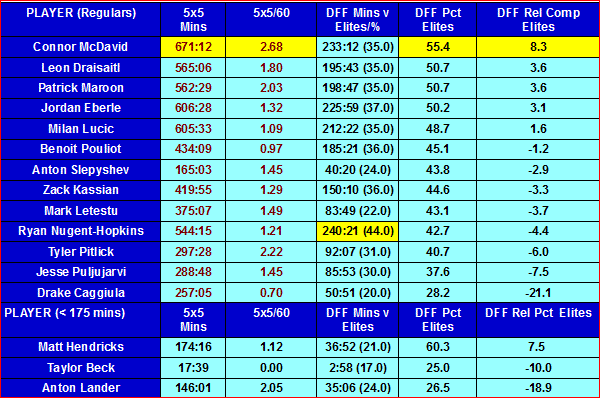 Connor McDavid belongs in a higher league, these are exceptional numbers. Now, consider he isn't yet 20 and those numbers become even more impressive. McDavid is still growing, getting faster, but I think he is also adjusting to the rigors of the NHL and picking his spots more.
Leon Draisaitl and Patrick Maroon are the floating boats with McDavid these days, but there is evidence this trio has some real chem and could be around awhile.
Milan Lucic, RNH and Jordan Eberle have been playing the toughest opposition a lot this season and two of the men are staying above water against elites. A key element to second half success must be to find offensive success at 5×5 for these men. We know they have the ability, so chem and luck have to change.
Some of this would be solved with a veteran shooter who can play RW. There simply aren't many of those types available, as too few teams have fallen out of contention.
BAD BET
Lots of hammering about Jonas Gustavsson today, fans and media suggesting it was a terrible bet. It was. In April, when we looked at the free agents available, I listed four reasonable bets—none of whom were Jonas Gustavsson. Some of my bets haven't worked out either, but the Gustavsson bet was poor from day one and had little chance (based on what we know) to work. It isn't a matter of picking on Peter Chiarelli, this was a wayward bet that had no easy explanation. That is not a good thing.
FROM THE OTHER SIDE
Jake Sundstrom: It's hard to figure out exactly what the best lines are for Edmonton because Todd McLellan likes to blend lines in Alberta just as much as he did in San Jose. Maroon has spend time with Connor McDavid, Jordan Eberle and Leon Draisaitl — sometimes with two of the aforementioned three. And Edmonton can't resist sending Milan Lucic out on the top line with McDavid, despite his skillset being better suited to a third-line role.
Jake Sundstrom: That gives San Jose an advantage, of course. McDavid took the Sharks' lunch money in their last meeting by embarrassing Joe Thornton and company with his speed, but keeping a hit-first player like Lucic out there helps mitigate the damage. That might change with Timo Meier on the ice, but McDavid is going to be the best player in the NHL before his career is over, so expect the Sharks to take the L while he's on the ice.
KEN HODGE
The first dominant line I remember well was the Wayne Cashman—Phil Esposito—Ken Hodge line of the late 1960s through early 1970s. Cashman was basically Ryan Smyth without the mullet, Phil Esposito is unique in human history (picture a giant rock in the slot, with good hands) and Hodge was the guy who combined a lot of skill elements. He was a bigger guy, not overly physical, but a sharp passer and he had a very good shot.
McDavid and Esposito are as far apart as one can get in terms of actual style, but their impact on the game is somewhat similar—of course Esposito had Orr back there to help. Hodge complemented this line by being able to do multiple things, and for McDavid that man may be Leon.
Draisaitl can transport the puck, he can shoot, he is a sublime passer. Folks, I know some of you will hate me, but the search may be over and it may be Leon. The number of posters who want LD at C is myriad, but I think he has found a higher calling. The McDavid line.
LOWDOWN WITH LOWETIDE
At 10 this morning, TSN1260. Scheduled to appear:
Jonathan Willis, Oilers Nation. The power of the McDavid line, Benning as Calder candidate, the week past and the one to come.
Jake Sundstrom, Fear the Fin. We will chat about the best team in the Pacific and what is working and what is not working.
Scott Cullen, TSN. We will go around as many Canadian NHL cities as we can and check in on the current situations.
10-1260 text, @Lowetide on twitter. Talk soon!