The Edmonton Oilers called up Jujhar Khaira and Laurent Brossoit from Bakersfield today, with Anton Lander plus Jonas Gustavsson going the other way. One day, when I am rich enough to write books, I am going to take a transaction day like this one and write stories surrounding them. It's like that song by the Guess Who (Orly) about planes going up and down. Jujhar Khaira gets to call his Dad tonight, and that must be cool. Jonas Gustavsson and Anton Lander have to uproot their lives and move on down the line, for a time or a long time, or forever. The humanity in a transaction line is compelling.
THE DISTANT BELLS, CALLUPS AND DREAMERS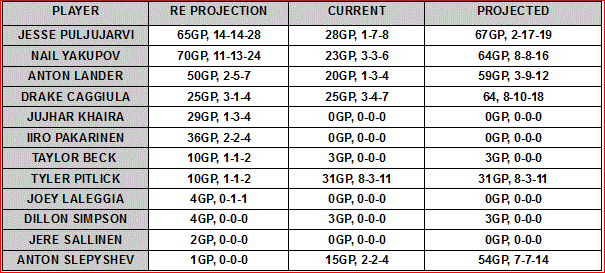 Every summer I put together the RE list, and the real challenge is finding the fringe types and callups. The recall of JJ Khaira today (and Brossoit, who was also in my RE) means there are just three names from my list to be recalled (for me to have nailed it). Iiro Pakarinen (injured), Joey Laleggia (position change) and Jere Sallinen (remains a distant bell) are the ones I picked, and we live with our inability to read the future.
Surprise performances so far, based on my RE, are Anton Slepyshev, Tyler Pitlick, Drake Caggiula and Anton Lander. Jesse Puljujarvi's story is not yet written, and Nail Yakupov continues his journey in another town. Let's have a look at the two new players.
KHAIRA
Khaira's offensive progression in the AHL is obvious, and his shots per game during the entry-level contract also reflects it.
2014-15: 73 shots in 51 games (1.43 shots per game)
2015-16: 96 shots in 49 games (1.96 shots per game)
2016-17: 60 shots in 24 games (2.5 shots per game)
His points-per-game progression (.196, .551, .750) in the AHL suggests we are looking at a player who is NHL-ready in this area. The other elements of his game have been there for awhile, so this is a player who could be here for years—or lost in the expansion draft this summer. In the fall, I ranked Khaira No. 9 on the Oilers Top 20, and posted the following:
Khaira could be a value contract for years in Edmonton, and is under control for many years to come. His surge offensively last season (and early this) is even more encouraging, as Edmonton needs secondary scoring on the depth lines. We are not certain that he will be a center or winger, and we don't know if he will play much or at all this year in the NHL. He is right on the edge of beginning his NHL career but remains in the minors, and the Oilers drafted and developed him. Those are two facts are breaking news. Source

Photo by Mark Williams. All rights reserved
BROSSOIT
I ranked Brossoit No. 12 on the Winter Top 20, and one of the reasons was his consistency in the AHL:
Age 20 (2013-14) 10GP, 3.99 .876
Age 21 (2014-15) 53GP, 2.56 .918
Age 22 (2015-16) 31GP, 2.66 .920
Age 23 (2016-17) 9GP, 2.59 .920 (at that time)
Since then, his save percentage has blown up (21gp, 2.67 .908) while his goals-against average has barely budged. He got crushed a couple of nights around Christmas, if you take those three games out (Dec. 20, 21 and 26) his save percentage for the year is .922 (if my ciphering is correct).
You will read about this being a poor move, but for me this is about right. Laurent Brossoit is not an elite prospect, but he is a good one and has shown consistency over several AHL seasons. When I wrote his RE this fall, I said:
My suspicion is that the Edmonton Oilers like Laurent Brossoit as their backup goalie in 2017-18, and that the club may consider calling him up at some point this season. Edmonton has not chosen a goalie inside the top 100 overall in any of the seasons since Brossoit was acquired, and other goalie prospects in the system have their starts scheduled around down time for him. Unless I have badly misread the situation, Nick Ellis is the first potential rival for the No. 1 goalie spot since Brossoit became an Oiler. They like LB, and I bet you money at least one manager is wondering why he isn't the backup this season. I wonder a little, too. Source
I will give you my opinion on the Lander demotion tomorrow morning, 8:30.