I always pick favorites, and that is the truth. When the late 1960s Leafs started bringing in young defensemen by the dozen, I chose Jim Dorey as my favorite. Habs? Serge Savard, and Larry Robinson too (even though I hated the Habs, and liked Guy Lapointe quite a bit too. It was a confusing time). My favorite young blue for the Oilers is Oscar the Dreamy, with his complete skill set and his skating ability. Man, this guy could be very good. Pull up a chair, we are just getting started.
SHARKS ATE OUR LUNCH, YEAR OVER YEAR
Oilers in October 2015: 4-8-0, goal differential -7
Oilers in October 2016: 7-2-0, goal differential +10
Oilers in November 2015: 4-7-2, goal differential -6

Oilers in November 2016: 5-8-2 goal differential -3

Oilers in December 2015: 7-6-1, goal differential -9
Oilers in December 2016: 7-2-5, goal differential +3

Oilers in January 2016: 4-5-2, goal differential -5
Oilers in January 2017: 2-3-0, goal differential -4

Oilers after 43, 2015-16: 17-23-3, goal differential -25
Oilers after 43, 2016-17: 21-15-7, goal differential +6
The key item to look at is January—it is beginning to look like November, and that is February's job. Edmonton badly needs to post a strong January, or the rope is snapped and we are looking at a seller in our town one more time. Oilers played well in the second half of the game, but needed a couple of extra stops to have a chance. If this is a trend—slow starts and a couple of wobble goals is now two games old—this team is about to slide.
WHAT TO EXPECT FROM JANUARY
On the road to: Columbus, Boston, New Jersey, Ottawa (Expected: 2-1-1) (Actual: 2-2-0)
At home to: San Jose, New Jersey, Calgary, Arizona, Florida, Nashville (Expected Result: 3-1-2) (So Far: 0-1-0)
On the road to: Calgary, Anaheim, San Jose (Expected Result: 2-1-0)
At home to: Minnesota (Expected Result: 0-1-0)
Overall expected result: 7-4-3, 17 points in 14 games
Current Results: 2-3-0, four points in five games
This is not good enough, ladies. Now, for the good news. In the next several days, Edmonton faces five teams and the club needs eight points. That is four wins, or three wins and two Bettman points, something. Last night was an unsuccessful sortie, but the really important work is straight ahead. Edmonton needs five more wins this month. Giddyup.
DEFENSE, LAST NIGHT

Sekera—Benning went 14-11 together, Sekera also spent time with Russell (6-1), Larsson and Klefbom (2-0). Not quite sure why the went away from Sekera—Benning—who were effective—but things were going in a good direction from Sekera. 12-3 against the Tierney line.
Russell—Larsson went 13-10 together, I thought, as I always do, the pairing lacks an effective way to get the puck up the ice consistently. That said, Russell was 11-4 with McDavid on the ice and 6-5 with the Nuge. 7-6 against the Thornton line. 9-3 against Marleau, 1-8 against Lebanc.
Klefbom—Gryba went 7-11 together, McLellan moved Oscar to Larsson (7-4) and Benning as the game rolled along. I think Oscar can play capably with all the RHD, but Gryba is my least favorite match for him. Oscar has range, needs to be in the top 4D. Oscar was 9-3 against Pavelski.
Cam Talbot had the yips, although not all GA were on him. Caught 23 of 28, .821.
FORWARDS, LAST NIGHT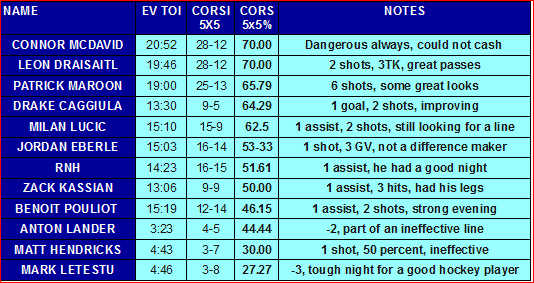 Maroon—McDavid—Draisaitl did not score, but hammered the Vlasic pairing (22-10). Did not dominate the Thornton line (8-4) as much as last time, but only a hot goalie and luck kept this trio from scoring. Ladies and men, a giant walks among us—and he turns 20 in two days.
Pouliot—Caggiula—Kassian scored a goal, the young center getting his third of the season. On a night when I thought three of the LWs played quite well, for me Pouliot ranks behind only Maroon among them. Kassian doesn't always have his feet going as he did last night, I know not why.
Lucic—Nuge—Eberle had a good night, especially by their own recent standards. When Eberle breaks out, he may carry this team for 10 days. Perhaps we see that begin on Thursday. Pouliot moved up to this line for a time, thought he looked good there, as always.
Hendricks—Lestestu—Lander didn't play well, but I also feel Mr. McLellan might have played them a little more. Shortening the bench may not be as effective as we (I) think it is.
I hope we see Slepyshev on a line with Letestu and Lander on Thursday. That is what I would do.
JESSE ON THE ROAD
Jesse Puljujarvi picked up an assist in his first AHL game, we have a line in the sand of 1/1 AHLGP-Points and so we are on track. He played with Jujhar Khaira and Joey Laleggia on what looks like a 2line but I cannot be sure. One thing I wanted to remind you of: JP had some good things going in the NHL this season, age 18.
JESSE PULJUJARVI 2016-17, EDMONTON
5×5 points per 60: 1.45 (No. 6 among regular forwards)
5×4 points per 60: 2.66 (one point in 22 minutes)
Corsi for 5×5 %: 53.2
Corsi for 5×5 % REL: 1.1 (No. 5 among regular forwards)
Dangerous Fenwick (all opponents) for 5×5%: 49.7
Most Common Linemates: Leon Draisaitl, Patrick Maroon, Connor McDavid, Benoit Pouliot
Shots on goal/percentage: 41/2.4
Boxcars: 28GP, 1-7-8
Information via Stats.HockeyAnalysis.com, WoodMoney and hockey-reference.
If JP had a normal (10 percent) shooting percentage, his boxcars would read 4-7-11 and we might be singing a different tune. I think his shot is good enough to score in the NHL, we should look for a strong 20-game run in the AHL, and then a return to the regular NHL lineup. This is what I would do.
2017 NHL DRAFT
I have to tell you this is shaping up to be a strange draft in terms of consensus. I pay attention to all kinds of lists—not as a guide, but as a curio—and it is rare to reach January and have this range even inside a top 10.

I have a great deal of respect for Craig Button, always pay close attention to his new lists. Red Line for me is the industry standard. As I mentioned, my list is mostly math so doesn't really associate in terms of compilation with these two scouting lists. That said, RLR and Button don't agree on six of the top 10, and the lists part after No. 1 overall. Hold on, this might be one of those drafts where really good prospects fall to No. 20 or later.
ANTON SLEPYSHEV
5×5 points per 60: 1.45 (No. 7 among forwards with >100 minutes)
5×4 points per 60: nil
Corsi for 5×5 %: 50.3
Corsi for 5×5 % REL: -1.0
Dangerous Fenwick (all opponents) for 5×5%: 47.0
Most Common Linemates: Leon Draisaitl, Zack Kassian, Tyler Pitlick, Drake Caggiula
Shots on goal/percentage: 22/9.1
Boxcars: 15GP, 2-2-4
Information via Stats.HockeyAnalysis.com, WoodMoney and hockey-reference.
Once again, sincere thanks to Wood Guy and G Money for access to this, I am sure it drives them nuts to see me plod along in the slow adult learner lane. But, this is how I learn, and I am thrilled to bring you the information in my 1960s style. 🙂
Slepyshev is building a decent resume here, and since he has size (6.02, 187) and speed, this is a player who has a chance to hang around for some time. We shouldn't project too much, even a Marc Habscheid (345 NHL games) is a distant bell, but this is a recall the young man did not receive in January one year ago. At the trade deadline, at least one winger could be gone. There is an opportunity here. I am cheering for him.
LOWDOWN WITH LOWETIDE
It is a cold Wednesday but better weather is on the way (actually here, just taking time to warm up). At 10 this morning, we hit the air on TSN1260. Scheduled to appear:
Bruce McCurdy, Cult of Hockey. Wednesday's with Bruce haven't changed much this season, despite the Oilers better overall record. My word the hockey Gods have it in for McCurdy. We will try to make him smile at 10:20.
Corey Graham, TSN1260 Oil Kings PBP. The trade deadline is over, and the Oil Kings were extremely active. We will check in with Corey.
Brad Gagnon, Bleacher Report. A look at the big NFL weekend coming up, and some coaching rumors.
A few more irons in the fire, we will update you at 10. 10-1260 text, @Lowetide on twitter. Talk soon!