My Dad was a pumper for Husky, and he had a big route. He drove a 1965 GMC three-quarter ton, had chains, shovels, oil spilled everywhere, work clothes (Mom wouldn't let him inside, he had strip down to his underwear, even in winter) and all the tools man ever made.
On Saturdays, he would let me go with him. That meant getting up early, he would have breakfast and a coffee but I could never eat that early. Dad (I think, this was a long time ago) had about 20 pumps he had to monitor, all of them routine—except one famous (in our house) pump.
The one spot Dad never took me to was that famous one. There was a pump in an isolated area called Pikes Peak. He worked like a bugger to make sure that motor ran like a charm, because getting there—especially in winter—was a pretty dangerous trip. There was an old dirt road in and out, or rather up (straight up!) and down, and he always talked about it.
For my brother and I, it became such a curio that, in time, we begged him to take us. He always said no, but then one time, for some reason (my Mom might have been gone away for a week or something), he took us. It was a winter Saturday, cold and early, he packed the truck and we headed up to Pikes Peak. I remember when we reached the top of the hill, looking down and thinking this would be how it all ended. WHY would my Dad do THIS for a living????? He put that old GMC in gear, it rumbled low and Dad drove it slowly, expertly, down the steep hill and to the landing and that obscure pump. It took either two minutes or 20 hours, depending on which family member you talked to at the time.
Once there, my brother and I played, played some more, and then waited. Young people today have no idea how much waiting kids did in the 1960s and 1970s. You waited, found something that amused you, did something stupid (Over the years, I chipped a tooth, lost an eyelash, got bit by something, put a nail through my foot—and I was the less brave of the two boys!) and waited some more.
After what seemed like years, Dad called it was time to go, and I ran with joy to that big red truck. Dad started it, turned it around, put it in low gear—and then my eyes met the real danger of Pikes Peak. In winter, at Pikes Peak, you kind of have to get out of there, best in daylight, because there isn't anything around for miles and miles. It has probably changed by now, but at this point on planet earth, there was a pump, a truck, two brave men and me—shaking like a leaf on a tree.
I willed that truck to keep moving with everything I had, every part of me wanted that damnable hill to level off so I could vomit until death. If going down the hill took two minutes, going up surely lasted 20. The first time I went up that hill with my Dad was 45 years ago, and I remember everything about it—the engine, my Dad's stern look, my own fear, and especially the moment when we finally leveled off and we began to talk and laugh and plan the rest of the evening.
After 10 years of missing the playoffs, I think the Oilers might be about to climb that hill. Look, we have had some times this year, but so far all we have accomplished is the preamble. Pikes Peak starts now. You make damned good and sure you are ready for this climb, because if the Oilers can't reach the summit, well, Pikes Peak gets dark early and it's cold all the time. Are you ready for this?
BIG ROCK CANDY MOUNTAIN, YEAR OVER YEAR
Oilers in October 2015: 4-8-0, goal differential -7
Oilers in October 2016: 7-2-0, goal differential +10
Oilers in November 2015: 4-7-2, goal differential -6

Oilers in November 2016: 5-8-2 goal differential -3

Oilers in December 2015: 7-6-1, goal differential -9
Oilers in December 2016: 7-2-5, goal differential +3

Oilers in January 2016: 4-5-2, goal differential -5
Oilers in January 2017: 2-3-0, goal differential -4

Oilers after 43, 2015-16: 17-23-3, goal differential -25
Oilers after 43, 2016-17: 21-15-7, goal differential +6
The Oilers lost G44 in overtime to the Arizona Coyotes on year ago. Edmonton was up 2-0 and 3-1 but the PK was crap that night and blah blah blah. In recent days this season, the Oilers have been giving up quite a few goals each night, so the goal differential is no longer handsome.
DEFENSE SCORING 2016-17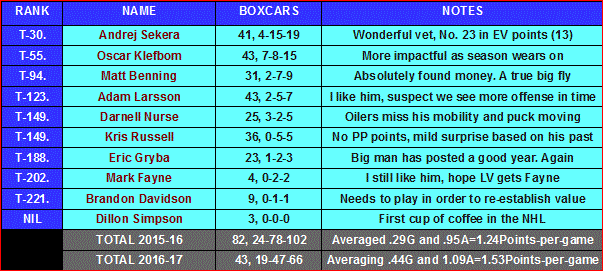 The Oilers are improved in defensive scoring, as the graph shows at the bottom. Goals are up markedly, the club is on track to score 36 goals by defenders if this pace is maintained. A great deal of improvement, and with Klefbom, Benning and Nurse capable of helping, perhaps we will see more of these kinds of offensive spikes year over year.
Last year, Sekera led the Oilers (81, 6-24-30) and finished in a tie for No. 50 overall among defenders. This is going to be a better season for the blue, if everyone stays healthy. Encouraged by Oscar Klefbom and Matt Benning, who can both move the puck well. Now, this.
Looks like new #Oilers D pair for tomorrow. Davidson set to return.
Sekera-Russell
Klefbom-Benning
Davidson-Larsson

— Jason Gregor (@JasonGregor) January 11, 2017
I like the fact Davidson is back, and pairing him with Larsson could be a stroke of genius. Klefbom with Benning is also interesting, and the Sekera pairing we have seen for about 400 minutes this season. I hope this works, because from here it looks like this could be fantastic if Sekera can move that possession number with Russell closer to 50 percent.
FORWARDS SCORING 2016-17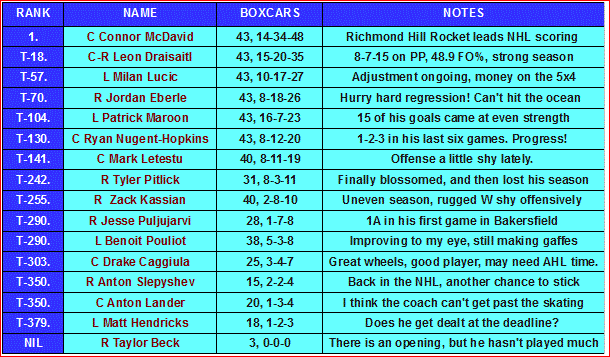 Connor McDavid is so good it is crazy, that lottery win will change the course of Edmonton sports history. Man. Thank you NHL for being so damned honest. X's and O's until I die.
The big challenge for Edmonton is finding a way to get six of these forwards inside the top 100—RNH pulls up the tail end of that group at No. 130.
Why top 100? Every NHL team should have three men inside the top 90 forwards in scoring, all things being equal. If the Oilers can cram two lines inside the top 100? I think that is about the best this team can do, failing a concerted effort to gather three scoring lines. That may happen, but not this year.
The Oilers need to add an offensive winger, preferably a RH shooter. Hell, maybe it is Anton Slepyshev.
PREDICTIONS
There is anger and rage this morning, as the San Jose Sharks turned into the Oakland Seals overnight and now the Godless Flames are nipping at Edmonton's heels. I had Edmonton finishing fifth in the division (ahead of Arizona and Vancouver) this year—in fact, let me run my numbers from August:
THE 2016-17 OILERS (RE)
Final projected record: 82GP, 38-36-8 84PTS
GF-GA: 226-226
Goal Differential: 0
Finish: No. 5 in the Pacific Division, No. 10 in the Western Conference, No. 21 overall
All-Star Team: Connor McDavid
Traded by deadline: Matt Hendricks, Jonas Gustavsson
Now, let's run the current actual factual:
Current record: 43GP, 21-15-7 49PTS (projects to 40-29-13 93PTS)
GF-GA: 121-115
Goal Differential: +6
Finish: No. 3 in the Pacific Division, No. 5 in the Western Conference, No. 10 overall
All-Star Team: Connor McDavid
Traded by deadline: Nail Yakupov
The Oilers are tracking nine points ahead of my projection, and that is a fine number. However, and we established this at the beginning today, we are just now beginning the climb up Pikes Peak. Last night's win by Calgary doesn't matter, but only if the Oilers win tonight! That's the answer, that's the nut, all down the line. Are you ready for this?
Photo by Rob Ferguson, all rights reserved
BRANDON DAVIDSON FOR RYAN SPOONER
I have written about this before, but had another thought. My stated preference is to protect 4-4-1, like this:
Goal—Cam Talbot
Defense—Andrej Sekera, Oscar Klefbom, Adam Larsson, Brandon Davidson
Forwards—Leon Draisaitl, Ryan Nugent-Hopkins, Jordan Eberle, Milan Lucic
Ineligible—Connor McDavid, Darnell Nurse, Matt Benning, Drake Caggiula, Anton Slepyshev
That is my list. Now, many people are worried about leaving Patrick Maroon unprotected, and he certainly has played well. Is he more than Brett Callighen? Is he this generation's Stan Weir? Either way, if the Oilers feel a need to protect him, then dealing Brandon Davidson for a forward might work. It adds a protected forward, and allows Edmonton to add two other forwards:
Goal—Cam Talbot
Defense—Andrej Sekera, Oscar Klefbom, Adam Larsson
Forwards—Leon Draisaitl, Ryan Nugent-Hopkins, Jordan Eberle, Milan Lucic, Patrick Maroon, Ryan Spooner, Jujhar Khaira
Ineligible—Connor McDavid, Darnell Nurse, Matt Benning, Drake Caggiula, Anton Slepyshev
I would protect Brandon Davidson, and try to make a deal with George McPhee, but we both know Maroon is going to be on the stay list if he hits 20 goals—and that seems certain. Dealing Davidson for a Ryan Spooner—I am using him as an example, you may have a finer choice—makes a certain amount of sense.
LOWDOWN WITH LOWETIDE
Today on the show, we have a range of topics and top drawer guests. At 10 this morning, TSN 1260, scheduled to appear:
Darcy McLeod, Because Oilers. The gift of Benning, offense from the defense, getting another consistent scoring line behind 97.
Eric Fawcett, PressBasketball. Raptors up and down but remain a strong contender, Canadian NCAA basketball players having an impact.
Rob Soria, The Hockey Writers. Tim Raines about to make baseball's Hall? Plus, Taylor Hall returns to Edmonton.
Frank Seravalli, TSN. The Oilers may be buyers at the deadline, will Peter Chiarelli borrow from the future in order to give this team a push?
HOW TO ACT WITH TAYLOR HALL IN TOWN
Traditionally, we cheer for returning warriors at the beginning of the game, and then boo when they do something that hurts the town team. I will not be there tonight, but if I was, would cheer like hell during any official thank you, cheer like hell during the player introductions, and then settle in as always and boo Hall if he does something to impact the game. That is fair game.
I am not your father, but allow me one moment of your time. If you plan on booing Hall for sins real or imagined during his time as an Oiler, or some story your buddy told you about that time one time at that place one time, then you should know I am not with you. Booing Taylor Hall as sport is beneath you, and is a reflection of your character and you alone. I do not stand with you now, or ever. Know this, too: I am not alone.
ABOUT ANTON LANDER
I think the lesson of the 2009 draft (at least the first two rounds) is that one failing—if it fails enough—can derail a prospect on the way to NHL success. In the first round, Edmonton chose Magnus Paajarvi, and his lack of offense ate a giant hole in his clear skills and attributes. So too Anton Lander, who brings all kinds of positives, but also feet of clay.
I am always fascinated by people who make calls on men like Paajarvi and Lander, as if they have some kind of crystal ball that allows the future to be known only to them. Both were well regarded prospects at one time, both have found it impossible to gain regular NHL employment. That alone means there is a disconnect between original promise and actual deployment during their primes.
We can suggest that Todd McLellan doesn't see what Todd Nelson saw, and maybe there is a lot of truth in saying it. However, coach McLellan isn't so overrun with forward talent that he could afford to pass over an obvious talent. I think Anton Lander may be a tweener, like Marc Pouliot and Colin McDonald and so many kids drafted by Edmonton from 1995-2010. I still cheer for him, though. Hope he makes it.