The Bakersfield Condors play host to the Stockton Heat tonight, it is a home game for the Oilers' farm team. Oilers fans have renewed interest in the minor league club, as first-round pick Jesse Puljujarvi prepares to play his second AHL game tonight.
The Condors are not an especially strong team, but could also make the playoffs with a good finish. Trying to figure out the AHL standings (not all teams play the same number of games) is a fool's folly unless you have a great deal of experience, and of course our interest in the team does not extend to playoff chances.
One area I find very important is points-per-60, or in the case of the AHL, estimated points per 60. Here is the latest from Prospect-Stats in estimated points per 60.
FORWARDS, 2016-17 EST POINTS PER 60 (EVENS)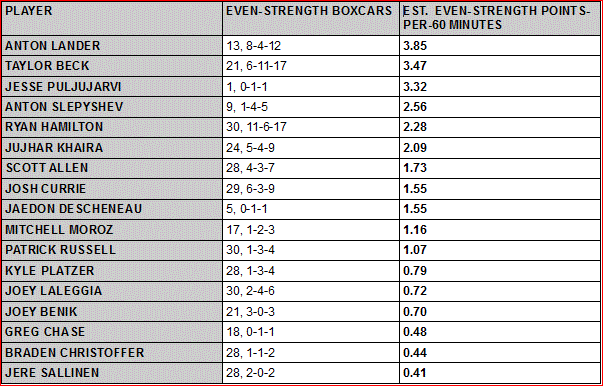 The numbers for men like Anton Lander, Taylor Beck and Ryan Hamilton aren't terribly important, we know they can post offense at this level. We are worrying about the prospects.
Jesse Puljujarvi had a good first game, as indicated here. Now, we should expect this to continue, but his boxcars should also include power-play numbers, so he might not score at 3.00+ for the entire time in the minors.
Anton Slepyshev and Jujhar Khaira are both in the majors tonight, and their minor league even-strength offense suggests they earned the jobs on merit.
The progression for Khaira is exactly what we want to see from the minors, improvements year over year and the offense showing growth. Khaira is not projected to be a top 6F, but he has to show some offense in the AHL in order for us to project him onto a secondary NHL role. He has shown it.
Mitchell Moroz is the next prospect of note, his 1.16/60 is about what we might expect for him—his journey to the NHL will not be on a skill line.
Any prospect in the 1.00-1.40 area who brings an offensive reputation of any sort—Greg Chase, Kyle Platzer, Patrick Russell—is not progressing in a way we associate with future NHL players.
Joey Laleggia is listed as a forward on my list, but much of his season has been on defense. Impossible to properly dissect his season.
DEFENSE, 2016-17 EST POINTS PER 60 (EVENS)

Stats via Prospect-Stats.
Mark Fayne appears to be having a good time.
Matt Benning spent two games in the AHL, but even in a short sample size he showed something.
David Musil is having his best offensive season. Doesn't mean a thing. There isn't much we can take from 5×5 D scoring if the player is a defensive type. Luck is the likeliest explanation of the Musil surge, and that is unfair but true.
Jordan Oesterle probably runs this number past 1.00/60 by the end of the year. I hope he makes it.
Griffin Reinhart and Dillon Simpson, like Musil, are not likely to be substantial contributors at 5×5 offense during their respective careers.
I talk about all these kids, and cheer for them. The cold hard truth is that very few of them will skate in an NHL game, and even fewer will contribute to wins. The Finn is the one to watch, from tonight until the moment he leaves town.