Make no mistake, tonight's game is going to be epic: HNIC, Saturday, national television, four-pointer, playoff implications, balls out, blood on the tracks. Anyone—any body—who tells you they know the outcome of this game is a liar. The Edmonton Oilers have not finished ahead of the Calgary Flames in a season that mattered in decades. If they are going to climb that hill this season, then this team must stand and deliver tonight. No excuses. None.
ALBERTA MOON, YEAR OVER YEAR
Oilers in October 2015: 4-8-0, goal differential -7
Oilers in October 2016: 7-2-0, goal differential +10
Oilers in November 2015: 4-7-2, goal differential -6

Oilers in November 2016: 5-8-2 goal differential -3

Oilers in December 2015: 7-6-1, goal differential -9
Oilers in December 2016: 7-2-5, goal differential +3

Oilers in January 2016: 4-5-2, goal differential -5
Oilers in January 2017: 3-3-0, goal differential -3

Oilers after 44, 2015-16: 17-23-4, goal differential -26
Oilers after 44, 2016-17: 22-15-7, goal differential +7
G45 one year ago was a shootout loss to the San Jose Sharks on the road. Cam Talbot was the star of the game from an Edmonton standpoint and he will need to have a big game tonight. The Oilers as a group need to have a strong start—something that hasn't happened in these last few games—and play a complete game. I picked the Flames to finish ahead of Edmonton this season in the Pacific Division, and they are hauling ass over the last month, kicking ass and taking names. No friends wear red tonight, this is the land of the orange and blue. Let's get this started.
DEFENSE, 2016-17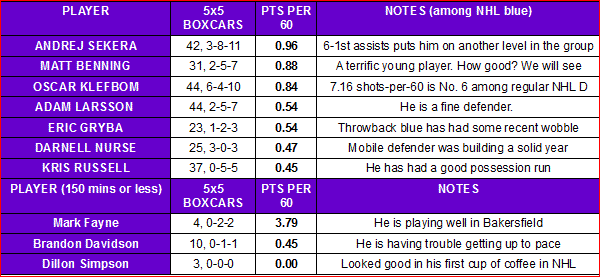 Andrej Sekera and Matt Benning are working well together. In almost 200 minutes 5×5 (now), they are at 58 percent Corsi.
Oscar Klefbom and Adam Larsson are over 50 percent together Corsi for 5×5, and we are talking over 500 minutes together.
Kris Russell and Adam Larsson have played 138 minutes together and have a Corsi for 5×5 of 48.4—that is pretty close to 50 percent and a lefty-righty. I would like to see Russell on a pure left-right pairing for 20 games.
Brandon Davidson is going to take some time, in my opinion, to reach the point where Todd McLellan can count on him as he did a year ago. He will get there. Patience and prudence.
FORWARDS, 2016-17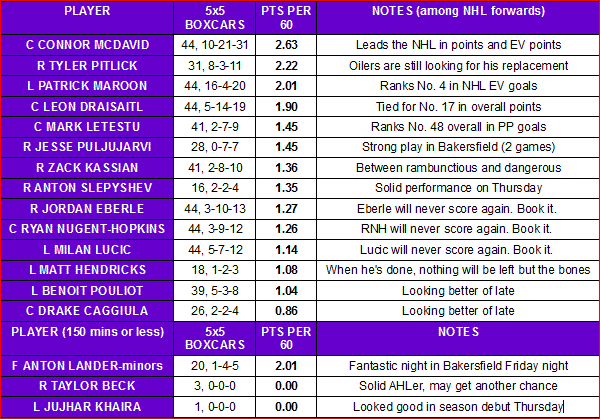 This list is kind of incredible. McDavid is of course golden, and I think credit needs to be given to Tyler Pitlick, Patrick Maroon and Leon Draisaitl for their 5×5/60 totals.
The incredible part is the group from 1.04 to 1.27/60. These men, as a group, are established NHL players of significant talent. Hendricks is not an offensive player, but the other four are performing so badly it is amazing.
What are the odds that all four (Eberle, Nuge, Lucic and Pouliot) stay below 1.70/60 for the entire season?
WATCH: @joeylaleggia set up by a beautiful play from @Jpuljujarvi #Condorstown pic.twitter.com/SBbvBifVxG

— Bakersfield Condors (@Condors) January 14, 2017
Jesse Puljujarvi has played in two AHL games and has two assists. I watched the game online, would estimate he played about 15 minutes, including one minute on a power play where he was the feature shooter. His assist was terrific (video above) and he made several impressive plays. I think this trip to the minors will be beneficial, hope he gets into 20 games or so and really posts some boxcars. Some other observations:
Joey Laleggia is a far better winger than defender. He is 3-2-5 in his last seven games.
Anton Lander belongs in a higher league.
Patrick Russell is a far more effective player now than he was at the beginning of the season.
Gerry Fleming really likes Scott Allen.
Mark Fayne is the best defenseman in Bakersfield.
Jordan Oesterle was a factor on multiple sorties. He is such a good skater.
Nick Ellis is a very good goalie, but is a poor puck handler.
Jaedon Descheneau is a burner. He may have a pro future.
Griffin Reinhart had good and bad moments. Lost a couple of battles along the wall, and did not pass the puck crisply, but he was also physical in front of the net and transported the puck well. He also scored a goal.
MAROON—MCDAVID—DRAISAITL
There's something happening here. The current McDavid line has a Corsi for 5×5 number of 67.21 percent, via Corsica.Hockey. Their shots for percentage is 72.04, expected goals for per 60 is 4.16, scoring change for percentage is 72.50. This is special. How special? The Nuge line is 2.31 (with Pouliot and Eberle) at this time. We don't know if the McDavid line can continue this run, but there is little doubt we are looking at explosive chemistry here.
If Todd McLellan can get this line out there against Jokipakka—Engelland pairing tonight, Edmonton should be sitting pretty by midnight.
PIKES PEAK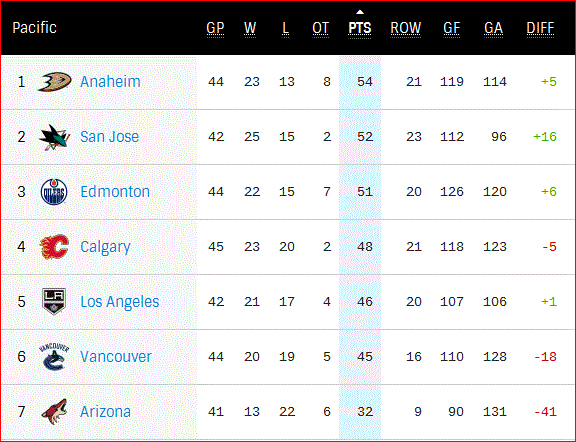 This is the climb this morning. A win for Edmonton tonight would mean a five-point cushion for the Oilers with a game in hand—that is ideal. A Bettman point with Calgary grabbing the two is less attractive, although the game in hand afterward (along with a two-point lead) would give some comfort. A pure loss would be a disappointing result, but we must acknowledge the Flames as a substantial opponent and possibly a better team.
BALANCE
At the beginning of the season, I did not publish the balance photo, and tonight's game is an example of why balance continues to elude Edmonton. The Flames needed help in goal last summer, and they got it. The club needed some good wingers, even through training camp, and found some acceptable answers. The Oilers? Backup goaltending remains an issue, and the team is still trying to figure out right wing.
I think Peter Chiarelli and Todd McLellan knew this was a growth team, they knew there would be auditions. In dressing Drake Caggiula, Anton Slepyshev, Jujhar Khaira and other youths tonight, the Edmonton Oilers are serving two masters—development of future players, and winning a hockey game.
Balance. Some sweet day.