We survived Tabernac Saturday, and it pleased the lord. Cam Talbot is a key player in this season for the Edmonton Oilers, and his importance was on display last night, In a playoff-style 1-1 game, the veteran goalie stopped 26 of 27 (.963) and gave his team a chance to win an important game. That's the gig, and Talbot has been quality (in my opinion) for the team this year. Running up that hill is a lot easier when the goalie goals.
BEAUTIFUL SUNDAY, YEAR OVER YEAR
Oilers in October 2015: 4-8-0, goal differential -7
Oilers in October 2016: 7-2-0, goal differential +10
Oilers in November 2015: 4-7-2, goal differential -6

Oilers in November 2016: 5-8-2 goal differential -3

Oilers in December 2015: 7-6-1, goal differential -9
Oilers in December 2016: 7-2-5, goal differential +3

Oilers in January 2016: 4-5-2, goal differential -5
Oilers in January 2017: 4-3-0, goal differential -3

Oilers after 45, 2015-16: 17-23-5, goal differential -27
Oilers after 45, 2016-17: 23-15-7, goal differential +7
The Oilers improvement in goal differential year over year (+34) is impressive, although the October number skews the season overall. The point improvement (+14) is solid to excellent, and you can see a few ways for this team to make the postseason (top 3 Pacific, failure of one California team, faltering Central). Edmonton finished 31-43-8 last season, meaning the club went 14-20-3 from this point to the end of the 2015-16 season. If the Oilers duplicated last year's record, they would finish 37-35-10, for 84 points. That would be a disappointment, but would still be a significant step forward. If they continue to grab points at current rate, this Oilers team will finish with 97 points, the most since the glory days. The NHL gives out points in a different manner nowadays, but that projected point total is impressive all the same.
STARTING GOALIE NUMBERS (SP)
Talbot overall: .918 (No. 13 among starters)
Talbot at even strength: .922 (No. 18 among starters)
Talbot on the penalty kill: .896 (No. 8 among starters)
I would call that slightly above average, you may have a differing opinion. Talbot posted win No. 22 last night and seems destined to pass 30 between Valentine's and the Ides of March.
DEFENSE, LAST NIGHT

Klefbom—Benning went 16-6 together, in a game like last night that is damned near unpossible. And of course, because nothing makes sense in nature, this pairing gave up the only EV GA by either side. Klefbom went 2-7 against Backlund's line. Oscar is shooting the puck often, he ranks No. 6 in the NHL in shots-60 by a defender.
Davidson—Gryba went 5-8 together, I find myself impatient for Davidson to get up to speed, but these things take time. I still think it might have been better to have a conditioning stint. Gryba went 4-3 against Backlund, and has the second best Corsi Rel 5×5 on the team (behind the magician Benning).
Sekera—Russell went 6-16 together, including a monstrous 1-9 with the Letestu line. Both men made some effective plays inside getting caved in possession, Russell made a nifty play behind his own net on (I think it was) Tkachuk, as an example. Sekera went 1-12 against Gaudreau. The Oilers need a third line center.
Stats via NHL.com, NaturalStatTrick and HockeyStats.ca.
FORWARDS, LAST NIGHT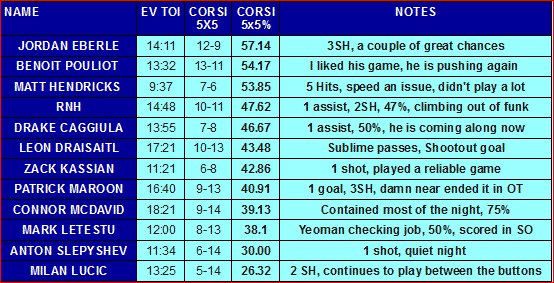 Pouliot—Nuge—Eberle performed well together, Nuge had an assist and I think Eberle earned a goal but nothing rhymes for him these days. Pouliot has regained his game, I think he was thinking too much (that must be the problem with this whole damned line). Anyway, credit to Todd McLellan for keeping them together, I think they cash this coming week. Went 5-6 against the Backlund line, 3-3 against Monahan line.
Lucic—Caggiula—Slepyshev went 5-6 together and I thought the trio looked good in limited minutes. Lucic spent time with Letestu (and Slepyshev) going 0-7, and that is where I noticed a lot of also in photo moments. I have no answer for it, but ML needs to get to plays a lot more often, and we are past the midway point of the season. The idea of playing on the soft minutes 3line is to dominate, and that did not happen. Milan needs to be better 5×5, a lot better. Caggiula went 3-2 against Backlund.
Maroon—McDavid—Draisaitl went 9-13 together, but for me the real story was an extremely quiet first 40 minutes. Things picked up in the final frame and then McDavid slammed the Flames when he got some air. Oilers need another scoring line in order to get 97 some Clearance Clarence out there. McDavid went 5-9 against Giordano, the numbers don't show any of the forward lines being hard matched. 97 was 4-6 against Monahan and 1-3 against Stajan, 1-3 against Backlund.
Hendricks—Letestu—Kassian went 7-6 in some depth minutes, I didn't think the group got a lot done. Then again, they didn't get scored on either, so there is that. Letestu is money in the shootout, another item in what is a pretty damned handy tool kit.
ABOUT LAST NIGHT
I think the Oilers missed Adam Larsson and his steady play, and absolutely have to find a second scoring line soon. For me, that was a playoff game last night, and Edmonton was not the better of the two teams. Now, that doesn't mean Calgary is superior, and I was impressed that the Oilers could win that style of game against the Flames—who are a good, if inconsistent, hockey club. The southern visitors were on the second of a BTB but accounted well for themselves in my opinion. As big a test as it was for the home side, this coming Saturday will be a higher mountain. Many rivers to cross.
PIKES PEAK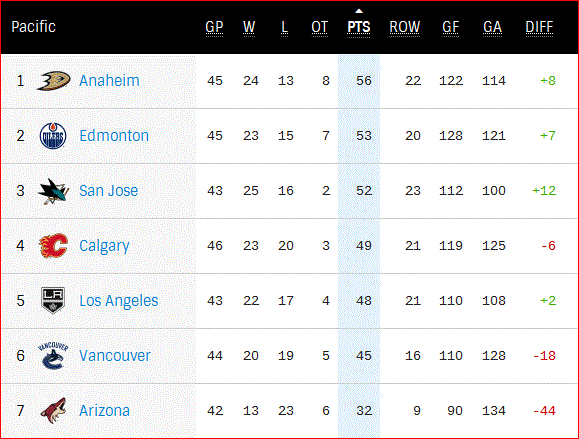 This is the kind of table we have been screaming for since 2006 fall, and last night's win lets some air into the room. I think last night's game also gives us a chance to honestly evaluate what is needed for this team to succeed—now, and into the future.
NEEDS
Edmonton heads to the deadline lacking balance in some important areas. We know all problems cannot be solved, but Peter Chiarelli should have no trouble filling his days and nights up to the deadline.
Two-way Center for the third line. Martin Hanzal is ideal for Edmonton, the cost is very likely too dear. I don't have a name for you, but grabbing a veteran center, moving Drake Caggiula to the wing or minors, is an instant improvement for this team.
Substantial backup goalie. Cam Talbot was very good last night, but the Oilers are terribly vulnerable to injury/slump at this position, unnecessarily. Peter Chiarelli fixed this a year ago in mid-summer with Anders Nilsson, needs to do it again.
A Fernando Pisani. The RW depth chart last night featured Leon Draisaitl, Jordan Eberle and Zack Kassian. I have no quarrel with that group, or Anton Slepyshev (or Tyler Pitlick) long term, but Edmonton really does need a Fernando Pisani for this emerging bottom 6F. What do I mean by a Fernando Pisani? A 15-goal (even-strength goals) young veteran who can be the defensive conscience for a line while also mentoring one or two youths. I could call this spot a Marty Reasoner and it would have the same meaning. If the Oilers are going to be bringing along young, inexpensive talent in third and fourth line roles—and they are—then a foundation player is going to be required.
TODD MCLELLAN
"It was very playoff-like. Very little space for both teams. We really had to work for everything we got."
This morning, as we sit and enjoy that standings table, it is also worth discussing this team as a playoff roster. Peter Chiarelli needs to replace Drake Caggiula with someone who is a veteran, needs to replace the Pitlick spot with more of a two-way mentor, and needs a significant backup goalie. The list of needs is dwindling, and defense isn't on the needs list (depending on injury) at this time—that alone should be breaking news.
This team can make the playoffs, but it is not assured this morning. There is a lack of balance in important spots and it could cost the postseason, even now, this late in the season. Will Peter Chiarelli use some future assets to improve this roster, or will he keep his powder dry.