"I've made deals where I know the other team is getting the better player, but I knew what we needed. Sometimes you've got to trade a better player to get what fits what you ultimately need." -Jim Rutherford, Behind the Moves.
I think general managers are easier to read than they are sometimes made out to be by fans and media. We talked about the Oilers possibly trading Taylor Hall before the warm weather, and the national media (Bob McKenzie, Frank Seravalli, Elliotte Friedman) had Edmonton in play for a big deal. By the way, so did the local media (Bob, Ryan Rishaug, Robert Tychkowski). Here is a passage from this blog, April 2016:
Lowetide: It is a bad time to be heading to market, with your prime bullets being devalued by another losing season. The standings suggest there has been no improvement this season, but the goal differential and the 5×5 scoring suggest real progress. This point in time reminds me of the summer Edmonton fired Tom Renney. He was making progress, and it has taken many years (four!) to get back to what Renney had idling in the driveway. Keep your powder dry, Peter Chiarelli, these are good hockey players and you do not want to be the man who trades Taylor Hall for 60 cents on the dollar. This town will never forgive, no matter what the scribes are writing today. And that's for sure. Source
Well, Peter Chiarelli traded Taylor Hall, for Adam Larsson but also for the freedom to sign Milan Lucic with the Hall dollars. Note: This does not mean I am arguing that the trade was Hall for Lucic and Larsson, I am making a different point you won't like.
While you and I chat about the sunk cost of the Hall trade and the Lucic contract or Larrson impact, the general manager has moved on and is looking down the line. For, as important as those moves (and others, like Matt Benning and Patrick Maroon) have been, there is more building to do, and the standings—the standings—allow Peter Chiarelli to do that work, instead of another man.
You and I keep score on a giant whiteboard in our minds. Peter Chiarelli is approaching this deadline with an eye to the standings, and winning, and ultimately getting that Stanley to Edmonton. He clearly isn't going to do it the way you or I would, and that's fair because neither of us threw our hat in the ring and pursued sports management as a career. We are left to discuss, rage, cipher, and ultimately wait. No matter how fine our minds, we don't know all of the elements in play, and even the most passionate of us will admit there are things we cannot know without being in the chair. What we can say is this: The moment PC traded Taylor Hall, his chosen rebuild path fractured in comparison to most Oilers fans and observers. I said it then, I say it now: Chiarelli traded Hall because he had the highest value, but he better be right. A Stanley in our town is his redemption.
I am struck this morning by just how different Peter Chiarelli's view of his team is from that of the people who read and post on this board. We are discussing the past and projecting it into the future. Chiarelli is trying to overcome management errors going back 10 years by building an NHL team, an AHL team and a scouting staff who can sustain the McDavid era. I expect we will all be exhausted by the time Stanley arrives in Edmonton, Chiarelli from making moves, and us from second guessing them. There is much to talk about, and today we begin a discussion of the spring and summer in Edmonton.
BLUE MONDAY, YEAR OVER YEAR
Oilers in October 2015: 4-8-0, goal differential -7
Oilers in October 2016: 7-2-0, goal differential +10
Oilers in November 2015: 4-7-2, goal differential -6

Oilers in November 2016: 5-8-2 goal differential -3

Oilers in December 2015: 7-6-1, goal differential -9
Oilers in December 2016: 7-2-5, goal differential +3

Oilers in January 2016: 4-5-2, goal differential -5
Oilers in January 2017: 4-3-0, goal differential -3

Oilers after 45, 2015-16: 17-23-5, goal differential -27
Oilers after 45, 2016-17: 23-15-7, goal differential +7
G46 one year ago was a 2-1 shootout win over the Calgary Flames, Teddy Purcell the hero. Jordan Oesterle was recalled yesterday, that probably means Adam Larsson on IR and we hope it isn't a month of Sundays until we see him again. Oilers play the Coyotes, Panthers, Predators and Flames this week, and should pass 25 wins by Saturday night—by game 50! Some nice milestones to come this season, if things continue to roll in their current direction.
OILERS 2017-18, PROJECTED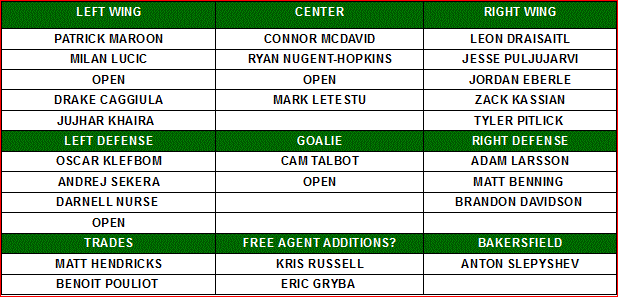 I think Benoit Pouliot is gone for sure, and Jordan Eberle might be available too but the return would be very poor. Edmonton is probably better off keeping him for a soft minutes 3line next season.
The McDavid line looks set, despite the issue with moving Leon out of the pivot position. The Oilers don't have anyone in the pipeline, so we should probably make a list of $2-$3M RHCs who might be able to fit a two-way role as 3C on this team. Sam Gagner? Nah, Oilers need a player who can face tough opposition, as required.
The Nuge line probably gets Jesse Puljujarvi, who should be able to hammer and cycle with Lucic, while Nuge is the defensive conscience for the trio.
The 3line is going to need an overhaul, beginning with the replacement for Leon at center. Benoit Pouliot would be a reasonable fit for this line, but it has been too long at the fair.
In the forward scenario above, Drake Caggiula becomes a valuable utility forward, or at least that would be his projected role. Caggiula could play 3C, 3L or play on the 4line and give that trio speed and skill.
Mark Letestu remains a valuable player, being used heavily on both special teams and anchoring the fourth line. Cagguila spending a season on his wing may have in development.
The emergence of Matt Benning is a big item for this team, as he may grow into a strong second pairing blue and could have a prominent role on the power play. Of all the moves PC has made since arrival, this might be the big one (the McDavid selection was a no-brainer) so far in his time with the team.
Griffin Reinhart is probably on this list in the fall, but I have spoken to people who think the big defender is possibly vulnerable to the expansion draft. LV is going to need players who can hang around for years, and GRs age and contract (moving forward) may be too attractive to pass over at the expansion draft.
POSSIBLE ACQUISITIONS
RC David Krejci, Boston Bruins. It would probably cost the Nuge, and Krejci is 30 and has a no move. He was the perfect fit for Milan Lucic in Boston, and makes $7.25M through 2021 summer. A Lucic—Krejci—Puljujarvi line has some potential as a wrecking crew/successful possession unit.
RC Tyler Bozak, Toronto Maple Leafs. He is often maligned but he is a veteran and would offer the Oilers quite a bit as a soft line 3C with Eberle and the new Benoit Pouliot. He wouldn't cost the moon, although Sweet Lou would want too much.
RC Jean-Gabriel Pageau, Ottawa Senators. Wonderful player can do all kinds of things, including forecheck like a demon, penalty kill and agitate. Why would Ottawa trade him? Well, he is due a raise this summer and the notoriously frugal Sens may decide he wants too much.
RC Derek Ryan, Carolina Hurricanes. He is having a breakout season and is UFA this summer. Former University of Alberta Golden Bears star has made good on the belief some (Bob) had in him going back many miles. If he reaches free agency, he would be an interesting fit to this group.
RC Ryan Strome, NY Islanders. Garth Snow is living through the winter of Brooklyn's discontent, and who knows what is going to happen with this team over the spring and summer. Strome is currently a disappointment, but there is plenty of skill here. Interesting option, one I think might be worth pursuing.
R Sam Gagner, Columbus Blue Jackets. He will be getting a raise from the $650,000 he currently makes, and perhaps Edmonton will be a good fit for him. I think you put him on 4R (meaning he replaces Zack Kassian) and 1PP, and this is the first pure winger I have listed (although Strome may end up there).
C Nick Bjugstadt, Florida Panthers. All kinds of reasons to stay away, including injury and cap hit ($4.1M through 2021 summer). If Sunrise retained? There is a lot to like about his skill set.
PATRICK HONEYMAROON
What will the contract look like? $5 million times four years? My guess is that is exactly what the Patrick Maroon deal ends up being—unless it is $4 million for five years. In a twist of cruel hockeying, Peter Chiarelli acquired Milan Lucic in the spring before signing him. All of the Milan things done on Connor McDavid's port side are done by a giant man from St. Louis named Patrick Maroon. What are going going to do?
MAKE IT SO!
I have watched in (mostly) silence as Ryan Nugent-Hopkins skated through what surely must be his most frustrating season. Nuge remains a good possession player, but consider his (and 14's) output when Jordan Eberle is on the ice with him:
Nuge with Eberle: 1.59 5×5 points-per-60, 54 percent possession in 226 minutes.
Eberle with Nuge: 0.79 5×5 points-per-60, 54 percent possession in 226 minutes.
Jordan Eberle is a shadow of his former self in terms of the numbers. He has been getting good chances, hitting iron, et cetera, but I also think he has fallen in love a little with his stickhandling ability. Time and again this season, Eberle has gone into his bob and weave mode, only to get run over by a faster checker who plops him in the corner and runs off with his lunch. I think we are at a point where Jordan Eberle needs to reinvent his game—tough to do in mid-career. His speed seems to be less impactful, his shot takes too much time, and he can't deke by most oncoming traffic this season. He looks dead in the water.
CONNOR MCDAVID
Is the most valuable player in the NHL. No player has done more to help his team win hockey games, or hold on for ties, or watched his wingers fail to tap in the damned puck, than 97. He should have a 10-point lead in the scoring race and this team should be at the top of the division. That will have to wait for next year, and I believe we will see another $6M forward heading to the YEG airport on his way to a new home this summer.
LOWDOWN WITH LOWETIDE
A fun, busy show this morning. I love Mondays, but don't tell anyone it pisses them off! Scheduled to appear, beginning at 10 this morning on TSN1260:
Scott Burnside, ESPN. Oilers as a playoff team, Letang hurt in Pittsburgh, the Capitals are rolling.
Andy McNamara, TSN4Downs. What a classic football game yesterday! Also Chiefs-Steelers.
Jason Gregor, TSN1260. Taylor Hall romps through Western Canada on his Exile on Main Street tour.
Sunil Agnihotri, Copper & Blue/The SuperFan. Sunil correctly called last week (2-1-0) so we will ask him about this week, the defense, and what PC should do at the deadline.
10-1260 text, @Lowetide on twitter. See you on the radio!