I scored my first NHL goal when I was 10, Bobby Orr sent me a brilliant pass and I drove into the Montreal zone and went shelf. It wasn't at the Forum, or the Garden, but it was sweet all the same. There is something about a first NHL goal that speaks to all of us—the one hockey dream shared universally—no matter your team allegiance. Welcome, Jujhar Khaira, to a very exclusive club. It was a nice one, too.
DISORDER, YEAR OVER YEAR
Oilers in October 2015: 4-8-0, goal differential -7
Oilers in October 2016: 7-2-0, goal differential +10
Oilers in November 2015: 4-7-2, goal differential -6

Oilers in November 2016: 5-8-2 goal differential -3

Oilers in December 2015: 7-6-1, goal differential -9
Oilers in December 2016: 7-2-5, goal differential +3

Oilers in January 2016: 4-5-2, goal differential -5
Oilers in January 2017: 5-3-0, goal differential -1

Oilers after 46, 2015-16: 18-23-5, goal differential -27
Oilers after 46, 2016-17: 24-15-7, goal differential +9
The Oilers are accomplishing what we set out for them in January, and I think we should acknowledge what has been a solid two weeks for the team. Here is the original expectation, updated for games already in the books.
WHAT TO EXPECT FROM JANUARY
On the road to: Columbus, Boston, New Jersey, Ottawa (Expected: 2-1-1) (Actual: 2-2-0)
At home to: San Jose, New Jersey, Calgary, Arizona, Florida, Nashville (Expected Result: 3-1-2) (So Far: 3-1-0)
On the road to: Calgary, Anaheim, San Jose (Expected Result: 2-1-0)
At home to: Minnesota (Expected Result: 0-1-0)
Overall expected result: 7-4-3, 17 points in 14 games
Current Results: 5-3-0, 10 points in eight games
They are slightly behind my projection, but there is time and winning five of eight games to start the month gives Edmonton a chance to get some real clearance between themselves and the Flames/Kings. Whatever happens from here, we reached mid-January with a full tank of gas and good winter driving conditions.
PIKES PEAK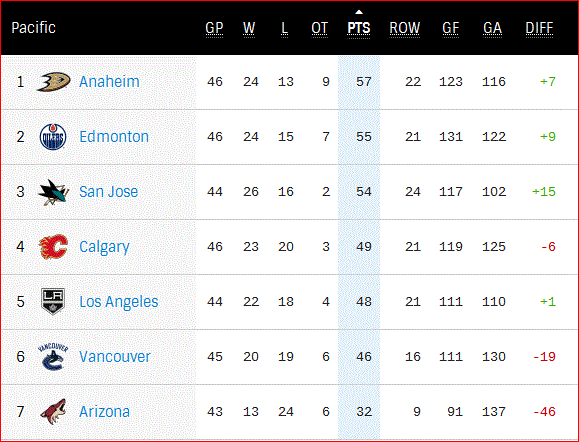 There is some clean air now for Edmonton, the Flames really needed that game on Saturday. Of course, a win in the Saddledome this weekend makes things better, but at this point the northern town is looking good. The Los Angeles Kings keep stumbling, and Vancouver is just going to have a terrible time keeping this pace.
DEFENSE, LAST NIGHT

Sekera—Russell went 13-10 together, had some difficult moments but also used veteran savvy to wiggle out of trouble. Each man was +1, and Sekera is so good in the offensive end it is one of my favorite parts of the team. Sekera blocked a shot off his wrist/arm/groin area depending on who you listen to, and that could be very bad news for Edmonton. Light a candle. Went 6-6 in 5:43 against the Hanzal line.
Davidson—Benning went 9-8 together and were definitely the third pairing. I like the duo, and wonder how much of the task this tandem could fill when Davidson is healthy. Very mobile, a little undersized, but smart and great passers. Interesting pairing. Went 2-2 in 1:28 against the Hanzal line.
Klefbom—Larsson went 7-12 together in 16:28, a very large slice of the game. Larsson got an assist and Klefbom hit the post, and they blocked six shots between them. They played well to my eye, a late wobble might have cost them but the Coyote couldn't cash. Went 4-4 in 4:37 against the Hanzal line.
Cam Talbot stopped 20 of 21, .952.
Numbers via HockeyStats.ca, NHL.com and NaturalStatTrick.
FORWARDS, LAST NIGHT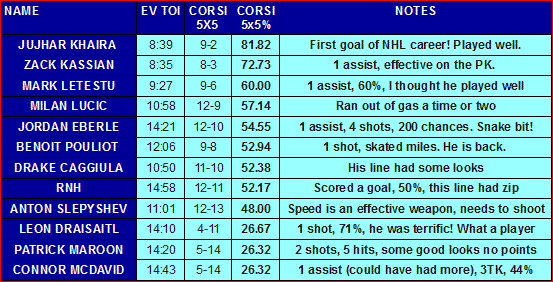 Khaira—Letestu—Kassian went 7-3 together and got lots of good things done. Kassian had his good boots on, and Khaira is faster than Hendricks, so the No. 4 train was rolling down the tracks faster than we have seen most times this season. All three men were involved in Khaira's goal, one of the nice moments this season. This went went 3-4 in 2:58 against the Martin Hanzal line.
Lucic—Caggiula—Slepyshev went 10-8 together and I thought they were close to clicking a few times. This is a tough line for ML, he is working with two rookies. Still, you would think there would be some offense for a line that faces softer oppositon, but just two shots. Slepyshev had some looks but passed on shooting at least once, and Lucic ran out of gas on a promising sortie.
Pouliot—Nuge—Eberle looked like last year's trio, some really promising shifts from this line. Nuge scored, Eberle had an assist and Pouliot back checked like a demon. Huge positive arrow. A monster. Line went 12-10 together, 5-5 in 6:09 against the Hanzal line.
Maroon—McDavid—Draisaitl had a tough time in possession, Leon scoring on a nice pass from 97 but that was one sweet move by the big man. Went 1-4 in 1:36 against the Hanzal line, but for me it looked like there were plenty of promising moments but the finish was lacking compared to normal. This line remains golden in my eyes.
With just .2 seconds remaining in the first period, @EdmontonOilers prospect @Jpuljujarvi flips one past Armalis for his first #AHL goal. pic.twitter.com/YI2jkFj7Jf

— AHL (@TheAHL) January 17, 2017
That was a nice goal. Jesse Puljujarvi is now 4gp, 1-3-4 and continues on his merry way in the minors. I think we will see him again this season, possibly around the trade deadline. His PP usage will be something worth following for the next six weeks, and of course we can discuss where he will play upon return. Right now, the 1R and 2R slots appear to be occupied by productive players.
BROSSOIT OR GO SHOPPING?
I think there are members of Oilers management who want to give Laurent Brossoit a chance, but I wonder if the head coach does. Also, LB is not a Peter Chiarelli guy, and my experience in watching general managers is that does make a difference. Let's compare Brossoit to a readily available goalie also playing in the AHL:
Laurent Brossoit: 21gp, 2.67 .908 with the Bakersfield Condors
Reta Berra: 19gp, 2.15 .921 with the Springfield Falcons
Brossoit is having a good season save for three poor outings around Christmas, but if you are Peter Chiarelli and Todd McLellan, maybe you wait on the prospect until the fall and grab a backup with NHL experience. Fair? I think it is probably worth consideration. Adding to the decision? A decidedly uneven NHL audition last year, suspect there is a hesitancy to trust such an important season to an inexperienced hand.
Hearing that #WHLGiants captain Tyler Benson has a pubic-pelvis bone injury that results in groin pain. Benson has missed 6 games.

— NEWS 1130 Sports (@NEWS1130Sports) January 16, 2017
An extremely frustrating situation for all involved, especially considering Benson is having a solid year. Steve Ewen from the Vancouver Province discusses possible connections to last year's injury here, including a quote from the player. Benson is an excellent prospect, and plays in an area of need, but he must remain healthy.
OILERS FORWARD PROSPECTS NHLE 2016-17
Benson's good year is encouraging for the Oilers depth chart, and that LW situation badly needs him to come through for the club. Here are NHLEs (junior, college, minor, Euro) for all substantial Oilers forward prospects at this time.
R Anton Slepyshev 13-30-43
R Jesse Puljujarvi 10-29-39
C Tyler Vesel 21-17-38
C-L Jujhar Khaira 11-18-29
L Tyler Benson 6-22-28
C Aapeli Rasanen 4-14-18
C Bogdan Yakimov 5-8-13
For me, the only lock for successful NHL employment on this list is Jesse Puljujarvi, but the Oilers need many more prospects pushing. There are basically five men in the entire system who we can reasonably suggest are on track this season as NHL prospects. One of them (Vesel) may not be signed (we haven't seen or heard much on him), Benson has injury issues, and as much as I like Anton Slepyshev the numbers may not rhyme for him once JP is here and producing. That leaves Khaira, who looks NHL-ready, and Benson. Razor thin, ladies and men. Razor thin.
WHY IS THIS HAPPENING?
Three things:
The 2013 draft, MacT's first, looked like a very intelligent selection at the time. The scouts told him trading down and adding more picks was the right thing to do, and that's what he did. Unfortunately, the second rounder (Marco Roy) did not take the next step offensively, and Bogdan Yakimov balked at AHL time and took off for the Russian Riviera. Only Anton Slepyshev, a pretty good prospect, looks like he could land. Added to first-round selection Darnell Nurse, the 2013 draft looks (we still have some track) like a slightly below average trip for Edmonton.
The 2014 draft, MacT's last, is the most curious edition of the century. It looks like the Oilers felt their prospect cupboard was teeming with talent, and they chose to pick prospects who would not turn pro in 2016. After Leon Draisaitl, William Lagesson and Zach Nagelvoort, the Oilers spent the back half of the draft going walkabout. There are four NHL players already chosen after Nagelvoort, all of whom played in the CHL, Sweden or Czech leagues considered fertile ground. It was a weird draft.
The 2015 draft, while offering Connor McDavid and several promising defenders, also purchased Griffin Reinhart, Cam Talbot and Eric Gryba for the big league team. In other words, having no trade-worthy assets in the AHL or fringe NHL, PC was forced to trade strong picks in a golden draft to get where he wanted to go in the rebuild.
The 2016 draft looks good, but is also developing a worry a week. Jesse Puljujarvi is in the minors, Tyler Benson isn't playing currently.
The NHLE list above has to be of concern to Peter Chiarelli. He added college men by the score last spring and may be forced to do it again—just to keep pace with other NHL teams who will be graduating enormous talents from the 2015 selection. I think it too early to judge that draft, or the 2016, but the last truly strong draft by Edmonton was 2011 (Nuge, Klefbom, Rieder) and even that one was flawed because the club couldn't sign Rieder.
All of which is to say the following: Entering the trade deadline, Peter Chiarelli must add draft picks, because this team is in dire need of improved depth in the prospect area. I am not as down on his performance in Edmonton as many are, and will give credit for Matt Benning, Drake Caggiula and even Matt Ellis (although who knows what they have there), but the procurement of amateur talent must continue unabated. Miles and miles to go for the Edmonton Oilers, the mistakes of the last decade—no minor league team, second-round black hole, challenging Petry, not signing Rieder—all contributing to the current situation.
Seravalli was in for Dreger (under the weather) on 1260 today, and provided a glimpse into the Trade Bait board that'll be revealed today…

— Chris Nichols (@NicholsOnHockey) January 17, 2017
TSN Trade Bait Board
1 Duchene #Avs
2 Hanzal #Coyotes
3 Vanek #RedWings
5 Landeskog
6 Vrbata
8 Eberle #Oilers
9 Shattenkirk #stlblues

— Chris Nichols (@NicholsOnHockey) January 17, 2017
On the want side, I would love to see Duchene, Hanzal, Vanek, Landeskog, Vrbata and even Shattenkirk as Oilers, but overpaying for a rental is insane, so the defender is off the list. The presence of Eberle is interesting, it may indicate Peter Chiarelli has his eye on a free agent or highly priced RW currently on another roster. I did a 20 for the Oilers post at New Years, it is here.
LOWDOWN WITH LOWETIDE
A list of guests still coming together, it all starts at 10 on TSN1260. Jonathan Willis from Oilers Nation will be live at 10:20, and Scott Cullen of TSN will join us at 11:05. The rest is out in the ether, will update as I am able.