My Dad used to say things happen for a reason. He would usually say that after some catastrophic event (my Uncle Mark once drove over my Tonka Volkswagen with a real Volkswagen) but Dad held it to be true no matter which way the wind blew. We may have a case of things happening for a reason, right here, right now—or it could be a giant waste of time. That said, dreaming is free.
SCHADENFREUDE, YEAR OVER YEAR
Oilers in October 2015: 4-8-0, goal differential -7
Oilers in October 2016: 7-2-0, goal differential +10
Oilers in November 2015: 4-7-2, goal differential -6

Oilers in November 2016: 5-8-2 goal differential -3

Oilers in December 2015: 7-6-1, goal differential -9
Oilers in December 2016: 7-2-5, goal differential +3

Oilers in January 2016: 4-5-2, goal differential -5
Oilers in January 2017: 5-3-0, goal differential -1

Oilers after 46, 2015-16: 18-23-5, goal differential -27
Oilers after 46, 2016-17: 24-15-7, goal differential +9
G47 one year ago was a win, Edmonton over Florida 4-2. Taylor Hall was the big star, and Edmonton—at that point in the season—looked like a club that might be able to push toward something resembling .500.
MONEY QUOTE
Bob McKenzie quote: "We do know this, the Oilers and Shattenkirk talked last summer. The word was at the time he didn't look favorably at Edmonton. But because how things have changed there, and because the Blues maybe aren't as good, maybe he looks at things differently." Source
This is a fascinating quote, with real nuance. If you write a hockey rumors site, notice the specificity of the verbal. Things have changed to the point where there may be a window of opportunity. It may also benefit Edmonton, because if St. Louis pulls the chute, the price tag now could be far less than in summer. It probably costs a young defenseman and a conditional pick (second rounder if they don't sign, first round if they do). The question then surrounds the quality of the young player, and Brandon Davidson would be my guess (you may feel that is a terrible idea).
FORWARDS, 2016-17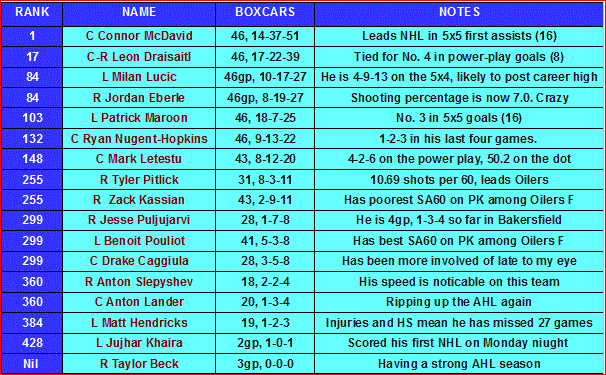 Connor McDavid is posting a grand season, just so enjoyable to watch. One of my favorite things about watching teams emerge is finding out who gets to play wing with the superstar. The Philadelphia Flyers won a Stanley Cup before finally landing Reggie Leach for the Bobby Clarke line. They played together with the Flin Flon Bombers and when Leach arrived they won it all again—with the Riverton Rilfe's goal total rising from 22 to 45 to 61 in what was a harbinger of the roaring 80s.
I don't know for sure, but Leon Draisaitl may end up as a RW forever. You know, chemistry is the damndest thing, once you find it there is a very good chance you will come back to it. I know you hate the idea, but the depth chart next season may look something like this on the top two lines: Maroon—McDavid—Draisaitl; Lucic—Nuge—Puljujarvi. A new center, preferably righty, moves in for the 3C job. Thoughts? Don't tell me you all love it at once.
DEFENSE, 2016-17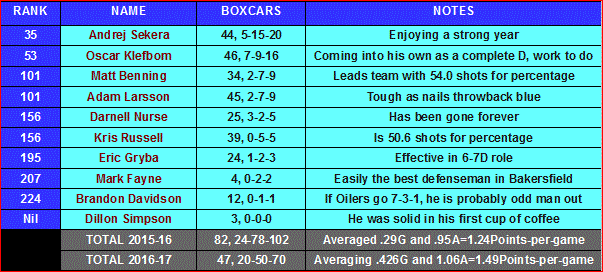 If Edmonton were to acquire Kevin Shattenkirk, where would you put him? Alongside Andrej Sekera? Oscar Klefbom? Kris Russell? Brandon Davidson?
Todd McLellan about Andrej Sekera: "He blocked a shot but he should be fine for tomorrow. We're counting on him." 
Sounds about right. If the Oilers are going to acquire Kevin Shattenkirk, and I do believe this story has legs, then surely there is at least a chance the Blues' defender signs for a season or two in Edmonton. Here is my ideal set of blue should this happen:
Sekera—Shattenkirk
Klefbom—Larsson
Nurse—Benning
I know the third pairing is young, but the duo has played over 115 minutes together with a 54 percent possession number. This assumes Davidson is part of the package, and of course it would make sense to sign Shattenkirk after the expansion draft. Dealing Davidson, and I am still uncertain it is wise (good young player), would make the expansion list far easier:
G Cam Talbot
D Adam Larsson, Oscar Klefbom, Andrej Sekera
F Leon Draisaitl, Ryan Nugent-Hopkins, Milan Lucic, Jordan Eberle, Patrick Maroon, Benoit Pouliot, Mark Letestu.
Note: I would protect Benoit Pouliot, but suspect Edmonton will not, perhaps Jujhar Khaira or Tyler Pitlick wins that spot.
WHAT DOES IT ALL MEAN?
A wonderful dream. St. Louis is extremely likely to keep Kevin Shattenkirk for its own playoff drive, but if Brandon Davidson and a conditional pick could get it done, would you do it? If the conditional pick was a first rounder, and it was 2018, conditional on Shattenkirk signing, would you do? And further, if that deal fell through, would you send a similar package to Arizona for Martin Hanzal?
.@NHLCentralScout has released its midterm rankings of draft eligible players for the 2017 NHL Draft. https://t.co/omR3XuAzjj

— Mike Morreale (@mikemorrealeNHL) January 18, 2017
Central Scouting does a lot of things I don't understand (four lists, they get stubborn on falling players and it ends up hurting these kids because they fall like anvils from the sky on draft day), but this mid-season list is important. We get to see the entire scope of the draft. Some quick notes on this year's list:
RD Cale Makar is No. 10 NA. I had hoped he would be ranked lower, suspect he may be gone by the time Edmonton drafts.
RC Robert Thomas is No. 28 NA. He is a really good prospect, Edmonton might be wise to trade into the 31-40 range and grab him.
RD Will Warm of the Edmonton Oil Kings is No. 154 NA, while teammate LD Brayden Gorda is No. 210. That is a surprise to me, but Warm has had a good season.
G Michael DiPietro is the No. 7 NA goalie. That is insane.
LC Elias Pettersen is No. 2 EURO skater. He numbers in the Allsvenskan are damned bloody interesting, and he might be a more substantial player than most of us are guessing. His rank is higher than I would have thought, perhaps suggesting the scouts have seen a spike in performance.
RD Timothy Liljegren is ranked No. 7 EURO, in a shocker. I wonder why he is ranked so low, most lists have him much higher overall. His offense is pretty good for 10 minutes a night in a man's league, will be interested to see where he lands on the final list.
I will have a new list out for the 2017 draft at the end of the month, my latest look is here.
LOWDOWN WITH LOWETIDE
Wednesdays are always fun for me, I get to talk to my friend Bruce McCurdy. Today, it is extra special. Scheduled to appear, beginning at 10 this morning, TSN1260.
Bruce McCurdy, Cult of Hockey. We get to discuss an Oilers win! Plus preview tonight's game and talk about the Shattenkirk rumors.
Steve Kournianos, The Draft Analyst. We will chat about the new CBS list, and players who have spiked since the beginning of the year.
Warren Cromartie, Montreal Expos. The man, the myth, the legend. On the occasion of what may be Tim Raines Hall of Fame induction day, we talk to a former teammate. We will also chat Expos return in my lifetime.
10-1260 text, @Lowetide on twitter. See you on the radio!