In our last episode, we discussed the minor-league free agents (RFA and UFA) and also threw out some names of possible free agent signings via CHL options. That post is here. I have a few things to discuss tonight.
GERRY FLEMING
There was lots of reaction to Jesse Puljujarvi playing on Bakersfield's second line when he went down to the AHL. JP played with Josh Currie instead of Joey Laleggia, while Tyler Beck ran with Ryan Hamilton and Anton Lander on the 1line. In the one game I tracked, it looked like the Lander line ran well past 20 minutes and the Currie line around 14 or 15.
Now, you and I can discuss the wisdom of using the Oilers top prospect in this manner, but if this is the plan set out by management there is no story here. I have long since given up on the Oilers using their talent in what we might be consider a rational way, and we await the Finn's return to Edmonton.
If Gerry Fleming isn't deploying Jesse Puljujarvi as Peter Chiarelli wishes, then I imagine the Condors have a new coach this summer. We have no evidence of a fracture, so I don't think discussion of same should cause major upset. The Oilers endorse the slotting. Right?
FREE-AGENT LIST
I started a list in volume one, kind of a quick trip around the CHL, but wanted to expand on it today. These men are not listed in any specific order, but all are players of interest.
C-R Zack Aston-Reese, Northeastern University. He is 6.0, 190 and plays a heavy game. Certainly a Chiarelli—McLellan type and has skill.
LD Daniel Brickley, Minnesota State-Mankato. Oilers have been mentioned in regard to Brickley in the past, and he would certainly merit a roster spot. Can he break through the Leftorium?
LD Gavin Bayreuther, St. Lawrence University. He has been a player of interest for some time and was having a strong season year (more than a point per game) before his injury. Should have a lot of interest.
G Parker Cahagen, Army. I honestly didn't know Army had a team, but this guy has a .938SP so he can play.
C Mike Vecchione, Union. Complete center who may be the most valuable player on this list. He is in his senior year and ripping it up.
R Tyler Kelleher, New Hampshire. A 5.06 senior is only a prospect if he is leading the world in points. Kelleher has 40 points in 22 games and someone will sign him.
RD Ryan Mantha, Niagra IceDogs. He was drafted by the NY Rangers, but they chose not to sign him. Mantha has performed very well as an overager (1996) and someone will sign him.
RD Aaron Irving, Everett Silvertips. It may be just an AHL deal, but I believe he can play pro and he addresses an extreme area of need for the organization.
L Ryan Graham, Swift Current Broncos. Fast winger with a terrific shot, Oilers need a bunch of these guys, maybe one will cash.
RD Darren Raddysh, Erie Otters. Former teammate of Connor McDavid, he is a steady defender with two-way ability. Nothing flashy, but he can play.
RC Austin Glover, Red Deer Rebels. He has good size and speed, enough skill to project to the pro level if he can stay healthy.
L Dawson Leedahl, Regina Pats. Big winger, good speed, skill and plays a responsible game.
L Dominic Zwerger, Spokane Chiefs. Fast and skilled winger blossomed this season.
R Zach Zborosky, Lethbridge Hurricanes. He might be eligible for the 2017 draft (October 15, 1996) so I may have him in the wrong spot. Impressive offense two years in a row, has good speed and has blossomed offensively the last two seasons.
L Scott Eansor, Seattle Thunderbirds. Small (5.09) two-way forward who has progressed through his junior career.
L Evan Polei, Red Deer Rebels. Big winger with skill and a very good shot. I bet the Oilers rate him.
50-MAN LIST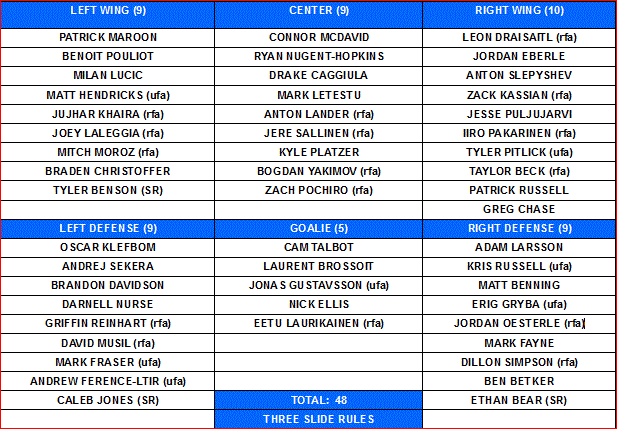 Here is the current 50-man list as I know it. My guess is that Laleggia, Moroz, Yakimov, Pochiro, Sallinen and Laurikainen may not return among the RFAs. Among UFA? Ference, Gryba, Fraser, Hendricks is my current guess, but we have a long way to go.