The Edmonton Oilers have played games like last night for a long time, really since the beginning of the franchise. No matter how well coached the team, no matter how talented, poor luck married to lack of execution simply does not work. Back in 1982, or 1984 or 1988, or hell even 1997 and 2006, the Oilers could outscore addled games with enough consistency for the viewer to hang in even when it looked like the town team was about to cough up two points. Since fall 2006, this team has not had that gear, but this season, they have the firepower (McDavid) and the goaltending (Talbot) to win some of them. Last night was such a game.
NEW GIRL NOW, YEAR OVER YEAR
Oilers in October 2015: 4-8-0, goal differential -7
Oilers in October 2016: 7-2-0, goal differential +10
Oilers in November 2015: 4-7-2, goal differential -6

Oilers in November 2016: 5-8-2 goal differential -3

Oilers in December 2015: 7-6-1, goal differential -9
Oilers in December 2016: 7-2-5, goal differential +3

Oilers in January 2016: 4-5-2, goal differential -5
Oilers in January 2017: 6-3-0, goal differential 0

Oilers after 47, 2015-16: 19-23-5, goal differential -25
Oilers after 47, 2016-17: 25-15-7, goal differential +10
That was a big game, make no mistake. Edmonton went up early, Jigglypuff put everyone to sleep and Florida—a good hockey team, even with all those injuries—came flying back and put the Oilers on their heels. It was a tough game to watch, because it is difficult to yell at the television for three full hours. Edmonton received grand goaltending from Cam Talbot, the Nuge line continues to recover, and Connor McDavid is a true savior. Strong word, but it fits.
DEFENSE, LAST NIGHT

Klefbom—Larsson went 19-8 in 18:25, I really think these two will form a great pairing in time. Larsson is a tough bugger, he really is, he must come from the Borje Salming province of Sweden. The pairing was 10-3 with Nuge and 8-4 with McDavid, while going 11-6 against Jagr/Marchessault and 11-4 against Trochek. A nice game by a strong tandem.
Sekera—Russell went 19-21 in 16:42, I liked both defenders in regular time and in extra time. Russell is never going to be a fancy stats dream, but he was excellent on the defensive tight rope in OT a couple of times. Went 8-10 with McDavid and 5-9 with Nuge, 5-6 against Trochek and 5-14 against Jagr/Marchessault.
Davidson—Gryba went 7-11 in 11:49, and I liked only one defenseman on the pairing. I don't think it is fair to either man to judge them on last night, but if the coach decided to sit Benning because he felt Gryba was a better option in any way, well, I think that was a bad decision.
Cam Talbot went 28 of 31, .903.
FORWARDS, LAST NIGHT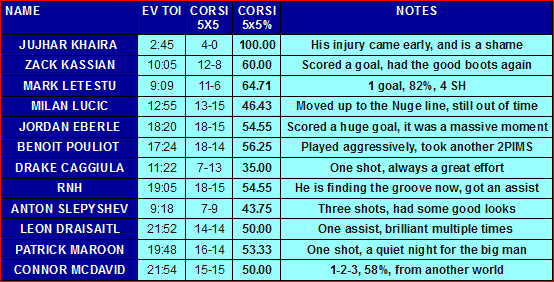 Khaira—Letestu—Kassian went 3-0, and then when Khaira went down the other two went 8-6 together. Kassian and Letestu scored a goal, Khaira didn't play a lot and we worry about his injury. ML was 82 percent on the dot, that is a fantastic number. 7-3 against Marchessault/Jagr, 1-3 against Trochek.
Lucic—Caggiula—Slepyshev went 7-10, and I thought they had some good looks. I don't think this line will be on the ice together Friday (more in a minute), Kassian got onto a line with Lucic for a time, too. Caggiula went 0-3 against both feature line (Marchessault, Trochek) and that is somewhat expected.
Pouliot—Nuge—Eberle went 18-15 and looked mostly like the rock and roll trio we have come to love (ZZ Top? No, too rocking. Air Supply? Come on, this trio has some jam!). Eberle scored a nice goal and RNH sent one of those dandy passes, loved watching it happen even though it crashed my site.
Maroon—McDavid—Draisaitl are actual fire. This line brought it big time in the third period and of course in overtime. Went 4-2 against Trochek, but 6-12 against Marchessault and 1-9 against Ekblad who was effective, physical and filthy against McDavid. Matt Hendricks, where are you?
GROOVY KIND OF LOVE
A little more than two minutes were left, as Connor McDavid lined up for the faceoff (RW side) in his own zone. It was overtime, another precious point on the line and Edmonton looking to push to 25 wins in 47 games—a mindbending proposition. In the early moments after the faceoff, Edmonton grabbed possession and sent 97 away, but Reimer sent the puck to the corner. OT settled in to the usual dance—strong chance one end, good chance at the other, and vice versa—and Russell eventually headed to the bench. Giant Leon and The One stayed out there, defending mostly but waiting for that one chance.
It came two minutes into the shift—TWO MINUTES—and Connor McDavid was a rocket anyway. Reimer stopped the puck, but the game was done and all he caught was a post-game souvenir. Enjoy it, Mr. Reimer, might be worth money someday.
YOU'RE RUNNING WILD
I talked about this with Lt_Eric and Bruce McCurdy yesterday, but would you shoot the moon, right now? Would you? If Peter Chiarelli could:
Trade Brandon Davidson and a conditional 2018 pick (1st if he signed) for Kevin Shattenkirk.
Trade 2017 1st and Caleb Jones for Martin Hanzal.
Trade not much for Reto Berra.
Would you shoot the moon, or more accurately, could you get behind PC doing it?
Maroon—McDavid—Draisaitl
Pouliot—Nuge—Eberle
Lucic—Hanzal—Caggiula/Slepyshev/Puljujarvi
Khaira/Hendricks—Letestu—Kassian
Klefbom—Larsson
Sekera—Shattenkirk
Nurse—Benning
Talbot (Berra)
Can that team push deep into the playoffs, deep enough to warrant the asset cost? You would need to sign another bushel of college men, and there is no guarantee there. If Chiarelli does all this, and then signs another Benning and Caggiula, would you consider this worthwhile, or folly? What if he could get Shattenkirk signed?
I am still uncertain about it, but it does appeal to me. Winning during Connor McDavid's entry-level deal, especially in year two, would make the team both more experienced and more famous—giving the youngsters an idea about how much it takes to climb high upon that mountain, and giving potential free agents an idea about just how close this team is to winning it all. There is some iron in this idea.
CHIARELLI TRADE RECORD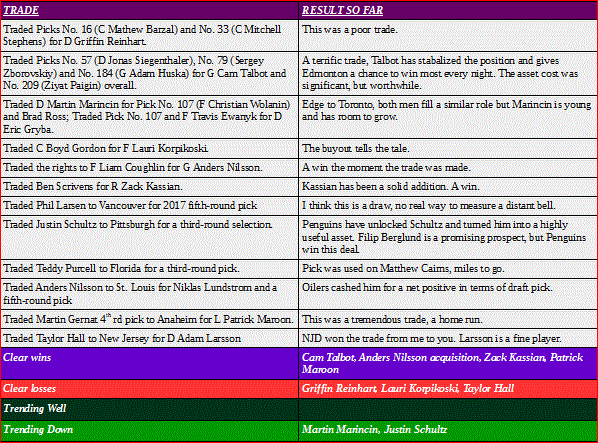 I have a feeling we may be seeing a very active trade deadline, with players coming in and leaving at a fairly rapid clip. If Peter Chiarelli is fishing in the deep end, this could get crazy—and the scouts may be burning miles in their Cadillac Eldorado's for no good reason if some of these summer picks are deal. Fun times ahead!
LOWDOWN WITH LOWETIDE
A busy day and a fun one, beginning at 10 this morning on TSN1260. Scheduled to appear:
Alex Thomas, The Oilers Rig. What should the Oilers do at the deadline? I also want to take the pulse of New England, on the Bruins woes and the Patriots chances.
Jeff Krushell, Krush Performance. Raines to the Hall, Bautista is back baby, and pubis injuries.
Rob Soria, The Hockey Writers. An Italian guest and a Dutch/Irish host are going to have a good cry over Tim Raines making it to the Hall.
Frank Seravalli, TSN. Oilers needs, this Shattenkirk smoke, deadline heating up.
10-1260 text, @Lowetide on twitter. Talk soon!