The Edmonton Oilers stole a point last night, and stole two points in a game on Wednesday. Craig MacTavish used to say that a team sometimes wins games they should lose at the beginning of a slump, and loses games they should win when coming out of one. Let's hope this isn't one of those times.
OILERS ERA(S)
We had some fun yesterday discussing the Oilers over time, and changes in the weather that defined decades. There were some great posts offering insight, and I have changed the ebbs and flows from yesterday:
1972-1978—the Bill Hunter years in the WHA, great idea without an on-ice personality
1979-1988—Boys on the Bus, Gretzky and Messier bring glory to the brand
1989-1991—Boys on the Bus Coda (post-Gretzky, post-everybody)
1992-1996—Heartbreak, hopelessness and Shame Corson
1997-2006––The Little Team that Could. One little miracle was the capstone to the era
2007-2014—Nadir's Raiders, mind numbing, endless acid rain
2015+—The McDavid Era
My thanks to all who contributed to the clarity, and to Stephen Sheps for some cool wording (used above). Scott Reynolds mentioned the Gretzky trade, and I included it, but maybe it needs a stanza all its own? Anyway, have a look, I like this little exercise, maybe we will do something with it in summer.
TIES THAT BIND, YEAR OVER YEAR
Oilers in October 2015: 4-8-0, goal differential -7
Oilers in October 2016: 7-2-0, goal differential +10
Oilers in November 2015: 4-7-2, goal differential -6

Oilers in November 2016: 5-8-2 goal differential -3

Oilers in December 2015: 7-6-1, goal differential -9
Oilers in December 2016: 7-2-5, goal differential +3

Oilers in January 2016: 4-5-2, goal differential -5
Oilers in January 2017: 6-3-1, goal differential 0

Oilers after 48, 2015-16: 19-24-5, goal differential -27
Oilers after 48, 2016-17: 25-15-8, goal differential +10
My reasonable line in the sand for January (17 points in 14 games) is on track (13 points in 10 games) but the Oilers now need to win two of the last four games this month in order to reach the goal. Plenty of good hockey this month, but there are some things that rightly cause furrowed brow this morning.
DEFENSE, LAST NIGHT
Davidson—Benning went 11-6 in 9:04 together, Benning went 0-2 with Larsson, Sekera and Russell—accounting for the gap. Went 2-4 against the Johansen line, 1-2 against Fisher line. I think Todd McLellan may want to run this pairing more.
Sekera—Russell were 9-12 in 11:10 together, that is a rather low 5×5 total for the second pairing. This pairing was 2-5 with McDavid and 1-3 with the Nuge line. They were 2-5 against the Johansen line and 5-2 against the Fisher line. Sekera had a golden chance to score in overtime, if the NHL went four-on-four for entire games he would score 30 goals a season. Sekera is the best free-agent signing by this team in forever. What a fine defenseman. Russell has good speed, and can transport the puck, but he doesn't get pucks to good spots often enough to be successful very often. I think he would be better off making a five foot pass to the center in the defensive zone.
Klefbom—Larsson were 7-27 in 14:39, and my goodness there are some ugly numbers to deal with this morning. 2-13 with McDavid, 6-11 with RNH, 4-13 against Johansen and 2-6 against Fisher. The men were chasing a lot, and Nashville was getting some great looks. I still believe in them, but the Preds match up very well with the entire team and specifically this pairing. Deft passing and wingers who dart give these two fits. Victor Arvidsson was a nightmare for Larsson, who has played really well for the last few weeks.
Cam Talbot stopped 42 of 44, .955. Many were of the very difficult variety.
Stats via NHL.com, NaturalStatTrick and HockeyStats.ca.
FORWARDS, LAST NIGHT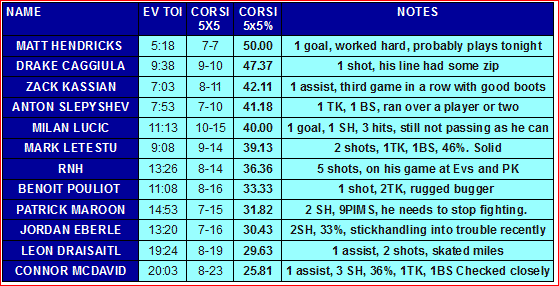 Hendricks—Letestu—Kassian scored the even-strength goal, some nice work for sure. Went 3-7 against the Johansen line and 1-3 against the Ribeiro line, I prefer Lander and or Khaira on the line but Hendricks scored a goal and credit to him. This is a guy fighting for his NHL life, and he got it done last night. Have to respect that.
Lucic—Caggiula—Slepyshev had their best game to my eye, all three men working hard and trying to get the puck going in a good direction. A lot of attention paid to Lucic's goal and that big hit on Austin Watson (that young man would have been on waivers this morning if Slats ran the Preds). I was most encouraged by his improved passing, he connected more last night. This blog does not react to single plays and single events, because the reactionary view tends to careen and inform on just a portion of the game. So, the cool hit and important goal are going to get a lot of coverage, but Lucic is about getting the puck into a good spot via the pass, and I saw some good moments last night. Went 3-1 Johansen and 3-3 against Ribeiro, 2-4 against Fisher.
Pouliot—Nuge—Eberle are heading in a good direction now, the line totaled eight shots on goal and had some chances. I think 14 really has to hurry up his game, his stickhandling to nowhere is getting him into trouble. I am not trying to be a jerk here, Eberle has real ability. I think he is kind of stuck in a rut, where he doesn't trust his instincts. I am sure he will get out of the slump, need those neurons firing. Went 3-8 against the Ribeiro line, who used short passes and pace to scoot out of their own zone effectively.
Maroon—McDavid—Draisaitl had a tough night 5×5, both 97 and Leon got assists on the power-play goal. Maroon has to stop fighting, it takes him off the ice for prolonged periods and screws up the flow of the game. He is a smart fellow, he will figure it out, but others need to answer the bell now, Maroon is too valuable on the ice. Went 1-15 against the Johansen line, who ran over the Oilers big time (the Arvidsson—Johansen—Forsberg line went 18-6 against Edmonton). Edmonton needs a recovery game tonight from this trio at 5×5.
P.K. Subban went 6-1 against McDavid, 2-3 against Nuge, 2-1 against Letestu and 2-0 against Caggiula.
TAKEAWAYS FROM THE GAME
Cam Talbot was the best player in the game for Edmonton. He stole a point.
Milan Lucic is starting to find the range with his passes. That is a really good sign.
The top pairing was in chase mode and played too much. I think the third pairing can take on a little more of the chores.
Patrick Maroon has to stop fighting. It ruins the flow of the top line. Cannot have this.
Edmonton is either getting better at getting points out of close games or are running a nice string of luck.
CAM TALBOT
Talbot at even strength: .924 (No. 12 among starters)
Talbot against the power play: .896 (No. 4 among starters)
Talbot overall: .919 (No. 11 among starters)
Based on those numbers, I think we can reasonably suggest Talbot is among the ten best goalies in the NHL this season (I have starters at 25 or more appearances). He has 24 wins so far this season, the last time an Oilers goalie had that number (in a complete season) or more was last decade. Mathieu Garon had 26 wins in 2007-08, Dwayne Roloson had 27 in 2006-07 and 28 in 2008-09. The most this century by an Oilers goalie? Tommy Salo, 2000-01, with 36 wins.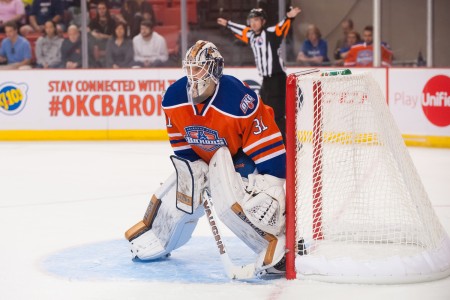 -Photo by Rob Ferguson, all rights reserved-
LAURENT BROSSOIT
If the Oilers are going to give him a start before the All-Star break, tonight makes the most sense. The Flames, while remaining a strong club, and less formidable than Nashville and the two California teams coming up next week. Brossoit has earned his opportunity with several solid years in a row in the AHL. Here is his career in boxcars through November 30, 2016:
Age 20 (2013-14) 10GP, 3.99 .876
Age 21 (2014-15) 53GP, 2.56 .918
Age 22 (2015-16) 31GP, 2.66 .920
Age 23 (2016-17) 9GP, 2.59 .920 (on Nov 30)
He got cranked in three straight games over Christmas, and his SP took a deep dive (now .908). Combine that with last year's audition (.873 in five games with the Oilers) and the next NHL audition for LB is going to be important. My own feeling is that if an employee spends four years auditioning for a job and performing to your satisfaction, probably a good idea to give that employee an opportunity. The Oilers (at some level) are very high on Brossoit, the last time I recall management (pre-Chiarelli) as strong on a prospect on the farm was Steve Passmore. I hope he gets his shot, he has earned the opportunity. If he can deliver in the backup role, he will have solved a significant problem for this organization.
WHAT TO EXPECT FROM JANUARY
On the road to: Columbus, Boston, New Jersey, Ottawa (Expected: 2-1-1) (Actual: 2-2-0)
At home to: San Jose, New Jersey, Calgary, Arizona, Florida, Nashville (Expected Result: 3-1-2) (Actual: 4-1-1)
On the road to: Calgary, Anaheim, San Jose (Expected Result: 2-1-0)
At home to: Minnesota (Expected Result: 0-1-0)
Overall expected result: 7-4-3, 17 points in 14 games
Current Results: 6-3-1, 13 points in 10 games
The Oilers slightly under-performed the opening road trip, but had a strong home stand and are now set up for the second roadie. There are four games left in the January schedule, if Edmonton can average a point a game this month should be considered a success. Beating Calgary tonight would mean a 4-0-0 run (Flames have one point) and a massive turnaround over previous seasons.