The Edmonton Oilers reached Mile 60 last night, about six weeks quicker than one year ago—and it was April 7 two years ago. Music! Even more important, the club swept the Calgary Flames for the first time in exactly forever. Good day, sunshine!
Glen Gulutzan: "It's embarrassing. Our resolve to stick to it wasn't there." Source
SMOKE ON THE WATER, YEAR OVER YEAR
Oilers in October 2015: 4-8-0, goal differential -7
Oilers in October 2016: 7-2-0, goal differential +10
Oilers in November 2015: 4-7-2, goal differential -6

Oilers in November 2016: 5-8-2 goal differential -3

Oilers in December 2015: 7-6-1, goal differential -9
Oilers in December 2016: 7-2-5, goal differential +3

Oilers in January 2016: 4-5-2, goal differential -5
Oilers in January 2017: 7-3-1, goal differential +4

Oilers after 49, 2015-16: 19-25-5, goal differential -28
Oilers after 49, 2016-17: 26-15-8, goal differential +14
The Oilers have won at least seven games in all months but November, it has been a very strong run for the team since the end of November. We discussed January and its importance after Christmas, and agreed (we did not agree) that 17 points in 14 games was reasonable.
WHAT TO EXPECT FROM JANUARY
On the road to: Columbus, Boston, New Jersey, Ottawa (Expected: 2-1-1) (Actual: 2-2-0)
At home to: San Jose, New Jersey, Calgary, Arizona, Florida, Nashville (Expected Result: 3-1-2) (Actual: 4-1-1)
On the road to: Calgary, Anaheim, San Jose (Expected Result: 2-1-0) (So Far: 1-0-0)
At home to: Minnesota (Expected Result: 0-1-0)
Overall expected result: 7-4-3, 17 points in 14 games
Current Results: 7-3-1, 15 points in 11 games
DEFENSE, LAST NIGHT
Score effects were in place early and often last night, so I am going to refrain from the usual display and just talk about each player.
Andrej Sekera played 18:30 5×5 and he was (along with Kris Russell) on his heels much of the night. Took a couple of penalties, and was solid as always on pass and carry. Sekera's strength defensively is that he is very smart and quick, so can both recover well and anticipate with aplomb. My appreciation of his ability keeps growing as this season wears along.
Kris Russell played 19:03 5×5, three blocked shots and led all Oilers in even strength and PK time on ice. He responded physically to all of the tomfoolery, am sure Todd McLellan liked that side of his game. Russell got beat one-on-one a couple of times but he (like Sekera) can recover well.
Adam Larsson played 15:54 5×5 and had possibly the most eventful game of his season. He took a slash or hit to arm/wrist/hand/somewhere in there, but amazed me by coming back and playing a regular shift. Three assists, +3, three blocked shots and four hits (he is very physical, ask Johnny Gaudreau). I really like his game, he can pass the puck well and is on track for 20 points this season.
Oscar Klefbom scored 1-1-2 while playing 16:27 at 5×5. Klefbom has now scored eight goals, that is a significant total for this time of year. Three blocked shots, lots of time on PK and PP, in fact his 22:41 was just 10 seconds shy of the leading total among all Oilers (Sekera). Strong game.
Brandon Davidson played 12:33 at 5×5, was +3 and had three blocked shots. I liked his game, felt he should have played more.
Matt Benning played 12:57 at 5×5, had an assist, +3 and three blocked shots. He jumps down into the offensive zone very well, and plays a physical style. He's bona fide, he's a suitor!
Laurent Brossoit stopped 38 of 41, .927. This was his first NHL win.
FORWARDS, LAST NIGHT
Jordan Eberle had his best game of the season, going 2-2-4 and showing his offensive ability. Nice to see him regressing like a madman, and that line (Nuge and Pouliot) is coming together now. Six shots on goal, he is now on pace for 53 points on the season (in the range of expected).
Patrick Maroon didn't have a lot going on, sent an errant pass that ended up in a shortie and his line (McDavid-Leon) got caved in possession. Tough to be critical of a player who has 18 goals before the All-Star break and makes $1.5 million, he also ran a little interference on the 97 goal.
Matt Hendricks played just a little shy of 10 minutes at 5×5, he took a nasty head shot from Sam Bennett and I wondered if he would be back. Was most noticeable on the penalty kill.
Milan Lucic had another fight, two shots and played on an improving line. No line did well in possession but the third group hung in there. Passing has improved to almost pre-Oilers level, I think his final 33 games will give Oilers fans a better impression of his abilities.
Leon Draisaitl had one assist, took a physical pounding and returned in kind. I really like his game alongside McDavid, wonder if he ever goes back to 2C. He thinks the game at such a high level and is a big, strong man.
Drake Caggiula is coming along now. Got an assist, was 50 percent in the dot, not sure he is a strong power-play option yet. His wheels are badly needed in the bottom 6F.
Anton Slepyshev was very strong in about 10 even-strength minutes. Scored a dandy goal, had three shots and used his speed to play an aggressive game on the forecheck. He has the puck on his stick more now, that is a sign of an AHL player transitioning to the NHL. Really cheering for him, Edmonton needs inexpensive wingers with skill.
Zack Kassian got an assist (a beautiful feed), and once again he had some good speed in this game. I am unsure about when or what happened, but he has extra jump lately in the skating department. Makes a world of difference. Maybe he is more involved because of the PK time? Just a guess.
Mark Letestu scored again, he keeps doing that despite playing on the fourth line. Three shots, 44 percent in the faceoff circle. On pace for 17-21-38 this year, cannot recall the last time those numbers appeared for a forward who called the fourth line home.
Benoit Pouliot had two assists, he is showing well now. It was a tough first half, but he could be a big piece of the puzzle in the second half of the season.
Ryan Nugent-Hopkins scored 1-1-2 (EN) and is now posting boxcars consistently. I always liked his two-way play and PK work, and that was on display last night. What is also obvious is that the offense is coming back for him after a dry spell. He is 2-4-6 in his last seven games.
Connor McDavid scored a stunning goal, we should never take those beautiful sorties for granted. Effortless skater, his acceleration has no defense. His line received a lot of attention, and I was impressed (and alarmed) to see him come to the aid of Leon. Went 50 percent in the dot, on pace for 82gp, 27-67-94 and the Art Ross Trophy.
PIKES PEAK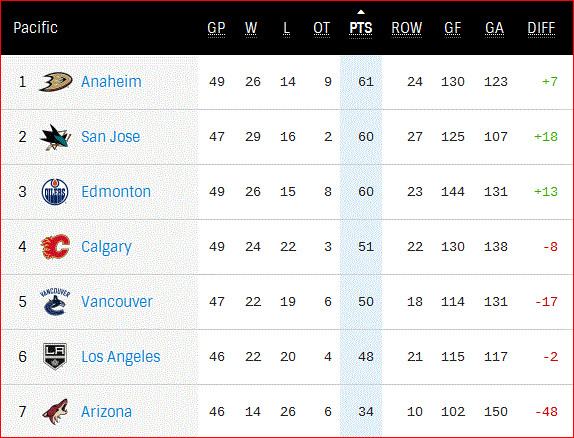 This is a massive spike year over year, and Edmonton is in a very good spot. Notice the goal differential, telling us this is no fluke. Their goal share is 52.5, shot share is 51.2, Fenwick 51.4 and Corsi 51.0, all 5×5. This isn't a fluke, and despite some clear issues (which may be addressed at the deadline) this Oilers team is the best in many years—as is reflected in the standings.
JOEY LALEGGIA
I am not certain when, but at some point the Bakersfield Condors moved defender Joey Laleggia to left wing. And it is working out quite well. Since the beginning of January, Laleggia is 7gp, 5-0-5 and playing a major role in the offense for the club. Position changes are often last chance Texaco's, but in the case of Laleggia this move makes a lot of sense. A small forward (5.10, 185) in this organization has a chance, especially if he has terrific skills. Back on defense? Just one of a giant group in the Leftorium.
TODAY
I am going to enjoy today. This Oilers team has pushed so far up the mountain before the All-Star break it may take some time to take it all in. I think we can begin to talk trade deadline buying, talk playoffs (although they are not certain) and talk about building toward the Stanley Cup with some traction from this season no matter what may come.
Todd McLellan and Peter Chiarelli have been part of the Edmonton Oilers less than two seasons, and the results have been terrific. We can talk about the gaps and holes, and even about what might have been, but what is here now deserves to be discussed and celebrated. That was a big damned hole.