We are now five weeks from the trade deadline and have a general idea about what Edmonton might be looking for this deadline. I had a lash at the possible assets out over at Oilers Nation, and will re-list the top 10:
2017 first-round pick—No. 23 or so this year. Appears to be enough talent to get a good prospect there.
2018 first-round pick—No. 23? Seems like a reasonable estimate.
Brandon Davidson—He has good value, reasonable contract has one more year.
2018 second-round pick—No. 54?
Caleb Jones—He has good speed, some offense, and is one of Edmonton's more famous prospects.
Jujhar Khaira—I think NHL teams would like his size and future contract.
Ethan Bear—RH defender with a big shot from the point.
Anton Slepyshev—Unsure if he should be higher (N0. 5?) have him here.
Griffin Reinhart—Famous prospect with high draft pedigree.
2017 third-round pick (No. 82)—No idea if the draft stretches this deep.
Any others? Agree with the list? Speak now or forever hold your peace. At the beginning of the year, I wrote about possible assets who might be of interest to Edmonton (it is here). Today, I will give it another try. First, this.
OILERS PAIRINGS, 2016-17

Klefbom—Larsson have played a lot together, delivered over 50 percent in possession and their goals for percentage should be better based on what we know.
Sekera—Russell are the second most common pairing this season, and their 46 percent possession number tells me the Oilers should split them (and run Sekera with Matt Benning). The pairing's goals-for percentage is dynamite, though, and I think the Oilers value this kind of metric more than Corsi (or, as they like to call it, shot volume).
No one talks about Darnell Nurse anymore, but if the Oilers had a third pairing rotation of Nurse, Brandon Davidson and Matt Benning, I think the top 7D (two pairings above, plus these three) looks pretty good for the playoff run. With the high price of defensemen, maybe Peter Chiarelli looks elsewhere?
I think goaltending is on the table. Laurent Brossoit won on Saturday, but if Edmonton is serious about winning a playoff round, then getting a more capable option makes sense. Goalies cost less than defensemen.
FORWARDS, 2016-17

Maroon—McDavid—Draisaitl are running well currently, and as shown here there are other wingers who can work well with 97. I think the one line we shouldn't worry about is McDavid's, he can mix and match well with the entire group.
Pouliot—Nuge—Eberle have played over 100 minutes, and things are going better now. I think Todd McLellan may be able to count on this line for the rest of the year.
Hendricks—Letestu—Kassian have played almost 100 minutes together, and have had success. Edmonton could run Anton Lander or Jujhar Khaira there, but McLellan appears to prefer the veteran. If that is the 4line, can you live with it?
So, we are left with a need on the 3line. Milan Lucic, Drake Caggiula and Anton Slepyshev are currently there, where do you want to see them upgrade? I think 3C is ideal, depending on price. Fair? So, we go to market looking for a backup goalie and a 3C, with the list above as bait.
All stats via Corsica.Hockey.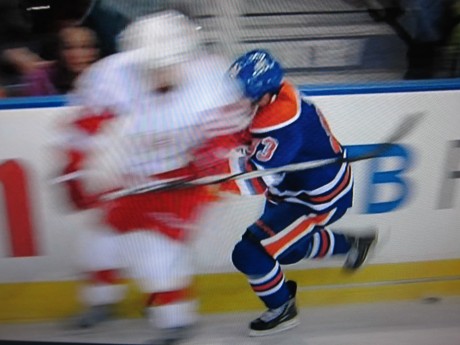 POSSIBLE ACQUISITIONS
Anaheim Ducks: RHD Brandon Montour. He is a nice player. I know we just talked about not having a need specifically for a power-play quarterback, but this guy would be worth going walkabout at the deadline imo.
Arizona Coyotes: C Martin Hanzal is coming up on free agency, but I think Chiarelli would look long and hard at this player—with an eye to re-signing him. RHD Mark Stone is also an interesting name, and he could help the Oilers in the future, but I am uncertain if he is completely healthy based on his numbers this year.
Arizona Coyotes: R Radim Vrbata is also a rental, but he would be a perfect fit for Edmonton this season. In 37 games, he has 113 shots. Excellent match for the Oilers.
Boston Bruins: C-L Ryan Spooner is coming on now, but there was a time not long ago when his name appeared on several rumor sites of note. More winger than center, he has actual skill and could be a useful addition. Edmonton could use his skill and PC would know him. A clear upgrade on Drake Caggiula for this season, possibly beyond. Bruins might be convinced of Davidson.
Buffalo Sabres: G Anders Nilsson. Owns a .925 SP and knows the terrain.
Calgary Flames: RHD Dennis Wideman is probably a player of interest, if available.
Colorado Avalanche: C Matt Duchene has a $6M cap and would take a village to acquire, but hell boys he might be worth it. Fantastic player. RHD Tyson Barrie is not having a fantastic season, but would help out the offense, and if the Oilers placed him with Sekera, that might be a nice fit.
Dallas Stars: R Ales Hemsky is out long term, I would love to see him back here for another playoff run. R Patrick Eaves is a UFA and having a strong year (17 goals), he might be a good fit.
Detroit Red Wings: R Thomas Vanek is having a good year and would be a solid addition. I have always liked RHD Ryan Sproul (21gp, 1-5-6) and he might be an interesting acquisition.
Florida Panthers: RC Nick Bjugstad is a player who intrigues, despite the low boxcars this year and the cap price. G Reto Berra is a solid choice for backup goalie. R Jaromir Jagr could be dealt, but I doubt he would be coming to Edmonton—more likely, he lands on a Stanley Cup favorite.
Los Angeles Kings: R Teddy Purcell played well for these Oilers a year ago, and would not break the bank in terms of assets required to acquire. Unlikely, but worth a mention.
New Jersey Devils: LHD Yohann Auvitu is unknown but has good numbers. Worth a try. R P.A. Parenteau is having a good season (again) and might help on RW.
Ottawa Senators: R Bobby Ryan has a major cap number ($7.25M) and middling results (39gp, 10-8-18) but he is a bigger winger with scoring ability and that matches the PC template. I don't think this happens, but will list him just in case. C-R Curtis Lazar is an interesting player, mono has ravaged his season and his value is low. Played with Connor McDavid at WJs and might be available at this time due to struggles.
Philadelphia Flyers: R Matt Read is making big coin ($3.625M for this and next season) while shooting and scoring less this year. Edmonton could probably acquire him for less than 100 cents on the dollar and he could help on RW. LHD Mark Streit (35gp, 5-12-17) is just back from injury and would be a help for the PP. A lefty, he is not ideal but would shore up the 5×4.
St. Louis Blues: RD Kevin Shattenkirk may be available and would represent a perfect for for Edmonton. The price is probably too dear for a rental, but acquiring him will be tempting all the same.
Toronto Maple Leafs: L James VanRiemsdyk is a bigger winger with skill, certainly has been in the rumor mill from time to time this year. No idea of price, but he would be a help this season and beyond for Edmonton.
Winnipeg Jets: R Drew Stafford is having a putrid season, and makes a lot of coin. That said, he is 31 and should have lots of miles left. RD Jacob Trouba is out of reach, but a very nice fit.
INJURIES
The Oilers, like all sports organizations, have become less forthcoming about injuries over the years. Understandable on many levels, it can be galling for fans. In the last 24 hours, I have been asked publicly and privately about the state of Iiro Pakarinen's injury. I will also tell you I have (in past weeks) been told Mr. Pakarinen has been spotted in Europe and in downtown Edmonton on back-to-back days, so would suggest the range is large in terms of what we all believe and think to be true. In regard to his injury and others, perhaps it is worthwhile listing what the Oilers website tells us:
Jujhar Khaira—Upper body, day-to-day
Matt Benning—Illness, day-to-day (he has since played)
Iiro Pakarinen—Lower body, out week-to-week
Darnell Nurse—IR, ankle, ligament and bone damage, out up to 12 weeks (as of December 12)
Tyler Pitlick—IR, torn ACL in left knee, out for season
Andrew Ference—LTIR, lower body, out for season
Nurse should be coming around in the days leading up to Valentines, although a rehab assignment to Bakersfield is possible and he may not be 100 percent for some time. Anyone who saw the Pakarinen play knew it could be severe, and his recovery has been a long one. If he were able, I expect Pakarinen would be in Bakersfield on rehab while Jesse Puljujarvi is doing his AHL stint. It is a shame, as Pakarinen could be part of that RW solution at this time.
LOWDOWN WITH LOWETIDE
A fun, busy show with lots of Oilers content today. At 10 this morning, TSN1260, scheduled to appear:
Scott Burnside, ESPN. Trouble in Boston, the fantastic scoring race, and Edmonton Oilers emerging as a playoff team and deadline buyer.
Andy McNamara, TSN4Downs. A disappointing NFL Sunday has given us a pretty interesting Super Bowl.
Jason Gregor, TSN1260. Oilers over Flames times four, NFL weekend.
Sunil Agnihotri, Copper & Blue plus The SuperFan. We will talk deadline, protected list, and review Sunil's prediction from one week ago).
10-1260 text, @Lowetide. Let's get this week going!