On the day he took over the Edmonton Oilers, Peter Chiarelli's depth chart boasted 16 defenders. Of those 16 men, an incredible 88 percent (14 of 16) were lefties. The only righties (Justin Schultz and Mark Fayne) were not part of his solution, but the general manager has been able to make some progress with balance over the last two seasons.
CURRENT LEFTORIUM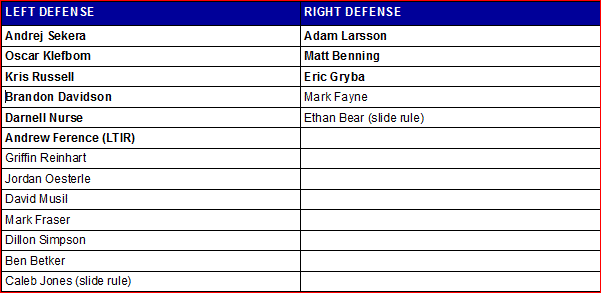 Edmonton's 50-man list now contains 18 names, 13 of whom (72 percent) are lefties. That is a little misleading as LTIR Ference and two slide rules skew the pro numbers. If we shake out those players, we arrive at 11 of 15 (73 percent) are righthanded. At the NHL level, four of seven (57 percent) are currently lefties, but four of six (67 percent) start the lion's share of the games.
WHAT IS ON THE WAY?
Ethan Bear is signed and we should see him in Bakersfield this fall. His WHL season (42gp, 13-24-37) is a success and his shot from the point should get him some extra playing time as a pro.
John Marino is adjusting very well to NCAA hockey at Harvard. He is 19gp, 1-5-6 currently and appears to be playing a prominent role on the team. Probably some distance from turning pro, but a nice trend.
Filip Berglund is 32gp, 0-5-5 with Skelleftea (SHL) and is averaging just over nine minutes a night. He will turn 20 in May, and I suspect he will play one more year in Sweden.
Vincent Desharnais is 18gp, 2-0-2 with Providence (NCAA) and it is anyone's guess about how his career trajectory goes from here.
WHAT COULD BE ON THE WAY
Craig Button's latest thoughts on Cale Makar:#AJHL pic.twitter.com/3KRHOby3T7

— Tyler King (@tyler_king) January 9, 2017
Makar is No. 13 on Button's list, so there is every chance he will be long gone by the time Edmonton drafts at No. 23 overall or thereabouts. However, if Makar fell to Edmonton, and turns out to be anything similar to above, the Oilers might be looking at a very strong blue line a couple of years down the line:
Klefbom—Larsson
Sekera—Benning
Nurse—Makar
That could be a terrific six, and the price tag might not be overwhelming. Nurse's next deal might be a concern, but three of the top four are signed for some time and Benning shouldn't break the bank. By the time we reach the fall of 2018 or 2019, we might see this alignment. Talented crew.
Of course, maybe they go out and trade for Kevin Shattenkirk tomorrow.