Beginning today, we are launching a new series (unless you hate it) on previous Oilers rookie seasons. I think many of you may not know the impact of first-year men on this organization over the years. So, today, I will do two seasons: 1979-80, and this year, which we can update from time to time throughout the rest of the regular year. Let's get started:
1979-80
Total Rookies of Interest: 14
1979 Draft Notes: No. 21 overall Kevin Lowe was ranked No. 12 among 1959-born draft eligible players. The Oilers had him rated 'anywhere from No. 10 to No. 13 overall' on draft day.
Best Player as a Rookie: Wayne Gretzky. He was the best player in the league. Although not technically a rookie, because the NHL decided it one day, the young man from Brantford, Ontario was beyond ridiculous from the start. Bruce McCurdy knew he was the best player who ever lived early on, and the rest of us caught up by the first NHL spring in Edmonton.
Second Best Player as a Rookie: Blair MacDonald. A WHA veteran, this was his first NHL season at 25. He scored 46 goals and 94 points riding shotgun with 99. Not a fast skater, he had a great shot and fell ass over tea kettle into the grandest luck this side of Rob Brown. Like Brown, it would be a mistake to discount the natural talent of MacDonald.
Oldest Rookie: RD Bryon Baltimore was 27, and played his only two NHL games in this season. Another WHA vet, Baltimore hung around the minors for a little while afterward. He was well regarded by his teammates as a tough-as-nails defender and had a wicked sense of humor. Must have been smart, too.
Oldest Rookie Who Played a Lot: MacDonald.
Most Unusual Story: Mark Messier. Not Messier per se, but Punch Imlach about Mark Messier. In his book about his career with Toronto and Buffalo in the 1970s, Imlach wrote about the 1979 draft. He blamed his scouts (Imlach always blamed someone) for taking Laurie Boschman and not Brian Propp (both Brandon Wheat Kings) in the first round, and then threw his scouts under the bus again for sins not even committed in the third round. He wrote that he asked about Messier being available, and was told by scouts that 11 would not be taken in 1979. Only two picks before the Toronto turn, Edmonton called the Moose. That meant Imlach didn't have a story, but the bugger used it in his book anyway. Lordy.
Another Unusual Story: When the Indianapolis Racers sold Gretzky to Edmonton, part of the money procured was used to sign Mark Messier just three days after the 99 sale.
Yet Another Unusual Story: Kevin Lowe was told the 1979 draft (via telephone) was to start at 10am. He expected a call from Alan Eagleson around 10:15 to tell him which team had selected him in the first round. Lowe waited, and waited, and waited. By 10:45am the phone hadn't rung and Lowe's mom said "My God, they're not drafting him." A mixup in the phone lines caused a one hour delay, but the Lowe household was not aware of it. At 11:10, Eagleson's secretary called with the news Edmonton had chosen Lowe—21st overall.
Here's One: Glen Sather was impressed by Mark Messier as he played AGAINST the Oilers in the 78-79 season (WHA). Edmonton's Dennis Sobchuk was a pretty good player and legend has it he thought he could take the kid in the Cincinnati Stinger uniform. Messier apparently had a slight edge in punches. 12-0. Sather noticed and picked him 48th overall in the deepest draft in history.
Confusing but true: Many of the kids I count as rookies had some WHA experience. Dave Hunter was acquired by the WHA Oilers and spent some time in their minor league system. When he finally saw Edmonton, Hunter showed he belonged. Here is a passage from a December 1978 edition of The Hockey News: The rookie left winger, an accomplished checker despite his inexperience, moved into a position beside Gretzky and Flett and made sound contributions on almost every shift. It was clear that Hunter's two weeks in Dallas (CHL) had restored his confidence. In that regard, his first pro goal helped too. "I was beginning to think I'd never score," he said after beating Mike Liut with a high shot. "The longer you go, the harder it seems to get."
Longest NHL careers. There were a load of lengthy careers in here. Mark Messier (1756), Wayne Gretzky (1487), Kevin Lowe (1254), Dave Hunter (746), Dave Semenko (575) and Risto Siltanen (562) represent the best one-year congregation of rookie NHL players in the game's history.
Anything Else? Ron Chipperfield isn't included, but he was a rookie that year too. He was sent to Quebec for Ron Low at the deadline, during trying circumstances detailed in the Gzowski book.
Hall of Fame Careers: Wayne Gretzky, Mark Messier.
Careers Worthy of Consideration: Kevin Lowe. I have long felt Lowe should receive strong consideration, and in the last several years there is a building verbal. We will see. I think he makes it.
2016-17
Total Rookies of Interest: 7
2016 Draft Notes: Edmonton picked Jesse Puljujarvi at No. 4 overall. He was an ideal selection for the team, as his position (RW) was an area of need and his style was ideal. In the words of Red Line Report big horse looks and plays like a Mats Sundin clone.
Best Player as a Rookie: Matt Benning. He is a strong two-way defender, and a perfect fit on the right side for Edmonton. He can wheel, gives the opposition a different look and makes clever plays. He can defend, and he can hit and fight. This is an ideal college player for the city of Edmonton.
Second Best Player as a Rookie: Jesse Puljujarvi. He has played less than half a season in Edmonton, but the big Finn and his rambunctious style had an impact early and will again later in the year. He is not the best rookie on the team, but his career arc is very likely to be splendid.
Oldest Rookie: LD Dillon Simpson is just a little older than Laurent Brossoit, both are 23.
Oldest Rookie Who Played a Lot: Matt Benning will turn 23 in May.
Most Unusual Story: Nothing major yet. Forced to choose, I would pick Jesse Puljujarvi falling on draft day. Truly weird.
Longest NHL careers. Whoever inherits this blog will have to tell you.
Anything Else? Like most Oilers rookie clusters this century, it isn't what these rookies will do as rookies, it is what their peak levels will look like.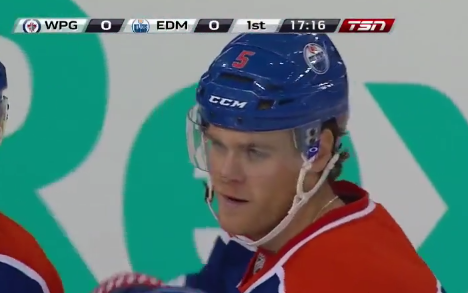 CORSI REL FOR BLUE
Every once in a long time (not as much recently) I am asked my method of evaluation for defensemen. This often (these days) comes out of my stubborn defense of Mark Fayne. Allow me to make my point, and then we can go back to arguing about errors in the mist. A few points, all of them in 5×5 game state:
Generally speaking, offense from defensemen is mostly equal across dozens and dozens of men at 5×5. There are very few difference makers. There are four defenders who are scoring 1.40/60 5×5 or more this season, 41 men over 1.00/60. There are 100 more between 0.50/60 and 0.99/60. I don't really rate most of these players as having special powers, beyond Erik Karlsson, Brent Burns, a few others, that is it. Dougie Hamilton is having a really good year in this discipline, if he can do it over a few years, then we add him to the list.
Quality competition has a lot to do with game state, so we have to factor it in. Qual Comp is one damned elusive thing, though, I am really warming up to the WoodMoney buckets of elite, middle and gritensity. A moving target surely, but valuable if you can find top dead center.
Zone starts have faded in importance, you rarely hear them mentioned. I still pay attention to them, but don't post them here because, well, we are trying to build a consensus and this blog attempts to be that in its day to day. Important, I believe, zone starts, we can't surround them yet. They will come into view up the road apiece.
So, with all of this as backdrop, I like CorsiRel. You have to consider the offense, the quality of competition, throw salt over your shoulder and say an Our Father, but for me CorsiRel is as tight a rhythm section as we can manage without kidnapping Bill Wyman and Charlie Watts. That said, I am willing to adapt. Ladies and gentleman, time on ice at 5×5 versus elites (via WoodMoney).
TOI V. ELITES AT 5X5, 2016-17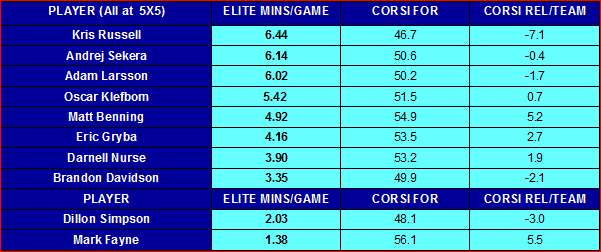 The second and third columns are via Stats.HockeyAnalysis.com, first one is WoodMoney elite minutes divided by games played. I am not absolutely certain if WM was updated, so it may have one extra game in there.
Kris Russell plays (by my ciphering) the most elite minutes per game, and his possession numbers reflect it might be wise to back him off a little. Plenty of heavy on Russell, but as is the case so very often, it is usage that we should be shaking our fists at this morning.
Andrej Sekera is in the same range in terms of minutes, and shows much better in possession. This matches the eye test, where we see the puck moving up north often.
Adam Larsson trails the first pairing but just a hair, and his possession numbers are solid good. It is very encouraging to see him performing this well, while facing a full six minutes of gale force winds. This is good.
Oscar Klefbom is the first of the young draft kids to come up and play the giants, just a little shy of the big three but his possession numbers are excellent. Credit to Todd McLellan, who has pulled him back a time or two, and to the player, who is looking like a complete defenseman.
Matt Benning is a flat out rookie, but his TOI against elites has been increasing all year, and his possession numbers keep climbing. This is breaking news! We have a bulletin bulletin bulletin!
Mark Fayne, he of the four games in the NHL this season, has a good possession set but played the least amount of TOI against elites. I often get folks sending me tweets about how crazy I am, and you know that could be true. My family has no corner on clarity, and maybe I don't understand this stuff very well. That said, I think it is possible to say (and I am) that Todd McLellan might be better off switching the top name and the bottom on my graph. Call me crazy, but I believe it.
That doesn't mean that I think Todd McLellan is a bad, bad man, or that I think you should hook up your pickup to a trailer with a sign on it. No sir. Todd McLellan has access to all kinds of information I do not, and he knows what he wants from his players. I think he prefers more speed, and Kris Russell is certainly faster than Mark Fayne.
That doesn't mean Mark Fayne cannot play in the NHL, it just means he is not playing for Todd McLellan.
Much of what I receive in regard to Fayne revolves around my sanity. People cannot believe I still hang on to the idea that Mark Fayne is an NHL defenseman. I will tell you, honestly, my stance is not an effort to piss you off, or endure the slings and arrows of your tweets in a crazy attempt to be blogger Jesus. I find myself defending minor leaguer Mark Fayne because the player has given me no reason to abandon him. I believe he is still a good player. So what would you have me do? Agree with you in an effort to keep some strange peace? Mark Fayne may never play another game in the NHL, but this blog still believes in him. George McPhee, if you are reading this, call Peter Chiarelli and tell him you will draft Mark Fayne in expansion but he has to trade you Caleb Jones. You might be surprised by his answer. And also by Mark Fayne, next season.
TOP 10 OILERS SCORING, LAST 10 GAMES
Connor McDavid, 10gp, 2-11-13. He is a machine. Even in games where clean air is an issue, 97 finds a way to get on the scoresheet. Very few players in NHL history have this ability, even fewer at age 20. He has 33 shots in the last 10 games, shooting percentage is just 6.1. That will improve and goal production will increase.
Leon Draisaitl, 10gp, 3-6-9. Most encouraging is his even-strength number in this 10-game set (3-5-8) and that bodes well for him. Leon is posting back to back strong seasons.
Patrick Maroon, 10gp, 7-0-7. Remains an even-strength scoring demon, I am a little concerned that opponents are getting him to fight (and keeping him off the ice). In the last 10 games, he has 18 pims. Too many. Sad!
Ryan Nugent-Hopkins 10gp, 3-4-7. Music! Plus he is shooting more (28 shots) and is 3-2-5 at even strength. Having a second line that can score anywhere close to a goal a game is going to be massive. Big deal. Big damned deal.
Jordan Eberle, 10gp, 3-3-6. All but one assist is at evens, 24 shots represents a healthy total but there is room for improvement. He looks like a completely different player in these recent games. On pace for 82gp, 18-35-53, which looks like a Jordan Eberle season (although the goals total remains a little shy).
Adam Larsson, 9gp, 0-6-6. The biggest surprise in the last 10 games, this is not an offensive defender. He is also +10 in these games, showing his defensive skills to great effect.
Zack Kassian, 10gp, 1-4-5. The numbers are fine, but what has really impressed me about Kassian recently is his foot speed. I think the penalty killing might be keeping him in the game, but that is a guess.
Oscar Klefbom, 10gp, 2-3-5. Has 34 shots in these last 10 games, meaning he has more shots on goal than any other Oilers player. Also lugging the puck more these days, really coming into his own.
Mark Letestu, 10gp, 3-2-5. The second fourth liner in the top 10 scorers, Letestu plays on both special teams and has made himself valuable in all areas.
Matt Benning, 9gp, 2-2-4. The young man is involved in good things basically every shift, and his scoring totals are very good for a rookie getting his minutes. What a find!
LOWDOWN WITH LOWETIDE
A fun show, beginning this morning at 10, TSN 1260. Scheduled to appear:
Jonathan Willis, Oilers Nation. Heading into the All-Star break, what has been the best story for the Oilers? Benning? Maroon? Also, I will ask Jon for his current expansion draft protected list for the Oilers.
Colin Miller, FC Edmonton. The Eddies are announcing some roster returnees and it should be an interesting year for the side. Some defections, but stout goaltending and increased offense should be part of the 2017 formula.
Scott Cullen, TSN. Is the Leafs current crop of rookies the best of this century? Plus, the joy of watching your team play against Matt Tkachuk and the Oilers at the deadline.
Simon Boisvert, Prospect Insider. How long should Jesse Puljujarvi be in Bakersfield, Tyler Benson injury, more on Oilers prospects.
10-1260 text, @Lowetide on twitter. Talk soon!