The Edmonton Oilers are enjoying a strong season, and have passed several teams year over year. No one I know is suggesting the club belongs at the elite level, and few are suggesting Edmonton will make the final four. Could the Oilers win a playoff round? As it stands now, the team is likely to face a California team in the first round, and will face the top two candidates in the next 48 hours. What are reasonable expectations? That my friends is a moving target.
SLOOP JOHN B, YEAR OVER YEAR
Oilers in October 2015: 4-8-0, goal differential -7
Oilers in October 2016: 7-2-0, goal differential +10
Oilers in November 2015: 4-7-2, goal differential -6

Oilers in November 2016: 5-8-2 goal differential -3

Oilers in December 2015: 7-6-1, goal differential -9
Oilers in December 2016: 7-2-5, goal differential +3

Oilers in January 2016: 4-5-2, goal differential -5
Oilers in January 2017: 7-3-1, goal differential +4

Oilers after 49, 2015-16: 19-25-5, goal differential -28
Oilers after 49, 2016-17: 26-15-8, goal differential +14
The Oilers lost G50 a year ago (4-1) and reached the 50 game mark with a total of 43 points. If Edmonton wins tonight, the club will reach G50 with 62 points, representing a substantial year over year improvement. If the Oilers continue along their current winning path, 100 points and 44 wins are within reach. February is a big mountain, and February starts tonight.
WHAT TO EXPECT FROM JANUARY
On the road to: Columbus, Boston, New Jersey, Ottawa (Expected: 2-1-1) (Actual: 2-2-0)
At home to: San Jose, New Jersey, Calgary, Arizona, Florida, Nashville (Expected Result: 3-1-2) (Actual: 4-1-1)
On the road to: Calgary, Anaheim, San Jose (Expected Result: 2-1-0) (So Far: 1-0-0)
At home to: Minnesota (Expected Result: 0-1-0)
Overall expected result: 7-4-3, 17 points in 14 games
Current Results: 7-3-1, 15 points in 11 games
We agreed (we SO did NOT agree) that 17 points was reasonable, and Edmonton needs just a win and a tie in the final three games to reach the peak.
PIKES PEAK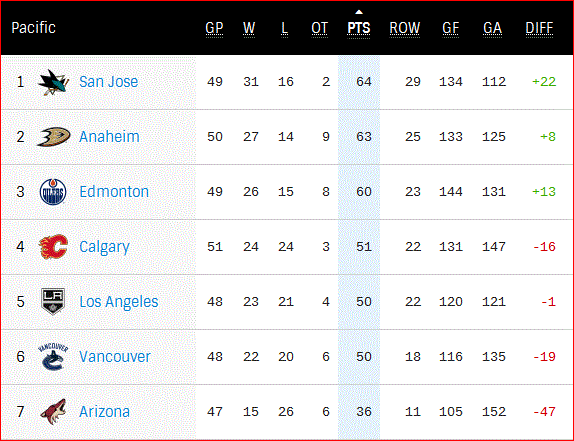 The Calgary Flames have 31 games left in the season, and it is going to be extremely difficult for them to reach 95 points. That is my estimate, it may in fact take fewer points to make the postseason this year. I can tell you the Oilers have a 98.9 percent chance of making the postseason according to one site, and that same site says the Flames are at less than 25 percent to play extra games.
BUTCH TRUCKS
Passed away. RIP. Here is on stage September 23, 1970.
OILERS PAIRINGS, 2016-17

The column on the left is Woodmoney, the rest is Corsica.Hockey. By the way, we are possibly two weeks from WoodMoney going live. Both G and Darcy will be appearing on Jimmy Kimmel, Jimmy Fallon, Seth Meyers, Conan O'Brien, Stephen Colbert and Mr. Dressup to promote it. I am going to try to get both men on my show as well, but don't tell them.
Sekera—Benning is a helluva combination. Corsi tells is it is a better duo than Sekera—Russell, and both combinations have had 200 minutes (or more). NHL coaching staffs rarely run rookies high, especially those without pedigree, but the numbers suggest it would be wise in this case. We could give a lot of credit to Sekera, and that is correct, but the rookie clearly has a positive impact as well. Overlooked part of this season's success.
Klefbom—Larsson play almost six minutes a night against elite competition, and still manage to get their possession number over 50 percent. Given their lack of familiarity with each other at the beginning of the season, and the strong showing in recent games, I think this pairing may be a big part of the team beginning this fall. Or right now.
Nurse—Gryba and Davidson—Gryba are about the same success rate, I think the Oilers may tweak the third pairing depending on Nurse's return. Other than that, unless a puck mover comes available, I am uncertain how much movement we see in aid of the blue.
There is at least a chance Brandon Davidson gets moved, not necessarily at the deadline but possibly before the expansion draft.
FORWARD LINES, 2016-17

The surprise for me in this graph (Corsica.hockey) is how few minutes some of these combinations have played. I do think three lines are obvious.
Maroon—McDavid—Draisaitl have played 165 minutes together and the possession plus scoring rates are quality. Keep them together, chemistry is a thing.
Pouliot—Nuge—Eberle is almost 50 percent in possession and scoring 2.64/60 at 5×5. I think there is room for this trio to grow in the second half, it is reasonable to expect it.
Hendricks—Letestu—Kassian works well and has from the start. That pass from Kassian to Letestu the other night is insanity for a 4line.
The fact there is no 3line representation here, and the line in the sand was 60 minutes, tells us everything we need to know about that third line. Pick three men, keep them together.
JEFF JACKSON
John Shannon has his Top 25 Power Brokers article up, it is here. The list is interesting and a worthwhile read. Here is a portion of what Mr. Shannon wrote about Connor McDavid's agent, Jeff Jackson:
On July 1, the first possible day to renew McDavid's contract, Jackson has a chance to recalibrate the pay scale in the NHL.  Jackson's relationship with the Oilers is excellent (as is McDavid's), so there is no reason to think he would hold the team hostage. But business is business and players' careers are not infinite.
Shannon is a smart guy, and his article is designed to examine and uncover all the angles. I think his wording is spot on, this is a chance to both reset the cap at the high end and business is business. I have read elsewhere that this contract will be a test for Peter Chiarelli and the Oilers, but for me the player is the real issue.
Is there anything, and I mean anything, about Connor McDavid that indicates to you this young man is going to hesitate signing a second, long-term contract? The Edmonton Oilers and this fanbase were blessed in two ways with Connor McDavid. In winning the lottery, they won a gigantic prize, biggest available in at least a decade. And in having Connor McDavid come to our city, forge relationships with Leon and Darnell and Patrick and the fans, we have come to know him as genuine and real. Connor McDavid is going to win his first Stanley Cup as an Edmonton Oiler, and I expect he will win more than one. This is a man of great talent and character. What an amazing stroke of luck for Oilers ownership and fans.
LOWDOWN WITH LOWETIDE
At 10 this morning, TSN1260.  Scheduled to appear:
Bruce McCurdy, Cult of Hockey. Oilers have a mountain to climb tonight.
Dean Millard, SportsNight on TSN1260. Bell Let's Talk and the game tonight.
Guy Flaming, Pipeline Show. A preview of the Top Prospects game next week, and we share memories of past games in this series.
10-1260 text, @Lowetide and Bell Let's Talk!