The Edmonton Oilers weathered the storm early last night, found the range three times in the second, and skated and checked their way to a win in the shadows of Disneyland. It was another big win in a season now officially drunk with them. We're on to Oakland.
SURF'S UP, YEAR OVER YEAR
Oilers in October 2015: 4-8-0, goal differential -7
Oilers in October 2016: 7-2-0, goal differential +10
Oilers in November 2015: 4-7-2, goal differential -6

Oilers in November 2016: 5-8-2 goal differential -3

Oilers in December 2015: 7-6-1, goal differential -9
Oilers in December 2016: 7-2-5, goal differential +3

Oilers in January 2016: 4-5-2, goal differential -5
Oilers in January 2017: 8-3-1, goal differential +8

Oilers after 50, 2015-16: 19-26-5, goal differential -31
Oilers after 50, 2016-17: 27-15-8, goal differential +18
Edmonton has improved by 19 points and 50 goals season over season. That is a lot of progress. G51 one year ago was  a 5-1 win over Columbus Blue Jackets, with Connor McDavid going 1-2-3.
WHAT TO EXPECT FROM JANUARY
On the road to: Columbus, Boston, New Jersey, Ottawa (Expected: 2-1-1) (Actual: 2-2-0)
At home to: San Jose, New Jersey, Calgary, Arizona, Florida, Nashville (Expected Result: 3-1-2) (Actual: 4-1-1)
On the road to: Calgary, Anaheim, San Jose (Expected Result: 2-1-0) (So Far: 2-0-0)
At home to: Minnesota (Expected Result: 0-1-0)
Overall expected result: 7-4-3, 17 points in 14 games
Current Results: 8-3-1, 17 points in 12 games
We agreed (we SO did NOT agree) that 17 points was reasonable, and Edmonton made it with two games to spare. This is a fabulous year, probably ahead of what this team is now. There is some danger—this season is laying down track for expectations in 2017-18—but this is also a wonderful gift for Oilers fans.
DEFENSE, LAST NIGHT

Sekera—Russell went 12-14 together, including 5-3 with McDavid and 3-6 with Nuge. Important to note that score effects were in play, but the first-period barrage was part of the record as well. Went 2-6 against Rakell—Getzlaf—Perry and 3-3 against Cogliano—Kesler—Shaw. I think Sekera had a good night, Russell did not. Pretty sure. No. 4 had an early pinch that was a poor decision and followed it up with a few wobble moments, also blocked a lot of shots, one of which hurt him.
Klefbom—Larsson went 14-15 in 17:53 together, I saw a lot of good passing inside their own zone between the two men. Larsson is a tough defender, he can handle those ruthless Anaheim wingers down low along the wall. Went 5-5 against Getzlaf, 2-3 against Kesler.
Davidson—Benning went 5-12 together, and were 0-4 with McDavid on the ice. Went 2-2 against Getzlaf, 0-3 against Kesler. I like both these players, and when Davidson gets back to 100 percent they should be effective. Benning is always on the move, I love that about him. I would call him waterbug but he isn't small per se, and doesn't play small.
If the current six continue to play at this level, then I think Edmonton has to either count on a successful return by Nurse before the deadline, or make a trade.
If McLellan ran Sekera—Benning and Klefbom—Larsson, I think Edmonton has two solid pairings. The problem is that the third pair would include Davidson (still ratcheting up) and Kris Russell (good defenseman but not an able puck mover). If we see an addition at the deadline on blue, this will be the issue addressed.
Cam Talbot was a key player in the win. He made two saves in the first and one in the third that should be considered robbery. The video should be sent to Crime Stoppers. Stopped all 26 shots.
FORWARDS, LAST NIGHT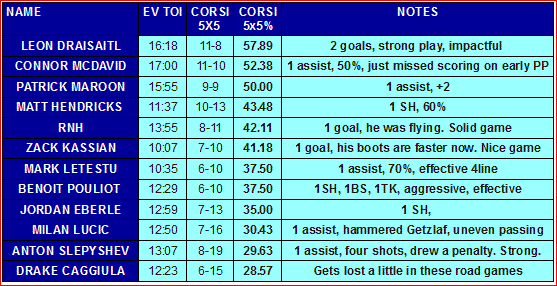 Maroon—McDavid—Draisaitl had a splendid evening, my goodness. McDavid damn near scored early on the PP, but the first period saw him tightly checked. He sent a nice pass to Leon for the winning goal, but the line had several nice looks before and after. Leon scored the final goal as well, a nice passing play, McDavid to Sekera to Maroon to Draisaitl. Maroon had a good early look on the PP, and flattened Lindholm in what I thought might have been a penalty. The line went 4-1 against Getzlaf and 5-7 against Kesler, good teams can contain them for a period or even two, but an entire game is proving difficult.
Pouliot—Nuge—Eberle had a good night to my eye, Nuge scoring (while on another line). RNH had his skates clicking, had some nice looks on the power play. Eberle passed off instead of shooting on a 2-on-1, Pouliot was effective as the checker on the line. Went 2-4 against Getzlaf in 8:25 (that is an effective evening), 0-2 against Kesler.
Hendricks—Letestu—Kassian had an interesting night. Zack Kassian has wheels! That goal he scored was absolutely fabulous, and a dagger to the heart of the Ducks. Went 3-2 against Vermette. I am beginning to think the Oilers will keep Hendricks at the deadline, as opposed to running Lander or Khaira there.
Lucic—Caggiula—Slepyshev had a strong game, with the wingers getting assists on the Nuge goal. Lucic hammered Getzlaf, sent a nice pass to Nuge to set up his good look that resulted in a goal. Slepyshev drew a penalty, sent a dangerous shot on goal, picked up an assist. Caggiula is getting lost a little, I wonder if he makes a quick trip to Bakersfield.
Stats via HockeyStats.ca, NaturalStatTrick and NHL.com.
FARM UPDATE
Jesse Puljujarvi had four shots on goal last night in a close loss to the Ontario Reign. He is now 2-3-5 in 7gp, and has been quality in the AHL. I think Bakersfield has no center for him, and could see Drake Caggiula spending some time down there over the next four weeks. No sense asking the Finn to play with 6's and 7's if the plan is to get his confidence back. I love that he is shooting, though. Lessons being learned!
TALBOT AT THIS TIME (SP)
Talbot overall: .921 (No. 7 among starters)
Talbot even strength: .925 (No. 13 among starters)
Talbot penalty kill: .897 (No. 7 among starters)
Talbot was brilliant last night, stopping two pucks that should have been goals when the game was 0-0. He also made an electric save in the third period, when the game was still in the balance.
5×5 60 (FORWARDS)
Connor McDavid 2.62
Tyler Pitlick 2.22
Anton Lander 2.01
Leon Draisaitl 2.00
Patrick Maroon 1.83
Zack Kassian 1.81
Mark Letestu 1.66
Anton Slepyshev 1.50
Jordan Eberle 1.48
Jesse Puljujarvi 1.45
Ryan Nugent-Hopkins 1.39
Matt Hendricks 1.20
Benoit Pouliot 1.12
Milan Lucic 1.11
Drake Caggiula 0.87
The Oilers have been hammering pucks into the net 5×5 fairly often recently, and there is some recovery going on in this game state. Miles to go for the second line, but they are showing some signs of life. Also notable that Leon Draisaitl has reached 2.00/60 after a long climb. I think Eberle, Nuge, Lucic and Pouliot should all recover, but that is a fan talking. Edmonton is so much better with that second line humming. It will be interesting to see how this line performs in the second half.
HAPPY BIRTHDAY
Wayne Gretzky.
RIP
We're gonna miss her after all! Remembering #MaryTylerMoore with @iammrvandy on @CBSThisMorning pic.twitter.com/Q7ogAjuYmO

— Norah O'Donnell🇺🇸 (@NorahODonnell) January 26, 2017
For me, growing up, Mary Tyler Moore was part of the family, first as Laura Petrie and then as Mary Richards. Between she and Carol Burnett, Red Skelton and George Carlin, my family laughed until we cried in those years—because of them. I can recall her lines from both shows even now, funny and clever and beautiful. I hadn't thought about MTM in forever, and yesterday's news took the wind out of my sails for a long time. I guess that is a reflection of her impact on me, a kid growing up in the middle of nowhere. We had two channels, and believe me the quality shows shone like a bright diamond. The movies she made, while rare, were brilliant, and had real depth. She was the best thing on television whenever she was on television, and that's a fact. I am so sad she is gone. RIP.
LOWDOWN WITH LOWETIDE
At 10 this morning, TSN1260. Scheduled to appear:
Darcy McLeod, Because Oilers. We will look at last night's game, the deadline, expansion list.
Derek Taylor, TSN. A heavy week of CFL news, and free agency is just around the corner.
Jake Sundstrom, Fear the Fin. The Oilers play the Sharks tonight, Marleau is looking for No. 500.
10-1260 text, @Lowetide on twitter. Talk soon!