This is just so good, like a cold beer on a blistering hot day, like a beautiful woman in a summer dress, smiling at you. There have been higher highs for me as an Oilers fan, but this California trip, on top of the previous 49 games, has been wonderful. Music! Cloud Nine!
CALIFORNIA IS FINE, YEAR OVER YEAR
Oilers in October 2015: 4-8-0, goal differential -7
Oilers in October 2016: 7-2-0, goal differential +10
Oilers in November 2015: 4-7-2, goal differential -6

Oilers in November 2016: 5-8-2 goal differential -3

Oilers in December 2015: 7-6-1, goal differential -9
Oilers in December 2016: 7-2-5, goal differential +3

Oilers in January 2016: 4-5-2, goal differential -5
Oilers in January 2017: 9-3-1, goal differential +11

Oilers after 51, 2015-16: 20-26-5, goal differential -23
Oilers after 51, 2016-17: 28-15-8, goal differential +21
Edmonton reaches the All-Star break with a stunning amount of improvement. Hell boys, last year's team won 31 games all season! 24 two years ago! 29 three years back! Crazy crazy.
GOALS FOR—AGAINST, YEAR OVER YEAR
The Oilers have improved by 22 goals for and 22 goals against so far this year. Balance! This is like two seasons (or more) of improvement rolled into one. How much of this is luck? Man, I cannot say and even the experts probably want to wait until spring to parse these things. One of the best things about the current Oilers? The holes are obvious, and that should make fixing them easier.
WHAT TO EXPECT FROM JANUARY
On the road to: Columbus, Boston, New Jersey, Ottawa (Expected: 2-1-1) (Actual: 2-2-0)
At home to: San Jose, New Jersey, Calgary, Arizona, Florida, Nashville (Expected Result: 3-1-2) (Actual: 4-1-1)
On the road to: Calgary, Anaheim, San Jose (Expected Result: 2-1-0) (So Far: 3-0-0)
At home to: Minnesota (Expected Result: 0-1-0)
Overall expected result: 7-4-3, 17 points in 14 games
Current Results: 9-3-1, 19 points in 13 games
January is now a rival of October for the best month of this season—and most of us (certainly me) felt Edmonton would need to work hard all year just to give themselves a chance. At this point? Well, this blog is not going to be tricked into crazy talk, but the Oilers have given themselves an enormous chance to make the playoffs as one of the top three teams in the Pacific Division.
PIKES PEAK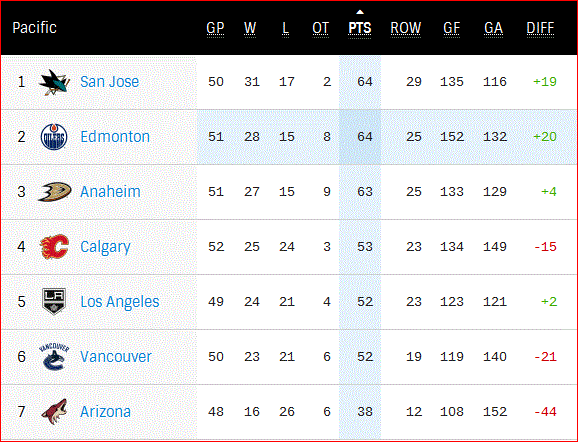 Edmonton leads the division in goal differential, in goals for and are 7-2-1 in their last 10 games. This is marvelous, too marvelous for words.
DEFENSE, LAST NIGHT

Sekera—Russell were 10-13 in 16:22, including 3-5 with McDavid. Edmonton ran this pairing a little less than the Swedish duo but lordy all four men slept well last night. Went 2-2 against Hertl—Thornton—Pavelski and 3-4 against Marleau—Couture—Boedker. I liked this pairing more last night than I have in several games, but do hope we see Matt Benning with Sekera next season. There is chem there.
Klefbom—Larsson went 16-25 in 18:27, a monumental total for one pairing at 5×5 in an evening. Todd McLellan trusts his top two pairings a helluva lot, or his third pairing not at all. Went 8-6 with 97, 2-10 with the Nuge. That is a range of performance. Went 6-7 against the Thornton trio, 5-7 against the Couture line. Klefbom hammered a post senseless in the third period (I believe).
Davidson—Benning are not playing a lot, and Davidson had a poor game. I really like this player, and catching up dozens of games after the season starts has to be tough. And of course, you have to play him in order to get him up to speed. Catch-22. Went 5-11 together, 3-4 with McDavid and 0-4 with 93. Went 1-7 against the Thornton line and 1-3 against Couture. The Oilers need to fix this, and it is a damn shame they can't send Brandon Davidson down for conditioning.
Cam Talbot was brilliant again, stopping 32 of 33, .970
Stats via NHL.com, NaturalStatTrick and HockeyStats.ca.
FORWARDS, LAST NIGHT
Maroon—McDavid—Draisaitl went 9-12 against Vlasic, 9-7 against the Marleau trio. McDavid is the difference maker, Vlasic did as well as he could but there is no answer. McDavid's assist showed his creativity, I imagine a lot of forwards would have turned around and hammered it.
Lucic—Caggiula—Slepyshev. Caggiula scored a fabulous goal in an important part of the game. Slepyshev had lots of jump. Milan Lucic needs a veteran center, and I wonder if Pouliot's recent (better) play means ML will be on the 3line for the rest of the season. Lucic had a 5×5/60 number of 2.04 last year, and is at 1.09/60 this season. David Krecji, anyone?
Hendricks—Letestu—Kassian got caved in possession, I thought Mr. Hendricks struggled. 3-10 against Brent Burns and Paul Martin, this line might benefit from fewer special teams minutes from Letestu. Anton Lander was available, and I do think Hendricks playing over him last night is a clear indication about how the coach feels about both men. If Todd McLellan prefers a tired Hendricks over a fresh Lander, that is a tell.
Pouliot—Nuge—Eberle chased the puck all night, just two shots for the entire line (both Eberle). 3-6 against Thornton and 0-5 against Couture. I like this line, but they could make life easier by getting the puck into the opposition end. Not to pick on them, and San Jose is a very good team, but if Edmonton is going to get anywhere in the playoffs, this line needs to hum. I thought Nuge made some grand defensive plays, including a late one in which he got crumpled along the boards.
CAM TALBOT UPDATE
Talbot overall SP: .922 (No. 6 overall)
Talbot Evens SP: .926 (No. 13 overall, tied)
Talbot PP SP: .900 (No. 5 overall)
Good numbers for Talbot, who had to be strongly considered for the All-Star game. I am fine with giving him the rest though, his 45 games (in 51) and 26 wins (No. 3) represent one helluva lot of work. Find a beach, brother!
OILERS IN THE SCORING RACE
No. 1—C Connor McDavid 51gp, 17-42-59
No. 11—C-R Leon Draisaitl 51gp, 19-27-46
No. 72—R Jordan Eberle 51gp, 11-21-32
No. 105—L Milan Lucic 51gp, 11-18-29
No. 138—L Patrick Maroon 51gp, 18-8-26
No. 138—C Ryan Nugent-Hopkins 51gp, 11-15-26
Some nice recoveries going on in here, Nuge and Ebs had some dark moments in the first half of the year but have righted the ship a little. The totals for these men in the last 10 games is here, with only Lucic struggling among the top six scoring forwards at this time.
LORE
I have noticed some verbal sneaking in to the framework of the Oilers day to day, and want to address it. I want you to know that I am a Milan Lucic fan, and remain pleased Edmonton signed him. I also want you to know that I am indifferent about Kris Russell, but am hopeful he can continue to be on the right side of the score till kingdom come.
I keep hearing about important hits and vital blocks, and understand those things to be big parts of specific games. Nonetheless, we cannot overlook the higher view, the elevated evidence, with these players. Milan Lucic is scoring at a 1.09/60 clip, that is real evidence of things not working. Again, I am onside with Lucic, cheer like hell for him. Facts are facts, and that number has to be better, no matter his center.
Kris Russell can defend, he really can, but his possession numbers are not good. I heard folks yesterday talking about Russell really helping Andrej Sekera's game, and have to point out some facts:
Andrej Sekera with Kris Russell: 46.3 Corsi for 5×5 in 513 minutes.
Andrej Sekera w/o Kris Russell: 56.5 Corsi for 5×5 in 294 minutes.
I love telling stories as much as anyone, and remain hopeful both men can be part of this team's success moving forward. My hopes mean jack squat. Facts matter. Our stories need to reflect facts, or we are pissing in the wind.
LOWDOWN WITH LOWETIDE
Friday! Beginning at 10 this morning, TSN1260:
Steve Lansky, BigMouthSports. The Oilers at the All-Star break.
Frank Seravalli, TSN. Frank is in LA for the All-Star game, we will get the latest news.
Matt Iwanyk, TSN1260. Does Edmonton's success change the deadline priorities?
Paul Almeida, SSE. Oilers who need to be replaced before the playoffs.
10-1260 text, @Lowetide on twitter.