Peter Chiarelli has his NHL team in a very good spot at the All-Star break. Now what? Well, that is the question. What can PC do to make this team better, without sacrificing needed draft picks and prospects? Remember our look at the prospects back in December? There is a real need at LW, RW and RHD. Who might be leaving, and who might be coming in during the next six weeks? Let's have a look.
LEAVING
2017 first-round pick—No. 23 or so this year. Appears to be enough talent to get a good prospect there.
2018 first-round pick—No. 23? Seems like a reasonable estimate.
Brandon Davidson—He has good value, reasonable contract has one more year. I am uncertain as to his value, but if healthy BD can play an effective top 6D role.
Benoit Pouliot—He has been rumored to be on the block for some time, it is uncertain how much value he will bring. May end up being a 'salary match' in a deal for another veteran (Hanzal, et cetera).
2018 second-round pick—No. 54?
Caleb Jones—He has good speed, some offense, and is one of Edmonton's more famous prospects.
Jujhar Khaira—I think NHL teams would like his size and future contract.
Ethan Bear—RH defender with a big shot from the point.
Anton Slepyshev—He may have a future in Edmonton, but plans change.
Griffin Reinhart—Famous prospect with high draft pedigree, play is improving.
2017 third-round pick (No. 82)—No idea if the draft stretches this deep.
Brickley is typical late bloomer. Now 6'3, 215 lbs. Good size and excellent poise with the puck. Oilers and Jets among many with interest.

— Darren Dreger (@DarrenDreger) October 19, 2016
ARRIVING?
LD Daniel Brickley was mentioned as a player of interest back in October, we are a little over one month away from the college signing season opening. He is a bigger defender (6.03, 205) and has some substantial offense in his game. His NHLE is rocking around 40 points this season and you can read more about him here.
I posted a large list of possibles yesterday. Probables for the NHL roster after the deadline? Cannot say.
I think there is at least a chance Laurent Brossoit will be on this roster March 2, with no goalie acquired.
I think there is at least a chance the Oilers retain all of their current defenders, including IR, and run with 8D through the end of the season and into the playoffs.
I think there is a chance Edmonton trades Benoit Pouliot for a pick.
I think the Oilers will acquire a forward, and he will be a center (or can play center).
NEW VOLLMAN SLEDGEHAMMER, D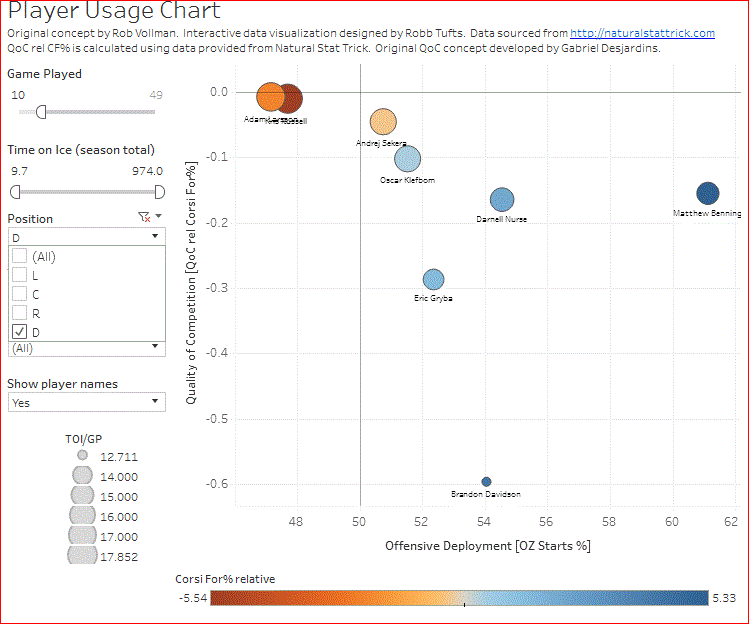 The Vollman is back in business! I love this chart, it helps me view the defense on a line and makes sense to me. Rob's graph tells us (and we know this, but it helps to view this way) Kris Russell and Adam Larsson are facing tough opposition and zone starts (via NaturalStatTrick). Andrej Sekera, Oscar Klefbom, Matt Benning and Darnell Nurse are close behind, and the blue bubbles tell us they are having real success (and the CorsiforRel graph at the bottom is an excellent addition).
Seeing this graph, I am more encouraged about the idea of running the current group, adding Nurse and running through the end of the season. Injuries and slumps change things, but this blue has been holding up pretty well over the season.
NEW VOLLMAN SLEDGEHAMMER, F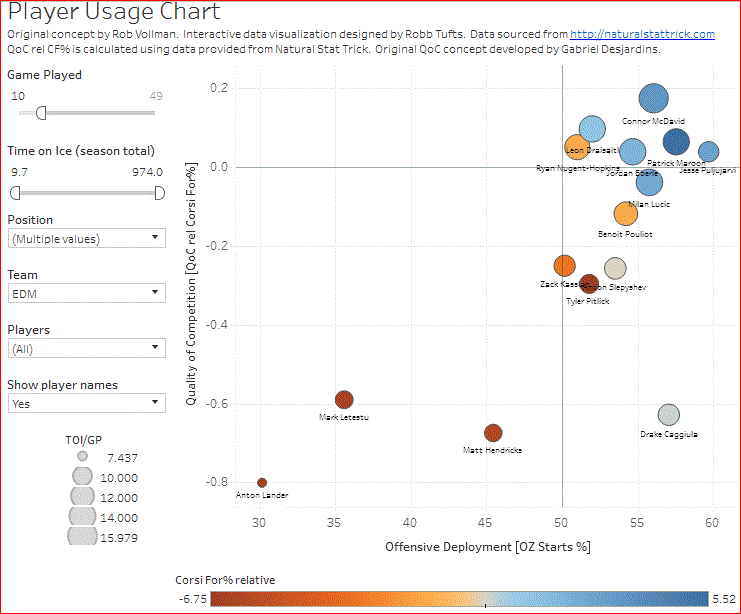 Here are the forwards, and again it is what we might expect (but still good to see it). Todd McLellan is giving the McDavid line as much of a push as he can, and the opposition is trying to run him through the slicer dicer. The top two lines (and friends) are all in the same quadrant, and all but Nuge have a nice healthy blue bubble. I imagine RNH will turn blue as time goes. Credit to McLellan, he is getting clean air for the Caggiula line, expect that is the trio that gets some repair at the deadline. More on these charts tomorrow.