Over the last few days, I have suggested Peter Chiarelli must attempt to serve two masters in 2017. First, he is required to continue building the NHL group, in an effort to bring Stanley home for a visit, after so many years deep in enemy territory. Second, he must continue to build the farm system and have a steady supply of prospects coming up through the draft.
That second item seems to be a sticking point with some, so I wanted to roll out the 50-man roster and where this spaceship is heading. To be clear: I maintain the Oilers are badly deficient in prospects throughout the system, and that need—that fuel—is vital to long-term success.
WHERE ARE WE NOW?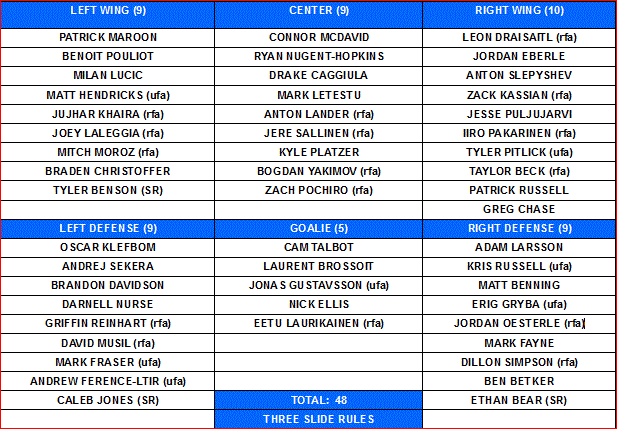 This is us. Many of the players on this list (51 deep, but three are slide rules) will not return. Any of us can go through this exercise, but since I am here let me do it and we can argue after the fact.
LEAVING
Goalies—Jonas Gustavsson, Eetu Laurikainen.
Defensemen—Andrew Ference, Mark Fraser, David Musil, Eric Gryba.
Centers—Jere Sallinen, Bogdan Yakimov, Zach Pochiro.
Left Wing—Matt Hendricks, Mitchell Moroz.
Right Wing—Iiro Pakarinen, Taylor Beck.
Once again, your mileage may vary, and I expect we will have disagreements here and there. Bottom line: I have identified a baker's dozen from the 51, and that will give the general manager some room to wheel in the offseason.
ARRIVING
Defense: Kris Russell, William Lagesson
Center: Tyler Vesel
Edmonton has precious few players in the system who are eligible to sign, I have chosen three to represent early spring. College signings may also happen as well, but it seems a stretch to list someone at this time. Among those in the Oilers umbrella who I passed over at goalie Miroslav Svoboda plus defenders Ziyat Paigin and Filip Berglund. We can chat about those decisions for sure, but I do expect Kris Russell gets signed.
PROJECTED SPRING 50-MAN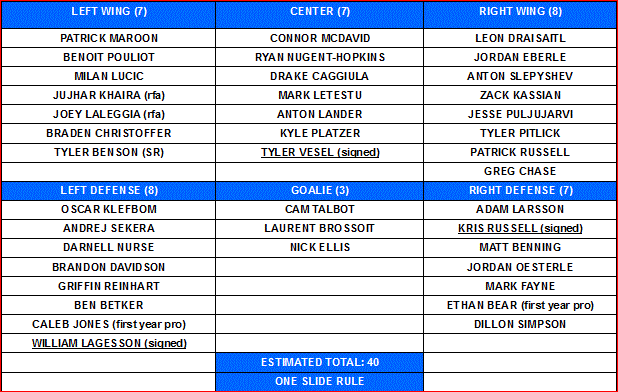 It is now April. Flowers are in bloom, I am wearing shorts in public and the neighbors are calling the authorities to complain that I am wearing shorts in public.
Goaltending will have more answers, either from a strong showing by Laurent Brossoit or a deadline acquisition to discuss as a possible long-term answer.
Kris Russell is likely to be signed and Edmonton would have a reasonable group of NHL defenders, enough even to overcome the expansion loss of Brandon Davidson or Griffin Reinhart. No stud No. 1, unless an internal option reveals himself.
Center is strong if you include Leon, and that may be the case in 2017-18. I added Tyler Vesel based on his strong season, should mention no evidence of his signing has presented itself.
The wingers may get some help from the minors (Khaira, etc) and that is a good sign. More is needed, as history tells us that not every prospect becomes an NHL player, but there is some progress here. We can hope for a spike in the final 30 games (AHL) from names like Kyle Platzer and Greg Chase.
The work I did on the Winter Top 20 really informed me about the urgency in procurement here. I don't think Edmonton can afford to trade this year's first-round selection at the deadline—unless the player acquired is under control for some extended time.
Which is not to say that the current procurement is not showing progress. In fact, I do think Edmonton's AHL team is producing talent with some promise. As an example, here are the current NHLE's for Bakersfield and Stockton. Which group would you rather have?
Bakersfield Condors
R Anton Slepyshev 43
R Jesse Puljujarvi 30
L Jujhar Khaira 29
LD Jordan Oesterle 28
L Joey Laleggia 16
LD Griffin Reinhart 15
LD David Musil 10
R Patrick Russell 9
LD Dillon Simpson 7
C Kyle Platzer 7
Stockton Heat
C Mark Jankowski 31
L Hunter Shinkaruk 28
L Morgan Klimchuk 26
L Andrew Mangiapane 24
R Daniel Pribyl 23
RD Rasmus Andersson 19
LD Brett Kulak 18
C Emile Poirier 17
LD Oliver Kylington 16
L Ryan Lomberg 15
Now, I cheated a little, Jesse Puljujarvi hasn't played 10 games down there and Slepyshev has been in Bakersfield for less than 10 games as well. Still, Jujhar Khaira has developed in Bakersfield and Slepyshev has done some good things, too. Jordan Oesterle may have an NHL career, and maybe one of these other kids has a run in the second half. Griffin Reinhart remains a player on a journey, recent days have been encouraging and you never know.
Bottom line for me is this: Peter Chiarelli's acquisitions this trade deadline should include a second-round pick in 2017, and the assets heading out cannot include the first rounder this summer. Simply not enough talent bubbling under to trade those precious assets.
CHIARELLI'S TRADED DRAFT PICKS AS OILERS GENERAL MANAGER
2015—Traded Picks No. 16 (C Mathew Barzal) and No. 33 (C Mitchell Stephens) for D Griffin Reinhart.
2015—Traded Picks No. 57 (D Jonas Siegenthaler), No. 79 (Sergey Zborovskiy) and No. 184 (G Adam Huska) for G Cam Talbot and No. 209 (Ziyat Paigin) overall
2015—Traded D Martin Marincin for Pick No. 107 (F Christian Wolanin) and Brad Ross; Traded Pick No. 107 and F Travis Ewanyk for D Eric Gryba.
2016—Traded Phil Larsen to Vancouver for 2017 fifth-round pick.
2016—Traded Teddy Purcell to Florida for No. 84 overall (Matthew Cairns) in 2016 draft.
2016—Traded Justin Schultz to Pittsburgh for No. 91 overall (Filip Berglund) in 2016 draft.
2016—Traded Anders Nilsson to St. Louis for Niklas Lundstrom and No. 149 overall (Graham McPhee) in 2016 draft.
2016—Traded Martin Gernat and No. 93 overall (Jack Kopacka) in 2016 draft to Anaheim for L Patrick Maroon.
Peter Chiarelli has improved the NHL team, but there is a real need to replenish the system. College signings will help, but this team needs draft picks and also needs to use them well. A big summer ahead.