AND we are back. The All-Star break is not something I look forward to, but it is on the schedule so we have to take our medicine. Consider it the Cod Liver Oil chase (did your Mom have to chase you with the damnable giant spoon? Mine did) for 2017. Now, we race to the trade deadline with a mittful of wins, only fear and good judgement holding us back.
WILD THING, YEAR OVER YEAR
Oilers in October 2015: 4-8-0, goal differential -7
Oilers in October 2016: 7-2-0, goal differential +10
Oilers in November 2015: 4-7-2, goal differential -6

Oilers in November 2016: 5-8-2 goal differential -3

Oilers in December 2015: 7-6-1, goal differential -9
Oilers in December 2016: 7-2-5, goal differential +3

Oilers in January 2016: 4-5-2, goal differential -5
Oilers in January 2017: 9-3-1, goal differential +11

Oilers after 51, 2015-16: 20-26-5, goal differential -23
Oilers after 51, 2016-17: 28-15-8, goal differential +21
G52 a year ago the Oilers romped 7-2 over the Ottawa Senators. Edmonton, at that point, would have 30 games left in the season and be 21-31 in straight won-loss. The club would win just 10 of the final 30 and that was all she wrote. It is vitally important the Oilers do not fall into a long slump beginning tonight. Just win, baby.
WHAT TO EXPECT FROM JANUARY
On the road to: Columbus, Boston, New Jersey, Ottawa (Expected: 2-1-1) (Actual: 2-2-0)
At home to: San Jose, New Jersey, Calgary, Arizona, Florida, Nashville (Expected Result: 3-1-2) (Actual: 4-1-1)
On the road to: Calgary, Anaheim, San Jose (Expected Result: 2-1-0) (So Far: 3-0-0)
At home to: Minnesota (Expected Result: 0-1-0)
Overall expected result: 7-4-3, 17 points in 14 games
Current Results: 9-3-1, 19 points in 13 games
We agreed (not ever, not one time) that 17 points in 14 games would be reasonable, but the Oilers exceeded that number and now we are left to contemplate what might be reasonable for February. More on that Thursday (we are really not going to agree Thursday) but there are some nice January memories we are about to pack in the trunk today.
DEFENSE, 2016-17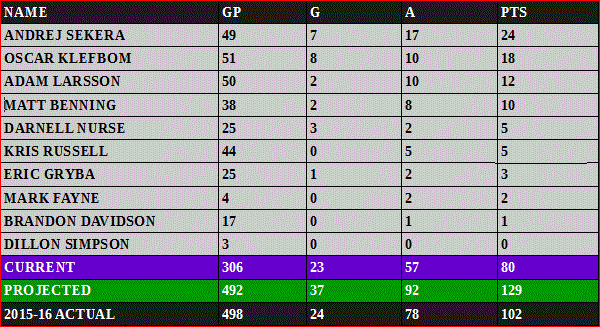 This is the offensive side of the Edmonton defense, and it has been a very good run so far. Edmonton scored 24 goals all of last season, and have 23 goals already.
I wondered if the Oilers D were shooting more, so had a look. Last season, the Oilers blue averaged 8.34 shots per game, this season the number has increased to 8.78 shots per game.
Edmonton's defense has seen their shooting percentage increase from 3.5 to 5.1. Can they sustain it?
Oscar Klefbom has been shooting like crazy. Last season he averaged 1.6 shots per game, this season 2.51 per game. That is a significant increase.
FORWARDS, 2016-17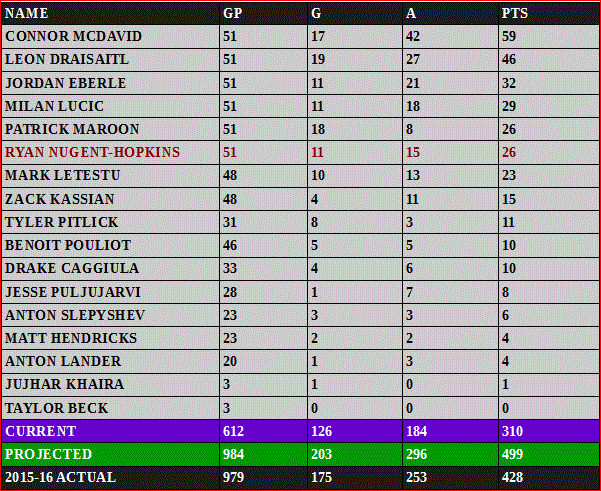 The Oilers have three forwards who are on track for 20 goals this season, and three more who could get there with a hot streak. It isn't exactly balanced scoring, but there are some encouraging signs.
Connor McDavid is on pace for 82gp, 27-68-95. In the modern era, that is a blistering pace. It is important for us to understand this enormous total. In this decade, there have been seven seasons better, all of them from quality teams with a great deal of support. This young man is a stone alone in many ways. A searing and masterful performance.
Leon Draisaitl has done Peter Chiarelli an enormous favor with his season. The Big Train is on his way to 82gp, 31-43-74 and those are terrific totals. He is 48.8% on the dot, he is 8-9-17 on the power play. Had Draisaitl faded, it would have been very difficult for the Oilers to have had their successful season.
I see Ryan Nugent-Hopkins as the key. The young man is trending for a 82gp, 18-24-42 season and that is shy of his best years by 14 points. He will need a hot streak or two in the next 30 games in order to get there, but I believe he is more than capable of getting it done.
An exchange between P.K. Subban and Connor McDavid at the skills competition: https://t.co/cDVuDjbqvM pic.twitter.com/nQeajdHbIr

— Adam Vingan (@AdamVingan) January 30, 2017
One of the fun things about this All-Star weekend was seeing an Oilers player in a feature role. CMD received a lot of air time across North America and handled himself very well. It is interesting to see players adjust to a major media role, Wayne Gretzky is millions of miles better now than when he was 20 (as an example). The exchange above shows some of 97s character and humor, he appears to have more humor than many hockey players. He is quick on his feet, on and off the ice. Good to know.
#Oilers prospect Ethan Bear is leading the Seattle Thunderbirds in scoring as a defenceman with 17 goals and 41 points in 46 games. #WHL

— Eric Friesen (@EricJFriesen) January 31, 2017
One of the things we should be looking forward to (and hoping for) is a long run by the Bakersfield Condors. Ethan Bear and Caleb Jones are coming to the end of their respective junior careers, and we could see an AHL audition this spring. I don't think either man will break camp with the big club in the fall, but it will be good to see where they are at the pro level. Gives us a line in the sand moving forward.
According to @sportexpress,former QMJHL LW Vladimir Tkachyov had offers from #Blackhawks and #Oilers, decided to stay in KHL for next season

— Russian Prospects (@RUSProspects) January 30, 2017
One of those obscure stories that will bind us together for decades, Vladimir Tkachev appears to be writing his own script and that is just fine. Just so you know, his NHLE right now is 82gp, 20-37-57—that is a very good number. Good to know (if true) the Oilers are looking for high skill out among the hinterlands.
TOP PROSPECTS GAME
I watched the Top Prospects Game last night, enjoyed it thoroughly. Each of these games is unique, and last night the offense burned down the mission and sent Charlie Alnut and Rose Sayer down the Ulanga River. Mike Morreale of NHL.com has a really good overview of the evening here, and I jotted down a few notes on some players:
Sasha Chmelevski scored a tremendous goal in the first period, a goal-scorer's goal that makes you take notice. From what I was told online last night he has been inconsistent this year, but that shot surely got everyone's attention.
Jake Leschyshyn scored too, and I thought he played really well in all three zones. I knew he would be my kind of player.
Kailer Yamamoto had several chances plus scored a goal. He isn't really a Chiarelli type, but he is going to score goals in the NHL.
Gents worth a follow (if you are interested) are Steve Kournianos, Corey Pronman and Brendan Ross. I keep hoping the Oilers find a way to get Cale Makar, but based on what I saw last night, Michael Rasmussen might be an Oiler if he is still on the board come draft day.
LOWDOWN WITH LOWETIDE
We get rolling at 10 this morning, TSN1260. Scheduled to appear:
Scott Burnside, ESPN. Connor McDavid plays a major role in the All-Star weekend, on and off the ice.
Jonathan Willis, Oilers Nation. Signing Kris Russell: Good idea or madness?
Scott Cullen, TSN: The race to the trade deadline: How many teams are out of this thing?
10-1260 text, @Lowetide on twitter. Giddyup!