Here's what we are not going to do: Bitch about January. The Oilers lost to the Minnesota Wild last night, and there is no way that game is ever going to come back. For this we are thankful. We are on to Vince Gill and Amy Grant's house.
WILD THING, YEAR OVER YEAR
Oilers in October 2015: 4-8-0, goal differential -7
Oilers in October 2016: 7-2-0, goal differential +10
Oilers in November 2015: 4-7-2, goal differential -6

Oilers in November 2016: 5-8-2 goal differential -3

Oilers in December 2015: 7-6-1, goal differential -9
Oilers in December 2016: 7-2-5, goal differential +3

Oilers in January 2016: 4-5-2, goal differential -5
Oilers in January 2017: 9-4-1, goal differential +8

Oilers after 52, 2015-16: 21-26-5, goal differential -18
Oilers after 52, 2016-17: 28-16-8, goal differential +18
January is in the books, and it was a helluva month for the Edmonton Oilers. A year previous, the club gathered only 10 points in 11 games, and were outscored by five goals. This past month? Edmonton grabbed 19 points in 14 games, and put themselves in a brilliant position to grab a playoff spot for the first time since the spring of 2006.
WHAT WE EXPECTED FROM JANUARY
On the road to: Columbus, Boston, New Jersey, Ottawa (Expected: 2-1-1) (Actual: 2-2-0)
At home to: San Jose, New Jersey, Calgary, Arizona, Florida, Nashville (Expected Result: 3-1-2) (Actual: 4-1-1)
On the road to: Calgary, Anaheim, San Jose (Expected Result: 2-1-0) (Actual: 3-0-0)
At home to: Minnesota (Expected Result: 0-1-0) (Actual: 0-1-0)
Overall expected result: 7-4-3, 17 points in 14 games
Current Results: 9-4-1, 19 points in 14 games
If the Oilers make the playoffs, and we are not there yet despite the fact one of you emails me almost daily telling me to stop being so stubborn, January will get a great big assist. Well done, you Oilers.
WHAT TO EXPECT FROM FEBRUARY
On the road to: Nashville, Carolina, Montreal (Expected: 1-1-1)
At home to: Chicago, Arizona, Philadelphia (Expected: 1-1-1)
On the road to: Chicago, Tampa Bay, Florida, Washington, Nashville, St. Louis (2-3-1)
Overall expected result: 4-5-3, 11 points in 12 games
I think the Oilers will make the playoffs if the club can match the record I have posted here. It would mean reaching the trade deadline at 64gp, 32-21-11, 75 points. This is a big month to come, and this playoff spot is not yet secure. Don't let anyone tell you different.
DEFENSE, LAST NIGHT

Davidson—Benning went 17-6 together. That is very good no matter who is on the ice representing the opposition. The pairing went 8-8 in almost six minutes against the Parise—Haula—Pominville trio, and 4-0 against Niederreiter—Eric Staal—Charlie Coyle. Also went 3-0 against Zucker—Koivu—Granlund.
I believe Benning should be playing with Sekera, but if that isn't possible, it is nice to see this pairing getting more time as Davidson comes back from injury and finds his way. On a night where it was easy to find the negative, I was encouraged by this pairing.
Klefbom—Larsson went 28-16 in 18:01 together, and there were countless examples of Larsson playing well defensively. My goodness he interrupted passes in the slot area, hammered opponents and he scored a rare goal, too. Klefbom skated the puck well (although he turned over possession at the blue line on the PP). A strong pairing. Went 12-6 against Parise line, 9-4 against Coyle line.
Sekera—Russell had a poor night in actual scoring events, and that has not been the case on the scoreboard much of this season. Went 20-26 in 16:12 together, including a disastrous 1-12 with the Caggiula line (a line McLellan dissolved, with reason). Went 15-7 against Granlund, an impressive number.
Kris Russell had a very difficult night. Minus 4 is a nasty bit of business. I think Russell has played in some good luck this year, but has also been able to (until recently) defend pretty well. I am not on the sign Russell for three years train, but am also not going to yell at you for thinking he can play a support role. We will run into disagreement if you are suggesting he is a top pairing match with Sekera. I believe Sekera—Benning is already superior, and that will only increase over time, lord willing.
Cam Talbot and Laurent Brossoit did not steal any period, let alone the game. LBs effort on the two-on-one does not inspire confidence. We all expect he will get at least a couple of starts during February, it will be interesting to see what happens if Edmonton loses Thursday night.
FORWARDS, LAST NIGHT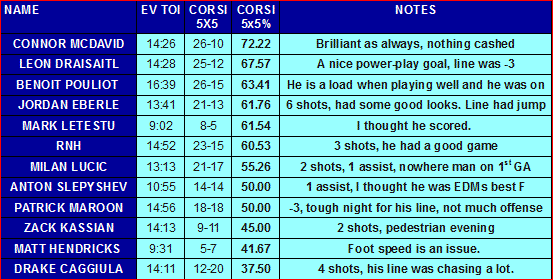 Connor McDavid went 25-10 with Leon Draisaitl, 7-7 with Patrick Maroon, 10-2 with Benoit Pouliot and 9-1 with Milan Lucic. I think Leon with 97 is probably written in stone for the rest of the season, but it was nice to see Benoit Pouliot finally get a chance on the big line. I really wish he had scored. Anyway, the captain was shutout last night but that was more luck than anything, and he went 14-4 against Zucker—Koivu—Granlund.
Benoit Pouliot is playing better now, but he isn't cashing goals. It will be very interesting to see his usage this month. More in a minute.
Ryan Nugent-Hopkins went 20-13 with Jordan Eberle, 14-9 with Benoit Pouliot and 10-9 with Patrick Maroon. Like McDavid, I thought Nuge should have had a goal last night, he certainly earned it. Nuge went 6-5 against Parise—Haula—Pominville, 9-8 against Zucker—Koivu—Granlund.
Eberle got some good looks and was maybe a little unlucky last night. I think we can suggest he and 93 are hitting line drives now, sooner or later they will fall in. This road trip might be a good thing.
Drake Caggiula went 7-16 with Milan Lucic and 7-13 with Anton Slepyshev, 7-7 with Zack Kassian. Todd McLellan broke the line up, I thought Lucic was a day late on the first goal. The two rookies showed well in spurts, and I thought Anton Slepyshev was Edmonton's best forward. He is really coming into his own. Went 6-11 against the Haula line.
I wonder if the Oilers would ever consider a Pouliot—Lander—Slepyshev trio?
Mark Letestu went 7-1 with Anton Slepyshev, 5-5 with Matt Hendricks, 3-0 with Milan Lucic and 1-4 with Zack Kassian. That is a blender! I think the 4line had a pretty good night, especially when Slepyshev was in the group.
Sources are NHL.com, NaturalStatTrick and HockeyStats.ca.
MAD AS HELL
I have communicated with some of you for over a decade, incredible as it seems. Although we may not have met in person, or had a beer together, I think of you as friends. That is the beauty of the internet, and believe me it is better than reading The Hockey News and then riding your bike around Maidstone thinking about the Bruins goalie situation without input. Call and response, back and forth.
Last night, apparently, there was a big blowout on twitter. I didn't see it, mostly because the bulk of my evening was spent watching the Oilers game and playing with Ziggy. Based on a couple of emails/dms from friends, it was time well wasted on my part.
I think two things are in play here. First up: Male ego. We might as well talk about it, since it is the elephant in the room. For some reason, we have reached a point among Oilers fans online where several hundred people are better equipped to manage the team than the actual general manager. Now, since none of us is the general manager, the real business of online gamesmanship is taking a stand and defending it until time eternal.
Which gets us into trouble. Kris Russell, poor man, has his fans and his detractors. If I say the following:
Kris Russell is a veteran defender. Pretty good at puck retrieval, he cannot pass well at all, but he has been good at GA/60. That is a stat in which luck can have a major impact, and he hasn't shown an ability to do this consistently. I worship at the feet of Corsi, and Corsi tells me he is a third pairing NHL D.
Some of you will agree, others will not. The thing is, we can have a chat about it here, because if you become abusive I will time you out. On twitter, or wherever, that option isn't as available, so we end up talking past each other and the conversation often ends up in abusive language and hard feelings.
Why? Because we have our online reputations to protect! Male ego! Let me ask you a question: How many women do you follow on twitter who are Oilers fans? Do you believe those fans have as much knowledge as you do? Are the women you follow on twitter able to comment on the game intelligently? When pressed by you, are these women likely to call you a dog-faced boy? The answer is no, partly because women are so used to men running their mouths they understand it is a lost cause. They have tuned you out, same as the guys who have tired of rage in the cage keyboard soldiers.
This morning, you can read my take on Benoit Pouliot (below) and you can read David Staples take on him over at Cult of Hockey. These takes are entirely different, because David and I view the game differently. I have found it beneficial to stay away from CofH until my morning blog is written because it is important to offer a fresh view that has not been influenced (what you will read below was written last night). I am not going to piss on David's take, and he isn't going to piss on mine. Why? Because we view the game differently, and have each of us (without actually talking to each other about it) concluded that our views have merit and are worthy of your consideration. This is not a battle for souls, this is an adult discussion about a game. No one is going to die from this. Promise. You can read both takes, make your own decision, and proceed accordingly.
We can view a differing opinion as a challenge, but I would encourage you to view is as another angle, another photo of the same event. Today, you and I will encounter dozens of women and men who know as much or more about the game of hockey as we do, that is life in Canada. We don't own wisdom about our game, it is in every Tim Hortons and desk at work because this is us. Everyone who knows hockey knows hockey. If you are arguing with people on the internet, probably a good idea to sit back and review. Chances are their knowledge of the game matches yours, and they simply have a different view of the photo presented to each of you.
Twitter's motto should be check your ego at the door. I suspect we would all be happier if we respected each other a whole helluva lot more than we do today. If you got mad last night on twitter, and are pissed off at someone this morning, that is entirely on you. Perhaps this is a day to stay off twitter, and think about that fact. Every moment spent being riled out about some fool on the internet means there are two more fools on planet earth. Surely you know this to be true.
SHOWCASE
I think the Oilers may be showcasing Benoit Pouliot. Now, we will have to see more of it, but in the last while his regular center has been the Nuge. Last night, BP got some McDavid time, and that is the greatest mixture on the planet at this time.
Benoit Pouliot, when is on, can be a bull in a china shop. Rushing passes by defenders, turning pucks over, creating offense on those turnovers, and generally being a fly in the ointment for opponents. Per 82gp in his NHL career, Benoit Pouliot is 18-19-37—and that has real value in today's NHL. Pouliot is shooting (attempted shots) far less this season:
2013-14: 2.79 shot attempts per game
2014-15: 3.00 shot attempts per game
2015-16: 3.16 shot attempts per game
2016-17: 2.15 shot attempts per game
Last night, playing with McDavid and Nuge, he had one shot and two attempted/blocked shots, counting three. I believe February may see a push for Pouliot, in an attempt to showcase him and find a market for him. Note: I am not suggesting he should be traded, in fact my guess is that this push gets him back in the good books. Whatever gets him some time with McDavid is fine by me, the Oilers need to unlock his offense and get Pouliot back to three shot attempts per game. His overall contributions to games has been improving for the last month or so to my eye. I do think this is a showcase.
LOWDOWN WITH LOWETIDE
10 this morning, TSN1260. Scheduled to appear:
Bruce McCurdy, Cult of Hockey. Bruce and I spend our Wednesdays talking about other days of the week. The Oilers performances this season on Tuesday evenings have driven Mr. McCurdy to distraction. Literally!
Steve Kournianos, The Draft Analyst. We will talk about the Top Prospects Game, as well as players who have emerged as legit first-round options during the year.
Jeff Hauser on the NFL. We will chat Super Bowl and what the hell is happening in Las Vegas?
10-1260 text, @Lowetide twitter. See you on the radio!