When we review this season in April (or May, or June!) one of the themes I will bring to you is just how much this team accomplished on the road. The home record looks fine now, but that came later. The road is where this team found itself, and the road is where they will spend February. Giddyup.
CRAZY, YEAR OVER YEAR
Oilers in October 2015: 4-8-0, goal differential -7
Oilers in October 2016: 7-2-0, goal differential +10
Oilers in November 2015: 4-7-2, goal differential -6

Oilers in November 2016: 5-8-2 goal differential -3

Oilers in December 2015: 7-6-1, goal differential -9
Oilers in December 2016: 7-2-5, goal differential +3

Oilers in January 2016: 4-5-2, goal differential -5
Oilers in January 2017: 9-4-1, goal differential +8

Oilers in February 2016: 3-8-2, goal differential -18
Oilers in February 2017: 0-0-0, goal differential nil
Oilers after 52, 2015-16: 21-26-5, goal differential -18
Oilers after 52, 2016-17: 28-16-8, goal differential +18
January is in the books, and it was a helluva month for the Edmonton Oilers. A year previous, the club gathered only 10 points in 11 games, and were outscored by five goals. This past month? Edmonton grabbed 19 points in 14 games, and put themselves in a brilliant position to grab a playoff spot for the first time since the spring of 2006. G53 was a 5-1 loss to Montreal. Have a boo at February last year—this is what Edmonton must avoid over the next 26 days.
WHAT TO EXPECT FROM FEBRUARY
On the road to: Nashville, Carolina, Montreal (Expected: 1-1-1)
At home to: Chicago, Arizona, Philadelphia (Expected: 1-1-1)
On the road to: Chicago, Tampa Bay, Florida, Washington, Nashville, St. Louis (2-3-1)
Overall expected result: 4-5-3, 11 points in 12 games
This is a big damned month. I have Edmonton grabbing 4 wins and three Bettmans in 12 games, and that is going to be difficult without at least a win from this week.
EARLY TRADES?
Elliotte Friedman: One GM on Tuesday night: "Someone is going to set the trade market. Not every GM feels they can wait. There are guys who like to go early, and one of them will." So many teams are so close that someone is going to decide they won't lose a playoff spot because they waited.  Source
We are now inside 30 days for the deadline, and the Oilers are going to be active on some level. I think we see both buying and selling from Edmonton again this time. As you may recall, the Oilers dealt Justin Schultz and Teddy Purcell on the Saturday, and then grabbed Patrick Maroon on deadline day. Colorado may break early, will the Oilers be part of it? More in a minute.
Detroit looks like they may end up being a seller, I think the Oilers should stay away from most of their veterans—especially Mike Green, who owns a dear contract. Perhaps Darren Helm or Thomas Vanek come available, Detroit may decide to reboot over the summer.
FILIP BERGLUND'S PROGRESS
2015-16—5gp, 0-0-0 (3SOG) (10:00 a night)
2016-17—35gp, 0-7-7 (25SOG) (9:03 a night)
Filip Berglund has been having a little success in the last while (two assists in three games) and we always look for progress beginning in January. Berglund has survived most of the season in the SHL, and he is 1.33 points-per-60 based on the above numbers (via SHL.se). Good arrows, keeping him in Sweden for another year is probably wise if there is a sense he will emerge as a full time regular.
THE NEW MAROON
Credentialed NHL scouts at #Avs-LAK game here at Staples Center pic.twitter.com/NRyyDbEP6Q

— Mike Chambers (@MikeChambers) February 2, 2017
Centre of Attention was all over this last night in the comments section, he mentioned Joe Colborne and that would be an interesting addition. He is a big (6.05, 221) and he has NHL experience. Remind you of anyone?
Joe Colborne (27)—37gp, 3-1-4 and 270 career NHL games
Patrick Maroon (27)—56gp, 4-9-13 and 204 career NHL games at the deadline last year.
Maybe the Oilers were looking at Matt Duchene or Tyson Barrie, but Joe Colborne—who makes $2.5 million this and next season—could be on the shopping list. He would fit the Patrick Maroon buy low template from last deadline.
CURRENT 50-MAN LIST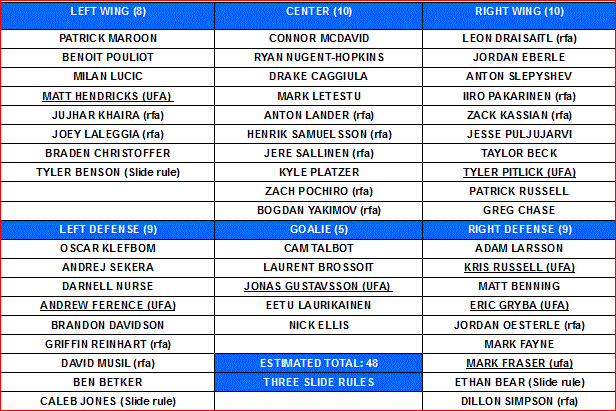 The acquisition of Samuelsson may give Jesse Puljujarvi the AHL center he needs, and at the same time allows the new hire to salvage something from a trying season. I remain convinced Peter Chiarelli has more to do before we can give the balance check mark, but a good summer that includes strong drafting and one more lash at the defense and we may be able to unveil the balance photo.
EBERLE ON THE TRADE DEADLINE LIST
Frank Seravalli of TSN will join me this morning to talk about trade deadline targets currently on the TSN deadline list. It is here. Jordan Eberle is on the list, so perhaps there is something there. We haven't discussed Eberle as a trade option, mostly because there are no clear replacements. If I were forced to cobble together a sensible scenario, it might be:
The Oilers plan to run their top line with two centers (McDavid—Leon) until the end of time.
The Oilers want to make room for Jesse Puljujarvi before March.
The Oilers want someone closer to Nathan Horton in style to play on the Lucic—Nuge line.
Those are my guesses, but it is not clear to me the Oilers have enough in-house to replace Eberle and address another position. Perhaps a RW for RW deal that gets Peter Chiarelli a player he is more comfortable deploying? We wait.
VOLLMAN SLEDGEHAMMER, BLUE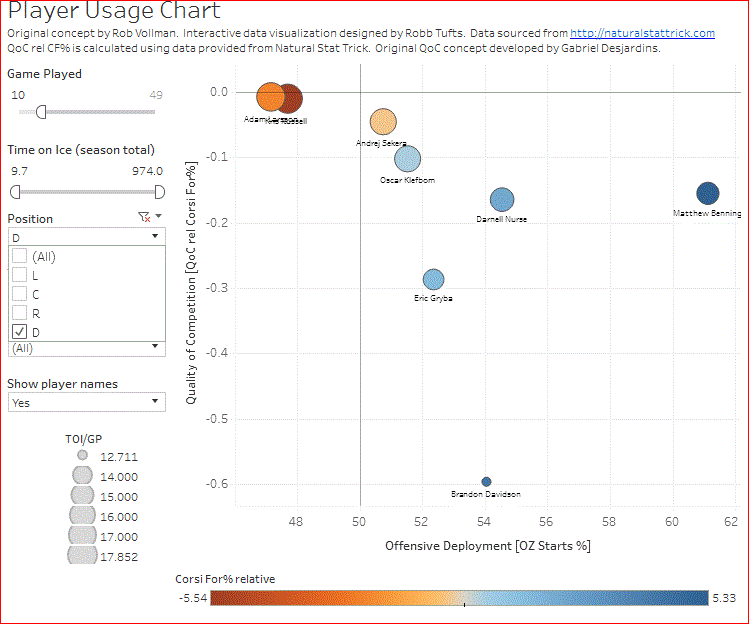 Todd McLellan is running his veterans (Kris Russell, Adam Larsson, Andrej Sekera) in the hell zone, and that is allowing the younger set (Oscar Klefbom, Darnell Nurse, Matt Benning) a chance to flourish against (slightly) lesser competition.
Two things to watch: Brandon Davidson should move up this depth chart as he continues to get back into the swing of things at the deadline. Also, we might want to prepare for an alignment that includes 8D after the deadline.
Matt Benning is getting a nice push in terms of zone starts, he is the new Justin Schultz. His defensive acumen makes him a more complete blue, and is one reason we are observing one of the finest rookie seasons by an Oilers blue this century. He is terrific!
VOLLMAN SLEDGEHAMMER, FORWARDS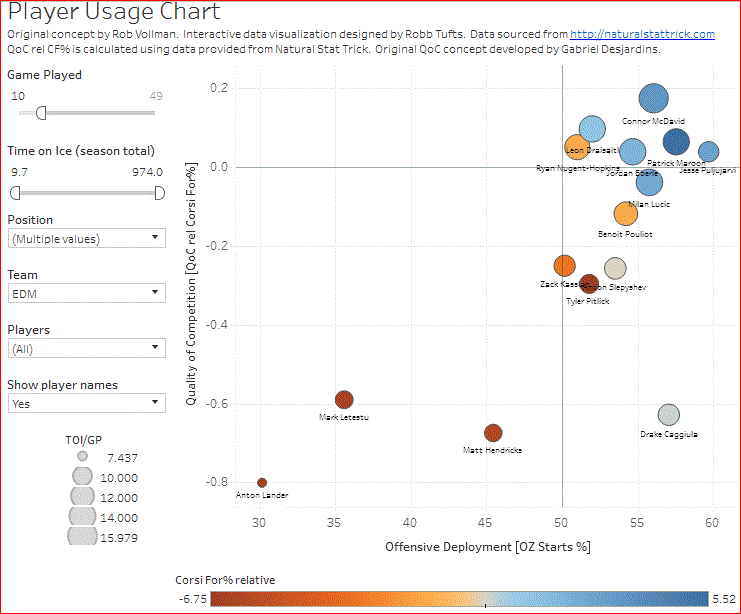 The top three lines are all in the right spot, Edmonton starts far less in its own zone in the modern era (since 2016!).
Jesse Puljujarvi's offense wasn't grand but I did like him along the wall and without the puck. It will be interesting to see how he is deployed upon return.
Connor McDavid really helps.
Drake Caggiula is getting the soft parade, a key to this final stretch may be his line starting to cash at even strength. It may also come to pass that the Oilers bring in a veteran center.
Anton Slepyshev is in an good spot with an interesting hue. If the Oilers have one here, that would help immensely and give that crazy trade a victory. Slepyshev has moved ahead of Nail Yakupov in scoring.
Anton Lander is in the gulag. Same as it ever was.
LOWDOWN WITH LOWETIDE
At 10, TSN1260, big brains, wood, leather and old lace. Scheduled to appear:
Darcy McLeod, Because Oilers. Trade deadline, February uphill both ways, expansion list.
Alex Thomas, The Oilers Rig. Alex has excellent insight about Henrik Samuelsson during his minor league days on the right coast, and we will discuss the Super Bowl.
Frank Seravalli, TSN. Trade deadline, Golden Knights at the deadline, Blues really blue.
10-1260 text, @Lowetide on twitter. See you in 90 minutes!