What a friend we have in Connor McDavid. We are about to endure a week of rage about the good ship Oiler, but they probably have enough to win a playoff spot at this point in time. Cam Talbot and Leon Draisaitl are also pulling on the rope, but this team needs some others to join in any time now. I don't believe you should panic, but an angry murmur and general pissiness is appropriate this morning.
WHAT THE HELL I GOT, YEAR OVER YEAR
Oilers in October 2015: 4-8-0, goal differential -7
Oilers in October 2016: 7-2-0, goal differential +10
Oilers in November 2015: 4-7-2, goal differential -6

Oilers in November 2016: 5-8-2 goal differential -3

Oilers in December 2015: 7-6-1, goal differential -9
Oilers in December 2016: 7-2-5, goal differential +3

Oilers in January 2016: 4-5-2, goal differential -5
Oilers in January 2017: 9-4-1, goal differential +8

Oilers in February 2016: 3-8-2, goal differential -18
Oilers in February 2017: 0-2-0, goal differential -3

Oilers after 54, 2015-16: 21-28-5, goal differential -29
Oilers after 54, 2016-17: 28-18-8, goal differential +15
The Oilers have 12 February games and need 10-12 points to keep their playoff chances at about where they were at the beginning of the month. They are good enough to do it, but an 0-2-0 start with Montreal on the schedule tomorrow is not encouraging. Remember when I was writing the playoffs were not guaranteed, and some of you were telling me to get over it and enjoy the ride? Yeah. Pikes Peak is a scary climb and the early part of the trip is no fun at all.
PETER CHIARELLI SPEAKS OF MANY THINGS
Moose dropped by the comments section last night, he posted information from the general manager—Chiarelli was a guest on Condors radio broadcast between periods:
Jesse Puljujarvi: Thought he started good with Oil, lost his game. Want him to play big minutes and get confidence back. Specifically to work on stopping and starting and not swinging around; common w/young players. Same stuff they wanted Leon to work on last year.
Jujhar Khaira: Happy with development; back in lineup soon.
Griffin Reinhart: Best D-Man in Bakersfield. Happy with progress, more assertive and vocal on-ice (which he thinks is important).
Progress of Big Club: Deeper in bottom six because of development of Slepy and JJ and they are more consistent.
Also mentioned he may have to call a couple guys up after tonight. Obviously related to Benning injury.
There is a chance Jesse Puljujarvi and Griffin Reinhart get a recall this season to Edmonton, based on what general manager Chiarelli said last night. I wonder if the bonuses in both contracts keeps them in the minor leagues. Reinhart is going to be an interesting name for the expansion draft. PC traded for him, and likes him. I bet George McPhee likes him, too.
CHEMISTRY
We are almost 100 games into Connor McDavid's NHL career, and we still don't have an answer to the question surrounding his linemates. It is my opinion that Todd McLellan has found one—Leon Draisaitl—but it is unclear if Peter Chiarelli sees the roster in that way.
If we assume that the top 6F moving forward will include McDavid, Leon, Nuge, Lucic, Maroon and an another, that means Jordan Eberle is odd man out. Should he be? Here are the scoring numbers with McDavid since 2015, by skill player:
Jesse Puljujarvi 2.84
Benoit Pouliot 2.63
Patrick Maroon 2.43
Jordan Eberle 2.14
Leon Draisaitl 1.84
Milan Lucic 1.29
Ryan Nugent-Hopkins 0.00 (in 12 minutes, 53 seconds)
The more I think about roster construction, the more I think we have more characters yet to appear in the chapter that discusses Connor McDavid's linemates. I think the Oilers will find a righty shooter for 97, and it may be Jesse Puljujarvi. He has 27 shots in 10 AHL games so far (2 goals) and may eventually replace Leon on RW. The next question involves LD and whether or not he can carry a line all by his lonesome, and that too is out among the stars.
DEFENSE, LAST NIGHT

The numbers are all over hell's half acre because of the Benning injury, so I am uncertain what we can know for sure.
Oscar Klefbom was 9-13 with Adam Larsson, 5-0 with Andrej Sekera and 1-4 with Kris Russell. Klefbom went 11-5 against the Aho—Staal—Lindholm line, 3-8 against the Skinner—Ryan—Stempniak line. He did go walkabout on the first GA, however. Klefbom made a masterful pass to McDavid for the goal, fantastic bit of head-man passing.
Andrej Sekera went 5-11 with Brandon Davidson, 3-4 with Kris Russell and 5-0 with Klefbom. He went 4-6 against the Staal line and 5-3 against the Ryan line. I thought Sekera was everywhere last night, not always successfully.
Kris Russell went 2-6 with Larsson and 3-4 with Sekera, 2-1 with Davidson and 1-4 with Klefbom. He went 4-4 against the Lindholm line, 2-8 against the Ryan line.
Adam Larsson went 9-13 with Klefbom, 2-6 with Russell, 0-2 with Sekera and 1-2 with Davidson. Went 6-3 against the Lindholm line, 1-6 against the Ryan line.
Brandon Davidson went 5-11 with Sekera, 2-1 with Russell, 1-2 with Larsson and 1-6 with Matt Benning. Went 5-8 against the Derek Ryan line.
Matt Benning went 1-6 with Davidson.
FORWARDS, LAST NIGHT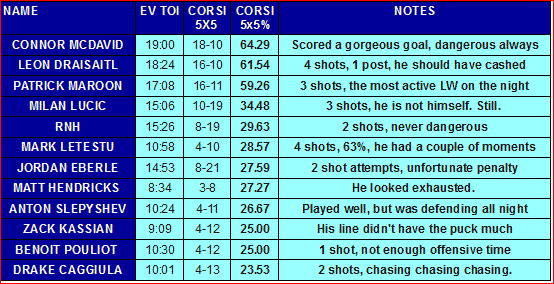 Stats via NHL.com, NaturalStatTrick, HockeyStats.ca.
Ordinarily, I would run down each line and their performance, but this is a money table. LOOK at the gap between the McDavid line and the other nine forwards. Stark. There is nothing more to say here.
Western Conference standing by Point %, where situation looks a bit clearer. Avs remain on track for worst record (by far) in shootout era. pic.twitter.com/olWmyZqXnv

— Ian McLaren (@iancmclaren) February 4, 2017
The Oilers created a cushion before the All-Star break, so three losses in a row are not a tragedy. I think we can (at this point) look month to month now, and Edmonton should reach the deadline as a buyer. That said, and I have said this all year, the playoffs are not assured. If you enter this morning completely confident the Oilers will fly through without challenges, I think your script may get flipped. If you have a healthy amount of concern, that is probably the correct mindset at this time. If you are worried the sky is falling, I cannot help you. Take a math course. We are 28 games to the end, if Edmonton merely tracks a point-per-game through season's end they will be close. February is the nut, it is Pikes Peak, but there are good days ahead in March. Oilers need 11 points in February, there are two more available tomorrow.
@BearsandPandas @GBHKY @CWUAA @hometownhockey_ @RonMacLeanHTH @TaraSlone Plenty of hockey history at the Drake. #HomeTownHockey #yeg. ???? pic.twitter.com/T1ImPvJSrC

— Don Ellis (@Don_COi) February 4, 2017
Put this man in the Hall of Fame! The HHOF could have an entire wing with Drake and his former assistants who have gone on to great things. Clare Drake should already be in the HHOF.