The Edmonton Oilers are about to head out on another break (all week!) and today's game is important in the standings and for the club's mindset. Losing all four games between the AS break and the week off is close at hand, and is a most distasteful thought. Edmonton does not play well in Sunday early games, are facing a good team in the Canadiens, and about to play their third game in four (not quite) nights. How many passengers today?
DRAGONFLY, YEAR OVER YEAR
Oilers in October 2015: 4-8-0, goal differential -7
Oilers in October 2016: 7-2-0, goal differential +10
Oilers in November 2015: 4-7-2, goal differential -6

Oilers in November 2016: 5-8-2 goal differential -3

Oilers in December 2015: 7-6-1, goal differential -9
Oilers in December 2016: 7-2-5, goal differential +3

Oilers in January 2016: 4-5-2, goal differential -5
Oilers in January 2017: 9-4-1, goal differential +8

Oilers in February 2016: 3-8-2, goal differential -18
Oilers in February 2017: 0-2-0, goal differential -3

Oilers after 54, 2015-16: 21-28-5, goal differential -29
Oilers after 54, 2016-17: 28-18-8, goal differential +15
The dragonflies were out a year ago, as Edmonton lost 2-1 to the NJD. If the Oilers maintain their current pace, the club will finish the season at 82gp, 43-28-11, 97 points. That would be a handsome increase over their 2015-16 season (82gp, 31-43-8, 70 points), and enough to get them into the playoffs. In the end, that is all that matters—finding the postseason. There was a time not so long ago when it appeared the Oilers could breeze into a top three spot in the Pacific, and we may see those days again in March. This month is a bear, we knew it would be, and so far Edmonton has no points to show the new calendar.
OILERS FORWARDS, 5X5 SCORING 2016-17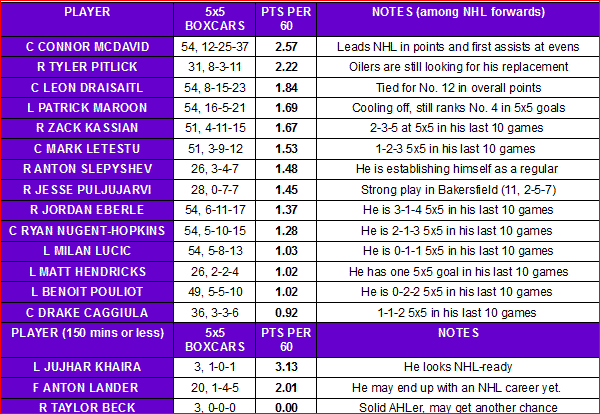 OILERS DEFENSE 5X5 SCORING, 2016-17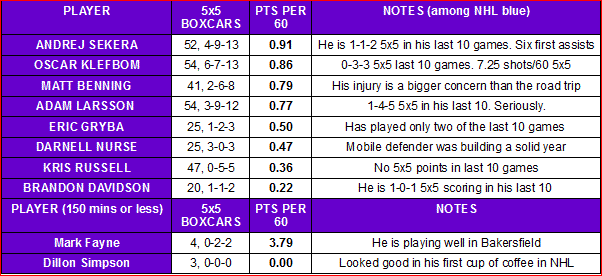 In the last 10 games, Adam Larsson has more points at 5×5 (five) than Leon, Nuge, Eberle, Lucic, Pouliot.
Andrej Sekera is having a fine season.
Oscar Klefbom is blossoming into a complete defenseman. I don't know that he will be a top pairing blue, but his range of skills is on display. He can wheel, and is getting comfortable with carrying the puck and making decisions. His passing is terrific.
The Oilers will miss Matt Benning until he returns.
Griffin Reinhart, Jordan Oesterle and Eric Gryba are the options to replace Benning today (and possibly Kris Russell, depending on his health).
BRANDON MAN, OUT IN THE COLD
Elliotte Friemdan:"The Oilers don't want to lose [Davidson] for nothing. I think there's some interest in him," Friedman said Saturday on Hockey Night in Canada. "And especially since they have to sign the likes of McDavid, Draisaitl and Russell in the next little while. Source
A couple of things I would like to discuss here. First, the idea of signing Kris Russell isn't new, and I think we can probably agree it is going to happen. I will guess the deal will be three years with a $4 million cap hit. Russell does not outperform any of his defensive mates in the disciplines I have adopted, but that and a toonie will get you a good cup of coffee. Todd McLellan is comfortable with this player and the internal metrics the team trusts have him in a good spot. I can chase you down the street with Corsi, but it don't mean a thing if it ain't got that swing. The Edmonton Oilers evaluate defensemen based on things other than possession, and they will pursue those things with fervor. We should not be surprised by Mr. Friedman's words.
The value Davidson will return is an interesting subject. I feel the Oilers should pursue a RH defender like Mark Pysyk, with an idea to achieving balance lefty-righty. If there is a Davidson+ for Mark Pysyk and Reto Berra deal available, Peter Chiarelli needs to consider it in my opinion. Although it will change the projection for the expansion draft (possibly), getting actual NHL players is the best idea. Failing that, I imagine Davidson will fetch a draft pick, it is a bit of a mystery about his value and we will see.
REINHART, OESTERLE OR GRYBA
Against a team like Montreal, I would run Jordan Oesterle today. Speed is more important against the Habs than physical play, and perhaps Oesterle can contribute on the 5×4. I am not certain how long these two men stay with the Oilers, with a week off I expect one or both to be sent back until later in the week.
MATT BENNING
His impact as a rookie is pretty impressive, and I think we have a keeper in Benning. Hopefully he returns soon, his ability to move the puck is vital to Edmonton's success. He won't get any Calder votes, but he has been the best rookie defenseman in this city since Oscar Klefbom.
BRUCE GARRIOCH
Garrioch: The Edmonton Oilers, New York Rangers, Devils and Sharks all need help on defence. At this point, it may make sense for Shattenkirk to wait until July 1 to sign anywhere because he's the top blueliner available. Source
Kevin Shattenkirk. It has to be. Could Peter Chiarelli trade Brandon Davidson and a conditional first-round pick to St. Louis for a Shattenkirk rental? Condition being he signs with Edmonton in the summer, if not the pick becomes a second-round selection in 2018. Is that enough? I don't think so, but Shattenkirk is the one to pursue based on what we know. Peter Chiarelli may in fact decide to break on through to the other side in year two of the McDavid entry-level deal.