It was a difficult, strange week for the Edmonton Oilers, but the final game got the team two important points and their first win of February. Well played? In spurts, and by some. The ice seemed chippy, as did the play, and the Oilers could have scored a couple with better luck and aim. No matter. We are on to holidays.
THE FRENCH SONG, YEAR OVER YEAR
Oilers in October 2015: 4-8-0, goal differential -7
Oilers in October 2016: 7-2-0, goal differential +10
Oilers in November 2015: 4-7-2, goal differential -6

Oilers in November 2016: 5-8-2 goal differential -3

Oilers in December 2015: 7-6-1, goal differential -9
Oilers in December 2016: 7-2-5, goal differential +3

Oilers in January 2016: 4-5-2, goal differential -5
Oilers in January 2017: 9-4-1, goal differential +8

Oilers in February 2016: 3-8-2, goal differential -18
Oilers in February 2017: 1-2-0, goal differential -3

Oilers after 55, 2015-16: 21-29-5, goal differential -30
Oilers after 55, 2016-17: 29-18-8, goal differential +15
Edmonton reaches the week off in a damned good spot, and that's for sure. This should be the last hurdle for the Oilers on the way to the postseason, and winning yesterday in Montreal was a big step to their goal. I understand it wasn't a Rembrandt, but two points is all that matters from now through the moment Edmonton clinches a playoff spot.
WHAT TO EXPECT FROM FEBRUARY
On the road to: Nashville, Carolina, Montreal (Expected: 1-1-1) (Actual 1-2-0)
At home to: Chicago, Arizona, Philadelphia (Expected: 1-1-1)
On the road to: Chicago, Tampa Bay, Florida, Washington, Nashville, St. Louis (2-3-1)
Overall expected result: 4-5-3, 11 points in 12 games
I had the club getting three points on the road, they fell shy. No big item, avoiding a losing streak is the key and if they go 2-1-0 next week it will be back to do (re-mi). Cam Talbot had an amazing road trip, going 1-2-0 despite a .947 save percentage.
DEFENSE, LAST NIGHT

Davidson—Gryba went 16-7 in 12:25 together, 9-4 against Pacioretty—Danault—Radulov line. The pairing was positive in possession with all lines but Nuge (4-6) and were smooth sailing except for Gryba's suicide short passes. Needs to stop doing that, poor Letestu is going to get killed.
Sekera—Oesterle went 14-11 in 13:39 together. Went 4-6 against Lehkonen—Plekanec—Shaw. I think Oesterle's speed helped Sekera, who makes really good decisions when he has time and space. As a one-off, Oesterle helped himself in terms of recall.
Klefbom—Larsson had the lowest possession number of the pairings, but I thought Larsson was Edmonton's best defender on the team. He rides forwards out of the play, closes gaps and takes good angles, uses all the time available—but no more. Dozens of little things to like about him. Went 15-14 in 17:13 together, they were just 5-10 with 97 alongside, though. Went 4-5 against Pacioretty—Danault—Radulov line.
Talbot stopped 25 of 25. His overall SP is .921 (ranks No. 8), his EV SP is .926 (ranks No. 11), PP .898 (ranks No. 4). That is a fantastic season.
FORWARDS, LAST NIGHT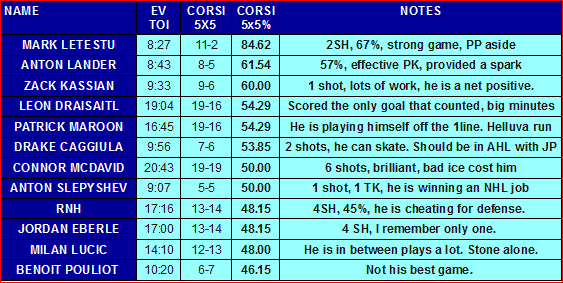 Lander—Letestu—Kassian went 6-2 together, Lander adds to the line and helps the PK. I think the Oilers want Jujhar Khaira there eventually, but Lander is a handy player to have around—and he is a better NHL player today than Matt Hendricks. Events went 3-2 against the Pacioretty—Danault—Radulov line.
Maroon—McDavid—Draisaitl line did what they always do, provide the offense (although it came in the shootout) that makes the difference. Shameful Shaw slew foot against McDavid was the nadir of the contest, the Habs have been on my shyte list since I was a kid and that didn't help. Eight shots for the line, how they didn't score is a mystery to me (although the referees authored something). Went 8-5 against Lehkonen—Plekanec—Shaw.
Lucic—Nuge—Eberle went 11-12 together, and 5-3 against Byron—Desharnais—Galchenyuk. The line had nine shots on goal, but they simply are not a factor in games. Eberle is in real danger of having a Bob Sebra season.
Pouliot—Caggiula—Slepyshev worked hard and had some good moments, mostly getting the puck through the neutral zone and into the opposition end. That is the role of the fourth line, and they have had more effective nights. Didn't give up a goal, that is a good thing.
Stats via NHL.com, Natural Stat Trick and HockeyStats.ca.
McKenzie suggests its possible Tyler Johnson's name ∗may∗ pop up for a D on 1260.

— SHoKTee (@akaRCN) February 6, 2017
Tyler Johnson would be a dandy fit, although the price would be substantial (he is RFA after this year, according to CapFriendly).
TYLER JOHNSON IN A BOX (2016-17)
5×5 points per 60: 1.50
5×4 points per 60: 5.03
Corsi For 5×5 %: 48.8 (last among regular forwards)
Corsi Rel: -3.7 percent (last among regular forwards)
Shots on goal/percentage: 100/16.0
Boxcars: 53gp, 16-17-33
Johnson has taken almost 900 faceoffs and is 52.1 percent in the dot—meaning, he could help out there, too. Johnson is not a volume shooter but he is an effective right shot on the power play (5-9-14 this year with the man advantage). What would it take? A good NHL defenseman under control, I imagine.
CURRENT STANDINGS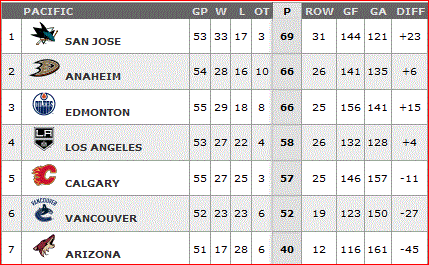 I was reminded yesterday about how difficult it is to catch anyone in the Bettman era. Entering play yesterday, Calgary had three wins in a row, Edmonton three losses. The Flames had pulled within seven points of their Alberta rival, and could be five back by midnight. Instead, the Oilers grab two points from a game they didn't score during regular time, and Calgary's wobble pairing coughs up a game where points were available. Back to nine points behind in a heartbeat. Damned frustrating.
OILERS 5X5 NUMBERS
Goals For: 101 (rank No. 9)
Goals Against: 93 (rank No. 14)
Goals For Percentage: 52.1 (rank No. 10)
Shots For Per 60: 29.8 (rank No. 10)
Shots Against Per 60: 28.7 (rank No. 10)
Fenwick: 50.9 (rank No. 10)
Corsi: 50.5 (rank No. 15)
Shooting Percentage: 7.63 (rank No. 17)
Save Percentage: 92.71 (rank No. 8)
PDO: 100.3 (rank No. 13)
Those are terrific numbers considering where this team was a year or two ago. The comments I get here and what I read online (less on twitter these, my goodness people hate the Oilers) suggest a real impatience with where the club needs to go, and I understand that for sure. Still, it takes time to build something worthwhile and if we use a five-year window, Peter Chiarelli is less than halfway through. There has been progress, these numbers confirm.
MY COMPLIMENTS TO YOU
I have been waiting for the post here at Lowetide, the DM, or the email, and it never came. I would like to thank you, because it would have been an unnecessary conversation. The communication I expected was something like this: It must pain you greatly to see the Oilers turn north in the season after Hall was traded and Tyler Dellow moved along.
I genuinely expected that to arrive at my inbox long ago. One of the things we have always tried to do here is think beyond to first retort, to go past the I was right, you were wrong verbal that plagues so much of the Al Gore. I believe the Oilers would have been better with Hall and Dellow, some believe other things. Part of the issue, when we tackle these issues and ideas, is keeping an open mind.
I thank you for it, sincerely. If we constantly remind each other of how smart we are, that leaves less time for the actual conversation that leads to a greater knowledge. Did Tyler Dellow help the Oilers find Andrej Sekera? I cannot say for sure, but do know he would have been available, making himself useful, and that some of the success of this Oilers team is probably his doing. Same with Hall, as we see the continued development of Leon Draisaitl this season.
A nuanced conversation. That's all we can offer each other, but it is quite a lot. Thanks for being you, it makes this place fun when all users bring their best and are open to ideas that do not march in lock step with their own. In this day, in these days, it is a fairly rare forum.
LOWDOWN WITH LOWETIDE
A busy morning, lots of hockey and Super Bowl talk. Scheduled to appear, TSN 1260, beginning at 10:
Scott Burnside, ESPN. Boston Bruins in peril, Oilers in a secure spot.
Simon Boisvert, Hockey Insider. Update on Oilers prospect progress, and Simon was involved in the recent California Golden Seals documentary, so we will chat about it.
Jason Gregor, TSN1260. Tom Brady, Oilers at their break.
Andy McNamara, TSN4Downs. What a special Super Bowl. Best ever?
10-1260 text, @Lowetide on twitter. Talk soon!