On his first night as an NHL coach, Craig MacTavish ran Tom Poti 27 minutes, Janne Niinimaa 23 minutes and Jason Smith 22 minutes. That trio represented his reliable group, and then he spotted young Eric Brewer (17), Frank Musil (16) and rugged Sean Brown (10 minutes). That group had lost Roman Hamrlik during the summer, he played 24:39 in his final game as an Oiler (playoffs v. Dallas). Igor Ulanov was on that 2000-01 team as well, but it was a group that needed to replace Hamrlik while still dealing with some chaos in the game of puck mover Poti and the rare but real vapor-lock moments of Mr. Niinimaa (who I loved as a player).
Building a defense is very difficult, as the Oilers have proven since 2006 fall. This year, the club appears to have three good ones again, and some real help to deal with the injuries. The defense is still on a journey and cannot boast balance, but you can see there is a plan—and that is progress.
ANDREJ SEKERA
RE: 76gp, 8-27-35 (.461)
Actual: 53gp, 7-18-25 (.472)
The RE has him surrounded, but it does not tell the story—and that is the case so often with defensemen and boxcars. Sekera has been a terrific defender on top of the offense, and for me the No. 1 defenseman on the team (your mileage may vary). Has played 330 minutes against elite opponents (45.4 Dangerous Fenwick), Corsi for 5×5 is 49.7 overall, 55.6 percent without Kris Russell. Sekera is money.
OSCAR KLEFBOM
RE: 55gp, 5-16-21 (.381)
Actual: 55gp, 8-12-20 (.364)
RE nailed the Klefbom estimate, but the young man cheated injury and good for him. I like Oscar as the offensive element on a pairing (with Adam Larsson) as opposed to the defensive conscience, as he was with Justin Schultz. It is so good to see a defenseman who Edmonton drafted and developed emerge as a bona fide NHL player. Has played 306 minutes against elite opponents (43.8 Dangerous Fenwick), Corsi for 5×5 is 51.2 overall, 50.5 with Larsson. It has been a fine season for Oscar the Dreamy.
ADAM LARSSON
RE: 73gp, 4-16-20 (.274)
Actual: 54gp, 3-11-14 (.259)
These defensemen cannot fool the RE, but Larsson is far more than the boxcars. He is the type of player I appreciate, so his improving performance over the year (visually) has been enjoyable to watch. His play in Montreal showcased what he does well, and it has real value. Has played 328 minutes against elite opponents (45.8 Dangerous Fenwick), Corsi for 5×5 is 49.8 overall, 50.5 with Klefbom. He has been effective in helping settle the defense, in my opinion.
MATT BENNING
RE: Not projected to play in the NHL this season
Actual: 41gp, 2-8-10 (.244)
I didn't think he would play at all this season in the NHL, but Benning hit the ground running and the record shows just two appearances below the NHL. What a fine young hockey player, and a perfect fit for Edmonton. Mobile, great passer, righthanded and learning more each game. I believe he is the best rookie defenseman signed/developed by Edmonton since Oscar Klefbom, due mostly to his range of skills. Has played 204 minutes against elite opponents (48.3 Dangerous Fenwick) and leads the club with a 53.9 Corsi for 5×5 percentage. He is 58.1 with Andrej Sekera.
DARNELL NURSE
RE: 66gp, 3-11-14 (.212)
Actual: 25gp, 3-2-5 (.200)
Darnell Nurse was making excellent progress in year two of his NHL career, when an injury cut a big piece of his season away. It is unlikely he will dress for 50 games this season, but there was clear progress and we hope he returns with those wheels and can build on progress. Played 97 minutes against elite competition (50.1 Dangerous Fenwick) and a 53.2 Corsi for 5×5, while boasting a 54.4 possession number with Matt Benning. Oilers will apparently get him back sometime this month.
KRIS RUSSELL
RE: Russell was not signed at the time of RE
Actual: 47gp, 0-5-5 (.106)
Russell's signing came late, so I did not project him onto the roster. He has been talked about a lot through the first half of the season, but his lack of offense doesn't seem to be important. Before signing in Edmonton, Russell averaged 26 points per 82 games. Where are the points? Hmm. We hear rumors of a long-term deal and maybe that happens, but Russell is flagging in a big way offensively. Has played 309 minutes against elite competition (46.3 Dangerous Fenwick) and is 46.2 Corsi for 5×5, 46.1 with Sekera. Todd McLellan likes his speed, but will Peter Chiarelli sign a nine-point defender for $4 million times three?
ERIC GRYBA
RE: Gryba was not signed at the time of RE
Actual: 26gp, 1-2-3 (.115)
Gryba, like Russell, was a late addition (
PTO, then contract
) but his number would probably have been something like 50, 1-4-5. I like Gryba, because he can defend, but he also takes penalties and is going to have a helluva time holding back the coming flood of mobiles. He has played 106 minutes against the elites, 48.7 percent Dangerous Fenwick. Corsi for 5×5 is 53.8 and he did most of his beau dommage with Darnell Nurse.
MARK FAYNE
RE: 69gp, 1-4-5 (.072)
Actual: 4gp, 0-2-2 (.500)
The Oilers may get through the season without using him as a regular. Because I am a bitter, spiteful sort, so hope and pray he gets called up, flourishes, saves the big goal with a great play and the Oilers proceed with him on the RH side. Mark Fayne can help this team.
BRANDON DAVIDSON
RE: 62gp, 5-10-15 (.242)
Actual: 21gp, 0-1-1 (.048)
He is starting to push at levels we can recognize from a year ago, and that is very encouraging. Has played 78 minutes against elites, sitting at 43.1 Dangerous Fenwick, 48.9 Corsi for 5×5 percentage. I think he is going to be a good defenseman for a long time, hope the Oilers find a way to keep him.
DILLON SIMPSON
RE: 4gp, 0-0-0
Actual: 3gp, 0-0-0
Simpson showed well in his first audition and appears to be a player the Oilers can include as a callup option. The best thing for him is that he is not expensive and is a good enough skater.
JORDAN OESTERLE
RE: 44gp, 2-6-8 (.182)
Actual: 1gp, 0-0-0
Oesterle's season has included injury and that puts him in a tough spot (and the team too, more below). He looked good in his one game, Oesterle is a player I would like to see signed for next year.
WHAT DOES IT ALL MEAN?
Andrej Sekera—There are four more seasons after this one on Sekera's contract, if he performs at this level, his contract will be the stuff of legends. Unlikely of course, but this is a terrific year.
Oscar Klefbom—Six more years after this one, and his $4.167M cap hit may represent serious value during many of those seasons. Mobile, fairly complete skill set, he is on pace for over 200 shots this season. Klefbom has been lugging the puck more often, and successfully.
Adam Larsson—Four more years after this one, at $4.167M cap hit. Larsson isn't going to score 30 points a year, but he can help defensively and appears to be stepping up over the last 20 games or so. I like this kind of player, so this blog is likely to be supportive. You have been warned.
Matt Benning—One more year at $925,000 after this one. I spend much of the spring and summer prattling on about value contracts, well, this is one. We cannot assume next season will be as good, but we can hope. Benning was a perfect fit for need this season and could be a big part of the future.
Darnell Nurse—He has one more year on his entry-level deal after this one, but even with bonuses it comes in well below $2M. Nurse has good wheels and an improving defensive resume, but it is important to keep him sheltered and playing third-pairing minutes. I like him a lot, hope they don't rush him (again).
Kris Russell—The Oilers likely want to sign Russell, but cannot sign and protect him in the expansion draft without losing a quality piece. So, they may want to sign him after the expansion draft, but at that point Russell could decide to wait for a full swing at free agency. I don't think it is a slam dunk he signs here.
Eric Gryba—7D and I cannot imagine he returns for another year. I guess there might be an opportunity similar to this past summer, where both sides danced all night but no one else wanted to go home with them. I like this player, don't know that thee will be room.
Mark Fayne—The Oilers will buy him out with extreme prejudice.
Brandon Davidson—Injuries derailed his season, shame too because he is/was close to establishing himself as a bona fide top 4D. He makes $1.425M next year, making him a stunning attraction for teams like the Chicago Blackhawks and others who are cap helled. I hope they keep him, but it does not look promising.
Dillon Simpson—Showed well in his outings and we will see when he gets his next shot. RFA.
Jordan Oesterle—Also RFA, Oesterle probably has some options  should Edmonton walk him, but I bet the two sides get together on a deal.
WATCH: Puljujarvi puts the Condors on the board. #PulParty pic.twitter.com/5GKFVamtRq

— Bakersfield Condors (@Condors) February 9, 2017
Jesse Puljujarvi appears to be finding his way now in Bakersfield, he is 2-1-3 in his last two games with nine shots on goal. Puljujarvi played with Anton Lander and Iiro Pakarinen last night, maybe the whole damn line comes up at the same time ala the Michel Riesen—Brian Swanson—Daniel Cleary Bulldogs line 2000 fall.
THANKS
My thanks as always to GMoney and Woodguy for the Woodmoney numbers quoted above. WG has a new post up at his site, and it dovetails nicely with our conversation about defensemen.
EXPANSION TALK
Here is my current view on the protected list:
Goal: Cam Talbot
Defense: Andrej Sekera, Oscar Klefbom, Adam Larsson
Center: Ryan Nugent-Hopkins, Leon Draisaitl, Mark Letestu
Left Wing: Milan Lucic, Patrick Maroon, Jujhar Khaira
Right Wing: Jordan Eberle
Ineligible for Selection: G Nick Ellis, D Darnell Nurse, D Matt Benning, C Connor McDavid, R Jesse Puljujarvi, C Drake Caggiula, R Anton Slepyshev.
Available: D Brandon Davidson, D Griffin Reinhart, L Benoit Pouliot, R Zack Kassian.
We have discussed at length the idea of trading Brandon Davidson and his name appears to be out there. In order for it to make sense, the Oilers would need to acquire a forward who is better than Jujhar Khaira, who I rank as the No. 7 name on the list. I still think Davidson goes for a pick, but we should keep in mind the club could still go 1-4-4 and leave Patrick Maroon or Jordan Eberle unprotected. I doubt it happens, but the wheels have many miles of track to go.
STANDINGS, THIS MORNING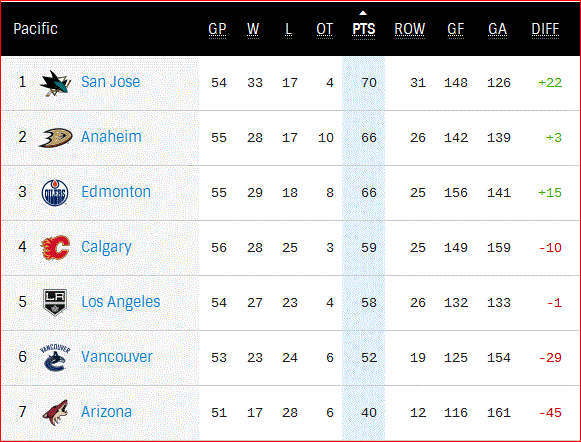 This is a good news table for Edmonton. The week off is going very well so far, with the LAK losing two in a row and the Anaheim Ducks unable to break away. The Sharks are grabbing some clearance, and the Flames are still hanging around. The Canucks may be done for good this time, their recent losing streak putting them in the ditch again. It is fun to look at the standings these days, I always start from the bottom because 10 years, but it also feels good to find the Oilers logo beside a playoff spot.
LOWDOWN WITH LOWETIDE
Something of a moving target this morning, a few irons in the fire and we will see when we see. 10 this morning, TSN1260, scheduled to appear:
Darcy McLeod, Because Oilers. Brandon Davidson trade value, Kris Russell in free agency, and we will drill down on WGs latest article.
Frank Seravalli, TSN. The trade deadline ranker is moving every day now, are the Oilers in on Shattenkirk? What about Duchene?
10-1260 text, @Lowetide on twitter. Talk soon!