Just before the new year, I wrote a post called personal opinion. People seemed to like it, thought I would post another one, this time with an eye toward to the deadline and summer. My last version of this post is here, and I agree with everything I wrote then but may repeat some of it now.
Add a RH 3C who can also play RW—kind of a platoon partner for Leon Draisaitl—now, or in summer. He should be under 25, he should make under $4 million, righthanded, and more shooter than passer. Ideally, he will become Connor McDavid's RW for the next 5-10 years. Failing that, he can play center on a skill line.
Whoever decided Jeff Petry needed to be challenged? Keep him away from Matt Benning. Seriously. Whatever system of evaluation that cockeyed the Petry relationship needs to be lanced, wrapped in flammable material, inserted inside the photonic cannon, and fired into the middle of the sun. Jesus, Mary & Joseph let's not allow the crazy loose again.
I would like to see the Oilers add a forward, at the deadline, who can deliver offense for the stretch run. Patrick Sharp is getting some mentions now, I like the fact he has 10.00 shots-per-60 at 5×5. Radim Vrbata (has some bonus issues), Patrick Eaves, P.A. Parenteau and Lee Stempniak all qualify as part of this family.
Do not overpay for a rental. I would like to see a veteran RW, but hell's bells don't give up a young player to get it done. Anton Slepyshev should not be on the available list at the deadline unless there is a better player—ineligible for the expansion draft—coming the other way.
Get a goalie, or let Laurent have a turn. I am of a mind that you have to give a man his chance, especially if he has done everything asked of him. I get that this is a different situation, so have time for the idea of a Reto Berra, but would be fine with five more starts among the last 22 for LB, too. Time to see what the Oilers have here, if it is Steve Passmore? Well, that is an answer, too.
Trade Kris Russell for a second-round pick. This is from the last edition of this post back in December, but remains true. PC has got himself into a spot of bother with the cap moving forward, no way he can spend $4M large on a player who won't be a difference maker. I get that the coach likes him, I understand the appeal of veterans, but this is a luxury the organization cannot afford.
Run the Nuge with the most skill possible in the final 27 games. That includes power play, by the way. RNH has matched his GP total year over year, with an even lower point total. I think getting him untracked offensively must be a priority, and that may mean time with Leon, or McDavid, or both. He is cheating for defense now, Dave Keon talked about this after his career and mentioned it as a regret (feeling he hurt his team). Nuge needs a push.
Run eight defensemen from now on. Once Darnell Nurse gets back, the Oilers will be running at eight (Sekera, Russell, Klefbom, Larsson, Davidson, Benning, Gryba, Nurse). I think we will see Davidson dealt after the season, but if the club trades BD at the deadline, PC should make sure there is another defenseman on the roster.
Find Puljujarvi an AHL center right away. Through 13 games, JP is 4-6-10 (.769). Mikko Rantanen (Avs prospect) went 6-12-18 (1.38) in his first 13 games in the AHL. Rantanen played with established AHL veterans, Puljujarvi has been playing with Jere Sallinen and Josh Currie, who I would count as a little shy of Joey Hishon at this level.
If they trade Brandon Davidson, make sure it's worth it. Davidson is a very good young defender (when healthy) and things can change between now and the end of the year. For instance, Patrick Maroon hasn't scored in 10 games, perhaps this list isn't set in stone?
It is vital to avoid risk in the first three rounds of the draft. In the 2016 draft, the Oilers got lucky when Jesse Puljujarvi fell to them. It appears we may be looking at a less impactful offensive player than hoped, but early days and I am pretty sure he can be useful as a two-way type if the offense doesn't fully arrive. He is going to be an NHL player. However, Tyler Benson is injured again, and the Oilers knew there was a risk involved with this player. For me, Edmonton has to grab forwards with high skill and little injury history in the first three rounds to replenish the system. No exceptions. Poor drafting in 2014 and a mountain of traded picks in 2015 meant the 2016 draft had to deliver—and less than a year later the top pick is shy in scoring and the second rounder cannot stay healthy. The Oilers need to draft a Jordan Eberle in Round 1 this summer, and then they need to draft Shawn Horcoff in the second round. Seriously. The cupboard is damned near bare at forward. And don't blame the scouts, you can't announce a pick when the general manager traded it before you got there.
CURRENT STANDINGS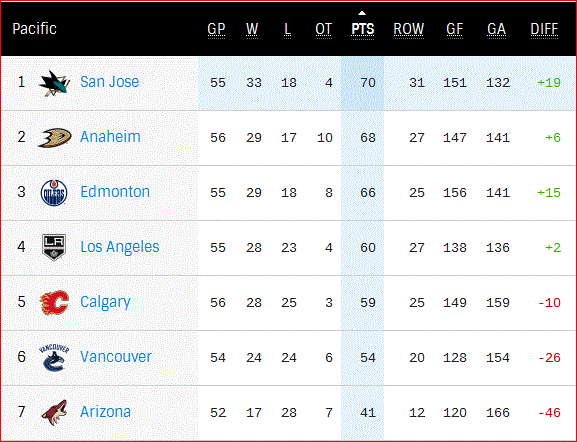 This week off has been less painful due to other teams losing, although the LAK are forcing their way into the conversation. Edmonton will have nine more games in February once we arrive at Saturday, and after that, if the California teams are still within reach, we could have a dandy race to the finish.
SCORING RACE

Another positive from the week comes in the scoring race, where Sidney Crosby caught—but did not pass—Connor McDavid. Edmonton will face a Chicago team tomorrow night that will have played in Winnipeg the night before, so we can hope for a productive evening and a win.
CALLUPS
The Oilers recalled Anton Lander and Jordan Oesterle yesterday, they will be here in time for practice later today. Both men have earned their NHL time, I still think Lander is a guy LV should be interested in grabbing via trade. There is no way that team is going to have enough depth to cover everything off in year one, so a player with utility will be important. Oesterle's wheels make him a fascinating prospect, we will see if he is projected to play Saturday (it will depend on Matt Benning and or Kris Russell).
LOWDOWN WITH LOWETIDE
A fun Friday show, beginning at 10 this morning on TSN 1260. Scheduled to appear:
Steve Lansky, Big Mouth Sports. Trade deadline, pitchers and catchers.
Guy Flaming, Pipeline Show. Jesse Puljujarvi and his performance in the AHL.
Matt Iwanyk, TSN1260. Point-Counter Point takes on the idea of trading Brandon Davidson at the deadline.
Paul Almeida, SSE. Oilers leading up to deadline, expectations for the playoffs.
10-1260 text, @Lowetide on twitter. See you on the radio!