The Chicago Blackhawks of my youth were formidable. Bobby Hull was Paul Bunyan on skates, fast and strong and possessing a shot that could break bones. When he was done with you, Stan Mikita would come on the ice with his wizardry and spin the opposition defense into a sweaty ball of anemia. They had a defenseman named Pat Stapleton, who had a pure blonde flat-top and could pass the puck on a line forever, and another one named Keith Magnuson who had the heart of a lion. He was so willing to throw himself into danger, the viewer would often stop watching the actual game and begin spending time worrying about No. 3. Keith Magnuson bled, a lot, and Chicago loved him for it. The guy I liked was Bill White. Tall, gangly, awkward like one of those goofy birds at the zoo, Bill White looked like some pro team left their basketball player behind and he accidentally dressed for a hockey game. He had incredible range, played an intelligent game and could headman pass extremely well. The Blackhawks are in town, it is Saturday. Welcome home, Oilers.
LAKE SHORE DRIVE, YEAR OVER YEAR
Oilers in October 2015: 4-8-0, goal differential -7
Oilers in October 2016: 7-2-0, goal differential +10
Oilers in November 2015: 4-7-2, goal differential -6

Oilers in November 2016: 5-8-2 goal differential -3

Oilers in December 2015: 7-6-1, goal differential -9
Oilers in December 2016: 7-2-5, goal differential +3

Oilers in January 2016: 4-5-2, goal differential -5
Oilers in January 2017: 9-4-1, goal differential +8

Oilers in February 2016: 3-8-2, goal differential -18
Oilers in February 2017: 1-2-0, goal differential -3

Oilers after 55, 2015-16: 21-29-5, goal differential -30
Oilers after 55, 2016-17: 29-18-8, goal differential +15
It seems like years since we've been here, but the Oilers are back after their off week and the record remains impressive. G56 a year ago saw Edmonton win 5-2 over Toronto. The line of Connor McDavid (2-3-5), Benoit Pouliot (0-4-4) and Jordan Eberle (3-1-4) absolutely hammered the Leafs, in one of the best games of the year.
WHAT TO EXPECT FROM FEBRUARY
On the road to: Nashville, Carolina, Montreal (Expected: 1-1-1) (Actual 1-2-0)
At home to: Chicago, Arizona, Philadelphia (Expected: 1-1-1)
On the road to: Chicago, Tampa Bay, Florida, Washington, Nashville, St. Louis (2-3-1)
Overall expected result: 4-5-3, 11 points in 12 games
We will know a lot more a week from midnight tonight, with four games rolling out over the next several days. If Edmonton can average a point a game this week, the club should be in third place in the Pacific Division next Sunday morning. The road trip that follows will be a major hurdle, but the sunshine of March (work with me here) edges ever closer.
DEFENSE, 2016-17
The two defensemen who are closest to 'complete' are now pushing some real offense. Both men are likely to pass 10 goals, something that has happened exactly once since 2010 (Justin Schultz, 11, 2013-14).
Sekera is on pace for 38 points, the most since three blue posted big numbers in 2008-09 (53 by Sheldon Souray, 45 by Tom Gilbert and 39 by Denis Grebeshkov). The Oilers aren't there yet, but this is clearly a group of defensemen who can post some offense.
Matt Benning is such a key element for this team, even though the offense has fallen off over the last 10 games. I think Todd McLellan might be wise to put the rookie back on the Sekera pairing (you remember they have been successful together) in order to unlock more (badly needed) offense.
Darnell Nurse skated yesterday and Ryan Rishaug tweeted out some good news.
Brandon Davidson is coming on now, moving the puck with more confidence. Good sign.
Oilers defensemen have matched year's total of 24 goals, with 27 games left to go.
FORWARDS, 2016-17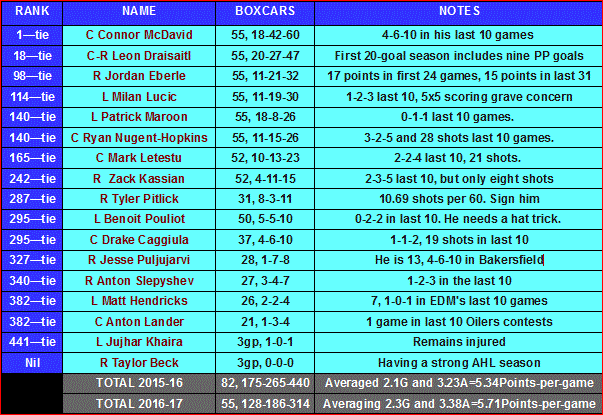 Connor McDavid remains the No. 1 scorer in the NHL, but he has company now in Sidney Crosby. This is shaping up to be a terrific race to the finish. McDavid winning the Art Ross would be the first major award in a very long time for an Oilers player.
Leon has 20 goals, suspect he will be joined shortly by CMD and Patrick Maroon. Anyone else?
Entering this season, Jordan Eberle averaged 28 goals per 82 NHL games. He needs 17 in the final 27 to reach his average, and that is not going to happen. He can still salvage his season, and help the Oilers, if he can get to 20 before the final buzzer.
Milan Lucic is on pace for 16 goals. That would be his lowest total in a full, healthy and non-lockout season since he was a rookie.
Anton Slepyshev is coming on now, he might move his name from pencil to pen for 2017-18 with a strong finish to this year. There is some daylight farther up the RW depth chart, maybe he can grab some higher ground.
NEXT YEAR COUNTRY
Peter Chiarelli on Condors 2017-18:"Obviously, we're going to have to fill in some forward spots down here. We look at college free agents, free agents in the AHL, free agents in the NHL and through trades. We're a little heavy on D coming in, and we're certainly going to address the forward situation." Source
The hope is that PC can cash some of those defenders for useful prospects, and not have to fill in with Matt Fords. We don't have the entire interview, but I would love to know what the organization thinks of men like Kyle Platzer and Greg Chase. These men are not seeing their playing time increase, that is a bad sign. Failing any encouraging verbal, we can probably assume these prospects will be cast aside at the end of their entry-level deals.
AMATEUR FREE AGENT OPTIONS, FORWARDS
L Bobby MacIntyre, SSM Greyhounds. Undersized winger has blossomed this season (47, 21-43-64) and will no doubt get plenty of attention.
C-R Zack Aston-Reese, Northeastern University. He is 6.0, 190 and plays a heavy game. Certainly a Chiarelli—McLellan type and has skill.
C Mike Vecchione, Union. Complete center who may be the most valuable player on this list. He is in his senior year and ripping it up.
R Tyler Kelleher, New Hampshire. A 5.06 senior is only a prospect if he is leading the world in points. Kelleher has 50 points in 29 games and someone will sign him.
L Ryan Graham, Swift Current Broncos. Fast winger with a terrific shot, Oilers need a bunch of these guys, maybe one will cash.
RC Austin Glover, Red Deer Rebels. He has good size and speed, enough skill to project to the pro level if he can stay healthy.
L Dawson Leedahl, Regina Pats. Big winger, good speed, skill and plays a responsible game. 69 points in 51 games.
L Dominic Zwerger, Spokane Chiefs. Fast and skilled winger blossomed this season.
R Zach Zborosky, Lethbridge Hurricanes. He might be eligible for the 2017 draft (October 15, 1996) so I may have him in the wrong spot. Impressive offense two years in a row, has good speed and has blossomed offensively the last two seasons.
L Scott Eansor, Seattle Thunderbirds. Small (5.09) two-way forward who has progressed through his junior career.
L Evan Polei, Red Deer Rebels. Big winger with skill and a very good shot. I bet the Oilers rate him. 52, 25-22-47.

LINES AND CHEM
Todd McLellan brought the team back with the same lines we saw at the break, and that makes sense. However, if the drought after the CMD line continues, a shuffle seems likely. Here (via Corsica) are the top 5×5 Goals For Percentage lines (over 50 minutes) this season:
Maroon—Draisaitl—Puljujarvi 63.62 (in 70.58 mins)
Maroon—McDavid—Draisaitl 58.26 (in 241 minutes)
Maroon—McDavid—Eberle 55.31 (in 96.17 minutes)
Maroon—Nuge—Eberle 55.19 (in 120.72 minutes)
Lucic—McDavid—Eberle 50.66 (in 210.73 minutes)
Hendricks—Letestu—Kassian 49.03 (in 126.57 minutes)
Pouliot—Nuge—Eberle 48.38 (in 141.70 minutes)
Pouliot—Nuge—Kassian 45.83 (in 101.02 minutes)
Lucic—Caggiula—Slepyshev 37.38 (in 77.52 minutes)
Since McDavid carves with anyone, I think it prudent to find the best unit without him and work from there. JP is in the minors, but he had success with Leon (and McDavid). Caution here, that was early in the season and the sample size is not strong. The next best option is moving Maroon down to Nuge-Eberle, and I like Lucic-Draisaitl and have been waiting most of the season anticipating it. Most of the strong ideas involve breaking up CMD and Leon, that is probably the next step.
Thoughts? I would fill Puljujarvi with as much confidence as possible and get him back here at the deadline—or trade for Patrick Sharp/similar if the young man is not ready. In the meantime (and in-between time), I would run Slepyshev up the depth chart until the end of the month. If the $6M men can't score, try the rookies! Scott Darling is apparently the starter tonight, that may or may not be a break (Oilers and backups: It's a thing).
Oilers Hawks in Edm tonight and Patrick Maroon will be our guest on After Hours. This time I promise! Welcome your questions.#afterhours

— Scott Oake (@ScottOake) February 11, 2017
TRADE DEADLINE
Bob McKenzie: "I think it could be a little bit of anything to be honest. Could they use a backup goaltender? Sure. Could they use a little more depth on the blue line? Sure. Could they use another shooter up front? Sure. I don't think they terribly want to pull their team apart in any way, shape or form." Source
I am always hesitant to believe one damn thing close to the deadline, but there does seem to be a sense of 'team' with the current Oilers. Peter Chiarelli may be tempted to run this crew (with a tweak or two) and then figure out what to do after the season. Trading Brandon Davidson for a pick can be done before the expansion draft (and after the season), he may be here after the deadline. Peter Chiarelli was in Tampa Bay last night, it would be interesting to know who he had as a target.