The Edmonton Oilers have been taking a bit of a verbal lashing from the fan base this week, with not much of a defense after their poor showing on Saturday night ('we were on a break!') against the Chicago Blackhawks. As time goes by, we have seen teams like the Calgary Flames have a difficult time coming out of their breaks. If Edmonton rips the cover off the ball tonight, I suspect we will settle into a more calm and reasonable tone. Oilers fans have had a lot to cheer for, but tonight will be an important game for the organization, and fans.
THE EDMONTON SONG, YEAR OVER YEAR
Oilers in October 2015: 4-8-0, goal differential -7
Oilers in October 2016: 7-2-0, goal differential +10
Oilers in November 2015: 4-7-2, goal differential -6

Oilers in November 2016: 5-8-2 goal differential -3

Oilers in December 2015: 7-6-1, goal differential -9
Oilers in December 2016: 7-2-5, goal differential +3

Oilers in January 2016: 4-5-2, goal differential -5
Oilers in January 2017: 9-4-1, goal differential +8

Oilers in February 2016: 3-8-2, goal differential -18
Oilers in February 2017: 1-3-0, goal differential -7

Oilers after 56, 2015-16: 22-29-5, goal differential -30
Oilers after 56, 2016-17: 29-19-8, goal differential +11
G57 one year ago saw the Oilers lose to the Winnipeg Jets in a shootout, Laurent Brossoit stopping 32 of 33 in the tie. The game took place on February 13, and would represent the last points banked by Edmonton through February 28—two weeks between points. That is what this Oilers team must avoid.
WHAT TO EXPECT FROM FEBRUARY
On the road to: Nashville, Carolina, Montreal (Expected: 1-1-1) (Actual 1-2-0)
At home to: Chicago, Arizona, Philadelphia (Expected: 1-1-1) (Actual 0-1-0)
On the road to: Chicago, Tampa Bay, Florida, Washington, Nashville, St. Louis (2-3-1)
Overall expected result: 4-5-3, 11 points in 12 games
Overall current results: 1-3-0, 2 points in 4 games
A win tonight and the Oilers are (basically) back on track, four points in five games and that is in the range with our agreed expectations. One thing we need to pay attention to: Edmonton has been extremely lucky so far this month. No team in the Pacific is posting a crazy number in February, and so things have been running (mostly) in place.
OILERS FORWARDS, 5X560 2016-17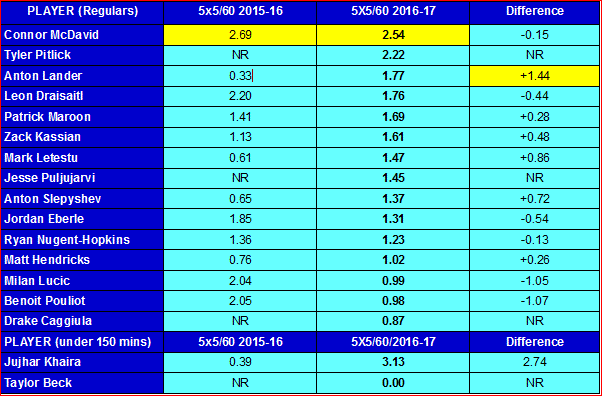 I love this table, this is the Hockey God's flashlight (hat tip to Larry Miller). You cannot ignore the truth here, it shines through with no filter. If you look at each of these men, the scoring story at 5×5 has enormous impact.
Milan Lucic is off by 1.05/60 at 5×5. Someone like me (Lucic fan) can't argue past it, that is a terrible number. He is so far behind now, I don't think it is possible to save this season for the big man (at 5×5). If Lucic scored 10 5×5 points in his next 60 5×5 minutes (about 2.5 points per game over 4 games), he would still trail Patrick Maroon in 5×5/60.
Benoit Pouliot's situation is a little different, he has been deployed with centermen not named Connor McDavid. Pouliot has played 34 minutes with CMD, Lucic has played 423. Both men are off their performances of last season, and both men are going to be viewed far differently next fall than they were in October 2016.
Question: Which player would you bet on having a better season in 2017-18?
Ryan Nugent-Hopkins and Jordan Eberle are facing possible extinction on this roster if the 5×5 drought continues. I have no doubt about their skill, but dropping one of these men summer 2017 and the other 2018 takes care of some cap issues, and they could get better while doing it. Does this season represent their current level of ability?
Jesse Puljujarvi and Anton Slepyshev have settled into the same area of the graph, I think that is good news for Slepyshev. Now, JP is just 18, but we assume he will be a substantial player. For Slepyshev to be hanging around 1.50/60 is a good sign. Over the years, rookie totals include Jordan Eberle (1.83), Taylor Hall (1.57), Linus Omark (1.72), RNH (1.95!), Nail Yakupov (2.14!), Slepyshev has played mostly with Caggiula and Lucic, I think his number reflects some promise.
Anton Lander and Tyler Pitlick are on the Perennial Prospects Plan, but both posted good offensive numbers this season. Both should be in the NHL next fall, in my opinion.
The Maroon—McDavid—Draisaitl line has been splendid, not much to criticize with this group. I cannot help thinking that the Oilers are missing an opportunity by not having a rifleman alongside 97 on the RW. That must be the next step, and I wonder if we see a Patrick Sharp or similar at the deadline.
DEFENSE CORSI FOR 5×5
The Oilers defense, as a group, are doing a fine job in possession. I was trying to think of a way to illustrate this, and decided the best way might be to compare this year with a past one. Straight Corsi, you have to keep in mind the defensemen who play tougher competition (Larsson, Sekera, Russell, Klefbom, increasingly Benning) are actually more impressive because of game state.
Matt Benning 54.2
Eric Gryba 53.8
Darnell Nurse 53.2
Oscar Klefbom 51.3
Andrej Sekera 50.2
Adam Larsson 50.0
Brandon Davidson 48.9
Kris Russell 46.2
My read on this? Russell would be fine if the Oilers backed him off. At this point, Sekera—Benning and Klefbom—Larsson as the top two pairings probably gives Edmonton the best chance to win hockey games.
2009-10 DEFENSE CORSI FOR 5×5
Sheldon Souray 51.0
Tom Gilbert 47.2
Ryan Whitney 46.2
Ladislav Smid 46.1
Aaron Johnson 45.9
Jason Strudwick 39.1
Taylor Chorney 38.4
Theo Peckham 35.1
Now, you cannot directly compare these two sets of numbers, but you can say that possession has improved mightily, and point to reasons for it. The top 4D here were NHL defensemen, and Johnson had some utility at that point in his career. However, the club had no depth at all, and kept running out raw rookies and minor league sorts, with predictable results. Once Craig MacTavish left the Oilers, it was a flat out mess. Better days now, for sure. One final item: How good was Sheldon Souray?? No use hammering on Steve Tambellini again, but oh my.
EXPANSION LIST
Here is my current view on the protected list:
Goal: Cam Talbot
Defense: Andrej Sekera, Oscar Klefbom, Adam Larsson
Center: Ryan Nugent-Hopkins, Leon Draisaitl,
Left Wing: Milan Lucic, Patrick Maroon, Jujhar Khaira
Right Wing: Jordan Eberle, Zack Kassian
Ineligible for Selection: G Nick Ellis, D Darnell Nurse, D Matt Benning, C Connor McDavid, R Jesse Puljujarvi, C Drake Caggiula, R Anton Slepyshev.
Available: D Brandon Davidson, D Griffin Reinhart, L Benoit Pouliot, C Mark Letestu.
I have changed one thing since last time, adding Zack Kassian and deleting Mark Letestu. Edmonton has to make available a certain number of eligible players, and part of the eligibility rules are signed players. If Kassian is signed before the expansion draft, Edmonton can switch him out.
I wanted to bring this up today, because it seems to me that—hammer from the point aside—Edmonton is fairly close to a full and complete defensive unit. Full stop. Without signing Kris Russell!
Klefbom—Larsson
Sekera—Benning
Nurse—Davidson
Now, Vegas Golden Knights may take Davidson, and that is certainly a risk. That said, Peter Chiarelli could make a trade to protect Davidson from the expansion draft, leaving him with a solid (and fairly inexpensive) starting six. The more I think about it, the more this group makes sense. Chiarelli cannot sign Kris Russell without moving out Benoit Pouliot, and that seems unlikely at this time. Roads to go, and I am sure we change our minds many times, but this defense seems worth saving.
DRAFT TIDBITS
If you go through my back pages, you will find all kinds of quotes from Grant McCagg. His astute scouting reports were used by TSN (and may still be) during several drafts, I always quote his draft day item on Griffin Reinhart because it is so concise.
McCagg has a new website up, filled with his scouting reports, mock drafts and in-depth looks at draft-eligible prospects. It is here. Thanks to Centre of Attention for bringing it to my attention. I would recommend Grant's two-part look at the Top Prospects Game as a fine place to start.