He's come a long way, and Leon Draisaitl may have another gear to show us as time rolls along. Last night, in a big game for the organization, the big man moved back to pivot and delivered a fine performance. The Edmonton Oilers have not secured a playoff spot, and I do not believe that players elevate their performance in big games. That said, we do place great importance on success under pressure, and Mr. Draisaitl surely added to his growing legend last night. Edmonton needed secondary scoring, and got it with the flip of a switch. Impressive.
BROKEN ARROW, YEAR OVER YEAR
Oilers in October 2015: 4-8-0, goal differential -7
Oilers in October 2016: 7-2-0, goal differential +10
Oilers in November 2015: 4-7-2, goal differential -6

Oilers in November 2016: 5-8-2 goal differential -3

Oilers in December 2015: 7-6-1, goal differential -9
Oilers in December 2016: 7-2-5, goal differential +3

Oilers in January 2016: 4-5-2, goal differential -5
Oilers in January 2017: 9-4-1, goal differential +8

Oilers in February 2016: 3-8-2, goal differential -18
Oilers in February 2017: 2-3-0, goal differential -4

Oilers after 57, 2015-16: 22-29-6, goal differential -30
Oilers after 57, 2016-17: 30-19-8, goal differential +14
Oilers now have 68 points (18 more than a year ago), 30 wins (eight more than this time last season) and a reasonable cushion in the Pacific Division (nine points clear of fifth-place Calgary, eight points clear of Los Angeles).
WHAT TO EXPECT FROM FEBRUARY
On the road to: Nashville, Carolina, Montreal (Expected: 1-1-1) (Actual 1-2-0)
At home to: Chicago, Arizona, Philadelphia (Expected: 1-1-1) (Actual 1-1-0)
On the road to: Chicago, Tampa Bay, Florida, Washington, Nashville, St. Louis (2-3-1)
Overall expected result: 4-5-3, 11 points in 12 games
Overall current results: 2-3-0, 4 points in 5 games
Things are now in the range with the expectation we all signed off on at the end of January. Edmonton needs to grab a point or two from the Philadelphia game, but this was a solid victory against a tough opponent. The fact Arizona won against the Flames the night before? Nice.
PACIFIC DIVISION STANDINGS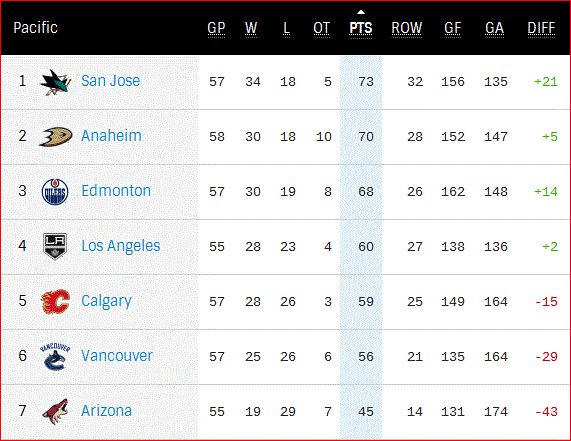 These numbers are kind of baked into the season now, we shouldn't see too many examples of teams darting up or down. Edmonton is unlikely to finish below No. 5, and I would say the chances of finishing No. 1 are becoming a little distant (although March beckons). If Edmonton goes 12-8-5 in their last 25 games, the final record would be 82gp, 42-27-13, 97 points. Is that enough to make the playoffs? Yes. We shouldn't get too excited—things can change—but this is a promising spot to be at this time.
DEFENSE, LAST NIGHT

Davidson—Gryba were the second-pairing at evens, going 8-2 against McGinn—Burmistrov—Rieder and 4-1 against Perlini—Dvorak—Doan. Davidson looks like he is more comfortable every game, Gryba played possibly his poorest game as an Oiler. Strange you see half a pairing do this, but they were together 14:47 of the time and the Corsi was very strong. The visual kicked the daylights out of Gryba, pretty sure.
Klefbom—Larsson were outstanding to my eye, with Oscar going 1-2-3 and looking like a 1970s-style Habs two-way blue. That is the highest compliment I can pay a defender. Pairing went 11-3 with McDavid, 11-10 with Leon. Faced Domi—Hanzal—Vrbata, going 12-7. Played just a little against McGinn—Burmistrov—Rieder, but went 9-3 in 2:40. That damned Perlini—Dvorak—Doan got the edge (4-6) in 3:57 against the Swedes, Dvorak is a dandy.
Sekera—Benning didn't play enough to my eye, this would be my second pairing. Went 5-5 against McGinn—Burmistrov—Rieder, 2-2 against Domi—Hanzal—Vrbata. I am puzzled about this pairing's usage, would love your input on it.
FORWARDS, LAST NIGHT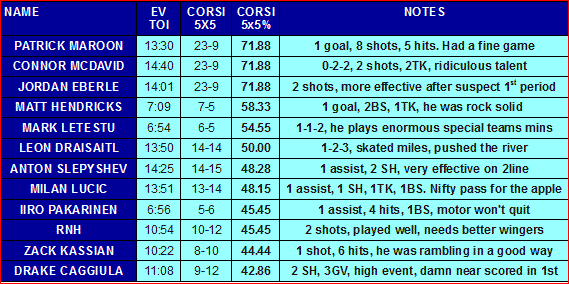 It is perhaps unfair to point out—in a game where Leon and Oscar played so well—that Connor McDavid is the brightest diamond in the game. It is, however, true. His ability to turn a one-on-one into a two-on-one with Jordan Eberle in a heartbeat is simply devastating. The young man alters what we deem as possible, and does it daily. Amazing.
Maroon—McDavid—Eberle hammered the Coyotes like they were incoming freshmen in Dazed and Confused. Totaling 12 shots, the trio went 16-6 against the McGinn—Burmistrov—Rieder line, 6-0 against the Domi—Hanzal—Vrbata line and 3-1 against the Martinook—Jooris—Ryan White trio. Coyotes are lucky McDavid didn't post a half dozen points. Lordy.
Hendricks—Letestu—Pakarinen combined on exactly the kind of goal Todd McLellan was waxing poetic about after the Chicago game. Went 5-4 against the Martinook—Jooris—Ryan White line, and totaled 2-2-4 as a line (although not together—Letestu scored on the PP). I thought the line was very effective, suspect we see them against Philadelphia. Pakarinen won't quit, the Coyotes had decided the game was over with 5 seconds left, but he stole the puck and got a decent shot on goal.
Lucic—Draisaitl—Slepyshev had a fine night, the trio looked comfortable together. Went 9-9 against the Domi—Hanzal—Vrbata line, and all three Oilers worked effectively with the puck at various times. It is such an encouraging development for the Oilers, to see Slepyshev take advantage of this push. Very pleasing. What a pass to Oscar!
Caggiula—Nuge—Kassian played often with Gryba, which meant some unusually difficult moments in their end. Went 8-6 against Perlini—Dvorak—Doan, two of those guys are going to have good careers and one of them did. Caggiula had a point-blank chance in the first, I think he missed the net. Nuge had one or two good looks, and I do think Kassian may end up scoring 15 goals and 30 points somewhere down the line.
Information via HockeyStats, NHL.com and NaturalStatTrick.
PETER CHIARELLI SPEAKS
On Jesse Puljujarvi:  "I was down there a couple weeks ago and watched two games. He is getting a lot of touches and you could see his confidence is coming back. The defensive side of his game is getting better, and he's made a lot of progress down there and he's playing a lot of minutes. He's going to be in the conversation come the deadline," said Chiarelli. "He's a dangerous player down there. He was far and above the most dangerous player I saw in both the games down there."
There are a few things in play here, and JP may end up staying in Bakersfield for the rest of the year. Injuries, struggles by Anton Slepyshev and a barren trade deadline could occur, and in a case of that kind Puljujarvi may end up in Edmonton before the end of the season. The window is open a little if the Oilers plan on keeping Leon at center.
On Trade Deadline Rentals:  "I really don't want to delve into that market. I think there are areas we can tinker with. I think the team deserves it, based on that they're in the conversation. We wanted to be in the conversation and we are."
Chiarelli probably has a sell list (Pouliot, Fayne, Hendricks) and then a pry list (first-round pick, Brandon Davidson) he would deal only in the event of a trade with useful pieces for the future coming back. I take his comments two ways, beginning with the fact he isn't going to reveal his deadline plan at a media avail.
The other thing is that Chiarelli is likely to buy and sell. So, a trade for Brian Boyle could involve a first-round pick or Brandon Davidson—or both—but something else of value has to come back (along with Boyle). That would be my guess on the matter.
More on trade deadline: 'Y

ou have to gauge where your team is in its evolution. Once you get into the playoffs anything can happen but you have to be realistic where you team is. The players we have here feel they can make some noise in the playoffs and as a general manager I weigh the temperature of the team. You do owe it to the players.'
There you go. I love that line about owing it to your players, the last general manager who felt that was Kevin Lowe, 2006. My take on this quote is that PC has no plans to mortgage the future (good) and will see how Anton Slepyshev, Jesse Puljujarvi and Laurent Brossoit perform down the stretch (also good).
I also think we are more likely to see a forward under contract (a good contract) brought in at the deadline, that is the play here. If the first-round pick goes, a pick or prospect goes back. If Brandon Davidson goes, a forward with a good contract and under control comes back. That would be wise.
CURTIS LAZAR
Scratched four straight. Teams that have called have been told the asking price is a high pick _ talking 1st or 2nd. #Sens https://t.co/P4i8txTCy5

— Bruce Garrioch (@SunGarrioch) February 15, 2017
I have no inside information on the Edmonton Oilers (never have), but believe Peter Chiarelli is going to move heaven and earth to find 97 a RW in the next six months. Is it Lazar? I think Edmonton might scratch this itch, depending on price. Would PC trade the 2018 second-round pick for the Senators forward? Lazar and McDavid have some history during their junior careers, and I could see this happening. I am not saying count on it, but don't be surprised if the Oilers acquire Lazar as a reclamation project. I also think the New York Islanders and Tampa Bay Lightning represent a perfect match for Edmonton in trade at this time.
JOHN MARINO
He performed well for Harvard during the Beanpot, helping his team win for the first time since 1993. Despite trading a plethora of 2015 draft picks, Edmonton did a nice job shoring up the defensive cupboard in the second portion of the draft (Caleb Jones, Ethan Bear, Marino, Ziyat Paigin). History teaches us only one (or possibly two) of these men will make it to the NHL, and Marino's playing for Harvard makes it easy to look past him. Suspect he has a story to tell once he turns pro.
JULIEN
I rarely talk about the Bruins on this blog, but have to say the thought of Claude Julien coaching the Habs is a true nightmare. He is a very good coach and I wish him well. It would not surprise me to see Montreal win the Stanley this year, although there isn't much time to add Julien type players to the Montreal roster (they are too small for his style, but they can all skate and there is plenty of talent). Habs win Stanley? It could happen.