Chemistry. It's the real thing. I remember Bobby Clarke driving in across the blue line, curling inside, and sending a soft back pass to an area. Split seconds later, the Riverton Rifle (Reggie Leach) would enter the zone and drill the puck so hard the goalie (usually nicknamed Suitcase or Smokey) crumbled. Years later, Gretzky to Kurri would employ a more innovative version, but the elements of the play remained the same. The chemistry brought the patented move, and the whole damned bunch rode it all the way to Stanley.
Connor McDavid has chemistry with seemingly everyone on the roster, but we await his Reggie, his Jari, his volume shooter. Hurry, Mr. Leach! Todd McLellan needs you!
Todd McLellan: "Volume shooting, I don't know what that does to Corsi or Fenwick because I don't even know what those things are, but volume shooting is important. I think it breaks down defensive zone coverages, gets players out of position, taxes the opposition, makes them play more minutes in their zone."
HAMMER AND TONGS, YEAR OVER YEAR
Oilers in October 2015: 4-8-0, goal differential -7
Oilers in October 2016: 7-2-0, goal differential +10
Oilers in November 2015: 4-7-2, goal differential -6

Oilers in November 2016: 5-8-2 goal differential -3

Oilers in December 2015: 7-6-1, goal differential -9
Oilers in December 2016: 7-2-5, goal differential +3

Oilers in January 2016: 4-5-2, goal differential -5
Oilers in January 2017: 9-4-1, goal differential +8

Oilers in February 2016: 3-8-2, goal differential -18
Oilers in February 2017: 2-3-0, goal differential -4

Oilers after 57, 2015-16: 22-29-6, goal differential -30
Oilers after 57, 2016-17: 30-19-8, goal differential +14
G58 a year ago was a weird one. Cam Talbot let in three goals, and then Edmonton, down a goal, pulled the goalie. Anaheim scored an EN (Cogliano of course) to make it 4-2—and 24 seconds later Benoit Pouliot scored the damned goalie they needed 30 seconds before! Bah! Corey Perry scored another EN because why not, and it was a 5-3 final. How in hell did we survive these winters?
WHAT TO EXPECT FROM FEBRUARY
On the road to: Nashville, Carolina, Montreal (Expected: 1-1-1) (Actual 1-2-0)
At home to: Chicago, Arizona, Philadelphia (Expected: 1-1-1) (Actual 1-1-0)
On the road to: Chicago, Tampa Bay, Florida, Washington, Nashville, St. Louis (2-3-1)
Overall expected result: 4-5-3, 11 points in 12 games
Overall current results: 2-3-0, 4 points in 5 games
Tonight is an important game, but I am not sure it has the same importance of the Tuesday contest. In the Arizona game, Edmonton was chasing redemption for a subpar Saturday tilt that marked the end of the five-day layoff. Oilers fans have a right to expect a solid effort this evening, but a well played loss is unlikely to draw ire from the home fans.
OILERS FORWARDS, SHOT VOLUME 5X5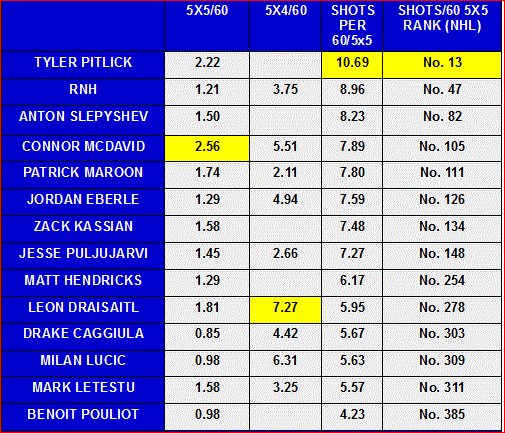 5X560: Connor McDavid is enjoying a fantastic season in the discipline (ranks No. 7 among forwards with 400 or more minutes). Tyler Pitlick is the only other forward over 2.00, and the list of men under 1.50 is pretty devastating. Anton Slepyshev seems to be busting a move, that is a nice development.
5×4/60: Some excellent numbers here, led by Leon Draisaitl, Milan Lucic and Connor McDavid. Even Jordan Eberle is doing well, and Drake Caggiula is showing signs of life.
Shots/60: I am increasingly interested in seeing who might be the Duke Nukem (first-person shooter) for CMD, there are some roster options there. Leon has chem with 97, but he doesn't shoot much. During the period those two are apart, Jordan Eberle and Anton Slepyshev may get a real shot. Maybe Nuge gets one too. Jesse Puljujarvi is shooting more in the AHL (2.8 shots per game) and he likely gets another chance with McDavid this or next season.
WOODMONEY BINS

This is sorted by percentage of TOI against elites.
This is the WoodMoney, and I think this is drilling down on the really good stuff. If you read Woodguy's posts and G's postgame runs, the totals may be familiar to you. In the coming days, when their site goes live, there will be an enormous number of questions from all ranges. That said, I think this is the best way to rank the bundles (or bins), with percentages.
GMoney was part of a brilliant Lunchalytics yesterday, it is here. Highly recommended, and it gives us a chance to get some foundation information about G's philosophy on these things. G and Darcy and Michael and Zsolt are pushing a giant boulder up the hill, and we appreciate it. Cannot wait to begin to understand!
I remember Darcy saying the top two pairings end up playing most of the elite and middle, and that appears to be true. By the time we get to Davidson, Gryba, Nurse, the heart of the order has been tamed.
Notice Matt Benning is climbing past Oscar Klefbom in percentage against elites. A reflection of playing with Andrej Sekera surely, but it also goes to show that the capabilities of Benning may be closer than we think to Klefbom at this time. Klefbom and Benning are about a year apart in age, and their minutes reflect it. Our familiarity with Oscar and the newness of Benning should not cloud the quality of their performances. We need to see more track.
Oilers have some nice young blue. Oscar, Larsson, Benning, Davidson and Nurse is a pretty damned good cluster.
MCDAVID—MANNING
The health of CMD and two points are more important, but Manning seems to have struck a nerve with the local superstar in their last meeting. I think it important for Mr. Maroon to be hanging around in the vicinity, not to fight Manning, but to make sure McDavid doesn't drop his gloves. If 97 is agitated enough, suspect that could happen (he is no wallflower) and that would be just about the worst outcome. Manning is a third pairing defender, McDavid is the franchise. I don't believe in the announce your presence with authority stuff, but do want a healthy McDavid on the plane to Chicago.
FERENCE TALKS
I have not read it, decided against it. My memories of those years leads me to believe the team was ill conceived and addled in the boardroom. You could run every game from 2010 fall through 2015 spring and count the effective outlet passes without taking off your socks. Someone should write that story, about a defense who found it easier to hammer the puck square than get it to Taylor Hall on the fly.
LOWDOWN WITH LOWETIDE
We are back with a vengeance today, beginning at 10 this morning, TSN1260. Scheduled to appear:
Darcy McLeod, Because Oilers. A WoodMoney update, and a rundown of trade deadline options.
Anthony Mingioni, CenterIcePhilly. Flyers in town tonight, played well enough to win in Calgary last night but could not cash.
Bruce McCurdy, Cult of Hockey. We are trying a Thursday guest appearance with Bruce to change the luck. Appears to be working so far!
Frank Seravalli, TSN. Trade deadline two weeks away, how many sellers?
10-1260 text, @Lowetide on twitter. Can't wait to be back in the chair!