The Edmonton Oilers have found some traction and appear locked and loaded for the drive to the top of Pikes Peak. The toughest portion begins Saturday in Chicago, it is going to be war. Today, after a nice win against the Philadelphia Flyers, we can reflect on some real success—and, maybe, more than one scoring line. Music!
HEY HEY, MY MY, YEAR OVER YEAR
Oilers in October 2015: 4-8-0, goal differential -7
Oilers in October 2016: 7-2-0, goal differential +10
Oilers in November 2015: 4-7-2, goal differential -6

Oilers in November 2016: 5-8-2 goal differential -3

Oilers in December 2015: 7-6-1, goal differential -9
Oilers in December 2016: 7-2-5, goal differential +3

Oilers in January 2016: 4-5-2, goal differential -5
Oilers in January 2017: 9-4-1, goal differential +8

Oilers in February 2016: 3-8-2, goal differential -18
Oilers in February 2017: 3-3-0, goal differential -1

Oilers after 58, 2015-16: 22-30-6, goal differential -32
Oilers after 58, 2016-17: 31-19-8, goal differential +17
The Oilers have reached 31 wins and 70 points, matching their totals from a year ago—with 24 games to go! That is the kind of improvement we dreamed of, but dare not hope for, after a decade of misery. No matter what we get out of this, the trade deadline arrives with the Edmonton Oilers as a going concern in the Pacific Division, the Western Conference, and the NHL full stop. This train is 49 goals better than one year ago, this train has a fine goalie, this train has super nova 97, this train has a mobile defense, this train has an emerging (second) scoring line, this train is edging very close to……balance.
WHAT TO EXPECT FROM FEBRUARY
On the road to: Nashville, Carolina, Montreal (Expected: 1-1-1) (Actual 1-2-0)
At home to: Chicago, Arizona, Philadelphia (Expected: 1-1-1) (Actual 2-1-0)
On the road to: Chicago, Tampa Bay, Florida, Washington, Nashville, St. Louis (2-3-1)
Overall expected result: 4-5-3, 11 points in 12 games
Overall current results: 3-3-0, 6 points in 6 games
Our line in the sand after six games was in fact six points (2-2-2), so we are on track and on the way to the Windy City. Edmonton has a story to tell at the deadline, and likely beyond the end of the regular season. Dare we begin to talk about winning a round?
DEFENSE, LAST NIGHT

Klefbom—Larsson had an excellent night. Oscar brought the hammer for his 10th goal of the year, and Larsson showed old man strength in the defensive zone. Pairing went 21-15 together, including running 14-6 with the McDavid line. Huzzah! Went 14-6 against Schenn—Giroux—Simmonds, meaning head to head was a slam down for the Oilers.
Sekera—Benning went 12-20 together, including 3-5 with Leon, 2-6 with Nuge and 4-7 with Letestu. Benning's pass to Leon for his goal was stunning and beautiful, my goodness what a nice goal. Went 5-4 against Cousins—Couturier—Voracek, and that is a good line, but got caved by VandeVelde—Bellemare—Read to the tune of 1-11. How did that happen?
Davidson—Gryba had their moments good and bad. Gryba crunched poor Jordan Weal and caused him to head to the dressing room. Davidson skated well, moved the puck, but the pairing had a tough time even when we take score effects into account. Went 12-28 together, including 1-8 with Letestu's line, 5-13 with Nuge. Place furrowed brow here. Went 3-9 against Cousins—Couturier—Voracek.
Cam Talbot had some major stops, including a breakaway by Voracek that would have tied the score. Stopped 33 of 36, .917. Money. Money money money—Money!
FORWARDS, LAST NIGHT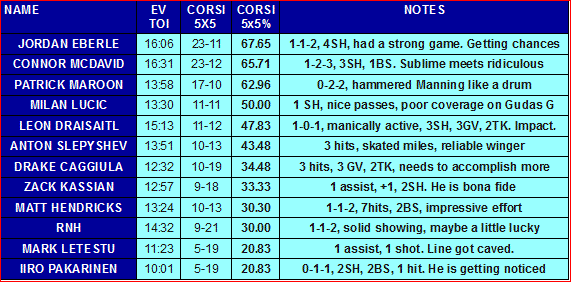 Maroon—McDavid—Eberle are starting to look like a pack of bank robbers out there. The McDavid goal consisted of a solid back check, fine pass, drop pass, accurate shot. Five seconds? Very effective game, again. Eight shots, two goals, seven points. Went 13-5 against the Giroux line, 7-0 against the Couturier line. Next!
Lucic—Draisaitl—Slepyshev are building on previous success and may yet become a quality line. Leon scored on the 4×4 and the wingers showed good skill and could have posted crooked numbers. ML lost Radko Gudas (!!!) on the first Flyers goal. Went 6-4 against the Bellemare line.
Caggiula—Nuge—Kassian are never going to be a scoring line, but the trio did have some success. Nuge had a dandy assist 4×4 on the LD goal, and scored one by going to the net and staying there. Kassian skated miles, had a couple of decent looks and an assist. Drake Caggiula has to keep pushing, the offense will come. I really like his speed and gumption. Went 5-5 against Giroux, 3-6 against Bellemare.
Hendricks—Letestu—Pakarinen scored the first goal of the game, I still think it was offside. Todd McLellan played the hell out of them once the game looked decided, I am fine with it as long as the scorers are getting their points. A game like last night might kick start from road offense in the next two weeks.
Numbers via HockeyStats.ca, NHL.com and NaturalStatTrick.
MCDAVID V. MANNING
Brandon Manning on the situation: "Connor didn't say a word on the ice today. Patrick (Maroon) said 'good job' afterward. We'd do the same thing if one of our superstars got hurt. I understand it. Just the chirping and the non-stop stuff kind of gets annoying, but like I said, we only see these guys twice on the year." Source

It has been a long time since I felt genuinely bad for an opposition player, but Brandon Manning took a sound beating last night. Even taking the Maroon fight out of it, the Oilers were pure filth for 60 minutes. I give Manning credit, he did not back down and he took the fight, but holy hell it has been ages since Edmonton targeted and then followed through on an old fashioned beating. In old time hockey, this story ends with Manning being acquired in the offseason. Seriously. I respect that young man this morning. Tough night, but in life you have to man up. The Oilers, incredibly, can be dirt mean. It has been a long time—maybe December 30, 1997—since I contemplated the town team going too far in intimidation and outlaw behavior. Whoever gets them in the playoffs is going to be bleeding profusely after the series is done.
CHIARELLI AT THE DEADLINE
Alex Thomas is doing a terrific series over at The Oilers Rig on Edmonton at the deadline, latest is here with links to the previous two installments.
Thomas: 2008 deadline the Bruins were emerging as a young team pushing for the playoffs. Chiarelli added depth piece Shane Hnidy in January, but he didn't overpay for players like Brian Campbell or Marian Hossa at the deadline. He let his young core fight through and make the postseason. Source
That is an excellent point, one of many made by Thomas in his article. I think a lot of this depends on prices, and am convinced there is one driving priority for PC from the deadline through July 1: Finding more cap room. At a guess, I will suggest the deadline will be spent:
Acquiring goalie Reto Berra
Acquiring winger Patrick Sharp (10.84 shots per 60 at 5×5)
Trading Brandon Davidson for a forward under control and worth protecting (may happen after season)
Laying groundwork for deal with Golden Knights (take Benoit Pouliot in the expansion draft in exchange for 2018 second-round selection—something like that).
Maybe there is a center or defenseman out there, but Sharp would be a very nice fit. Then again, Anton Slepyshev appears to be emerging and that may solve another problem. If Chiarelli decides to roll with the department of youth, as Alex Thomas suggests he has done before, then we may see a much quieter deadline. The fact these kids are giving him the option is a story worth pursuing.
LOWDOWN WITH LOWETIDE
At 10 this morning, TSN1260. Friday! Scheduled to appear:
Steve Lansky, BigMouth Sports. Trade deadline approacheth, Leafs and Oilers will be players. Habs change coach, Phaneuf emerges!
Corey Graham, Oil Kings PBP. Some success follows a long and difficult losing streak.
Tom Lynn, Veritas Hockey. Drilling down, and grabbing some nuance, on the expansion draft and how much it could impact the deadline.
Paul Almeida, SSE. Oilers on a tough road trip, trade deadline.
10-1260 text, @Lowetide on twitter. Talk soon!