We rarely saw games from America as kids, had to be playoffs or that rare time when both (then all) of the Canadian teams were on the road. We would see Chicago Stadium during the playoffs, especially the finals. Chicago Stadium always looked smoky, giving it an unusual feel, and it was very loud. The atmosphere seemed tight, close, intense, partly because of the Stanley Cup playoffs, but the building added to it. Chicago today plays in a giant building, still loud, with a brilliant anthem, that damned dagger song, and, for most teams, a night of losing. We're on to Crystal Lake, today.
OLD DAYS, YEAR OVER YEAR
Oilers in October 2015: 4-8-0, goal differential -7
Oilers in October 2016: 7-2-0, goal differential +10
Oilers in November 2015: 4-7-2, goal differential -6

Oilers in November 2016: 5-8-2 goal differential -3

Oilers in December 2015: 7-6-1, goal differential -9
Oilers in December 2016: 7-2-5, goal differential +3

Oilers in January 2016: 4-5-2, goal differential -5
Oilers in January 2017: 9-4-1, goal differential +8

Oilers in February 2016: 3-8-2, goal differential -18
Oilers in February 2017: 3-3-0, goal differential -1

Oilers after 58, 2015-16: 22-30-6, goal differential -32
Oilers after 58, 2016-17: 31-19-8, goal differential +17
G59 last season was a 5-2 loss to the Minnesota Wild. From G58 to the end of the season, Edmonton posted a record of 9-13-2, to finish 31-43-8 (70 points). If the Oilers duplicated last season's finish—which would be hugely disappointing—their final record would be 40-32-10 (90 points). The Edmonton Oilers turned north and kept going all year long. The size of the reward at the end is the only question. The games remain important, something we haven't seen this late in a season in exactly one forever.
WHAT TO EXPECT FROM FEBRUARY
On the road to: Nashville, Carolina, Montreal (Expected: 1-1-1) (Actual 1-2-0)
At home to: Chicago, Arizona, Philadelphia (Expected: 1-1-1) (Actual 2-1-0)
On the road to: Chicago, Tampa Bay, Florida, Washington, Nashville, St. Louis (2-3-1)
Overall expected result: 4-5-3, 11 points in 12 games
Overall current results: 3-3-0, 6 points in 6 games
We are Even Steven based on our expectations (everyone agreed) and a win tonight probably puts the fan base in a wildly confident mood entering the Florida btb. The loss by Anaheim to Florida last night offers further encouragement for this Oilers team. This is the point in the climb where wins and points could be in short supply. Chicago is a bear, the two Florida teams badly need two points, the Capitals are rolling and St. Louis is really rolling. A win tonight would be manna from heaven.
FORWARDS, 2016-17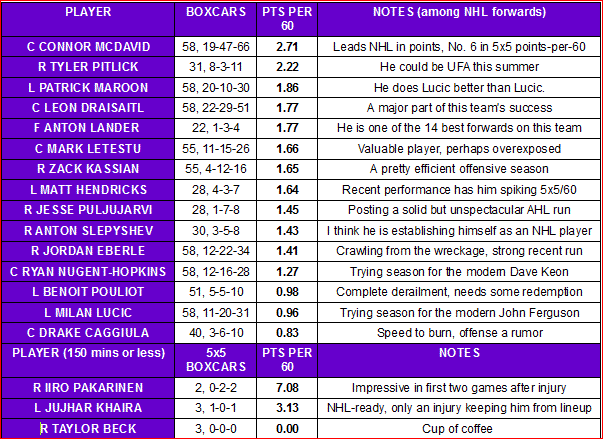 There is still time, but the gap between McDavid and the rest of this roster is pretty incredible. When the Oilers find his Kurri, joint will be hopping.
Leon Draisaitl is past 20 goals and 50 points again this year, now comes the big test. Can he drive a line as the main man? If he can move that 1.77/60 beyond 2.00/60, Edmonton will have the best young center depth chart on planet earth.
Three of the top six scorers among forwards (Eberle, Nuge, Lucic) are below 1.50/60. Usually when we identify these unusual stats, the regression kicks in and the Bret Saberhagen talk fades away. This may in fact be full Brett Saberhagen.
Anton Lander, Mark Letestu and Zack Kassian have been impressive offensively, considering their roles. Recently, Matt Hendricks has joined the fun—further isolating Ebs, Nuge, Lucic and Pouliot. I don't mind telling you this is a bizarre table, with some pretty famous names being save by their power-play prowess.
Patrick Maroon rained down blows upon Brandon Manning's helmet on Thursday night, hope those hands still have goals in them.
DEFENSE, 2016-17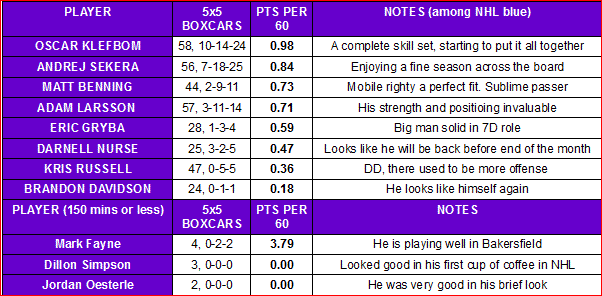 Oscar Klefbom has reached 10 goals. This is just the ninth time since 2000 an Oilers defenseman has reached the total, and Oscar has plenty of time to add to his total. Only Sheldon Souray (23) in 2008-09 seems out of reach.
Adam Larsson is a much better fit for Klefbom on a feature pairing. Whereas Justin Schultz was also an offensive player, Larsson minds the store while Oscar drives the offense on the line. I blame that damned Swedish second assist for obscuring our view of Klefbom. I really like this pairing.
Matt Benning is going to force some veterans down the depth chart in the coming months. His pass to Leon was an elite skill play (puck was bouncing and he had a lot of things going on in the instant he passed it) and we see it from this young man often. Mobile for days.
Andrej Sekera has been playing a little less of late, but is vital to this team's success. Veteran defensemen, man. Buy em by the bushel.
Brandon Davidson, for me, is back to being himself on the blue. I would like to see him with a more offensive partner, but that isn't available currently.
Kris Russell will be back early in the road trip, Darnell Nurse late. I love defensive depth, its like a full tank of gas, bills all paid, and the whole family in a good place. Missed it!
Cam Talbot is tied for No. 6 in the NHL in save percentage. Best trade by Peter Chiarelli?
GRIFFIN REINHART
In his last 10 games, Griffin Reinhart has posted 3-3-6 boxcars and is playing a larger role on the team. A recent article by Paul Gazzola indicates Reinhart has come through a difficult season with renewed determination and a more complete game. While Brandon Davidson is vulnerable to the expansion draft, so is Reinhart. I am increasingly convinced Peter Chiarelli will make every effort to make a deal with Vegas in order to both protect his growing defensive depth, and to unload some cap space. Interesting days ahead, but Reinhart is part of PCs future plans, in my opinion.
JESSE
@Condors @CondorsHolty @Lowetide I'd be happy, too, after scoring a goal & tying this game… 1-1/2nd intermission pic.twitter.com/XD1l2wDOyG

— Mark I Williams M.D. (@CameraGuyBakoCA) February 18, 2017
A very pleasing moment from the Condors game last night, as Jesse Puljujarvi scored an even-strength goal, assisted by Anton Lander. It suggests the young Finnish winger is in fact getting a bit of a push, and that we may see him spike offensively. He has 47 shots in 16 games, his boxcars (6-6-12) projected to an NHLE of 82, 16-17-33. I have no quarrel with him staying in the AHL for the rest of the season, especially if a bona fide offensive center is part of the roster. I think Lander ends up back here, so we might see a veteran AHL center added by the deadline to facilitate JPs progress for the rest of the year. It would be grand if the Condors made the playoffs.
RECRUTES HOCKEY
I have mentioned Grant McCagg's new site before (it is here) but wanted to give you a head's up on a few things. He has some major things rolling out this weekend, and I will speak to Grant on SSE at 2:20 this afternoon. He has a new mock draft up this morning, and some big things will appear there later today.
TSN TRADE LIST
The list is now 40 deep, and Jordan Eberle keeps moving down the list. I think Peter Chiarelli's main assets for trade will be lefty blue, 2018 draft picks and veterans who have been passed by youth on the depth chart. Adding a second-round selection—or a bona fide prospect—should also be a major priority.