Among all things, a Bob Sebra season is a must to avoid. Do you known about Bob Sebra? He was a starter for the Montreal Expos, came over in a screw deal with the Texas Rangers. In 1987, the Montreal Expos finished 91-71, but missed winning the division because Sebra went 6-15. Expos missed winning the division by four games, and couldn't find a replacement starter to go 10-11. If Bob Sebra goes 10-11, Montreal at least ties for the division. A Bob Sebra season: A must to avoid.
25 OR 6 TO 4, YEAR OVER YEAR
Oilers in October 2015: 4-8-0, goal differential -7
Oilers in October 2016: 7-2-0, goal differential +10
Oilers in November 2015: 4-7-2, goal differential -6

Oilers in November 2016: 5-8-2 goal differential -3

Oilers in December 2015: 7-6-1, goal differential -9
Oilers in December 2016: 7-2-5, goal differential +3

Oilers in January 2016: 4-5-2, goal differential -5
Oilers in January 2017: 9-4-1, goal differential +8

Oilers in February 2016: 3-8-2, goal differential -18
Oilers in February 2017: 4-3-0, goal differential +1

Oilers after 59, 2015-16: 22-31-6, goal differential -35
Oilers after 59, 2016-17: 32-19-8, goal differential +19
Edmonton is started to push beyond most other seasons in this century. There is a chance the 2016-17 regular season will represent the best year of this century for Edmonton, in terms of regular season numbers. In fact, this year is tracking as one of the best since the glory days. Los Angeles lost again, Calgary stumbled, and Anaheim is chasing the Oil Drop. Music!
WHAT TO EXPECT FROM FEBRUARY
On the road to: Nashville, Carolina, Montreal (Expected: 1-1-1) (Actual 1-2-0)
At home to: Chicago, Arizona, Philadelphia (Expected: 1-1-1) (Actual 2-1-0)
On the road to: Chicago, Tampa Bay, Florida, Washington, Nashville, St. Louis (Expected: 2-3-1) (Actual: 1-0-0)
Overall expected result: 4-5-3, 11 points in 12 games
Overall current results: 4-3-0, 8 points in 7 games
Last night's win sets this road trip up very well, and the truth is Edmonton is close to our expectations already. There is no sin in revising our number, but let's see how this thing rolls out. If we are honest with each other, and look at the numbers from last night, perhaps that was a win undeserved by all but the goalie.
DEFENSE, LAST NIGHT

Klefbom—Larsson went 10-24 in 15:07. The pairing was 4-4 with McDavid, 6-6 with the Nuge. Went 5-16 against Panarin—Anisimov—Kane, 1-11 versus Hossa—Tanner Kero—Ryan Hartman. Yeah.
Sekera—Benning went 6-20 in 12:34, including 5-10 with McDavid and 6-6 with Nuge. Went 3-10 against Schmaltz—Toews—Panik, 2-9 against Hossa—Tanner Kero—Ryan Hartman. It was a decidedly large gap.
Davidson—Gryba went 5-10 in 10:36, including 0-5 with McDavid and 2-8 with Nuge. Tough speed match for the big righty blue, I think Gryba will not play a lot in the semifinals. 🙂 Went 1-13 against Schmaltz—Toews—Panik, Davidson made one brilliant defensive play against Hossa and I saw him good a few times.
Cam Talbot stopped the world. Stopped 38 of 39, .974. Now at .921 for the year, ranks No. 6 overall.
FORWARDS, LAST NIGHT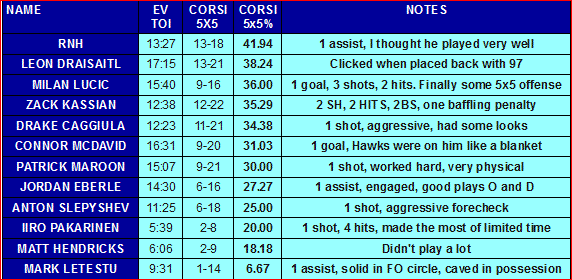 Caggiula—Nuge—Kassian stuck together for most of the night, going 11-16. Nuge did go 2-2 with Eberle-Lucic and it clicked.
Lucic—Draisaitl—Slepyshev went 7-13 together, in about eight and a half minutes. Leon jumped up to the CMD—Maroon line later in the game, going 6-6 in about six minutes. I wonder if we see the big trains back with 97 on Tuesday.
Maroon—McDavid—Eberle went 3-11 together, and it did not look effective at all. McDavid played 11:19 of his 16:20 against Duncan Keith (9-13), and was 4-13 against Jonathan Toews in 7:40. Although Eberle was moved off the top line, I thought he played well—back checking, pursuing the play, moving the puck quickly.
Hendricks—Letestu—Pakarinen got caved and the wingers didn't play much at all. Letestu went 0-8 against Panarin—Anisimov—Kane, we saw some high octane hockey from that trio.
Stats via NaturalStatTrick, NHL.com and HockeyStats.ca.
MILAN LUCIC
Milan Lucic scored a big goal for his team last night, and that may spark more 5×5 offense. He is currently 1.02 5×5 per 60, half of last year's output. Now, a lot of people are down on the big man and I get that, he hasn't performed as hoped this year. His possession number away from Connor McDavid is not strong, his even-strength offense has been halved. Ironically, his power-play work—never a major part of his game—has been very successful. Last night's goal might be a blip, and we could return to 20 games of zero 5×5 offense. I am hopeful Lucic can find his way, always been a fan.
CURRENT STANDINGS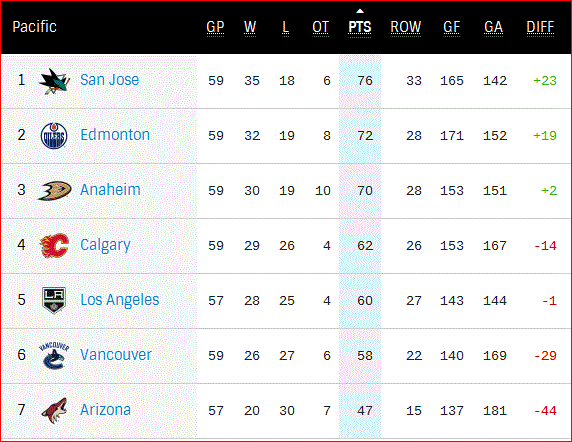 The win last night, combined with losses by others who are chasing, has Edmonton in an even better position this morning. We should brace ourselves for a bit of a slide during this road trip, but there is no doubt the Oilers have done a lot of good work in putting themselves in this position.
2nd straight game vs Portland that Ethan Bear has had 4+ points (1G 3A last week, likely 2G 2A tonight.)

— TBird Tidbits (@TBirdTidbits) February 19, 2017
Ethan Bear's WHL boxcars (57, 25-36-61) have his NHLE at 24 points—a very nice number. The 25 goals is certainly an attention-getter, I wonder if we see him as a feature player on the PP in Bakersfield next season. It is good to see Bear posting such a strong number this year.
Curious if #Oilers will grab Ty Rattie off waivers. Believe EDM put in a claim for him in Jan. Only thing is Slepyshev has come up since.

— Frank Seravalli (@frank_seravalli) February 18, 2017
Frank identifies the major difference between January and now in Edmonton, as Anton Slepyshev has enjoyed some real success. My guess is that Edmonton passes on the opportunity. Slepyshev has stepped up in a big way. That said, it is something to monitor.
VIDEO: First, he opened the scoring, then @JoeyLaLeggia put this one on the tape of Lander to make it 3-0. #Condorstown pic.twitter.com/J0MLqPFGwF

— Bakersfield Condors (@Condors) February 19, 2017
Joey Laleggia had a nice night for the Bakersfield Condors. We expect Anton Lander to fill an AHL net, and Jesse Puljujarvi (17, 6-7-13) is having a nice run (4-2-6 in his last six games). Laleggia is 8-1-9 in his last 16 games, showing that move to LW may in fact improve his NHL changes.