As of today, and through the end of summer really, NHL teams begin to do the busy work of procurement. Several pressure points involving portions of two seasons—trade deadline for this year, CHL and Euro draft picks, Euro free agents for next—and that means we could see a lot of activity around the Oilers. As an example, here are the transactions from February 24 through May 9 one year ago.
February 24—Traded rights to RHD Phil Larsen to Vancouver for 2017 fifth-round pick.
February 27—Traded G Anders Nilsson to St. Louis for G Niklas Lundstrom and 2016 fifth-round pick (Graham McPhee).
February 27—Traded RHD Justin Schultz to Pittsburgh for 2016 third-round pick (Filip Berglund).
February 27—Traded R Teddy Purcell to the Florida Panthers for 2016 third-round pick (Matt Cairns).
February 28—Traded LHD Martin Gernat and 2016 fourth-round pick (Jack Kopacka) to Anaheim for L Patrick Maroon.
February 29—Claimed R Adam Cracknell off waivers (Vancouver).
February 29—Claimed LHD Adam Pardy off waivers (Winnipeg).
March 13—Signed KHL C Jere Sallinen as a free agent for the 2016-17 season.
April 7—Signed college free agent goalie Nick Ellis (Providence).
May 7—Signed college free agent forward Drake Caggiula (UND).
May 9—Signed college free agent forward Patrick Russell (St. Cloud State).
That is a lot of change, and we could see it again in the coming weeks. Among the items we could see:
Bogdan Yakimov could return to North America (his KHL team did not make the playoffs), his rights could be traded or we may never hear from him again.
Ziyat Paigin's KHL team did make the playoffs, so the big defender—who has been playing in the VHL—could be signed in the coming weeks.
College free-agent defender Daniel Brickley could be signed in the same windowas Ellis, Caggiula and Russell. Another name to keep in mind is Josh Healey.
CHL free agents like Ryan Mantha, Darren Raddysh and others could be signed.
College draft picks like William Lagesson and Tyler Vesel may also be signed over the summer.
The Oilers continue to list Roman Horak as being in the system. I don't think they have any plans for him, but I will include him just in case.
Edmonton needs forwards, across the roster.
CURRENT 50-MAN LIST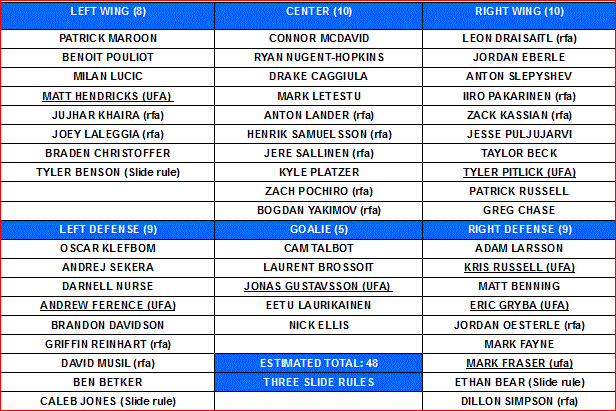 We could also see the Oilers sign Tyler Pitlick, trade for players under contract who could be exposed in the expansion draft, and on it goes. I think we can make some educated guesses on some RFA and UFA flushes. One final note: Two of the three slide rules are going to turn pro for sure.
WHO IS LEAVING?
LHD Andrew Ference (UFA)
L Matt Hendricks (UFA)
LHD Mark Fraser (UFA)
G Jonas Gustavsson (UFA)
G Eetu Laurikainen (RFA)
RHD Eric Gryba (UFA)
LHD David Musil (RFA)
LC Jere Sallinen (RFA)
RC Zach Pochiro (RFA)
LC Bogdan Yakimov (RFA)
R Taylor Beck (RFA)
That is my guess, along with the expansion player who will be heading to Vegas Golden Knights. Edmonton would dearly love to add Benoit Pouliot and Mark Fayne to this list and perhaps there is a way. That said, the 11 names here seem the obvious ones.
PROJECTED 50-MAN (39)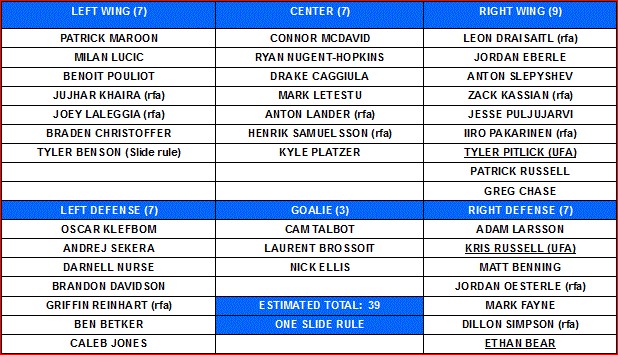 Many things will change by April (when we look at this again) but this gives us a general idea about things as they progress. Peter Chiarelli has areas of strength (Leftorium) to trade from, and areas of weakness (forwards, pro and amateur) that are badly in need of addressing.
Scoring his 25th of the season, #Oilers prospect Ethan Bear is the first @SeattleTbirds dman to hit that mark since @DeronQuint in 94-95.

— TBird Tidbits (@TBirdTidbits) February 19, 2017
Ethan Bear had a 10-point week for the Seattle Thunderbirds, and is now 58, 25-37-62 (NHLE: 82, 10-14-24) on the season. Along with Caleb Jones, John Marino and Ziyat Paigin, Edmonton has four substantial defensive prospects from the 2015 draft who are matriculating well.
. @Jones4Caleb making it look easy ???????? pic.twitter.com/yDbp7l6Yhb

— Portland Winterhawks (@pdxwinterhawks) February 20, 2017
Yeah. I think this young man has a future. Suspect both begin their pro careers this fall in Bakersfield, and then the race is on. History tells us that if three quality prospects begin their pro careers together, count on one to emerge (the Petry-Chorney-Wild Project). Among Jones, Bear and Paigin, who has the best chance in your opinion?
MY CURRENT EXPANSION LIST
Goal: Cam Talbot
Defense: Andrej Sekera, Adam Larsson, Oscar Klefbom
Forwards: Leon Draisaitl, Ryan Nugent-Hopkins, Milan Lucic, Jordan Eberle, Patrick Maroon, Zack Kassian, Jujhar Khaira
Ineligible: Connor McDavid, Darnell Nurse, Matt Benning, Jesse Puljujarvi, Anton Slepyshev, Drake Caggiula, Nick Ellis
Eligible: G Laurent Brossoit, D Brandon Davidson, D Mark Fayne, D Kris Russell, D Griffin Reinhart, D Jordan Oesterle, D Dillon Simpson, D David Musil, C Mark Letestu, L Benoit Pouliot, R Tyler Pitlick, R Iiro Pakarinen.
I have moved Zack Kassian to the protected list, and moved Mark Letestu to the available list. Why? Simon Boisvert reminded me that the Oilers need to make a certain number of veteran signed forwards available, so until Kassian is signed, Letestu would be the player who has to be made available in my model.
I have been asked by several why Jujhar Khaira made my list, and someone like Pitlick hasn't made it. Well, Pitlick can be a UFA if I am reading the tea leaves correctly, and Edmonton may or may not be able to sign him. Khaira is young, NHL-ready, and under control.