The Edmonton Oilers lost a game in which they were not sharp last night, but the real worry is the health of defenseman Adam Larsson. He played only two shifts in the third period, and we await word from the back doctors.
Connor McDavid: "Three really good players who play really well together. They did a really good job tonight."
The goal for Peter Chiarelli is to find 97's Kurri, and build from there. I think one of the pieces may be Leon, and that fact could inform the deadline, and the future.
DO THE CONGA, YEAR OVER YEAR
Oilers in October 2015: 4-8-0, goal differential -7
Oilers in October 2016: 7-2-0, goal differential +10
Oilers in November 2015: 4-7-2, goal differential -6

Oilers in November 2016: 5-8-2 goal differential -3

Oilers in December 2015: 7-6-1, goal differential -9
Oilers in December 2016: 7-2-5, goal differential +3

Oilers in January 2016: 4-5-2, goal differential -5
Oilers in January 2017: 9-4-1, goal differential +8

Oilers in February 2016: 3-8-2, goal differential -18
Oilers in February 2017: 4-4-0, goal differential -2

Oilers after 60, 2015-16: 22-32-6, goal differential -36
Oilers after 60, 2016-17: 32-20-8, goal differential +16
The Oilers
lost G61
to Ottawa 4-1. Edmonton didn't have much going last night, but we have to remember Tampa Bay is a fine team already forced into playing playoff hockey. Guess what? An identical team is on the calendar tonight.
WHAT TO EXPECT FROM FEBRUARY
On the road to: Nashville, Carolina, Montreal (Expected: 1-1-1) (Actual 1-2-0)
At home to: Chicago, Arizona, Philadelphia (Expected: 1-1-1) (Actual 2-1-0)
On the road to: Chicago, Tampa Bay, Florida, Washington, Nashville, St. Louis (Expected: 2-3-1) (Actual: 1-1-0)
Overall expected result: 4-5-3, 11 points in 12 games
Overall current results: 4-4-0, 8 points in 8 games
All is well when taking the entire month into account, Edmonton is right on track with estimates. The one issue with contemplating today? Where are those extra three points we want going to come from? Hurry Talbot!
Sounds like Adam Larsson's back seized up early in the third. Just :56 seconds of ice time in the period, in Oiler loss.

— John Shannon (@JSportsnet) February 22, 2017
This means either Darnell Nurse or Eric Gryba, we will probably want to bet on Gryba until Nurse is absolutely ready. One of the good things about the McLellan Oilers is that we don't see many injured players forced into the lineup. Larsson has been dealing with a foot issue according to Jason Gregor, this back item may be new—and problematic.
DEFENSE, LAST NIGHT

Klefbom—Larsson went 14-14 in 13:54 together, and then Klefbom went 2-5 with Matt Benning in 4:10. Klefbom scored a disallowed a goal, and both Swedes had an assist in the game. The Swedes went 3-1 against Palat—Johnson—Kucherov, Klefbom went 4-6 against that line without Larsson. Pairing also had trouble with that damned fourth line of Paquette—Dumont—Brown. Who the hell are these guys?
Davidson—Benning went 6-11 in 11:21 together, the big play for Davidson being a spot of bad luck with a broken stick followed by jail break. I thought both men had a hard time connecting on passes, seemed there was always an errant something involved. Moreso than the Swedish pairing, I believe. Went 5-4 against the Johnson line, playing 5:24 against the trio.
Sekera—Russell went 8-16 in 14:30 together, this pairing was the top pairing in terms of time together. Went just 4-7 with McDavid, and for me represented the passing disconnect we saw all night among Oilers. Russell made some dandy defensive plays, and had some vapor lock, too. Typical for a D returning from injury.
Laurent Brossoit stopped 24 of 27, .889. The first two were not on him, I didn't get a good look on the third (might have been a screen) but no one should blame the rookie for the loss. Now, about his role as backup? I don't think last night proved anything one way or another. Tampa's big line has sick skill.
Numbers via NHL.com, Stats.ca and NaturalStatTrick.
Oscar Klefbom is really coming into his own offensively now. That nifty fake before the pass to Pakarinen was a brilliant piece of work, and the hammer on the goal is sweet music. He passes well, lugs the puck with increasing confidence, and reminds me of a young Serge Savard (save for some defensive wobble he is still ironing out). This man is very good.
FORWARDS, LAST NIGHT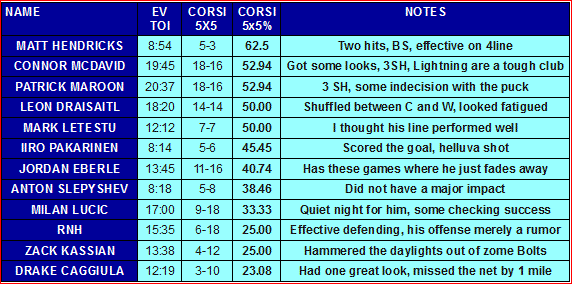 Maroon—McDavid went 18-15, with McDavid's line also housing Leon Draisaitl (10-6) and Jordan Eberle (7-9). I think the line looked best with Leon, and do think the trio had some good looks (including the Oscar non-goal). Todd McLellan probably wants a center at the deadline, that is my guess. McDavid went 13-14 against the Kucherov—Johnson—Palat line, those guys are exhausting. I felt the Bolts trio both scored well and chanced like machines, but did it while the McDavid line was chasing the puck. I think that was the big part of the game, honestly. I haven't seen McDavid's trio spend more time pursuing the play than last night.
Hendricks—Letestu—Pakarinen went 5-2 as a trio, the Finn scoring Edmonton's only goal on a sweet little play by Oscar and then a dandy shot from Iiro the Hiro. Went 5-3 against Namestnikov—Boyle—Filppula.
Lucic—Nuge went 5-9, and then Nuge went 1-11 with Kassian and 1-8 with Caggiula. Good grief. Nuge went 0-7 against Namestnikov—Boyle—Filppula in 4:37, that isn't the money line for Tampa.
Lucic—Leon—Slepy went 3-8 until they ran into a Borg cube.
I think Peter Chiarelli is going to trade for a center at the deadline.
PETER CHIARELLI'S SHOPPING LIST AT THE DEADLINE
Acquire a two-way center who can play also play wing
Acquire a backup goalie
Get real value for Brandon Davidson at the deadline, by procuring a forward under control and worth protecting (may happen after season)
Laying groundwork for deal with Golden Knights that could be tied into point No. 3.
Grab a mittful of 2017 draft picks.
PC may do none of this, but that quote about owing it to this team really rings true for me. I think a man who feels that way is going to do his level best to find a way. With deadline deals often being made for distant bells, my guess is we see something get done.
Arizona Coyotes: C Martin Hanzal is a perfect fit.
Arizona Coyotes: R Radim Vrbata is also a rental, might be a perfect fit—except for that bonus.
Buffalo Sabres: G Anders Nilsson. Rock solid season.
Colorado Avalanche: C Matt Duchene is a special player.
Colorado Avalanche: R Jarome Iginla may have some left.
Dallas Stars: R Patrick Sharp shoots a lot and that is a good thing.
Dallas Stars: R Patrick Eaves has more than 20 goals and a very nice expiring contract.
Detroit Red Wings: L Thomas Vanek would be a grand solution, but an expensive one.
Detroit Red Wings: RD Mike Green.
Florida Panthers: G Reto Berra could be acquired tonight after the game.
New Jersey Devils: LHD Yohann Auvitu. It's the right thing to do.
Philadelphia Flyers: G Michal Neuvirth. Most of his January-February outings have been great.
Tampa Bay Lightning: C Brian Boyle has what PC is looking for.
Tampa Bay Lightning: C Tyler Johnson, although why they would trade him is beyond me.
Vancouver Canucks: R Jannik Hansen. He is an under the radar solution who makes sense.
Vancouver Canucks: R Alex Burrows may be able to help.
MORE TRADE DEADLINE
I do think Peter Chiarelli may get creative at the deadline this year, with a view to addressing the weak forward depth chart bubbling under. With Jesse Puljujarvi, Anton Slepyshev and Jujhar Khaira all possibly in the NHL for 2017-18, the AHL forward prospect cupboard could be bare in October.
First, he might try to increase the size of a trade package to include a bona fide forward prospect currently in the AHL. Each winter I write a series of trade targets for AHL players (Pacific Division here, Central will be up later today) and I can see PC grabbing a good center from this group. It might dovetail with the idea of dealing Brandon Davidson for a solid young forward prospect worth protecting from expansion.
The other thing—and I really like this idea—he could do is pursue a junior player about to graduate into pro hockey. If you look at the 2015 draft, most NHL teams are about to experience a watershed of new pro forwards this coming fall—while Edmonton has no forwards from that draft class about to turn pro (McDavid has already impacted the NHL game).
Among the players I would love to see in Edmonton, and possibly available based on standings, I would rank Blake Speers (NJD), Giorgio Estephan (BUF) and Jean-Christophe Beaudin (COL). Among contending teams who might have interest in Brandon Davidson, I would suggest Dennis Yan (TBAY), Graham Knott (CHI) and Adam Musil (STL). Something to consider.
ON NUGE
Yesterday, I posted the WoodMoney on Nuge, he is spending 42 percent of his time (No. 1 among Oilers players) against elites, one of the reasons the offense isn't there. Last night, he spent just 40 seconds against the Johnson line, still no spark. Dave Keon spoke after his career about cheating too much for defense, and I do think Nuge is there now. Having watched his entire career, one of the things I love most about RNH is his stealth checking—on display again last night against Jonathan Drouin and others. There is a lot of talk about Nuge losing the offensive magic, misplacing the wand.
His 5×5/60 away from Taylor Hall since 2013 is 1.53, an acceptable total considering his heavy work. We always knew Nuge was a power-play witch (source: Tyler Dellow), but it is becoming increasingly obvious that—when used in a strong checking role, as he is now—this is his 5×5 offense. Nuge is 1.30/60 at 5×5 this morning. That isn't so far from average, away from Taylor Hall. These are the facts. This is us.