If your team doesn't win a game that includes Kris Russell and Eric Gryba scoring, get another hobby. In truth, the Oilers played a solid even-strength game for two periods and then the wheels came off and fatigue set in during the third period. Alas, this team is made or sterner stuff than the last batch, and your Edmonton Oilers can overcome well enough to win. A big one, too. Now, how many defensemen are healthy? Bueller? Bueller?
MIAMI VICE GRIP, YEAR OVER YEAR
Oilers in October 2015: 4-8-0, goal differential -7
Oilers in October 2016: 7-2-0, goal differential +10
Oilers in November 2015: 4-7-2, goal differential -6

Oilers in November 2016: 5-8-2 goal differential -3

Oilers in December 2015: 7-6-1, goal differential -9
Oilers in December 2016: 7-2-5, goal differential +3

Oilers in January 2016: 4-5-2, goal differential -5
Oilers in January 2017: 9-4-1, goal differential +8

Oilers in February 2016: 3-8-2, goal differential -18
Oilers in February 2017: 5-4-0, goal differential -1

Oilers after 61, 2015-16: 22-33-6, goal differential -39
Oilers after 61, 2016-17: 33-20-8, goal differential +17
The Oilers are now officially a likely playoff team. We can worry and fret, but the March schedule should be much easier, lord willing and six defensemen available.
WHAT TO EXPECT FROM FEBRUARY
On the road to: Nashville, Carolina, Montreal (Expected: 1-1-1) (Actual 1-2-0)
At home to: Chicago, Arizona, Philadelphia (Expected: 1-1-1) (Actual 2-1-0)
On the road to: Chicago, Tampa Bay, Florida, Washington, Nashville, St. Louis (Expected: 2-3-1) (Actual: 2-1-0)
Overall expected result: 4-5-3, 11 points in 12 games
Overall current results: 5-4-0, 10 points in 9 games
We are basically at a point where we can say the Oilers delivered at expected levels, but with three games remaining it would be nice to grab another win on this suddenly successful road trip. Damn this Oilers team reminds me of very little about their predecessors.
DEFENSE, LAST NIGHT

Davidson—Gryba went 3-2 in 9:28, Davidson—Benning went 12-3 in 4:28—it was that kind of night.  Davidson also spent time with Russell (2-5) and Klefbom (0-0). I felt this pairing had some trouble with Old Man Jagr (Davidson went 6-4 in 5:55, Benning went 9-11 in 8:33) but they battled hard and the numbers showed well. Benning went 15-6 against Bjugjstad—Sgarbossa—Marchessault, Davidson was 5-1. Effective together and apart, depth is a wonderful thing.
Klefbom—Benning went 13-16 in 17 minutes together, Oscar also 5-6 with Gryba and 1-4 with Russell. Oscar is really starting to grow offensively, needs to tighten the defense a little more, but we are young, we are heartache to heartache. Benning is too good to be true. I loved his effort on Mount Jagr.
Sekera—Russell went 4-8 in 6:04, and then Russell went 4-2 with Gryba, 3-4 with Benning, 2-5 with Davidson and 1-4 with Klefbom.
Jaromir Jagr went 16-8 against Klefbom,  11-9 against Benning, 6-4 against Russell, 4-6 against Davidson, 5-7 against Gryba, 0-0 against Sekera. Interesting.
Cam Talbot is a key, key element to this team's success and stopped 31 of 34, .912.
Numbers via NHL.com, NaturalStatTrick and HockeyStats.ca.
FORWARDS, LAST NIGHT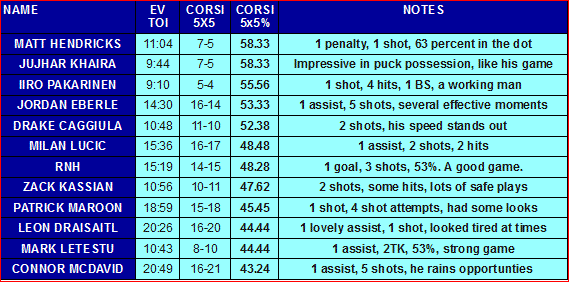 Hendricks—Khaira—Pakarinen went 6-5 in 9:27 and fought hard in their part of the game. Went 3-1 against Huberdeau—Barkov—Jagr and that is haha funny. Went 3-3 in five minutes against Thornton—MacKenzie—Sceviour. I really like Khaira, you can see his speed and strength being an effective skill set next season, although I always worry at this time of year when players are inserted with lots of scouts in town.
Lucic—Nuge—Eberle went 14-15 in 13:40 together, these men played a lot last night. Ten shots in total for the trio, a goal by the center and assists for the wings, 53 percent in the dot. Nice. Lucic had some snarl, Nuge looked a little desperate and Jordan Eberle keeps going to his patented move that ends up with the puck in the corner. Trio went 2-5 against Reilly Smith—Trochek—Jokinen in five minutes, but dominated Bjugjstad—Sgarbossa—Marchessault 8-4. Happy for Nuge that he crammed that puck in the net, need more of that down the stretch from this group.
Caggiula—Letestu—Kassian went 8-9 in 9:30 and if you tell me you saw a difference between this line and the Khaira group I will call you a liar. They changed the Gryba goal (I reported it above) to a Kassian marker after the game, so this line did in fact score, along with an assist for Letestu. I like Caggiula's speed.
Maroon—McDavid—Draisaitl authored the winning goal, a gorgeous piece of hockey offense that showed two guys with great chemistry. I don't think they can break these two up, honestly. It's like of like Mick and Keith at this point, maybe around Between the Buttons. Now they need Mick Taylor to make this thing fly high to the sky.
Connor McDavid has 68 points. Leon Draisaitl (53) has posted 15 fewer points, but ranks second in team scoring. Jordan Eberle (36) has 17 fewer points than Leon. No real reason I am posting, it just seems weird.
#Isles in Sunrise watching Oilers… Eberle's been on the radar for a while now. Possibly Nugent-Hopkins too. Both have big $$ contracts.

— Arthur Staple (@StapeNewsday) February 23, 2017
If the Islanders are looking for a scoring winger for John Tavares, Eberle makes sense. If they are looking for some help down the middle (NYI depth chart is Tavares, Brock Nelson, Casey Cizikas, Alan Quine) then Nuge would be a grand addition. Both men make $6 million large per season, so it is one or the other.
Among Islanders who I imagine the Oilers would have interest in: C-R Ryan Strome (56, 11-14-25), RD Johnny Boychuk (55, 6-15-21, 288 shot attempts) and I will throw Josh Ho-Sang and Michael Dal Colle from the minors in just for fun.
CURRENT STANDINGS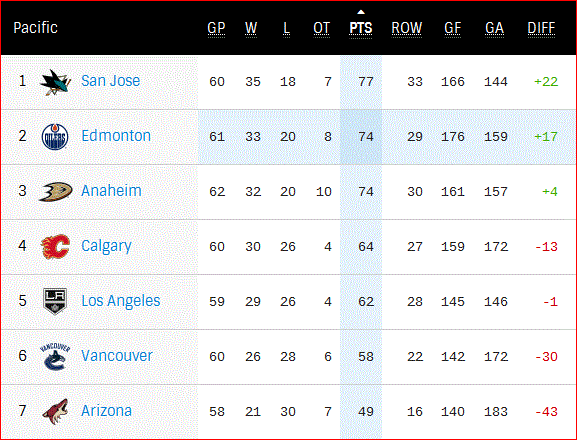 We have been spending this entire year looking at the point totals and the ranking, but it is finally time to scan the GP aisle and frame that against the points total.
Calgary has 22 games left, potentially 44 points. The Flames are 10 points behind Edmonton. At this point, catching the Oilers is damned difficult. Let's say they go 12-7-3 in their final 22 games. Calgary would finish 42-33-7, 91 points. That would represent a strong finish for them.
For Edmonton to beat Calgary for No. 3 in the Pacific Division, they need to go something 8-10-3 over their final 21 games. That would put the Oilers at 41-30-11, 93 points.
I like their chances.
I think the most impressive month of the season is a close race between October and January (above). However, February might be the grittiest, love the effort and endurance of this hockey club.
MOREBERLE
Bergevin était là pour Eberle (Bergevin was there for Eberle) Source
So that is two teams scouting Eberle. I have heard Eberle linked to the Islanders from time to time (Strome, Hamonic, Boychuk), but this Habs thought is new to me. Montreal has zero cap space, so it would have to be one for one, leaving Tomas Plekanec, maybe Andrew Shaw because faceoffs and agitation. Not a lot that fits, to be honest. Alex Galchenyuk has appeal, doubt he would be available for Eberle. Montreal is going for it, so whatever they give up would not be considered a key piece (I don't think).
Honestly? I could see Brandon Davidson being of great interest, and Jujhar Khaira was in the game last night and again that makes me think there could be some showcasing going on. If it is one of those men, R Michael McCarron could be in play. He is a giant RW and a big-time prospect for the Habs, but he isn't scoring in pro. The Oilers might like his size.
LOWDOWN WITH LOWETIDE
We are back! With an All-Star cast! 10 this morning, TSN1260. Scheduled to appear:
Darcy McLeod, Because Oilers. What (if anything) is wrong with the Nuge? Plus, Oilers last night.
Josh Lewenberg, TSN. Raptors may not be done, as trade deadline approaches.
Bruce McCurdy, Cult of Hockey. Bruce gets to talk about an Oilers win AND seven new planets! Lordy.
Frank Seravalli, TSN. Trade deadline, Shattenkirk, Islanders-Habs connection to Oilers/Eberle.
10-1260 text, @Lowetide on twitter. Talk soon!
TODD MCLELLAN ON SEKERA
"I think it's more of a soft-tissue, muscle thing than anything else, but we'll see how he is tomorrow."
Light more candles. I am running out! Hopefully good news on Larsson for Friday.