Last night, despite playing well, it was not to be for the Oilers. Edmonton played a strong road game against the Washington Capitals, I think credit is due for a pretty impressive effort. The club didn't get one break from the zebra's and couldn't generate enough offense to grab a point on the road. One true thing: If they play like that every game, this season is going to end very late in the spring.
The game also included a fascinating goal, in that all who saw it had a strong opinion—but were divided about why the puck went in. Some thought it was a perfect shot, others thought Talbot played it poorly. There is usually more agreement on a goal, but this one appears to have slipped through the cracks. My opinion: It was a terrific shot, and Cam Talbot was not in a good position when it came off Williams' stick (too far back, slow to react). Really good goalies let in these types of goals, it is part of the game. It would have been cool if the skaters could have gotten it back for their goalie (who has been their rock time and again), but the Oilers popgun offense failed them and the Capitals are an excellent team. Edmonton had no answer after the tally, and you are not going to win games with one goal in today's NHL.
A FOOT IN COLD WATER, YEAR OVER YEAR
Oilers in October 2015: 4-8-0, goal differential -7
Oilers in October 2016: 7-2-0, goal differential +10
Oilers in November 2015: 4-7-2, goal differential -6

Oilers in November 2016: 5-8-2 goal differential -3

Oilers in December 2015: 7-6-1, goal differential -9
Oilers in December 2016: 7-2-5, goal differential +3

Oilers in January 2016: 4-5-2, goal differential -5
Oilers in January 2017: 9-4-1, goal differential +8

Oilers in February 2016: 3-8-2, goal differential -18
Oilers in February 2017: 5-5-0, goal differential -2

Oilers after 62, 2015-16: 22-34-6, goal differential -40
Oilers after 62, 2016-17: 33-21-8, goal differential +16
The loss last night (and the win by Calgary in Sunrise) has Edmonton just six points ahead with 20 games to play. The odds favor a cooling by the Flames and a better run for the northern town, but this race is heating up and should be fun. Increasingly, it appears the Los Angeles Kings do not have the horses this year. Good for all!
WHAT TO EXPECT FROM FEBRUARY
On the road to: Nashville, Carolina, Montreal (Expected: 1-1-1) (Actual 1-2-0)
At home to: Chicago, Arizona, Philadelphia (Expected: 1-1-1) (Actual 2-1-0)
On the road to: Chicago, Tampa Bay, Florida, Washington, Nashville, St. Louis (Expected: 2-3-1) (Actual: 2-2-0)
Overall expected result: 4-5-3, 11 points in 12 games
Overall current results: 5-5-0, 10 points in 10 games
That is a nice month, really good. Edmonton has two more games in February, and if they can grab a point in the next two games this will be a successful month.
DEFENSE, LAST NIGHT

Davidson—Gryba went 17-8 in 14:49. Went 8-4 against Johansson—Kuznetsov—Williams, that was a helluva shot by Williams. Went 5-0 against Ovechkin—Backstrom—Connolly in two minutes of 5×5 play.
Sekera—Russell went 20-16 in 18:12. I thought Sekera was the best defender on the team last night, Russell played well, too. Went 1-4 against the Ovechkin—Backstrom—Connolly line, 6-8 against Johansson—Kuznetsov—Williams. Russell is much stronger with Sekera as his partner, although it is often expressed vice versa by msm.
Klefbom—Benning went 15-17 in 18:55, I love the mobility and the scrambling is something young defenders do against really good players—we saw it from this pairing last evening. Went 11-7 against the Ovechkin—Backstrom—Connolly line, but only 2-7 against Johansson—Kuznetsov—Williams.
Cam Talbot stopped 24 of 26, .923. He made one save in the first period that was all world, was unready (I think) on the GWG. Helluva shot.
Numbers via HockeyStats.ca, NaturalStatTrick and NHL. com.
FORWARDS, LAST NIGHT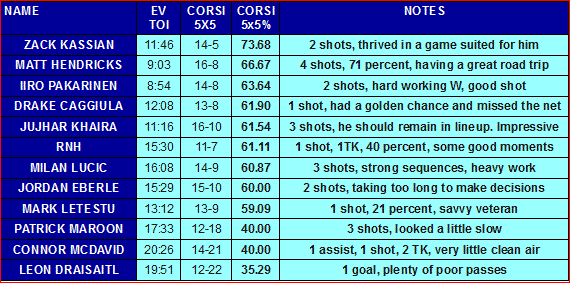 Khaira—Hendricks—Pakarinen went 14-7 together, lots of good things came from the line—including nine shots total from the trio. Khaira got a jump to the McDavid line (0-2). Went 5-3 against the Ovechkin—Backstrom—Connolly line, 3-2 against Johansson—Kuznetsov—Williams.
Lucic—Nuge—Eberle went 11-6 together on the night, six shots and a few sorties that included sustained pressure. Went 9-5 against Ovechkin—Backstrom—Connolly, seems this trio is showing some signs of progress. My guess is the deadline will change up the mix.
Caggiula—Letestu—Kassian were 13-5 on the night, four shots on goal. Again there were moments of real chemistry, I was specifically impressed (again) with the intelligence shown by Kassian. Went 10-3 against Barber—Eller—Stanford, could have cashed.
Maroon—McDavid—Draisaitl got the goal, but were chasing the puck much of the night. Trio went 12-18 together, and Todd McLellan eventually tried Eberle (2-2 in 1:40), Khaira (0-2 in 49 seconds) and Lucic (2-1 in 1:25). We might see a shuffle for Sunday, cannot have McDavid in his own end 60 percent of the game. Went 8-14 against Johansson—Kuznetsov—Williams. Even in a loss in which he gets one point and is predominantly without the puck, Connor McDavid is ridiculous. Young 97 leads the league in 5×5 first assists (22) and is five ahead of the closest competitors (Zetterberg and Minnesota Granlund).
JP BUSTS A MOVE
First … @Landie51 tied it. #Condorstown pic.twitter.com/JOp8ILHmQh

— Bakersfield Condors (@Condors) February 25, 2017
There is so much natural talent in this young man, I think the Oilers may end by giving him a call simply because they cannot find enough magic on a 2line. JP is 4-5-9 in his last 11 games. If Peter Chiarelli is quiet at the deadline, suspect we see the big Finn in Edmonton before the Ides of March.
TRADE DEADLINE
Pierre Lebrun on Peter Chiarelli's options: Look for him to try to add a bottom-six center or winger. Pending UFA center Brian Boyle of the Tampa Bay Lightning would be a good fit, but only at the right price. The Oilers don't have a 2016 second-round pick. Pending UFA center John Mitchell of the Colorado Avalanche would be another option, among several, for the Oilers. Source
John Mitchell is not a burner, so the faceoffs (54.1) must be the thing. Personally, I hope PC aims higher, because Edmonton can cover Mitchell with their current roster. If there is no real C option, the play is to grab a winger and then move Leon to center. Last night was another reminder that this team cannot go far with one scoring line.
A year ago on the Saturday before trade deadline, Peter Chiarelli dealt both Teddy Purcell and Justin Schultz. Will he make a trade today? I think it is possible. Edmonton is on the road today, have a need and are (imo) likely to make more than one move. Today could see a Reto Berra acquired to backup Cam Talbot, or a John Mitchell for the 4C job.
POSSIBLE OPTIONS
Arizona Coyotes: C Martin Hanzal is a perfect fit.
Arizona Coyotes: R Radim Vrbata is also a rental, might be a perfect fit—except for that bonus.
Buffalo Sabres: G Anders Nilsson. Rock solid season.
Colorado Avalanche: C Matt Duchene is a special player.
Colorado Avalanche: R Jarome Iginla may have some left.
Dallas Stars: R Patrick Sharp shoots a lot and that is a good thing.
Dallas Stars: R Patrick Eaves has more than 20 goals and a very nice expiring contract.
Detroit Red Wings: L Thomas Vanek would be a grand solution, but an expensive one.
Detroit Red Wings: RD Mike Green.
Florida Panthers: G Reto Berra could be acquired tonight after the game.
New Jersey Devils: LHD Yohann Auvitu. It's the right thing to do.
Philadelphia Flyers: G Michal Neuvirth. Most of his January-February outings have been great.
St. Louis Blues: RD Kevin Shattenkirk. I like him, but the price is steep.
Tampa Bay Lightning: C Brian Boyle has what PC is looking for.
Tampa Bay Lightning: C Tyler Johnson, although why they would trade him is beyond me.
Vancouver Canucks: R Jannik Hansen. He is an under the radar solution who makes sense.
Vancouver Canucks: R Alex Burrows may be able to help.
POSSIBLE ASSETS OUT
Jordan Eberle—Frank Seravalli told me yesterday it feels more like a summer deal, but you never know.
Brandon Davidson—I am uncertain as to his value, but if healthy BD can play an effective top 6D role.
2017 first-round pick—No. 23 or so this year. Appears to be enough talent to get a good prospect there.
2018 first-round pick—No. 26? Seems like a reasonable estimate.
Benoit Pouliot—Also uncertain what he would bring back in a package.
2018 second-round pick—No. 57?
Caleb Jones—He has good speed, some offense, and is one of Edmonton's more famous prospects.
Jujhar Khaira—I think NHL teams would like his size and future contract.
Ethan Bear—RH defender with a big shot from the point.
Anton Slepyshev—He may have a future in Edmonton, but plans change.
Griffin Reinhart—Famous prospect with high draft pedigree, play is improving.
2017 third-round pick (No. 85)—No idea if the draft stretches this deep.
Matt Hendricks—Edmonton has replacement players available if PC finds some interest.
Anton Lander—He has an interesting skill set that might be of interest to a team looking for depth.
William Lagesson—A talented defensive prospect but is a lefty.
Bogdan Yakimov—Hey, they traded Teemu Hartikainen.
David Musil—It's the right thing to do.
CURRENT STANDINGS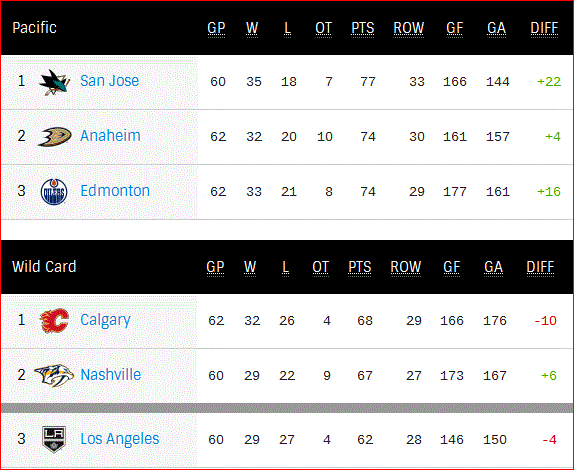 You will see a lot of verbal about Calgary getting within six points of Edmonton this morning, and honestly the Flames are on an impressive run. There are 20 games left, and six points is significant but credit where due the club has closed much of the gap.
The bigger—and for now overlooked—story surrounds the Los Angeles Kings. LAK are five points back with 22 to play, and as luck would have it play the Flames four more times. Edmonton merely has to win their share of games and should be home and dry long before G82. There are no guarantees, but things are looking good as we prepare for the trade deadline.