Plenty of trade activity again this afternoon and continued anxiety for Oilers Nation today. There are now four of my 17-man target list options off the trade board and no doubt more to come. This does not mean the Oilers will remain on the sideline, but it does mean the prices have been established. My guess is that PC is more likely to nibble around the edges than try for the big fly.
PETER CHIARELLI'S SHOPPING LIST AT THE DEADLINE
Acquire Kevin Shattenkirk as a rental if the price isn't too dear
Acquire a two-way center who can play also play wing
Acquire a backup goalie
Get real value for Brandon Davidson at the deadline, by procuring a forward under control and worth protecting (may happen after season)
Laying groundwork for deal with Golden Knights that could be tied into point No. 4
Grab a mittful of 2017 draft picks
The Shattenkirk trade sounds like it is down to a bunch of impact teams out east (Washington, Pittsburgh, NY Rangers) so we can probably rule Edmonton out. John Shannon tweeted today that the Oilers were chatting to Arizona about Martin Hanzal, so it tells us:
Interest in an upgrade is there.
The Oilers are fully aware of their prospect/pick arsenal.
We are probably heading toward tweak over bold.
Don't believe anything you hear.
POSSIBLE OPTIONS (as of Saturday)
Arizona Coyotes: C Martin Hanzal is a perfect fit.
Arizona Coyotes: R Radim Vrbata is also a rental, might be a perfect fit—except for that bonus.
Buffalo Sabres: G Anders Nilsson. Rock solid season.
Colorado Avalanche: C Matt Duchene is a special player.
Colorado Avalanche: R Jarome Iginla may have some left.
Dallas Stars: R Patrick Sharp shoots a lot and that is a good thing.
Dallas Stars: R Patrick Eaves has more than 20 goals and a very nice expiring contract.
Detroit Red Wings: L Thomas Vanek would be a grand solution, but an expensive one.
Detroit Red Wings: RD Mike Green. In case an offensive defender is in fact a priority.
Florida Panthers: G Reto Berra could be acquired tonight after the game.
New Jersey Devils: LHD Yohann Auvitu. It's the right thing to do.
Philadelphia Flyers: G Michal Neuvirth. Most of his January-February outings have been great.
St. Louis Blues: RD Kevin Shattenkirk. I like him, but the price is steep.
Tampa Bay Lightning: C Brian Boyle has what PC is looking for.
Tampa Bay Lightning: C Tyler Johnson, although why they would trade him is beyond me.
Vancouver Canucks: R Jannik Hansen. He is an under the radar solution who makes sense.
Vancouver Canucks: R Alex Burrows may be able to help.
POSSIBLE ASSETS OUT (as of Saturday)
Jordan Eberle—Frank Seravalli told me last week it feels more like a summer deal, but you never know.
Brandon Davidson—I am uncertain as to his value, but if healthy BD can play an effective top 6D role.
2017 first-round pick—No. 24 or so this year. Appears to be enough talent to get a good prospect there.
2018 first-round pick—No. 26? Seems like a reasonable estimate.
Benoit Pouliot—Also uncertain what he would bring back in a package.
2018 second-round pick—No. 57?
Caleb Jones—He has good speed, some offense, and is one of Edmonton's more famous prospects.
Jujhar Khaira—I think NHL teams would like his size and future contract.
Ethan Bear—RH defender with a big shot from the point.
Anton Slepyshev—He may have a future in Edmonton, but plans change.
Griffin Reinhart—Famous prospect with high draft pedigree, play is improving.
2017 third-round pick (No. 86)—No idea if the draft stretches this deep.
Matt Hendricks—Edmonton has replacement players available if PC finds some interest.
Anton Lander—He has an interesting skill set that might be of interest to a team looking for depth.
William Lagesson—A talented defensive prospect but is a lefty.
Bogdan Yakimov—Hey, they traded Teemu Hartikainen.
David Musil—It's really the right thing to do.
ONE MORE THING
Although it doesn't get mentioned a lot, I think there has to be appeal for PC to consider adding prospects to his group. If there is an opportunity to add Josh Ho-Sang, Michael dal Colle or Mitchell Stephens or Yakov Trenin, that could be your second-round pick for the summer.
CURRENT 50-MAN (ABOUT TO CHANGE)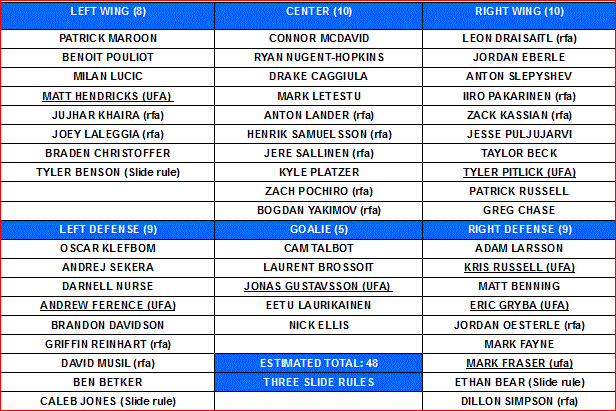 This is the current group, we should light candles for a bushel of forwards and a culling of the Leftorium. It is important, especially now that the Condors are in a playoff spot and may be playing well into spring.
PROJECTED 50-MAN ROSTER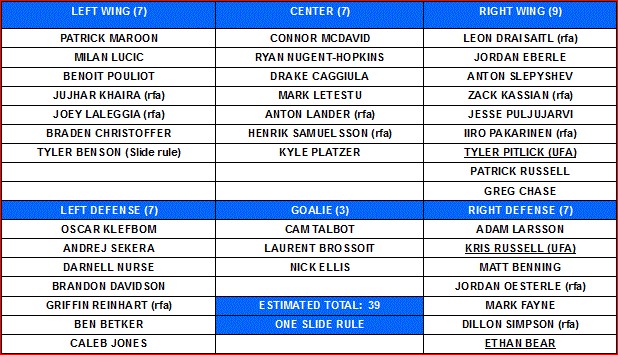 First blush at projected spring/summer list, Matt Hendricks is off the list but Kris Russell is here because there is a chance he remains with the club moving forward. Next post tomorrow morning at 8:30 unless something breaks!