It looked offside to me too, but the 1999 Buffalo Sabres have a sadder story, and that's for sure. The penalty kill sucked and blew, that's your lede, from me to you. Amen.
OH LONESOME ME, YEAR OVER YEAR
Oilers in October 2015: 4-8-0, goal differential -7
Oilers in October 2016: 7-2-0, goal differential +10
Oilers in November 2015: 4-7-2, goal differential -6

Oilers in November 2016: 5-8-2 goal differential -3

Oilers in December 2015: 7-6-1, goal differential -9
Oilers in December 2016: 7-2-5, goal differential +3

Oilers in January 2016: 4-5-2, goal differential -5
Oilers in January 2017: 9-4-1, goal differential +8

Oilers in February 2016: 3-8-2, goal differential -18
Oilers in February 2017: 5-6-0, goal differential -3

Oilers after 63, 2015-16: 22-34-7, goal differential -41
Oilers after 63, 2016-17: 33-22-8, goal differential +15
Not only did the Oilers lose, but every Mother's son won yesterday and now there is panic in the streets and general unrest throughout the land. Folks, we talked about this. Did we not agree February was going to be the toughest month? A season is 82 games, you are going to have some ebbs and flows. That's the deal. Calm your tits!
WHAT TO EXPECT FROM FEBRUARY
On the road to: Nashville, Carolina, Montreal (Expected: 1-1-1) (Actual 1-2-0)
At home to: Chicago, Arizona, Philadelphia (Expected: 1-1-1) (Actual 2-1-0)
On the road to: Chicago, Tampa Bay, Florida, Washington, Nashville, St. Louis (Expected: 2-3-1) (Actual: 2-3-0)
Overall expected result: 4-5-3, 11 points in 12 games
Overall current results: 5-6-0, 10 points in 11 games
We are coming in hot, but this is the month reasonable expected, and you should not lose your mind with the recent trifling. Here is the deal: If Edmonton can't run this up to 94 points from here (20 points in 19 games), then something is wrong somewhere. The schedule in March is far easier, lots of home games, and non-playoff teams will be giving it away like motel matches. No sir. This Edmonton Oilers team has real flaws, but also spectacular strengths, too. Suspect we see a trade or two this week, and a tightening of a playoff spot as well. This is the good stuff! There are no guarantees in sports!
DEFENSE, LAST NIGHT

Sekera—Russell went 16-10 in 18:21 together, including 8-1 with Nuge in 6:25. Went 9-3 against Austin Watson—Colin Wilson—Calle Jarnkrok, went 2-1 in over six minutes against the Johansen line. I thought Sekera was brilliant, Russell less so with the puck on his stick—and he was poor on the PK.
Nurse—Benning went 10-7 in 10:28 together, but they didn't play as much as one would hope for a third pairing. McLellan backed off the usage on this pairing after Nurse got walked on the Colin Wilson goal. Benning was also in photo on the Arvidsson goal.
Klefbom—Larsson went 12-11 in 12:57 together, Klefbom getting big PP time and Larsson not getting a lot of usage first game back. Went 9-6 in about nine minutes with McDavid, Went 6-6 in seven minutes against Arvidsson—Johansen—Forsberg, a trio that can fairly be described as a royal pain in the ass. Klefbom is an emerging talent, beyond what we thought he might be someday based on numbers. You know who had him pegged? Red Line Report.
Cam Talbot was not his best last night. Stopped 23 of 28, .821.
Numbers via NHL.com, HockeyStats.ca and NaturalStatTrick.
FORWARDS, LAST NIGHT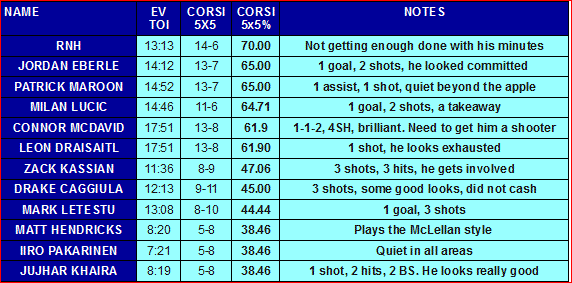 Lucic—Nuge—Eberle went 13-6 together, both wingers on the line scored and I thought Nuge earned an assist on the Eberle goal. These three men should be getting more done at 5×5. That said, they went 14-5 against Ekholm—Subban and 11-3 against Austin Watson—Colin Wilson—Calle Jarnkrok. Just need to cash 5×5, is all.
Maroon—McDavid—Draisaitl went 15-8, including 12-7 against Josi—Ellis and 10-6 against Arvidsson—Johansen—Forsberg. Leon looks slow and tired to me, I wonder if he is nursing an injury. During a PP, 97 sent him the puck and he did nothing with it—Leon has high skill in that situation. Something is up.
Caggiula—Letestu—Kassian went 8-9 last night, strange evening for the line. Went 10-6 against Fiala—Fisher—Smith and they had the puck going in a good direction. Letestu scored on the power play and both wingers had some good looks. Nine shots for the line, although some of those came on the 5×4.
Khaira—Hendricks—Pakarinen went 5-8 together.  Went against 4-7 Neal—Fiddler—Harry Z. Just one shot on goal for the line, and of course Hendricks is part of a PK that resembles the French in World War Two.
STANDINGS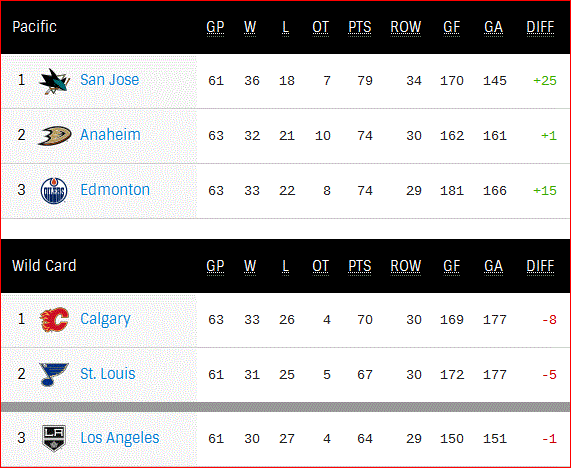 A good team drives this home by the Ides of March, and I suspect the Oilers will do just that thing. They have a 10-point cushion on the Los Angeles Kings, who have two games in hand. The Flames are on actual fire, and credit where due they are driving hard and could overtake Edmonton based on their current run—but can they stay hot? I don't think so. If you are an Oilers fan, still have to feel your team is in a very good spot. Can they blow it? Possible. However, is McDavid is McDavid and Talbot is Talbot, suspect Todd McLellan gets this thing over the line.
RED LINE REPORT ON KLEFBOM
Red Line Report: Klefbom is a real Red Line favorite. He's certainly the most overlooked of the top prospects, but is the best pure passer of the bunch, and his skating ranks only behind Murphy. He already makes pro style passes — crisp and with touch — and excels at breaking the trap with tremendous stretch passes through the neutral zone, showing great vision. He was also the natural leader on Sweden's national under-18 team. All this comes wrapped in a 6-3, 196-pound package, and Klefbom has really stepped up the physical aspect of his game over the last 12 months. At Red Line, we believe he might ultimately become the best all-around balance of offensive upside and physical strength in this year's class.
https://twitter.com/JackieDee16/status/836223087238496256
The Tom Gilbert trade was crazy, giving up a two-way blue for a defensive defender, but the Oilers were an addled organization back then. The Justin Schultz trade was the right thing to do, as the young defender needed a re-set and I am pleased to see him doing so well in Pittsburgh.
This deadline is different from recent seasons because Edmonton can buy for the playoffs. We all hope for another Patrick Maroon addition, but the Oilers could use some help if the price is right. For me, I am fine if PC holds back the water on deals, because this club still needs to build a system (especially at forward).
I got a couple of emails last night about the PK and faceoffs, but for me Anton Lander and Benoit Pouliot are solid penalty-kill options. As for faceoffs, sure, bring in another center. That said, faceoff success relies heavily on the wingers and positioning (remember the Dellow photo series?) so I think adding a faceoff man for that one thing is perhaps shortsighted. I will stick with my shopping list for Peter Chiarelli.
PETER CHIARELLI'S SHOPPING LIST AT THE DEADLINE
Acquire Kevin Shattenkirk as a rental if the price isn't too dear
Acquire a two-way center who can play also play wing
Acquire a backup goalie
Get real value for Brandon Davidson at the deadline, by procuring a forward under control and worth protecting (may happen after season)
Laying groundwork for deal with Golden Knights that could be tied into point No. 4
Grab a mittful of 2017 draft picks
It goes without saying that the general manager must serve two (or more) masters this trade deadline: Adding for the immediate, adding for the future, subtracting from the cap moving forward. Yesterday I suggested a trade that received a lot of feedback, wanted to revisit that one today:
Jordan Eberle and Brandon Davidson to the NY Islanders for C-R Ryan Strome and G Jaroslav Halak. The money doesn't quite work (and EDM would need a sweetener) but the idea does on a couple of levels. Halak's contract ($4.5 million) expires summer 2018, just as Connor McDavid's big contract kicks in. Eberle's deal expires the following year, in 2019. Is Strome a suitable replacement for Eberle? Or could he successfully center a skill line, allowing Leon to play RW? Source
The sweetener might be a second-round pick, or Ryan Pulock or Josh Ho-Sang, but for me this trade makes all kinds of sense. The Oilers add Strome, who they have under control and can sign for far less than Eberle's number, as an Eberle replacement. They also rid themselves of Eberle's high cap hit before the McDavid deal kicks in. Halak as an expensive backup for one season is a reasonable compromise. If you grab Ho-Sang (as an example) for Davidson, then the club has added a player who is ineligible for the expansion draft—and give yourself another potential winger for the future. If you believe the Oilers are giving up Eberle without getting equal value, I can understand it. Eberle has posted 62 points per 82 games in his career, Strome just 40. Then again, since 2013 Jordan Eberle's most common linemates are RNH, Taylor Hall, Benoit Pouliot and Connor McDavid. Ryan Strome? His most common linemates are Brock Nelson, Anders Lee, John Tavares and Mikhail Grabovski. I don't think I am suggesting Bill Guerin for Anson Carter on this one. I know you like Jordan Eberle as a player, I like him too—honestly, he would seem the logical one to spend his career in Edmonton.
There is a risk here, Strome may not emerge as a consistent 50-point winger. He will be making far less than $6M a year, and for me, that makes this worth the risk. Save the centers, deal the wings.
LOWDOWN WITH LOWETIDE
At 10 this morning, TSN1260. A lot of trade deadline talk, as well as discussion of last night's game. Scheduled to appear:
Kent Wilson, Flames Nation. Johnny Hockey is ruining the winter of our content!
Scott Burnside, ESPN. The trade market is hot right as we head to the deadline!
Jason Gregor, TSN1260. Offside call, deadline, PK.
Sunil Agnihotri, Copper & Blue plus The SuperFan. About last night, what does this team need?
10-1260 text, @Lowetide on twitter. Talk soon!