And so it ends in St. Louis, the home of Chuck Berry, who was a rock and roller before Elvis walked into an RCA studio. The long month that could have derailed the season expires tonight. This young team, with brilliance and blunder rising and falling with each breath, ends what was a potentially treacherous month—and sets up the final stanza. Maestro! Music!
NO PARTICULAR PLACE TO GO, YEAR OVER YEAR
Oilers in October 2015: 4-8-0, goal differential -7
Oilers in October 2016: 7-2-0, goal differential +10
Oilers in November 2015: 4-7-2, goal differential -6

Oilers in November 2016: 5-8-2 goal differential -3

Oilers in December 2015: 7-6-1, goal differential -9
Oilers in December 2016: 7-2-5, goal differential +3

Oilers in January 2016: 4-5-2, goal differential -5
Oilers in January 2017: 9-4-1, goal differential +8

Oilers in February 2016: 3-8-2, goal differential -18
Oilers in February 2017: 5-6-0, goal differential -3

Oilers after 63, 2015-16: 22-34-7, goal differential -41
Oilers after 63, 2016-17: 33-22-8, goal differential +15
G64 a year ago
saw Edmonton win one (finally!) 3-1 over the NY Islanders. Brooklyn scored in the second to take the lead, but the Oilers responded with three in the third (Lander, Draisaitl, Davidson) to put it all away. Cam Talbot over Jaroslav Halak. February 28, 2016.
WHAT TO EXPECT FROM FEBRUARY
On the road to: Nashville, Carolina, Montreal (Expected: 1-1-1) (Actual 1-2-0)
At home to: Chicago, Arizona, Philadelphia (Expected: 1-1-1) (Actual 2-1-0)
On the road to: Chicago, Tampa Bay, Florida, Washington, Nashville, St. Louis (Expected: 2-3-1) (Actual: 2-3-0)
Overall expected result: 4-5-3, 11 points in 12 games
Overall current results: 5-6-0, 10 points in 11 games
Our line in the sand is 11 points, Edmonton needs a Bettman tonight to be considered even. Truth to tell, even if they lose tonight I would have a hard time being too critical. The Oilers have real issues on this roster and are probably outkicking their coverage at this time. I suspect February was the last real chance for the market to correct. Connor McDavid changes everything, and Cam Talbot has been a terrific partner in crime.
CURRENT STANDINGS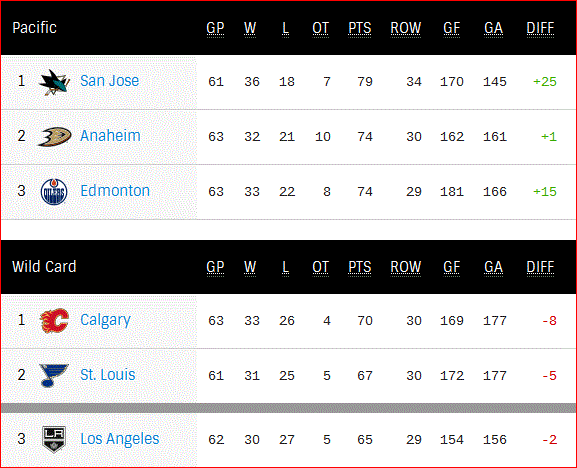 Los Angeles grabbed a Bettman last night, but in doing so cashed a precious game. They have 20 left—potentially 40 points—and a track record for the season that suggests those 20 games will fetch 21 points. If the Kings run at pace, they will end the season with 86 points—meaning Edmonton would need to go 6-12-1 in order to finish ahead of them.
Remember that decade we shared, when the Oilers simply could not catch up to the team ahead of them, no matter how hard they tried? Damndest thing.
CROSSING JORDAN

This is via hockey-reference and represents the boxcars by discipline overall.
Jordan Eberle was a pretty consistent player before his injury in the fall of 2015. During preseason (I believe against Carolina, and I think Anton Lander got a hatty that game) Eberle hit the boards and got hurt. Although he missed only 13 games, I feel his release has been delayed since then. His even-strength numbers didn't suffer in 2015-16, but are off badly this year. His power-play number has been off the last two seasons.
In each of these seasons, Eberle's 5×5/60 scoring number were 1.89, 1.98, 1.85 and (this year) 1.51.
Jordan Eberle is having a tough season. That doesn't mean he can't recover, hell I wouldn't be surprised if he scores 5-7 goals down the stretch here.
This is Connor McDavid's team.
The conclusion I am reaching is that Jordan Eberle is not going to be a feature scorer on Connor McDavid's line.
$6 million dollar skill forwards have to score more than Eberle has managed this season.
What happened to Jordan Eberle? Well, he isn't as fast or quick as he once was, and I think he is easier to defend without that extra gear. I think, and you may not agree, that if 2013-14 Jordan Eberle were playing alongside Connor McDavid this year, he would be on his way to 35+ goals.
Martin Rucinsky scored 20+ goals in a season four times in his 20s, and did not score 20 in his 30s—despite playing NHL hockey until age 36. It happens.
Interested to see if Garth Snow goes big game hunting. Oilers say Eberle isn't moving. Duchene is a good fit for Isles…1/2

— Darren Dreger (@DarrenDreger) February 28, 2017
Colorado needs a young D as part of return. Hamonic might not be right fit. Duchene is eager to move. Still tough to make work now. 3 way?

— Darren Dreger (@DarrenDreger) February 28, 2017
Hmm. Depending on what Edmonton would be getting in return, giving up a young defender could be regarded as dealing from strength—especially if he is a lefty. That said, young lefties with NHL careers and value (Klefbom, Nurse, Davidson) is a short and varied list. If I am reading the tea leaves correctly, this is not an idea I am going to be thrilled with should it come to pass.
PROCUREMENT
Yesterday, the Ottawa Senators signed Chris DiDomenico to a two-year deal. The remaining portion of this season is a one-way contract, and then it fades to a two-way for 2017-18.
reports out of Switzerland say #Sens have offered Chris DiDomenico a 2 yr contract. As a UFA playing in Europe he'll need to clear waivers. pic.twitter.com/OYohWQjrIq

— CapFriendly (@CapFriendly) February 27, 2017
Chris DiDomenico is 28 and having a pretty good season (38 points, Marc Pouliot has 32) and may be able to come in and help a little. For Edmonton, this could be an option as well, with their needs being specific and the ability to make deadline deals hampered by a lack of assets. The worry is you end up with Lennart Petrell, but Edmonton's Euro scouts surely know someone who can help and costs just money. Aim higher than Sallinen, for sure, but I can't help but think there is someone out there who is worth the risk. Or, you know, recall Anton Lander.
LOWDOWN WITH LOWETIDE
At 10 this morning, TSN1260. Heavy on the hockey and trade deadline, scheduled to appear:
Jonathan Willis, Oilers Nation. Should you be worried about the Calgary Flames run?
Rob Vollman, ESPN. Getting value in trades, and the best time to deal players with term.
Scott Cullen, TSN. Are the trades (so far) value for value?
B.D. Gallof, IslesBeat.com and The Fourth Period. Islanders-Oilers, is there something here?
10-1260 text, @Lowetide on twitter. Talk soon!