In the end, the Edmonton Oilers kept their powder dry. When serving more than one master, someone is going to be disappointed—and in this case, Peter Chiarelli chose to make his move at a future date. Was it the right move? Time will tell. For now, the kids have a real chance to show what they have, and the 'growth' team added a skill center for what may be an effective soft minutes line.
THE MOVES
February 28—Oilers traded D Brandon Davidson to the Montreal Canadiens for C David Desharnias.
March 1—Oilers traded R Taylor Beck to NY Rangers for R Justin Fontaine.
March 1—Signed CHL free agent D Ryan Mantha.
The Oilers no doubt had a chance on a few of the players moved today, and the fact no goalie arrived via trade has to be heartening for Laurent Brossoit. David Desharnais is the most famous of the three, but each new arrival has a story to tell. Note: Curtis Lazar is off to Calgary, imagine Edmonton at least thought about it, but one suspects this season is a writeoff for the young forward and the Oilers have to find answers on their own wingers.
RYAN MANTHA
Big RHD man (6.05, 225) who is posting some lively boxcars this season (58, 14-37-51) which translates to 23 points NHLE. Brock Otten of OHL Prospects is my first stop in situations like this one.
1. Ryan Mantha – Defenseman – Niagara IceDogs
Spurned by the New York Rangers this summer when they didn't offer him a contract, Mantha returned to the OHL with a chip on his shoulder this year. He's been sensational as the captain for the upstart IceDogs. He's currently just outside the top 5 in defenseman scoring and leads all blueliners in shots by a very large margin (in fact he's second in the entire OHL in shots). He looks like a completely different player this year, quite frankly. Big difference is improved foot speed, which is allowing him to be more of a factor leading the rush and jumping up in the play, where he can use his size to really drive the play. At 6'5, 225lbs, he can be a real tough guy to separate from the puck. Defensively, he's looked good too. He's playing with more intensity in his own end. With his size and the impact he's making at both ends, I'd be surprised if an NHL team doesn't give him a second chance. Source
Important to keep in mind he turns 21 in the summer (2014 draft) and his domination of the OHL should be expected. He was drafted No. 104 overall in 2014 by NY Rangers, 13 spots after Edmonton drafted William Lagesson. Reasonable to suggest he will be in Bakersfield next year, with time in Norfolk possible.
DAVID DESHARNAIS
We know more about him of course, NHL veteran who is being brought in to help the third line. I imagine he will get a chance to find the range with Benoit Pouliot and possibly a young winger like Anton Slepyshev or Jesse Puljujarvi. A depth chart might look like this:
Patrick Maroon—Connor McDavid—Leon Draisaitl
Milan Lucic—Ryan Nugent-Hopkins—Jordan Eberle
Benoit Pouliot—David Desharnais—Anton Slepyshev/Drake Caggiula/Jesse Puljuarvi
Matt Hendricks—Mark Letestu—Zack Kassian
One rookie. That's it. Do you remember the last time Edmonton iced a lineup with this number of veterans? Been a long while. Who knows if Desharnais helps, but we should remember the struggles this team encountered from October to March on the 3line.
JUSTIN FONTAINE
He is a 5.10, 175 right winger, almost 200 NHL games. He is an aggressive checker with good speed, and has averaged 11-17-28 per 82 NHL games. I think it is possible he sees some NHL action this season, and also possible the organization the organization signs him a to a two-way deal in the offseason. I would never say this out loud, but part of me wonders if Peter Chiarelli traded Taylor Beck so there won't be an issue about playing time for Jesse Puljujarvi in Bakersfield. Nah. 🙂
CURRENT 50-MAN LIST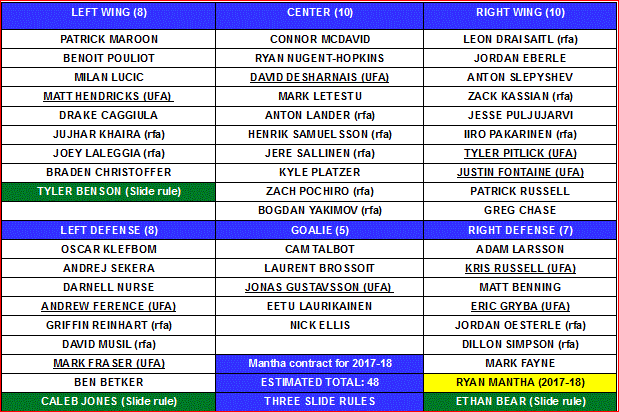 In the coming days, we will discuss the nine UFA and 14 RFA names on this list. Peter Chiarelli is going to be busy this coming summer, with contracts for Connor McDavid and Leon Draisaitl front and center.