Brandon Davidson covered the bet, and then he kept going and going and going. From the moment we met him, we cheered the way you do for any true underdog:
#162 overall D Brandon Davidson: ISS had him #74 and Redline had him #204. That's a wide range, but Remmerde (a great fricking blog, buddy was our guide today folks) is a straight forward scout and says there are some things to like. Based on his words, I'm counting this as a value pick. Source
Through slow progress and then cancer, and the story of his missed season of hockey and the reasons behind it, Brandon Davidson passed from hopeful to working class hero. His story would make a brilliant book, if only Mr. Gzowski was here to write it. Davidson's rookie season was a revelation, but this year was riddled with injury. Young players rarely develop in a straight line.
I do think the Oilers dealt away a real talent yesterday. Sail on, Brandon Davidson. It is impossible for any of us to cheer against you, so let's put that to rest. We will remember you fondly, and wish you Godspeed with the (spits) Canadiens. If you win Stanley, I promise to cheer and feel good about your success, even though I will have an overwhelming urge to throw myself into the Sturgeon River. As I have done with favorites since Rusty Staub, I will hope for your return someday, down the line.
CLIMBING PIKES PEAK, YEAR OVER YEAR
Oilers in October 2015: 4-8-0, goal differential -7
Oilers in October 2016: 7-2-0, goal differential +10
Oilers in November 2015: 4-7-2, goal differential -6

Oilers in November 2016: 5-8-2 goal differential -3

Oilers in December 2015: 7-6-1, goal differential -9
Oilers in December 2016: 7-2-5, goal differential +3

Oilers in January 2016: 4-5-2, goal differential -5
Oilers in January 2017: 9-4-1, goal differential +8

Oilers in February 2016: 3-8-2, goal differential -18
Oilers in February 2017: 6-6-0, goal differential -2

Oilers after 64, 2015-16: 23-34-7, goal differential -39
Oilers after 64, 2016-17: 34-22-8, goal differential +16
Edmonton is now on track to finish with 97 points, representing an incredible one year improvement for the organization. Much of the heavy work has been done, Peter Chiarelli has the foundation set and is now fixing the holes where the rain comes in. Good day, sunshine!
WHAT TO EXPECT FROM FEBRUARY
On the road to: Nashville, Carolina, Montreal (Expected: 1-1-1) (Actual 1-2-0)
At home to: Chicago, Arizona, Philadelphia (Expected: 1-1-1) (Actual 2-1-0)
On the road to: Chicago, Tampa Bay, Florida, Washington, Nashville, St. Louis (Expected: 2-3-1) (Actual: 3-3-0)
Overall expected result: 4-5-3, 11 points in 12 games
Overall current results: 6-6-0, 12 points in 12 games
The Oilers posted one more point than we agreed reasonable, and we will give them full credit for getting eight points on the road during the month. The rest of the Western Conference will take care of itself, but these Edmonton Oilers are going to be part of the story, into spring. Finally!
DEFENSE, LAST NIGHT

Sekera—Russell had good boots and recovered nicely during most sorties. Went 5-5 against the Steen—Stastny—Paajarvi line, and 4-3 against Schwartz—Lehtera—Tarasenko. I thought this pairing did a fine job.
Klefbom—Larsson went 5-4 against the Schwartz—Lehtera—Tarasenko line and 5-5 against the Steen—Stastny—Paajarvi line. I thought they showed the chemistry we saw earlier in the year, and despite the sagging Corsi number (40 percent) for me this was the best tandem on the night.
Nurse—Gryba had their good moments—mostly physical transactions—but there were also moments of running around and failure to click on passes. Nurse ventured north with those wheels a time or two, but got back quickly. Good to see. Went 2-9 against Schwartz—Lehtera—Tarasenko, badly outclassed but there is no surprise there. Played only 5:37 against that trio, I bet Hitchock would have added three minutes to the show.
Cam Talbot was busy, stopping 25 of 26, .962.
FORWARDS, LAST NIGHT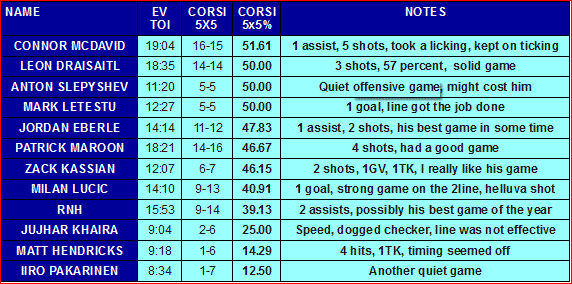 Maroon—McDavid—Draisaitl went 14-14 together, the line had 12 shots overall. McDavid was hooked and slashed and two more slewfoots that I saw. Went 7-6 against Schwartz—Lehtera—Tarasenko and 7-5 against Steen—Stastny—Paajarvi. McDavid went 11-12 against Pietrangelo. McDavid's assist was a thing of beauty, he is absolutely the most aware Oiler since Gretzky.
Slepyshev—Letestu—Kassian went 5-5 in a dozen minutes, meaning they successfully dulled the game for the most part. Letestu scored, Kassian had a good look, but Slepyshev was quiet. In a period where the Oilers may be looking for players to option (AHL), he might be on the list.
Lucic—Nuge—Eberle had a very good night to my eye, it is a relief to see veteran players do what they are supposed to do in a game. Lucic's goal was pure Frank Mahovlich, but I give Eberle a ton of credit on that play. Subtle little move to get the blue line, and then a deft pass. The down arrow was 2-8 against Schwartz—Lehtera—Tarasenko but they battled and made good plays, too.
Khaira—Hendricks—Pakarinen were not effective as the 4line. They got caved 1-6, and were 1-4 against Barbashev—Brodziak—Reaves.
Numbers from NHL.com, NaturalStatTrick and HockeyStats.ca.
DAVID DESHARNAIS
I thought the Oilers would trade Brandon Davidson at the deadline, and hoped the club would find a way to add a useful piece for the future. Peter Chiarelli threw us a curve, getting a 30-year old center from the Montreal Canadiens, a UFA to boot. No future here. Or is there?
The first thing I will tell you is this: I think there is a chance Desharnais signs with Edmonton this summer. Peter Chiarelli deadline traded for several veteran forwards during his Boston time (Daniel Paille, Rich Peverley, Chris Kelly, 40-year old Mark Recchi) and they ended up hanging around for the good times. I am not saying this trade works out as imagined, in fact I am curious about usage with this player. I am saying this may not be a rental.

In 2013-14, Desharnais delivered a pretty good season, including 15 points on the power play. In the following year, the even-strength offense and power-play numbers eroded a little—but you could argue that is just luck.
Last season, 2015-16, his 5×5/60 remained the same but the boxcars faded a little, because he no longer had the same kind of power-play presence.
This year he has had some injury issues and that may be the problem with his boxcars. His 5×5/60, while down (two additional points puts him at 1.69/60), does not suggest he has lost his ability. He was playing for a coach trying to get the feeling again, and was hurt, so it is difficult to suggest the erosion this year is purely on the player.
He has been injured and that may be a significant factor in performance this year. One assumes the Oilers pro scouts thought he was playing well in recent outings.
PERSONAL OPINION
I would have preferred (and suggested) that Davidson might fetch a player who could be protected from the expansion draft (forward) or a prospect ineligible, or a pick. Desharnais is none of those things. I also think the club would have been better served with a RHC who could play a two-way game and be deployed at center or wing.
Additionally, this is not the player-type I thought Peter Chiarelli was going to get, and that is the biggest surprise in this transaction. I thought he was in search of a two-way center, a Brian Boyle. This is more of an offensive player, a crafty offensive center. I am surprised by the style choice more than anything.
I think the Oilers like him more than Anton Lander, and decided the Drake Caggiula audition could continue in the fall. I think Desharnais may be able to help on a soft minutes (Pouliot—Desharnais—Puljujarvi) line, but am convinced Brandon Davidson will help Montreal now and next season. Best of luck to both men.
STANDINGS MARCH 1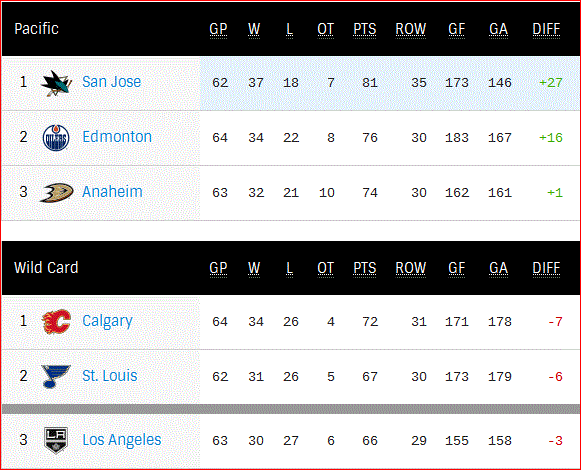 Los Angeles lost ground again, as we discussed yesterday. In grabbing a point while also losing a precious game played, the Kings are farther back than they were a day ago. Let's do the same exercise we went through yesterday.
If LAK finish the season running on the same pace, they will collect 20 points in their last 19 games. That would mean a total of 86 points. In order for Edmonton to beat the Kings, the club would need to go 5-12-1 in their last 18 games. It is a helluva holler from here for Mr. Sutter and his frowning men. One good thing for the Kings? St. Louis can be had.
My guess is Oilers shift their sights towards a rental winger, 3rd or 4th line. Money will be an issue, Draisaitl bonuses could be costly.

— Ryan Rishaug (@TSNRyanRishaug) March 1, 2017
CHIARELLI'S SHOPPING LIST AT THE DEADLINE
Acquire Kevin Shattenkirk as a rental if the price isn't too dear (No)

Acquire a two-way center who can play also play wing (Desharnais is an offensive C)
Added to the list: RW who shoots right and can score goals (PP option)
Acquire a backup goalie
Get real value for Brandon Davidson at the deadline, by procuring a forward under control and worth protecting (may happen after season) (Rental instead)
Laying groundwork for deal with Golden Knights that could be tied into point No. 4
Grab a mittful of 2017 draft picks
Desharnais is not a two-way player, he is more Derek Roy than Brian Boyle. The striking thing about this deal is that it doesn't address two of the bigger items needed on the roster: Another center to help with the heavy work, and a righty shooter for the power play.
This acquisition might be an effort to find a comfort zone for Benoit Pouliot or a mentor for Jesse Puljujarvi and or Drake Caggiula. What it is not is an obvious move based on need. I look forward to seeing usage with this player.
POSSIBLE OPTIONS
Arizona Coyotes: C Martin Hanzal is a perfect fit.
Arizona Coyotes: R Radim Vrbata is also a rental, might be a perfect fit—except for that bonus.
Buffalo Sabres: G Anders Nilsson. Rock solid season.
Colorado Avalanche: C Matt Duchene is a special player.
Colorado Avalanche: R Jarome Iginla may have some left.
Dallas Stars: R Patrick Sharp shoots a lot and that is a good thing.
Dallas Stars: R Patrick Eaves has more than 20 goals and a very nice expiring contract.
Detroit Red Wings: L Thomas Vanek would be a grand solution, but an expensive one.
Detroit Red Wings: RD Mike Green. In case an offensive defender is in fact a priority.
Florida Panthers: G Reto Berra could be acquired tonight after the game.
New Jersey Devils: LHD Yohann Auvitu. It's the right thing to do.
Philadelphia Flyers: G Michal Neuvirth. Most of his January-February outings have been great.
St. Louis Blues: RD Kevin Shattenkirk. I like him, but the price is steep.
Tampa Bay Lightning: C Brian Boyle has what PC is looking for.
Tampa Bay Lightning: C Tyler Johnson, although why they would trade him is beyond me.
Vancouver Canucks: R Jannik Hansen. He is an under the radar solution who makes sense.
Vancouver Canucks: R Alex Burrows may be able to help.
POSSIBLE ASSETS OUT
Jordan Eberle—Frank Seravalli told me last week it feels more like a summer deal, but you never know.
Ryan Nugent-Hopkins—Added because the Desharnais deal remains a curio.
Brandon Davidson—I am uncertain as to his value, but if healthy BD can play an effective top 6D role.
2017 first-round pick—No. 24 or so this year. Appears to be enough talent to get a good prospect there.
2018 first-round pick—No. 26? Seems like a reasonable estimate.
Benoit Pouliot—Also uncertain what he would bring back in a package.
2018 second-round pick—No. 57?
Caleb Jones—He has good speed, some offense, and is one of Edmonton's more famous prospects.
Jujhar Khaira—I think NHL teams would like his size and future contract.
Ethan Bear—RH defender with a big shot from the point.
Anton Slepyshev—He may have a future in Edmonton, but plans change.
Griffin Reinhart—Famous prospect with high draft pedigree, play is improving.
2017 third-round pick (No. 86)—No idea if the draft stretches this deep.
Matt Hendricks—Edmonton has replacement players available if PC finds some interest.
Anton Lander—He has an interesting skill set that might be of interest to a team looking for depth.
William Lagesson—A talented defensive prospect but is a lefty.
Bogdan Yakimov—Hey, they traded Teemu Hartikainen.
David Musil—It's really the right thing to do.
ONE MORE THING
Brandon Davidson was drafted in 2010, when Steve Tambellini and Stu MacGregor ran the draft. Brandon Davidson was an orphan in hockey terms, Peter Chiarelli having no real connection to him beyond an asset for deployment or trade. Human nature, da da da da da da.
I do think the trade worked in one way: the Leftorium received a cull. I suspect the Oilers feel Griffin Reinhart is now NHL-ready and he would be my pick for their first choice for recall. In hockey terms, Mark Fayne would be the logical pick but that bird has flown (suspect Fayne sees the NHL if Eric Gryba gets hurt, but beyond that it is unlikely). Jordan Oesterle's chances of making it to the NHL again this season increased with the Davidson deal.
A player must be on an @TheAHL roster at 3 ET today to be eligible to be sent down from the NHL the rest of the season. #NHLTradeDeadline

— AHL Communications (@AHLPR) March 1, 2017
At some point today, Jujhar Khaira, Anton Slepyshev and others will no doubt be sent to the minors. Doesn't mean a lot (Davidson's spot can be filled by Desharnais) but as per AHL Communications there is a reason for it.
LOWDOWN
No Lowdown today, I will be part of TSN1260's trade deadline coverage from 10 to 2 today. Dave Jamieson, Dean Millard, Matt Kassian and yours truly will break down the trades and project the rosters. Appearances by Ryan Rishaug, Jason Gregor and others, tune in to hear how things go down!
I will not be able to update transactions during the broadcast, so will probably do a 5pm post that wraps up the last 24 hours and presents the new 50-man list. This should be fun!