One of my first memories of the Detroit Red Wings came on March 7, 1970. By then I was watching hockey even if the adults were doing something else, and on this day (it was a Saturday) Detroit was playing at the Forum in Montreal. It was  a weird year, 1970, with my Bruins near the top and the Canadiens struggling to make the playoffs. On March 7, Detroit and Montreal were tied, so the game that night was massive.
Detroit scored three times in the first 10 minutes of the second period, and Montreal scored just once (Mickey Redmond) to set up a 3-1 score entering the third. Montreal pushed hard, and Yvan Cournoyer scored with just over a minute left to make it 3-2. In those days, that meant the Red Wings were about to find a way to crumble, but they hung in, and Gordie Howe scored into an empty net for a 4-2 final.
I remember Howe ragging the puck at center ice, smiling, taunting, before rifling it into the Habs net with three seconds left. From March 7 through the end of the season (including this game), Howe would score nine goals in 15 games and the Red Wings would post a 8-3-4 record (20 points) while the Canadiens went 7-5-3 (17 points) to miss the postseason by zero points (they tied with the Rangers but lost the tiebreaker). Howe smiling was a cruel bit of work, and he was my Dad's generation, but back then Montreal missing the playoffs was a massive story. It is probably why I remember that game.
In 1982, Mike Ilitch purchased the Detroit Red Wings and hired Jim Devellano as general manager. It was an overnight sensation! Just 15 years later, they won Stanley! Bang! And it only took five coaches! Devellano's first acquisition came in the fall of 1982, he purchased Stan Weir's contract from the Edmonton Oilers. His final transaction before the 1997 Stanley was also a purchase, at the trade deadline that year. Devellano sent cash to the Leafs for Larry Murphy on March 18. On June 7, Detroit won the championship. It can take exactly one forever to turn a franchise around, and Devellano had a lot of help in men like Bryan Murray, Scotty Bowman, Ken Holland, Mark Howe, Hakan Andersson and Jim Nill. Plus, he had an owner willing to spend money in order to bring glory back to Hockeytown.
Daryl Katz bought the Oilers in 2008, so 15 years puts this team at 2023. Will Edmonton beat the Red Wings march to glory?
COULD IT BE MAGIC, YEAR OVER YEAR
Oilers in October 2015: 4-8-0, goal differential -7
Oilers in October 2016: 7-2-0, goal differential +10
Oilers in November 2015: 4-7-2, goal differential -6

Oilers in November 2016: 5-8-2 goal differential -3

Oilers in December 2015: 7-6-1, goal differential -9
Oilers in December 2016: 7-2-5, goal differential +3

Oilers in January 2016: 4-5-2, goal differential -5
Oilers in January 2017: 9-4-1, goal differential +8

Oilers in February 2016: 3-8-2, goal differential -18
Oilers in February 2017: 6-6-0, goal differential -2

Oilers after 64, 2015-16: 23-34-7, goal differential -39
Oilers after 64, 2016-17: 34-22-8, goal differential +16
G65 a year ago was another win, 2-1 in overtime over Buffalo. Connor McDavid scored in the extra frame, he scored the earlier goal in the game as well. From this point to the end of the year 2015-16, Edmonton went 8-9-1 in 18 games. If this year's Oilers duplicated that record, they would finish 42-31-9, 93 points. Something tells me this club will push a little beyond that total, all things being equal.
WHAT TO EXPECT FROM MARCH
At home to: Detroit, NY Islanders, Pittsburgh, Montreal (Expected: 2-2-0) (Actual 0-0-0)
At home to: Dallas, Boston, Vancouver, Los Angeles (Expected: 3-1-0) (Actual 0-0-0)
On the road to: Anaheim, Colorado (Expected: 1-1-0) (Actual: 0-0-0)
At home to: Colorado, Los Angeles, San Jose (Expected 1-1-1) (Actual: 0-0-0)
Overall expected result: 7-5-1, 15 points in 13 games
Overall current results:
I had a tough time with this one, because Edmonton may have clinched something good by the time the road trip ends and we may see some guys getting rest. The second stanza should allow the club to grab some daylight and secure a top three spot in the Pacific. Either way, I am satisfied this is in the range of reasonable. If the Oilers do cover this month's bet, they will enter April with a record of  41-27-9, good for 91 points with five games to play. Can Calgary keep pace? Hang on, this is going to be fun!
OILERS FORWARDS, 2016-17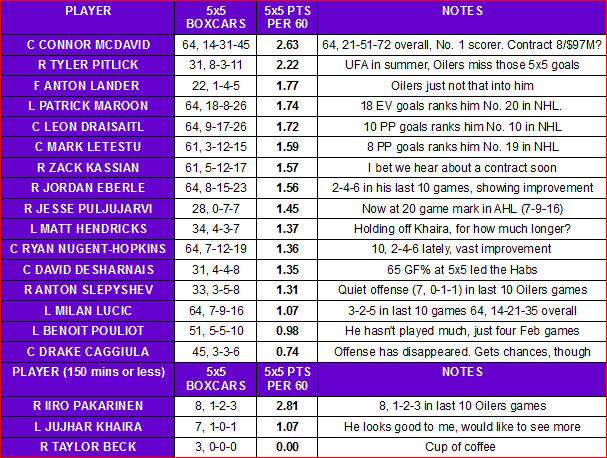 Connor McDavid is going to dominate the postseason front pages, as the 'contract' will move from the backburner to the spot above the fold.
I am going to assume $12.5M times eight and be thrilled if it goes below that number.
Jordan Eberle is at 1.56/60 now, he is making steady progress. He has been such a consistent player, I half expect him to score 12 in the last 18 to hit 25 again.
Milan Lucic is No. 7 among forwards in 5×5 points.
David Desharnais will line up with Anton Slepyshev and Zack Kassian according to reports. I think he could be very effective if his line gets some cherry minutes like Derek Roy utilized a couple of years ago.
Nuge is coming along a little, Darcy has been showing the RNH line is getting a little more clean air nightly and the offense is returning to his game. Very big item if this team plans on winning playoff games.
Benoit Pouliot is skating again, Oilers seems to be slow-playing return. I suspect they want to make sure he is right before the playoffs, which makes sense.
DEFENSE, 2016-17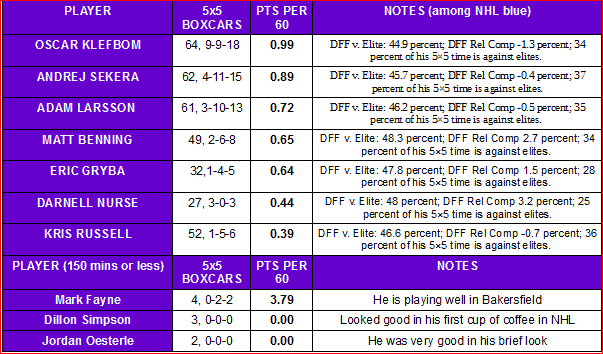 DFF is via GMoney and Woodguy with my sincere thanks and appreciation.
Interesting to see there is a big 5 in terms of elites are Sekera, Russell, Larsson, Klefbom and Matt Benning—all at 34 percent or more.
DFF Rel Comp shows Nurse and Benning doing well, and Benning is doing it while playing some tough minutes. Good days.
Oscar Klefbom's nine EV goals have him No. 3 among defensemen in the category.
Klefbom—Larsson is starting to get some love now, I think that little session where Larsson was hurt may have re-set his value with a lot of Oilers fans. I know defensive defensemen are the enemy for many in Oilersnation, but it pleases me that Larsson is getting some positive attention.
GOALIE
Cam Talbot overall: .920 (No. 8 among regulars)
Cam Talbot even strength: .928 (No. 8 among regulars)
Cam Talbot against power play: .878 (No. 13 among regulars)
He has been very good this season, even with the dip in SP against the power play. I spoke to Sunil Agnihotri on Monday, he reminded me that the SA/60 metric 4×5 has been poor all year, but the goalie had been bailing out the team. Edmonton gives up 55.6 shots per 60 in all shorthanded situations, about six more than provincial rival Calgary. If the Oilers want to win a playoff round, tightening that number should be a priority. We do know that coach Todd McLellan has been working on it over the week, still wonder about his personnel and we will see tonight what they have planned.
CURRENT STANDINGS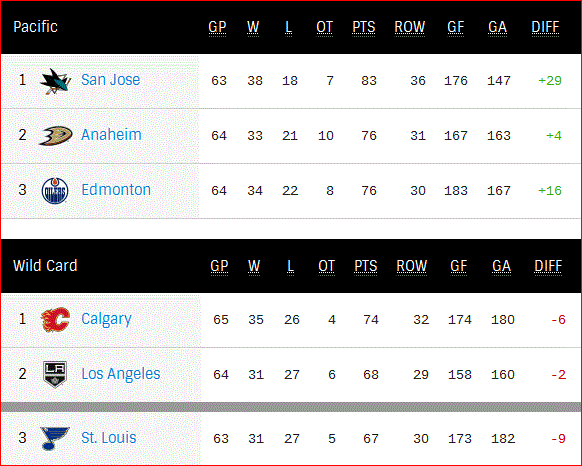 Edmonton and Calgary are separated by a mere two points now and the Flames have been putting the boots to opponents for some time. Edmonton had to get through that tough February schedule, but should be able to keep pact with the Flames—and possibly put them away by the middle of the month. Winning tonight means they will be four points up with 17 to play, and I like the chances of the northern town based on strength of schedule. St. Louis has a truly insane schedule—it's so easy—but they don't look much good right now. It is possible we see five Pacific teams make it, incredibly.
TOTAL RECALL
I have been thinking about Justin Fontaine this week, about how likely it is we see him as part of the recall group between now and the end of the year. Each team can make four recalls, plus emergencies, from now to the end of the season. Here is my list:
Jordan Oesterle
Anton Lander
Jesse Puljujarvi
Griffin Reinhart
Mark Fayne
Justin Fontaine
Is that about right? I would have Fayne as the top option, but it is clear the Oilers do not regard him as a solution to anything beyond Gryba injury. I think Fontaine would have to impact things in Bakersfield in order to receive a recall, and guys like Slepyshev, Khaira and Caggiula are going to get every chance to show their stuff.